SNODE WR100 Water Rowing Machine keeps your workouts engaging & challenging. Studies indicate rowing works up to 84% of the body's muscular system without other conventional cardio exercises' joint impact. Thus, it results in higher calorie expenditure in a shorter time.
The WR100 features durable rust-resistant blades that will last the most challenging, vigorous exercise regimens. Water creates a smooth and steady rowing experience with every stroke. Instant resistance is available with the flywheel and 16 fan blades.
The SNODE WR100 water rowing machine has a large LCD fitness monitor that displays your rowing intensity in time, speed, calories, distance, and heart rate. Quick start and stop options allow you to start rowing workouts in a single button push—interactive personal training at home powered by a free FitShow App for iOS and Android devices.
The ergonomically designed seat 12″ W x 10″ D closely fits your hip curve, and the rowing machine seat is very comfortable, so you don't have to worry about discomfort when exercising. The adjustable pedal is suitable for different feet, whether you have big feet or tiny feet or a man or a woman. And its straps have good stability; they will be safer during exercise.
Learn more in my complete review below!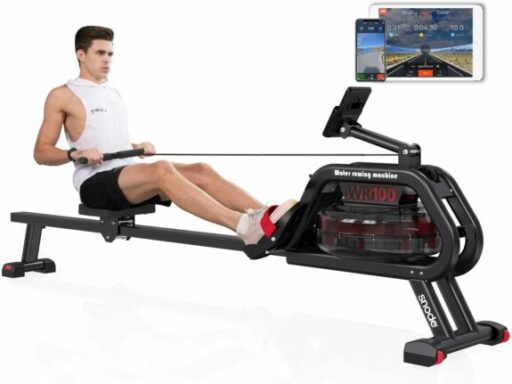 Product: SNODE WR100 Rowing Machine
Price: For a great deal on this rower, merely go here on Amazon
Warranty: Not specified by SNODE
My rating: is 9/10
Affiliate Disclosure: As an Amazon Affiliate Program participant, I earn commissions on purchases made through links in this post. Full disclosure
Details and Specifications
Assembled dimensions: 79L x 20W x 36H inches (201L x 51W x 91H cm)
Shipping weight: 84 lbs (38 kg)
Supported weight: 331 lbs (150 kg)
Frame: Steel
Footrests: Adjustable
Resistance type: Water
Fitness Monitor: Time, strokes per minute, total strokes, calories burned, distance, pulse, scan, goals.
Extras: Device holder
WR100 Frame Construction
The SNODE WR100 has quite an impressive construction for a home-use machine, and its frame is steel tubing featuring a heavy-duty monorail rated for a maximum user weight capacity of 331 lbs (150 kg). In addition, all the steel tubes in its construction come double-coated with a chip-resistant and rust-resistant paint finish.
The fully assembled rower is pretty extensive, especially lengthwise. It is approx 79″ (201 cm) long and 20″ (51 cm) wide. It is also advisable to leave at least two feet of clearance at the rear and on each side of the machine to ease access and safe usage. Thus, it may not fit too well in a small room.
Unlike other rowers, the SNODE WR100 does not have a folding frame. However, it can store vertically, resting on its front base stabilizer and a small bumper integrated into the front frame section. If you're wondering, the water can remain in the resistance tank when the machine is stored vertically.
The rower is pretty heavy as well. Its net weight is approx—80 lbs (36 kg) without water inside the tank. However, once assembled, one person can easily transport the rower as its front base integrates a set of small wheels. Also, the rear stabilizer of the rower features two adjustable levelers.
An important aspect to note here regards the machine's rail. The SNODE WR100 features a horizontal rail, unlike other similar devices. Therefore, it provides a neutral rowing motion without extra effort during the leg push phase.
Also, the rail is approx. 43″ (109 cm) long and provides a movement span of 40″ (101.6 cm) for the seat. Therefore, the rower should accommodate users up to 6'5″ (196 cm) with no problem, allowing a complete range of motion.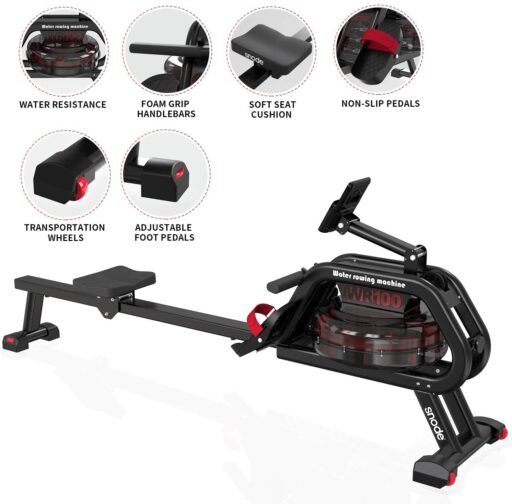 Seat and other parts
The SNODE WR100 comes with a pretty standard seat. Its top integrates approx. 2″ (5 cm) foam cushioning for extra comfort is also contoured to provide better positioning for the user and improved breathability. It is approximately 12″ (30.4 cm) wide and 10″ (25.4 cm) deep, so it provides plenty of contact surface.
The base of the seat is steel-made for improved durability. It integrates three sets of wheels—two slides on top of the rail, the third under it to maximize stability. The wheels have high-grade ball bearings for smooth seat movement and a rubber layer outside for reduced noise.
The top of the seat is approx. 14″ (35.5 cm) above floor level. Therefore, entry and exit can be done quickly and should not pose a problem even for users with specific disabilities, back problems, etc.
This rowing machine comes equipped with two pivoting footrests. This design type allows them to tilt as you apply pressure on them during each rowing motion, slightly adopting the most suitable angle. They cannot lock into place; however, they have stoppers at the bottom, so they cannot tilt past an angle of approx—60 °.
The machine's footrests are made of durable thermoplastic material. In addition, they have heel guards, a textured surface, and adjustable straps in case you need to secure your feet.
The rower's pulling handle consists of a short bar with ergonomic grips. The pulling handle is attached to a heavy-duty nylon strap, which is highly resistant to abrasion.
The machine uses a strap and not a chain as its main element of the drive system can be quite a plus. That's because the machine's usage is quieter and smoother, and the strap does not require lubrication.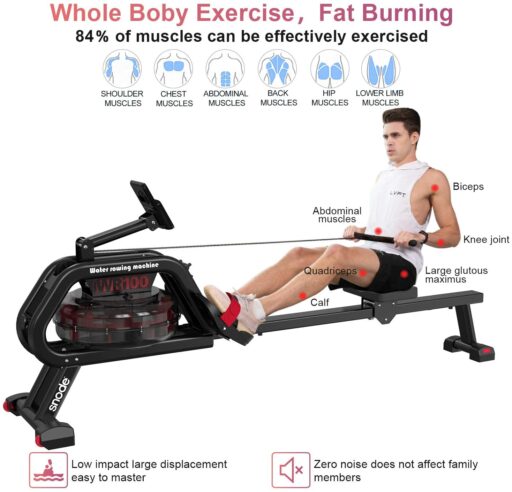 WR100 Resistance system
The SNODE WR100 is a water resistance rower. It comes equipped with a large water tank made of durable polycarbonate material. Its exact capacity is unknown, but it's probably the usual 3-4 gallon (11 – 15 liters) tank type.
The machine's water tank integrates a 16-blade impeller, connecting to the pulling strap through a pulleys system. The impeller spins in the water inside the tank as you pull the handle, generating resistance.
The water tank does not have any resistance adjustment elements. It's a single-chamber tank. However, the rower's overall resistance is adjustable by adding or removing water from the tank. As a general idea, you will get the highest rowing resistance possible when the tank's water level is at its highest marking.
The SNODE WR100 delivers a dynamic response similar to other water-resistance rowers. Therefore, the resistance generated by the impeller depends on how fast you pull. So, for example, if you row faster, the impeller will spin more quickly inside the tank and generate a more significant workout load.
Thus, it can be quite a plus, especially for professional rowing athletes, as the machine provides a rowing sensation closer to rowing a real boat through the water than the feel provided by a magnetic rower.
Last but not least, this rowing machine generates some noise during usage. However, the noise level is low, and the sound is not annoying, which may be the case with some air resistance rowing machines.
Fitness Monitor
The fitness monitor included with the SNODE WR100 rower is pretty simple. Thus, it does not have pre-set programs. Instead, it features a large LCD that tracks time, strokes, strokes per minute, calories, distance, and pulse.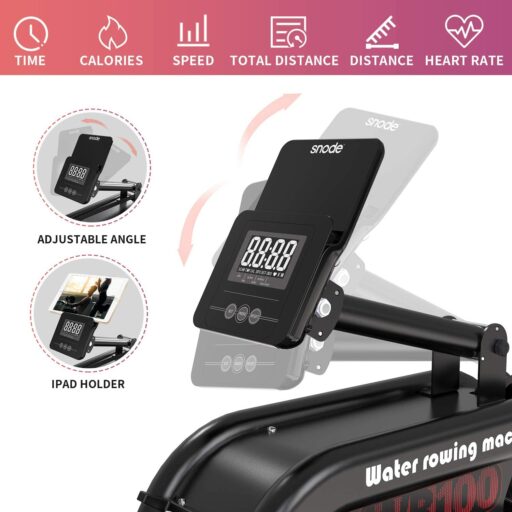 However, the machine does not integrate any pulse sensors, so to have it read your pulse, you will have to opt for a wireless HR chest strap. This accessory does not come with the rower.
The monitor offers several functions. To begin with, it has three buttons – Mode, Set, and Reset. For example, the Mode button allows you to select the value you want to view on display. Similarly, you can also choose Scan Mode, which rotates all the values showing each one for a few seconds.
The Set button selects goals for time, distance, and stroke count. After choosing a goal, the monitor will count until it reaches zero. And finally, the reset button clears all the values on the monitor to zero.
The rower does not come with an adapter and does not require an external power source connection. The monitor is battery-powered. It starts to count your data when you begin rowing or when you press the Mode button and automatically turns off after a few minutes of inactivity on the rower.
Two other notable features included are the device holder and the mount. The device holder consists of a small shelf with back support placed above the monitor. Therefore, if you place a tablet on it, it won't cover your workout data.
The monitor's mount is pretty solid; it is angle-adjustable, allowing you to adapt it entirely to your height to see the displayed data correctly.
WR100 Assembly and Maintenance
The water tank comes pre-assembled for all water-resistance rowers and is attached to the frame's front section; the WR100 does not make an exception. However, the other parts do require user assembly.
Thus, you will have to attach the monorail to the front part of the frame, insert the seat on it, and add the base stabilizers, the footrests, and the fitness monitor.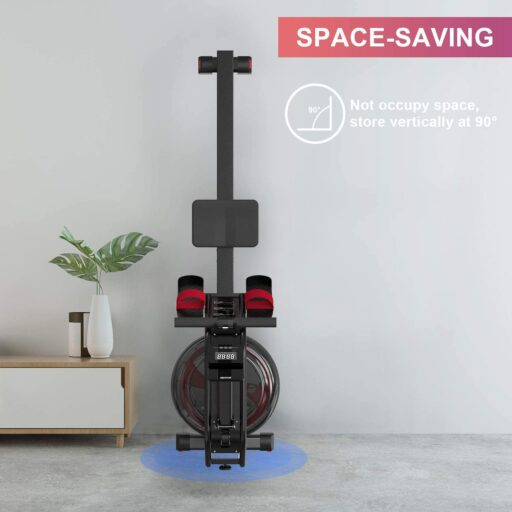 Therefore, it shouldn't take more than 40-50 minutes of your time. The included manual provides clear assembly instructions and all the necessary tools for the rower.
The tank requires special water rower chlorine tablets (not pool chlorine tablets) for maintenance. Besides this, you must keep it clean, especially the rail, and periodically inspect the machine's parts and joints to ensure they're not loose and still function correctly.
Pros
Sturdy frame – can support users up to 331 lbs (150 kg);
Aesthetic design;
It can store vertically;
Transport wheels on the front base;
Adjustable levelers on the rear stabilizer;
Ergonomic, contoured seat;
Ergonomic handle to minimize stress on the wrists;
Durable, adjustable footrests with heel guards and straps;
Long rail for users with an inseam up to 40″ (101.6 cm);
Water-resistance system, providing the most natural rowing feel that you can get;
Fitness monitor included – it tracks time, distance, count, total count, calories, and pulse;
Goal settings for time, count, and distance;
Angle-adjustable mount for fitness monitor;
Device holder included;
Smooth and quiet operation;
Little maintenance is required;
Easy to assemble.
Cons
HR chest strap does not come with the rower;
The are no workout programs on the fitness monitor.
SNODE WR100 Rowing Machine Summary
The SNODE WR100 is a water resistance rower designed for home use. It has a durable polycarbonate tank featuring a 16-blade impeller, an ergonomic seat, and a fitness monitor that tracks essential workout metrics. It also has a durable rail, supporting users up to 331 lbs.
Moreover, it's an excellent trainer for a full-body cardio workout, interval training, muscle toning, and stamina development. And finally, it's an affordable machine, at least $500 cheaper than a commercial model, a great choice if you're looking for quality and you're on a budget.
I hope you found this article helpful and informative. Would you please speak up if you have anything you'd like to share or any opinions about my website? I look forward to your comments, questions, and the sharing of ideas.
Please note you should consult your physician to determine if you have any medical or physical conditions that could put your health and safety at risk or prevent you from using the equipment properly. In addition, your physician's advice is essential if you are taking medication that affects your heart rate, blood pressure, or cholesterol level.