The Sunny SF-T7604 Folding Treadmill offers all of the necessities for a fantastic cardio workout along with any and everything all at-home fitness enthusiasts could want. Exercising in the comfort of your own home has never been so easy, convenient, or fun.
The SF-T7604 features a soft-drop hydraulic mechanism that allows the deck to gently lower itself to the floor. The soft drop hydraulic mechanism assures safe, hands-free unfolding. No longer will you fear scuffing your floors when dropping your treadmills base. Instead, fold your treadmill for storage and unfold your treadmill when it's time to work out.
The Sunny SF-T7604 folding treadmill has a fitness console that tracks time, distance, speed, calories, and pulse. Exercising with your SF-T7604 LCD will showcase the distance and time to keep you focused on achieving personal fitness goals. In addition, the convenient scan mode displays your progress to assist you in tracking all your fitness goals.
You use integrated pulse sensors to monitor and maintain your target heart rate on the SF-T7604. Measuring your pulse rate is an essential tool for exercising correctly and efficiently. The more steady and prolonged the elevated heart rate is during the workout, the more fat gets burned. This vital health data will help you better understand your health and fitness status.
Learn more in my complete review below!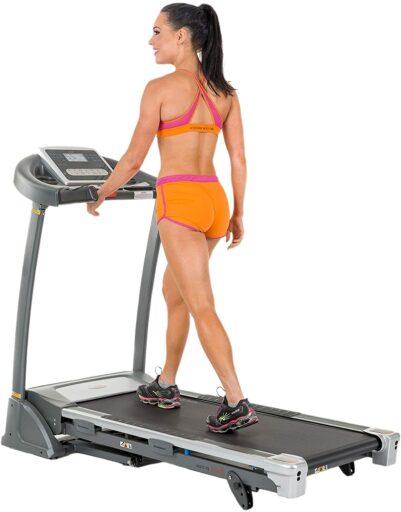 Product: Sunny SF-T7604 Folding Treadmill
Price: For a great deal on this treadmill, merely go here to Sunny Health & Fitness.com
Warranty: Frame 3 years / Parts 180 days
My rating: 8/10
Affiliate Disclosure: As a Sunny Health & Fitness Affiliate Program participant, I earn commissions on purchases made through links in the post. Full disclosure
Details and Specifications
Assembled dimensions: 66.5L x 29.5W x 53H inches (169L x 75W x 135H cm)
Tread belt dimensions: 51L x 18W inches (130L x 46W cm)
Assembled weight: 130 lbs (59 kg)
Supported weight: 265 lbs (120 kg)
Motor: 2.5 HP, 0.6 – 11 MPH
Incline: Manual, three levels
Console: 15 programs
Extras: Bottle holders
Warranty: Frame 3 years / Parts 180 days
SF-T7604 Frame construction
The Sunny SF-T7604 folding treadmill features a steel frame combining ovalized and rectangular bars in its construction. In addition, all the steel tubes come coated with a rust-resistant paint finish; the color used is dark gray, this being the only color available for this model.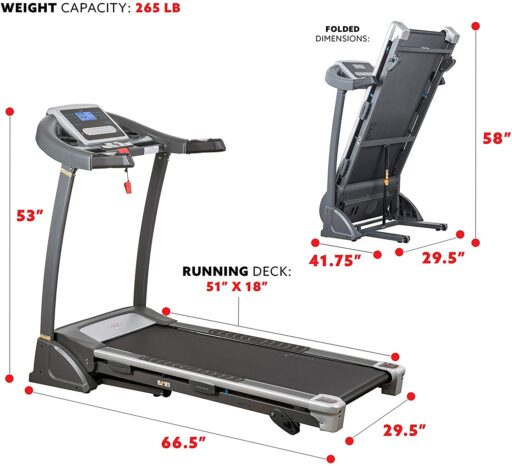 Of course, the machine also integrates several durable thermoplastic parts. For example, the side rail covers, the motor cover, the console dashboard, and several other small covers are plastic-made.
Compared to other treadmills, the Sunny SF-T7604 is a bit smaller. However, it still is approx. 66.5″ (169 cm) long, and 29.5″ (75 cm) wide. Plus, it is advisable to leave some clearance around it for safe usage, at least two feet on each side and at least three feet at the rear.
The unit's frame has a folding mechanism. The deck can fold up for better storage possibilities, making it much easier to clean under the deck. The folding mechanism uses a hydraulic cylinder that lowers the deck slowly when unfolded to prevent damage to it or the floor.
Also, with the deck folded, the machine's length is reduced to 41.75″ (106 cm) while its height becomes approx—58″ (147 cm).
Although it's a treadmill for home use, the Sunny SF-T7604 is heavy. It weighs approximately 130 lbs (59 kg) with all the parts assembled. However, all this weight adds to its overall stability.
Its front base rests on six flat rubber pads, improving its stability. The front base frame also has a set of wheels that facilitate the machine's relocation when folded.
Deck construction and incline
The Sunny SF-T7604 folding treadmill features a pretty sturdy deck. It has a maximum user weight capacity of 265 lbs (120 kg), which is not bad for a home-use machine. Moreover, it offers a running platform of 51″L x 18″W (130 x 46 cm) using a multi-layer belt with a rubberized top for an improved grip.
Although the machine's running platform isn't as large as a commercial treadmill, it's still long and wide enough to provide a complete range of motion for users up to 6'0″ (183 cm).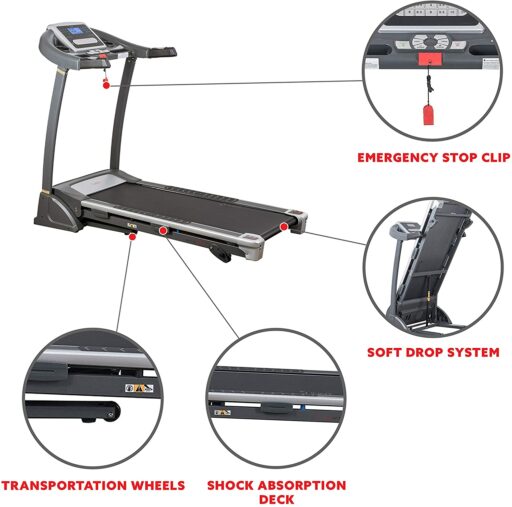 The exact dimensions of the integrated rollers are not specified. However, they have indeed crowned design for improved traction. They also integrate high-grade ball bearings for smooth motion.
Although the Sunny SF-T7604 is a treadmill designed for home use, its deck integrates many cushioning elements. Each deck side incorporates two large cushions for reduced vibration and three smaller cushions for reduced impact.
The deck itself also has a bit of flex. Therefore, walking or running on this treadmill has considerably less impact on your joints and back.
The treadmill features a manual incline system. It consists of two folding rear stabilizers, each featuring three adjustment positions. The deck's incline is adjustable by locking the two rear stabilizers in the desired position with the pins.
The available incline levels are around 0°, 1°, and 2°. However, since the incline system is manual, you cannot adjust it while walking or running on the treadmill. Instead, you must stop the belt and step off the deck to change the incline.
With the incline set to 0°, the deck's step-up height is approximately 8″. Of course, with the highest pitch, the rear of the deck is a bit lower. Nonetheless, it is advisable to use the machine in a room with a ceiling height of at least 10″ (25 cm) higher than the tallest user's size.
SF-T7604 Drive motor
The Sunny SF-T7604 folding treadmill comes equipped with a 2.5 HP motor. It's not a super-duty motor like the commercial-grade machines but offers enough continuous power to keep you running for two hours. The manual recommends turning off the machine for at least ten minutes after every two hours of use.
The unit's motor offers a speed range between 0.6 and 11 MPH. The speed adjustment increments are 0.1 MPH, so the transition from one level to another is done smoothly, allowing you to adjust your pace.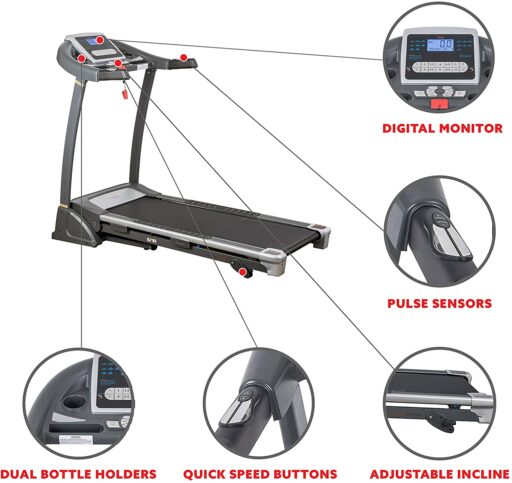 The treadmill's console features control for gradual and quick speed adjustment. The incremental adjustment controls have a double function. They adjust the speed by 0.1 MPH if pressed once, but you can also press and hold for continuous speed adjustment.
The quick speed selection controls offer the possibility to select 1 MPH, 2 MPH, 3.5 MPH, 4 MPH, 4.5 MPH, 5 MPH, 6 MPH, 7 MPH, 8 MPH, 8.5 MPH, 9 MPH, 9.5 MPH, 10 MPH, and 11 MPH. Also, the console has several workout programs that adjust the speed automatically.
Finally, since the machine doesn't have a super powerful motor, its power consumption is minimal. So, even if you use it daily, it shouldn't add more than a few dollars to the electricity bill.
Also, the motor itself doesn't generate much noise when in use, but depending on how fast you go, your cadence may create more or less noise.
Console
The Sunny SF-T7604 folding treadmill doesn't have a super console but does cover all the essential treadmill functions. In addition, it features an LCD (with LED backlight) for improved readability.
The display is divided into several sub-sections to show multiple readings simultaneously, tracking time, distance, speed, calories, and pulse. The speed is shown in MPH, while the distance displays in miles. There is no possibility of setting these values to metric units.
Unfortunately, the console is not telemetric. Therefore, if you want to monitor your pulse, you will have to hold on to the sensors integrated into the side grips of the machine; the console cannot communicate with a Polar or ANT+ pulse strap.
The console unit makes available 15 pre-set programs, three user profiles, a Body Fat function, and the Manual mode.
Each of the 15 (P1-P15) pre-set programs offers different workouts. Some are best to use if you want to lose weight; others are interval-based, while others gradually increase the speed, then lower it. Each pre-set program has its grid figure on the console (right and left from the display).
The user profile programs (U1-U3) offer to create and save three custom programs with the desired duration and speed settings. Therefore, if up to three persons use the machine, each can make and keep their program.
The Manual Mode allows you to run or walk freely, adjusting the speed manually. For this workout mode, you can also set up targets for time, distance, and calories. And finally, the Body Fat function can calculate your body fat percentage if you input your age, weight, height, and gender.
Of course, the console dashboard features two bottle holder compartments and two other small trays that you can use to store various small accessories. But unfortunately, it does not have a tablet holder. It also does not have a sound system feature, a cooling fan, a USB charging port, or online connectivity.
SF-T7604 Assembly and Maintenance
The Sunny SF-T7604 treadmill comes pre-assembled and folded. You only have to unpack it, remove the straps that hold it, unfold the two upright bars with the console, secure them in place, add the side frame covers, and plug it in.
Consequently, this shouldn't take more than 30 minutes of your time. All the necessary tools come with the machine, and the manual provides precise assembly instructions.
The machine's belt needs cleaning to prevent debris from being caught in the motor or the rollers for maintenance. In addition, the deck requires periodic lubrication every two months if it uses more than 5 hours per week or six months for less than 3 hours per week. A bottle of lubricant comes included. Besides this, it is also advisable to periodically inspect the machine to ensure that all the parts function correctly and there are no loose bolts or parts.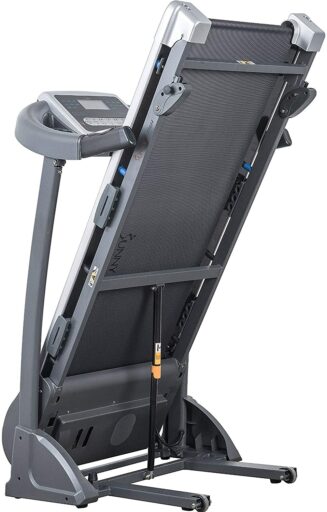 Pros
Sturdy construction – can support users up to 265 lbs;
Folding deck, space-saving design;
Transport wheels;
Cushioned deck for a low-impact ride;
Manual incline with three levels of adjustment;
Speed settings up to 11 MPH;
Speed adjustment increments of 0.1 MPH;
Quick keys for speed adjustment for multiple speed settings;
Pulse reading function;
Accessory trays built into the dashboard;
Tablet holder included;
15 pre-set workout programs;
Three user profiles;
Body Fat calculator function;
Goal settings for time, distance, and calories;
The LCD has an LED backlight;
Very easy to assemble;
Little maintenance is required.
Cons
The calories reading function isn't too accurate;
There is no tablet holder;
The console does not have a USB port.
Sunny SF-T7604 Folding Treadmill Summary
The Sunny Health & Fitness SF-T7604 is a motorized treadmill for home use. It has a 2.5 HP motor featuring a speed range of 0.6-11 MPH, a manual incline system, and a console with 15 pre-set workout programs. It also has a folding deck.
It's a decent machine for medium to high-intensity cardio workouts, muscle toning, stamina development, and weight loss. It's not the most affordable treadmill in this feature range but offers excellent price quality.
I hope you found this article helpful and informative. Would you please speak up if you have anything you'd like to share on the topic or any opinions about my website? I look forward to your comments, questions, and the sharing of ideas.
Please note you should consult your physician to determine if you have any medical or physical conditions that could risk your health and safety or prevent you from using the equipment properly. In addition, your physician's advice is essential if you are taking medication that affects your heart rate, blood pressure, or cholesterol level.