The Stamina Air Resistance Bike 876 combines air resistance's versatility with a powerful way to work the upper body. In addition, air resistance is practical and easy to use. For instance, pedal faster for higher resistance or slow down for less. For more of a challenge, turn the dial to your desired level of intensity and begin pedaling.
You'll find the air resistance offers a smooth, stable exercise, no matter what your intensity level is. The Air Resistance Bike 876 engages the upper body as well. Place your hands on the dual-action arms while pedaling to stretch and strengthen the shoulders, back, chest, core, and arms. As a result, you'll burn even more calories and raise your heart rate for a powerful, total-body workout.
When you're ready to take your workout a step further, track time, distance, speed, and calories burned on the large, easy-to-read fitness monitor LCD. Use SCAN mode to cycle through these stats as you exercise. It is a simple monitor and doesn't include any pre-programmed workouts. In addition, the monitor is battery-operated, requiring 2 AA batteries, which do not come with the bike.
Adjust the comfortable, molded, padded seat to your desired height (fits 4 10 to 6 2) and begin pedaling. The textured pedals and foam-padded handles offer enhanced security and stability during your exercise routine. Do you have a small budget? Look no further than the Stamina Air Resistance Bike 876 for a cardiovascular-boosting workout.
Learn more in my complete review below!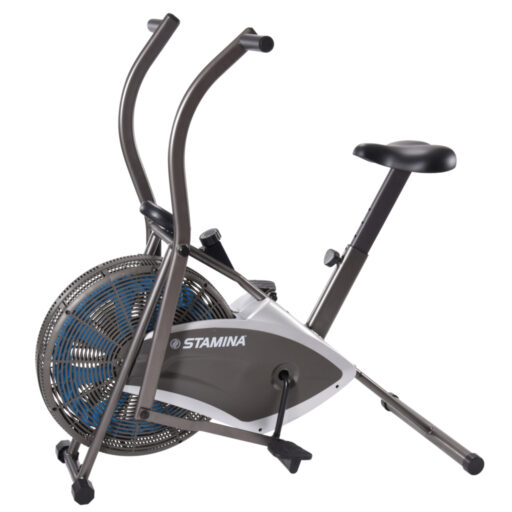 Product: Stamina Air Resistance Bike 876
Price: For a great deal on this bike, merely go here on Amazon
Warranty: Frame 1 year / Parts 90 days
My rating: is 7/10
Affiliate Disclosure: As an Amazon Affiliate Program participant, I earn commissions on purchases made through links in this post. Full disclosure
Details and Specifications
Assembled dimensions: 46L x 20W x 45H inches (117L x 51W x 114H cm)
Assembled weight: 40 lbs (18 kg)
Supported weight: 250 lbs (113 kg)
Drive: Belt
Resistance: Air & strap
Fitness Monitor: Time, speed, distance, calories, SCAN
Warranty: Frame 1 year / Parts 90 days
876 Frame construction
The Stamina air-resistance bike 876 features a steel frame. However, it's a model made for home use, so it doesn't have heavy commercial trainer construction like the Assault Air Bike. Furthermore, with all the parts assembled, it only weighs 40 lbs (18 kg). Therefore, one person can carry and build the bike.
All the steel parts in the bike's construction come coated with a corrosion-resistant gray paint finish. The unit also has several ABS parts in its construction, the most notable being the side belt and fan covers. The fan is made of heavy-duty plastic as well.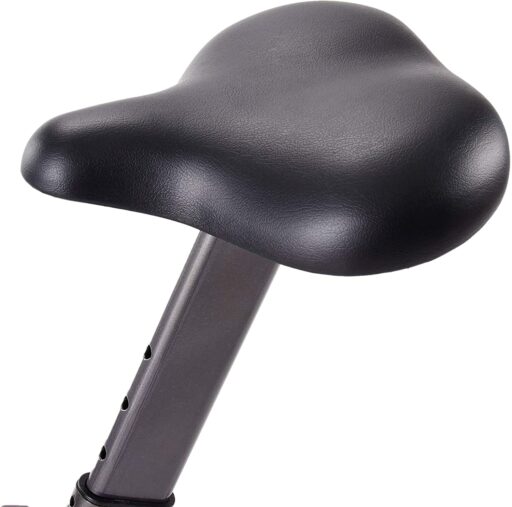 The fully assembled bike is relatively small compared to other fitness machines. It is only 46″ (117 cm) long and 20″ (51 cm) wide. Thus, it can fit pretty well, even into a small room or apartment. However, it is still advisable to allow at least two feet of clearance all around it for easy access.
Despite its lightweight, the bike offers decent stability as it has a low center of gravity. Its front base side caps are polygonal and can rotate to save as levelers. Also, the rear caps can serve as transport wheels.
Seat and handlebars
The Stamina air-resistance bike 876 comes equipped with a standard seat. Its top is made of polyurethane material. It does not integrate extra air cell cushioning, but it's not extremely hard, either. It's more significant than the average spin bike seat and has a contoured surface for extra breathability.
The bike's seat is only 2-way adjustable (up, down). However, its upright bar has several adjustment notches so that the bike can accommodate users between 5'0 ″ and 6'2 ″ (153 – 188 cm). It is also durable enough to support users up to 250 lbs (113 kg).
The bike comes equipped with a set of mobile handlebars. They are directly attached to the pedal bars, so they cannot be locked. Therefore, they continue to move for as long as you pedal.
The two handlebars feature short, rubberized grips. Unfortunately, they do not have pulse sensors like other upright bikes, and the bike's fitness monitor doesn't have a pulse reading function.
876 Resistance system
The Stamina 876 is an air-resistance exercise bike. Therefore, its main resistance-generating element is the massive fan at the front. When you begin pedaling, the fan spins inside its casing, and the created air current adds resistance to the pedaling motion.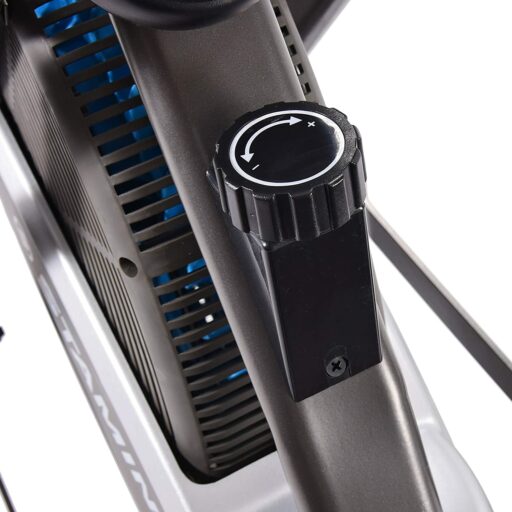 The fan is bi-directional. Therefore, you can pedal and move the handlebars in reverse, allowing you to diversify your workout routines. However, coasting on this exercise bike is not possible. The pedals and the arms continue to move for as long as the fan is spinning.
Like any other air-resistance bike or rower, the Stamina 876 delivers a dynamic response during pedaling. For instance, this means the pedaling difficulty increases if you pedal faster. Thus, it is a plus, as you can benefit from high-intensity cardio workouts, even though the bike is a light-capacity model.
The bike's resistance system also involves an adjustment strap. This strap is attached to the fan's side and the tension knob on top of the frame. For example, the belt tightens when turning the knob clockwise, increasing the pedaling difficulty.
Unlike the exercise bikes with a magnetic resistance system, there aren't any resistance levels or "clicks" specified on the knob. Therefore, you can tighten it to the point where you feel that the overall resistance corresponds to your needs.
Drive system
This Stamina air-resistance bike 876 comes equipped with a belt drive system. There are two primary benefits to this type of drive. First, you don't have to go through the hassle of lubrication. Second, it minimizes vibration, and the related usage noise is almost inexistent. However, since this is an air bike, the fan will generate noise during usage.
The bike's pedals are made of a durable nylon material with a metallic core. They are weighted, so they always turn face-up if you remove your feet from them.
It's important to note that pedaling while standing up is not advisable for this bike. Although the crank and pedals are pretty solid, pedaling while standing up might reduce the lifespan of the internal elements.
876 Fitness Monitor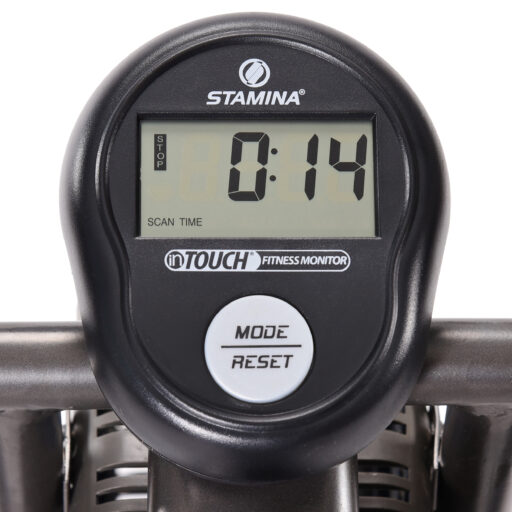 The Stamina air-resistance bike 876 comes equipped with a fitness monitor. It features a relatively large LCD (without a backlight) that tracks time, distance, speed, and calories burned. Furthermore, the speed and distance are displayed in MPH and miles only; it cannot show metric units.
Unfortunately, the bike doesn't have a pulse reading function, and the monitor cannot communicate with any HR transmitter. Therefore, if you want to monitor your heart rate during exercise, you must use a separate device.
The fitness monitor is straightforward to use. It has two buttons, Mode and Reset. The Mode button allows you to scroll through the workout metrics and select the one you want to display.
However, the monitor also has a Scan Mode; if selected, the monitor will rotate all the values showing each one for 4 seconds. After that, the Reset button clears all the values to zero.
The fitness monitor is battery-powered and uses two AA batteries. Unfortunately, they do not come with the machine. It starts up when you begin pedaling or when you press the Mode button. It also automatically shuts off if it doesn't detect any activity on the bike for four minutes.
876 Assembly and Maintenance
The main body of the bike comes pre-assembled. However, you still have to attach the rear stabilizer, the front stabilizer, the seat, the handlebars, the pedals, and the fitness monitor. The task is pretty straightforward, and the manual provides explicit assembly instructions. Also, all the necessary tools come with the bike.
Since it's a belt bike, its transmission doesn't require lubrication. However, for maintenance, you'll need to dust the flywheel and its cage, periodically check for loose bolts and parts, and retighten or replace them as required.
Pros
Sturdy frame for a small bike – can hold users up to 250 lbs;
Transport wheels on the rear base;
Adjustable levelers on the front base;
Mobile handlebars for arms workouts;
Standard seat, able to replace if necessary;
Air resistance system, great for interval workouts;
Internal strap adjustable resistance;
Fitness monitor included;
Little maintenance is required;
Fairly quiet operation;
Easy to assemble.
Cons
There is no bottle holder;
The fitness monitor doesn't have a pulse reading function;
It doesn't have front pegs for resting your feet.
Stamina Air Resistance Bike 876 Summary
The Stamina 876 is an air-resistance exercise bike designed for home use. It has a fan, a strap-based internal resistance adjustment mechanism, and a fitness monitor that can track time, distance, speed, and burned calories.
Moreover, it's a reasonably decent trainer for light to medium-intensity cardio workouts, muscle toning, stamina development, and weight loss.
I hope you found this article helpful and informative. Would you please speak up if you have anything you'd like to share or any opinions about my website? I look forward to your comments, questions, and the sharing of ideas.
Please remember that you should consult your physician to determine if you have any medical or physical conditions that could risk your health and safety or prevent you from using the equipment properly. In addition, your physician's advice is essential if you are taking medication that affects your heart rate, blood pressure, or cholesterol level.