Revitalize your in-home cardiovascular workout routine with the Sunny AeroPro Indoor Cycling Bike SF-B1711. The sturdy steel frame has a definite triangular shape and stabilizing feet that make every ride stable and consistent, supporting a maximum user weight capacity of up to 300 lbs.
The Sunny SF-B1711 features a 44 lb flywheel to create more long-term momentum, keeping your workout going the distance. In addition, sunny's flywheel is second to none when it comes to feeling like you are riding outdoors! No more jerky, out-of-control movements, regardless of speed or resistance level!
Equally important, you'll lock in the momentum of your machine with the foot cage pedals. Pair up the SPD-compatible pedals with compatible shoes to clip and attach your feet to the pedals or the built-in toe cages for ultimate stability. Avoid foot slippage at increased levels of speed and intensity!
The Sunny AeroPro Indoor Cycling Bike features manual magnetic resistance, resulting in a silent, stable, and virtually low maintenance experience. You can increase or decrease resistance with a simple twist, so your workout can remain challenging and effective throughout your fitness journey. In addition, the built-in push down emergency brake will bring the bike to an immediate stop.
Learn more in my complete review below!
Product: Sunny AeroPro Indoor Cycling Bike SF-B1711
Price: For a great deal on this bike, merely go here to Sunny Health & Fitness.com
Warranty: Frame 3 years / Parts 180 days
My rating: 8.5/10
Affiliate Disclosure: As a Sunny Health & Fitness Affiliate Program participant, I earn commissions on purchases made through links in the post. Full disclosure
Details and Specifications
Assembled dimensions: 49L x 22W x 45.5H inches (124L x 56W x 115H cm)
Assembled weight: 117 lbs (53 kg)
Flywheel weight: 44 lbs (20 kg)
Supported weight: 300 lbs (136 kg)
Seat: 4-way adjustable
Drive system: Belt
Resistance: Magnetic
Fitness Monitor: Not included
Extras: Tablet holder, bottle holder
Warranty: Frame 3 years / Parts 180 days
SF-B1711 Frame Construction
The Sunny AeroPro indoor cycling bike features a triangular frame of durable steel tubing coated with a thick, rust-resistant light gray paint finish. The only exceptions are the seat post and slider, the handlebar post, and the flywheel, which have a shiny chrome finish.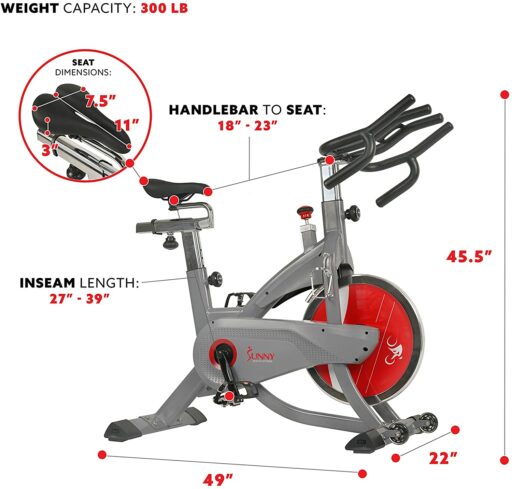 Like most other spin bikes, the Sunny SF-B1711 is not an extremely large fitness machine. It is approx. 49″ (124 cm) long and 22″ (56 cm) wide so that it can fit even into a smaller room. It is advisable to leave at least 24″ (61 cm) of clearance all around it for safe usage and ease of access.
Given the extra-heavy flywheel and the thick, durable steel tubing, the SF-B1711 is quite a heavy trainer. Its net weight is 117 lbs (53 kg), three times the average road bike's weight. However, all this weight provides super stability. Plus, both base bars of the bike has adjustable stabilizers with rubber pads.
Once completely assembled, the bike can easily be moved by only one person, despite its weight. In addition, its front base features a set of large silicone wheels, which considerably ease its relocation.
The Sunny SF-B1711 features a small horizontal bar that unites the seat tube with the main oblique tube. For example, this bar is used as a step-up element or support stretching. It's also for specific exercises during various spin workouts. Not all spin bikes have this element, so it's quite a plus.
Lastly, not all parts of the bike's construction are steel. The belt cover and the side panels of the flywheel are ABS plastic. Nonetheless, they only have a protective role, so by any means, they don't diminish the bike's overall sturdiness or weight capacity. The SF-B1711 has a maximum user weight limit of 300 lbs (136 kg).
Seat and handlebars
The Sunny AeroPro indoor cycling bike includes a high-comfort saddle. It's a relatively slim race-type saddle, 7.5″ (19 cm) wide and 11″ (28 cm) long, but integrates a thick layer of foam cushioning, especially in its rear section. Plus, it has a longitudinal groove, considerably improving breathability during seated workouts.
The seat attachment system is collar-based. Therefore, if you ever need to replace it, compatible options should be widely available in any bike shop.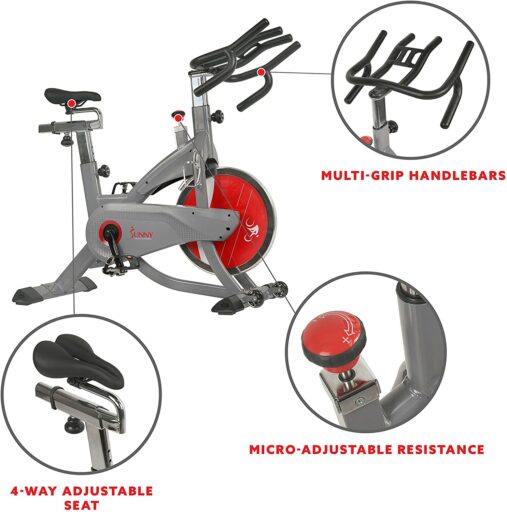 The bike's seat is 4-way adjustable (up, down, front, back). In addition, its vertical post has multiple adjustment positions, while its horizontal slider adds several inches of fore/aft adjustment.
Thus, the bike can accommodate users with an inseam between 27″ and 39″ (68 – 99 cm). Furthermore, it should accommodate users between 5'1″ and 6'6 ″ (155 – 198 cm), allowing a complete leg extension and range of motion.
The SF-B1711 features a multi-grip handlebar, allowing a climbing grip, a standard grip, a close grip, and a drop-down grip. Also, the two median bars offer the possibility of adopting an aero grip. In addition, the whole handlebar is urethane-coated for an improved and comfortable grip.
Unfortunately, the handlebar is only two-way adjustable (up, down). In addition, it does not have a horizontal slider. However, the seat and the handlebar are straightforward to adjust, and the large knobs are easy to grip and turn.
SF-B1711 Resistance system
The Sunny AeroPro, an indoor cycling bike, has a manual magnetic resistance system. Therefore, you don't require a connection to a power source and don't need an adapter or power cord.
But on the other hand, the resistance is only adjustable manually; the bike cannot automatically adjust the resistance, and it does not have a fitness monitor with workout programs.
The bike's resistance system consists of a magnetic brake placed above the flywheel and connected to the tension knob above the main oblique frame tube.
For instance, when turning the knob clockwise, the brake moves closer to the flywheel, increasing the magnetic pull, which adds difficulty to pedaling. And when turning the knob counter-clockwise, the brake moves farther away from the flywheel, decreasing the magnetic pull and reducing the pedaling difficulty.
The bike's tension knob doesn't have clicks or pre-determined resistance levels. Instead, you turn it until you get the desired pedaling difficulty. As a general idea, the maximum resistance level is pretty tough. So even a fit user may not maintain a high pedaling speed when using it for more than a few minutes.
The tension knob also has an emergency brake function. You can press it down to stop the flywheel instantly. It is necessary because the pedals continue to spin for as long as the wheel is spinning. So, trying to prevent it from the pedals may lead to injuries.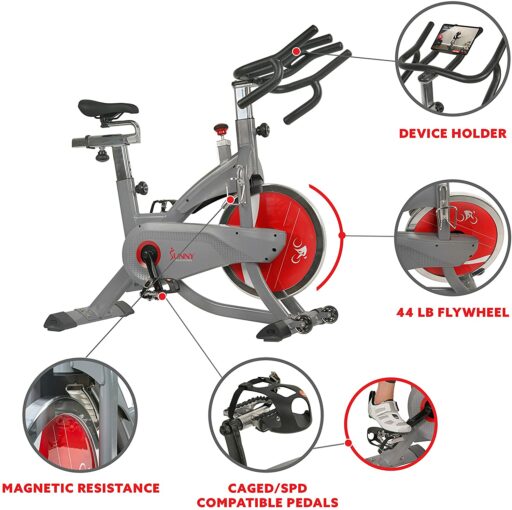 Drive system
First, like most other exercise bikes or ellipticals equipped with a magnetic brake, the Sunny AeroPro SF-1711 features a belt drivetrain. It uses a heavy-duty poly-v belt resistant to stretching and abrasion. This type of drive system comes with several advantages.
First, the belt does not need lubrication, which saves you a bit of hassle. Second, a belt drive generates less vibration than a chain, and third of all, it contributes to the overall quietness of the pedaling motion.
Since it's a bike designed for spin workouts, the Sunny SF-B1711 comes equipped with a solid 3-piece crankset. Its arms are solid steel, while the pedals are also metallic. Therefore, as long as you don't exceed the 300 lbs (136 kg) weight limit, you should be able to pedal while standing up with no problem.
The pedals are dual-sided. They have adjustable toe cages on one side and SPD elements for spin shoes. Nonetheless, they have 9/16 standard threads, so compatible options are widely available if you want to replace them.
The Sunny AeroPro SF-1711 indoor cycling bike comes equipped with an extra-heavy flywheel. As a result, it weighs 44 lbs (20 kg), while most other bikes in this feature range only have flywheels up to 40 lbs (18 kg).
The flywheel is perimeter-weighted for enhanced inertia, which is excellent for spinning. Therefore, the bike still provides consistent and smooth pedaling motion even if the resistance is minimal.
The bike's flywheel is bi-directional. Differently put, you can pedal in reverse. However, coasting (or free-wheeling) is not possible on this bike. Therefore, when pedaling in reverse, you will benefit from the same pedaling difficulty when pedaling forward, depending on the selected tension level.
Other accessories
Unfortunately, the Sunny SF-B1711 bike does not include a fitness console. Therefore, you must use a separate device to track your workout metrics and progress.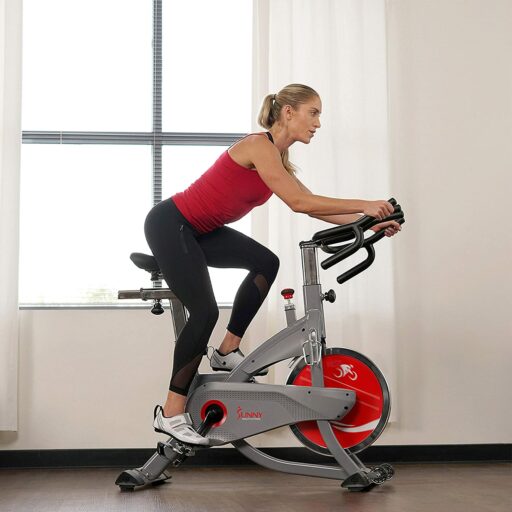 Two notable accessories included with this Sunny exercise bike are the bottle holder and the tablet holder. The bottle holder attaches to the bike's front fork bar on the right. It's metallic and flexible, so it can accommodate most hydration bottles. The tablet holder integrates into the handlebar between the two median aero bars.
SF-B1711 Assembly and Maintenance
Most of the bike comes pre-assembled. You only have to attach the two base bars, the pedals, the seat slider, the saddle, the handlebar post, and the handlebar.
Consequently, it shouldn't take more than 20 minutes of your time. The manual provides clear instructions accompanied by schematics, and all the tools for assembly come included with the bike.
Once completed, you don't have to worry much about maintenance. As I've mentioned earlier, the drivetrain doesn't require any lubrication. So, you must keep the bike clean, periodically check for loose parts, and retighten them as needed.
Pros
Sturdy construction can support users up to 300 lbs;
Aesthetic design;
Adjustable stabilizers on both bases;
Transport wheels on the front base;
4-way adjustable seat;
High-comfort saddle with foam cushioning and a median groove for extra breathability;
Multi-grip handlebar with aero and drop-down grips;
Step-up bar between the seat tube and the main tube of the frame;
Smooth, almost silent belt drive;
Extra-heavy 44 lbs flywheel
Frictionless magnetic resistance;
Heavy-duty metallic pedals with toe cages and SPD compatible;
Tablet holder included;
Bottle holder included;
Tools for assembly come with the bike;
Easy to assemble;
Little maintenance is required;
Excellent warranty.
Cons
There is no fitness monitor.
Sunny AeroPro Indoor Cycling Bike SF-B1711 Summary
The Sunny Health & Fitness AeroPro SF-B1711 is an indoor cycling bike designed for home use. It has a frictionless magnetic resistance system, an extra-heavy (44 lb) flywheel, and a high-comfort, 4-way adjustable seat.
It's a bike that withstands any spin workout, great for intense cardio training, interval training, muscle toning, stamina development, and weight loss. It's not exactly one of the most affordable Sunny exercise bikes and does not come with a fitness monitor, but it offers excellent value.
I hope you found this article helpful and informative. Would you please speak up if you have anything you'd like to share or any opinions about my website? I look forward to your comments, questions, and the sharing of ideas.
Please remember that you should consult your physician to determine if you have any medical or physical conditions that could risk your health and safety or prevent you from using the equipment properly. In addition, your physician's advice is essential if you are taking medication that affects your heart rate, blood pressure, or cholesterol level.