The XTERRA Fitness AIR350 AirBike is a high-output cardio machine that will help you burn fat while building cardiovascular health. Combining the heart-healthy benefits of cycling with a low-impact upper-body workout, the AIR350 offers ultimate versatility to achieve the results you want in the comfort of your home.
The AIR350 is crafted with high-quality and durable materials to provide a smooth, quiet, and practical exercise experience. In addition, a 6-blade flywheel provides resistance that matches your fitness level and desired intensity. For instance, as you pedal faster, the resistance increases, generating more wind to cool you down while burning those calories.
The XTERRA AIR350 features a fitness monitor and an LCD with significant digits that tracks time, distance, total distance, speed, and calories burned. Unfortunately, there is no pulse reading function or workout program. However, it does have goal-setting functions.
The AIR350 comes equipped with an ergonomically molded cushion with adjustable positioning. The seat on the AIR350 is comfortable and adjusts to the needs of a variety of users from 4'7″ – to 6'2″. Comfort and convenience are at the core of the XTERRA Fitness AIR350 AirBike.
Learn more in my complete review below!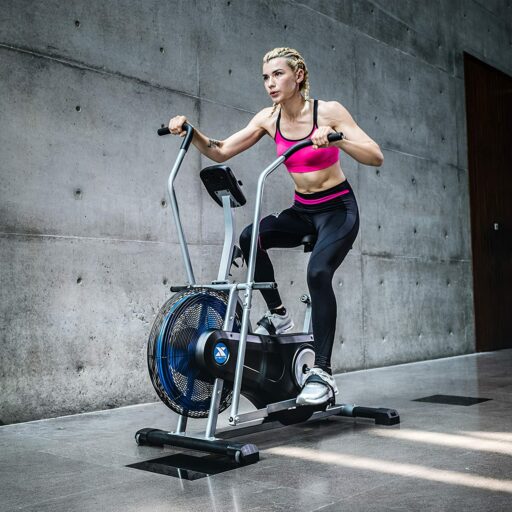 Product: XTERRA Fitness AIR350 AirBike
Price: For a great deal on this bike, merely go here to XTERRA Fitness.com
Warranty: Frame 1 year / Parts 1 year
My rating: is 8/10
Affiliate Disclosure: As an XTERRA Fitness Affiliate Program participant, I earn commissions on purchases made through links in this post. Full disclosure
Details and Specifications
Assembled dimensions: 48L x 28.3W x 51.1H inches (122L x 72W x 131H cm)
Assembled weight: 77 lbs (35 kg)
Supported weight: 250 lbs (113 kg)
Drive: Belt
Resistance: Air
Fitness Monitor: Time, speed, distance, total distance, speed, calories, goals, scan
Warranty: Frame 1 year / Parts 1 year
AIR350 Frame Construction
The XTERRA Fitness AIR350 features a steel frame and relatively heavy construction. Even though it doesn't have the heavy flywheel of a spin bike, it still weighs approximately 77 lbs (35 kg), twice the average road bike's weight. All this weight, plus the low center of gravity, provides excellent stability for the unit. As a result, you can be sure that it won't rock even if you engage in a more intense workout.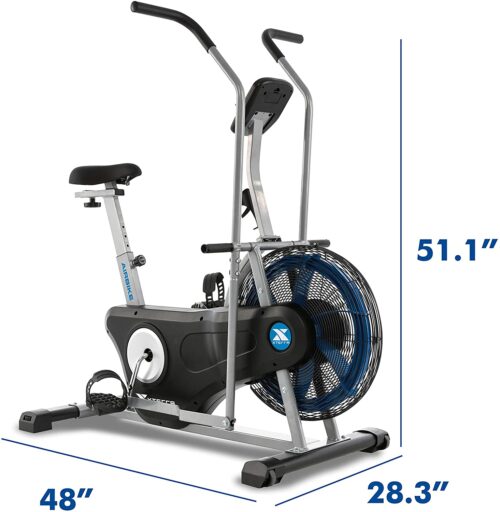 The bike's frame comes coated with a corrosion-resistant paint finish. The color used is gray for the mainframe and black for the base stabilizers, these being the only colors available for this bike. The flywheel guards are also black; they're steel-made, while the drive belt covers are ABS material and black.
The bike isn't giant but slightly larger than the average upright or spin bike. With the frame fully assembled, it is approx 48″ (122 cm) long and 28.3″ (72 cm) wide. Its footprint may narrow, but the handlebar grips give the maximum width.
Although the bike's weight offers excellent stability, the rear base also features adjustable levelers. Therefore, you can correctly stabilize it if the floor is irregular. The front base integrates a set of small wheels, so the bike is relatively easy to move once assembled.
It's essential to note that the XTERRA AIR350 comes equipped with footrests. It is near the joints between the handlebars and the front upright bar. Not all air resistance bikes have this feature, so it's quite a plus as it allows you to keep your legs still while exercising your arms.
Seat and handlebars
The XTERRA Fitness AIR350 includes a standard saddle. Its top is made of polyurethane material. It is more comprehensive than a race seat, providing extra contact surface and comfort during seated workouts. It doesn't have thick cushioning but a slightly contoured body for extra breathability.
The seat is four-way adjustable. Its upright bar has seven adjustment positions, while its horizontal slider offers a few more inches of front-to-back adjustment.
Therefore, the bike should be able to accommodate users between 4'7 ″ and 6'2 ″ (140 – 188 cm). However, taller users may not benefit from a complete leg extension. Also, the seat is durable enough to support users up to 250 lbs (113 kg).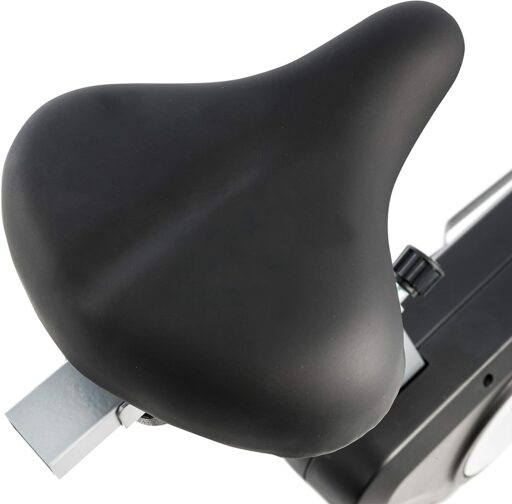 The bike's handlebars are directly attached to the pedal bars. Therefore, they are not locked; they continue to move for as long as you are pedaling. In addition, they feature simple, rubberized grips for extra comfort.
The grips reach relatively high, approx. 51″ (131 cm) above the floor level so you won't hit your knees when moving them, as might be the case for smaller air bikes.
Like most other air-resistance exercise bikes, the XTERRA AIR350 doesn't have stationary handlebars. Unfortunately, the cycle does not have a pulse reading function. The handlebar grips do not come with pulse sensors, while the monitor does not have an internal pulse receiver, so it is not compatible with any wireless heart rate chest strap.
AIR350 Drive and resistance
The XTERRA AIR350 is an air-resistance exercise bike, and its main resistance-generating element is the massive, 6-blade fan placed at the front of the unit. It generates a dynamic response like any other air bike or air-resistance rower.
Therefore, resistance increases proportionally with how fast you pedal. And to be even more specific, the quicker you pedal, the more resistance you will get.
Unlike other fitness machines with an air resistance system, the XTERRA AIR350 bike doesn't have an additional magnetic brake or a fan damper to increase or decrease the overall resistance. Instead, the only resistance-generating element is the fan.
This exercise bike comes equipped with a belt drive system. One of the main advantages of this type of transmission is that it does not require lubrication, so you don't have to go through the hassle of removing the plastic guards to lubricate the belt. Furthermore, it generates slightly less vibration than a chain drive, making pedaling smoother.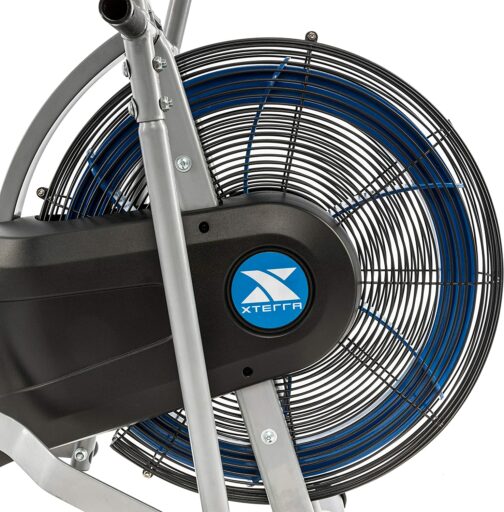 The bike's crankset features arms similar to most upright bikes rather than spin bike crank arms. However, they're cylindrical and a bit shorter. Nonetheless, they are durable enough to support standing-up workouts if the user doesn't exceed the maximum 250 lbs (113 kg) weight limit.
The pedals are ABS-made, with a metallic core. They have a weighted design, so they always turn face-up if you remove your feet from them. In addition, they feature a non-slip surface and adjustable straps.
Fitness Monitor
The fitness monitor included with the XTERRA  AIR350 exercise bike is a monitor without preset workouts. Instead, it features an LCD with significant digits that tracks time, distance, total distance, speed, and calories burned.
Unfortunately, it does not have a pulse reading function. Therefore, if you want to monitor your pulse during workouts, you must use a separate device.
Although the fitness monitor does not have preset workout programs, it does have goal-setting functions. You can select a goal for time, distance, or calories. After choosing a goal, the monitor will count the specified goals until they reach zero.
The monitor is easy to use. It has three buttons – Mode, Set, and Reset. The Mode button covers the selection function. You can change the workout metric you want to view on display by repeatedly pressing it. It also allows you to select the Scan Mode, which rotates all the values you exercise, showing each for 6 seconds.
The Set button covers the goal function. It allows you to enter setup mode and choose a workout goal for time, distance, and calories. And finally, the Reset button clears all the monitor values to zero except the Odometer (total distance).
The fitness monitor is battery-powered and requires two AAA batteries, which come with the bike. It starts when it detects flywheel movement and automatically shuts off after a few minutes of inactivity on the bike.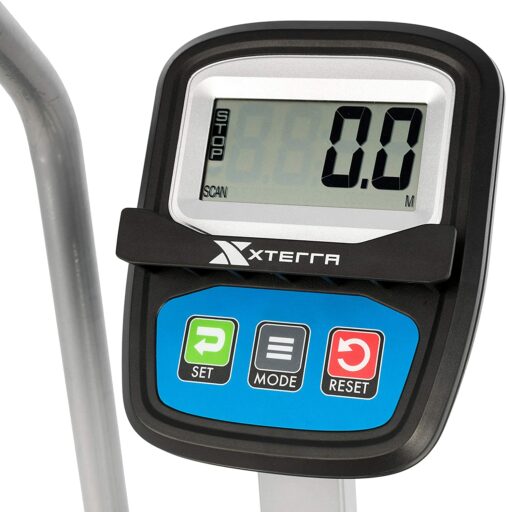 One last notable feature of the console is the device holder. This accessory consists of a small shelf right under the LCD. It can support your tablet or smartphone, but the console does not have any connection ports (USB or AUX) for your device.
AIR350 Assembly and maintenance
The main body of the bike with the flywheel, crankset, and belt comes pre-assembled. However, the rest of the parts still require user assembly. Thus, you will have to attach the two base bars, the front upright bar, the pedal bars, the pedals, the handlebars, the seat post, the seat, and the fitness monitor.
Therefore, it may take more than an hour, but the task is relatively simple. The manual provides clear assembly instructions and all the necessary tools for the bike.
Since the bike has a belt-drive system, its transmission doesn't require lubrication. So all you have to do for maintenance is remove the dust that may accumulate on the flywheel and its cage, lubricate the joints if they begin to squeak, and periodically check for loose bolts and parts.
Pros
Sturdy and stable frame for a bike made for home use – can support users up to 250 lbs;
Aesthetic design;
Transport wheels on the front base;
Adjustable levelers on the rear base;
Mobile handlebars for arms workouts;
Footrests included;
4-way adjustable seat;
Air resistance system, great for interval workouts;
The fitness monitor comes with the bike;
Target settings for time, distance, and calories;
Tablet holder integrated into the meter unit;
The bottle holder included;
Little maintenance is required;
Fairly quiet operation;
Easy to assemble.
Cons
The fitness monitor does not have a pulse reading function;
No backlight on the fitness monitor LCD;
A tablet placed on the tablet holder will cover the fitness monitor LCD.
XTERRA Fitness AIR350 AirBike Summary
The XTERRA Fitness AIR350 is an air-resistance exercise bike for home use. It features a large and thick 6-blade fan for improved resistance, a 4-way adjustable seat, and a fitness monitor with goal tracking for time, distance, and calories burned.
It's an excellent bike for HIIT workouts, full-body cardio workouts, stamina development, muscle toning, and weight loss.
I hope you found this article helpful and informative. Would you please speak up if you have anything you'd like to share on the topic or any opinions about my website? I look forward to your comments, questions, and the sharing of ideas.
Please remember that you should consult your physician to determine if you have any medical or physical conditions that could risk your health and safety or prevent you from using the equipment properly. In addition, your physician's advice is essential if you are taking medication that affects your heart rate, blood pressure, or cholesterol level.