The Sunny SF-E3982 Magnetic Elliptical Trainer is an excellent belt-driven rear-drive elliptical machine for home use that lets you take your fitness to the next level. In addition, the expertly engineered frame has a maximum user weight capacity of 265 pounds (120 kg), capable of withstanding more intensive workouts.
The SF-E3982 has 16 different levels of adjustable electromagnetic resistance. The 13 lb (5.9 kg) flywheel located in the elliptical rear helps you balance toward the machine's center, making it a smoother position for the user. Furthermore, the 15″ (38 cm) stride allows you to propel your legs forward and back.
The Sunny SF-E3982 Magnetic Elliptical has a fitness monitor that tracks time, distance, calories, pulse, speed, RPM, WATT, scan, body fat calculator, BMR & BMI. In addition, you'll stride through 21 pre-set elliptical programs targeting your: Body Fat, Watts, Heart Rate, and more.
Learn more in my complete review below!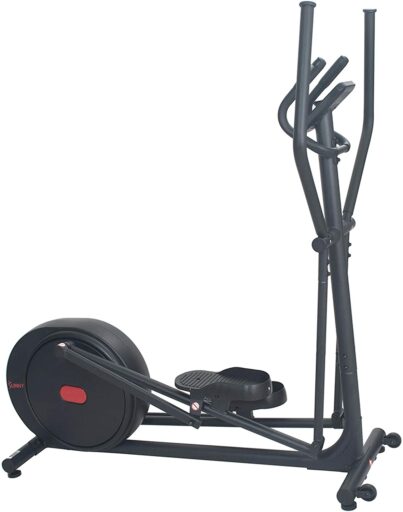 Product: Sunny SF-E3982 Magnetic Elliptical
Price: For a great deal on this elliptical, merely go here to Sunny Health & Fitness.com
Warranty: Frame 3 years / Parts 180 days
My rating: is 8/10
Affiliate Disclosure: As a Sunny Health & Fitness Affiliate Program participant, I earn commissions on purchases made through links in the post. Full disclosure
Details and Specifications
Assembled dimensions: 67.3L x 31.5W x 65.75H inches (171L x 80W x 167H cm)
 Assembled weight: 103 lbs (46.7 kg)
Supported weight: 265 lbs (120 kg)
Stride: 15 inches (38 cm)
Incline: No
Resistance: Motorized magnetic, 16 levels
Fitness Monitor: 21 programs, recovery
Extras: Device holder
Warranty: Frame 3 years / Parts 180 days
SF-E3982 Frame Construction
The Sunny SF-E3982 magnetic elliptical machine features a frame made of cylindrical steel tubing. In addition, all the steel bars in its construction come coated with a rust-resistant and chip-resistant paint finish. The color used is matte black, the only color available for this model. The casing of the drive system and the pedal trays are made of durable thermoplastic material, also black.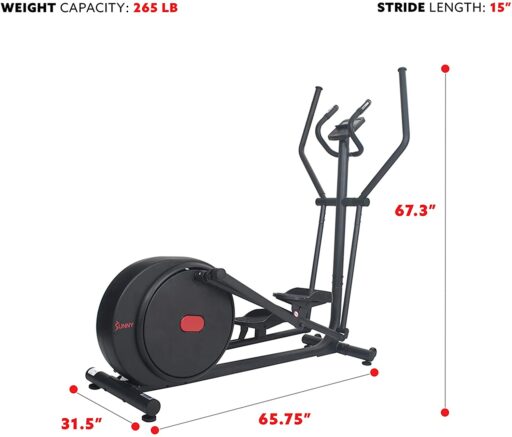 Although it's a machine made for home use, the Sunny SF-E3982 is relatively heavy. Its net weight is approx 103 lbs (46.7 kg). Furthermore, the elliptical provides excellent stability due to its weight and low center of gravity. In addition, both its base bars come with adjustable levelers featuring rubberized pads.
Since the heavy elliptical, two people should carry and assemble the trainer. However, once completed, one person can move it as its front base stabilizer features a set of transport wheels.
The fully assembled trainer is more extensive than other models, with a rear-drive system for home use. It is approx 67.3″ (171 cm) long and 31.5″ (80 cm) wide. In addition, it is also advisable to assign a usage area with a clearance of at least two feet around the machine to ease access and unhindered usage.
Handlebars and pedals
This Sunny elliptical features two handlebars, one mobile and one fixed. The mobile handlebars feature long and bent grips with flat caps at the top.
Their grips come fully covered by EVA (or other types of high-density foam) for improved comfort. In addition, they attach to the main pedal bars and the monitor mast, so they continue to move for as long as you pedal.
The fixed handlebars attach directly to the top of the machine's main front upright bar via screws. In addition, they have integrated metallic HR pulse sensors, and the machine's fitness monitor has a pulse reading function.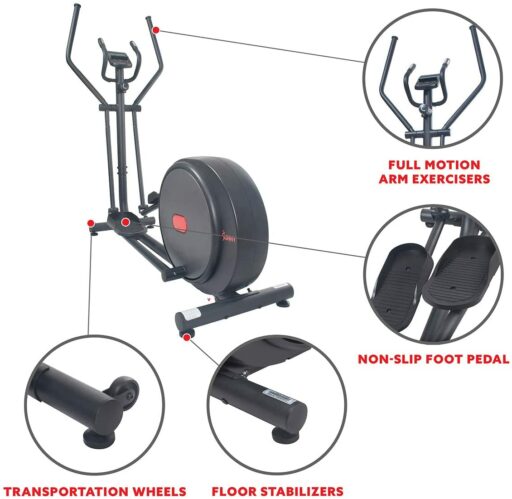 The machine's pedal system features two bars for each pedal. The bars to which the pedals are attached are slightly thicker. As a result, they have a maximum user weight capacity of up to 265 lbs (120 kg).
Elliptical path, stride, and step-up pedal height
Although it's a rear-drive elliptical trainer, the Sunny SF-E3982 magnetic elliptical trainer has an almost horizontal elliptical path due to the two-pedal bar system. Therefore, the pedaling motion is neutral and does not resemble a descent on a soft ramp, as is the case for other rear-drive trainers.
The machine doesn't offer a very long stride, though. It only has a 15-inch (38 cm) range of motion. Thus, it is not for users taller than 6′ 0 ″ (183 cm). Also, the machine does not have an incline system, and the pedals are non-adjustable, so the stride's length is not adjustable either.
The pedal trays feature a non-slip, textured surface. In addition, they have front and side guards for improved foot stability. Unfortunately, they do not have extra cushioning, but the machine provides a shallow-impact ride like most other ellipticals.
The machine's pedal step-up height is approx—9″ (24 cm). Also, at the highest point, the pedals reach approx. 13″ (34 cm) above floor level. Therefore, it is advisable to use this elliptical trainer in a room with a ceiling height of at least 16″-17″ (41-43 cm) higher than your size (or the height of the tallest user).
SF-E3982 Drive and resistance
The Sunny SF-E3982 magnetic elliptical trainer features an automatic magnetic (or electromagnetic) resistance system, which means the resistance adjusts only from the fitness monitor. In addition, the machine also needs to be connected to an external power source to make available the resistance adjustment. A power adapter comes with the elliptical.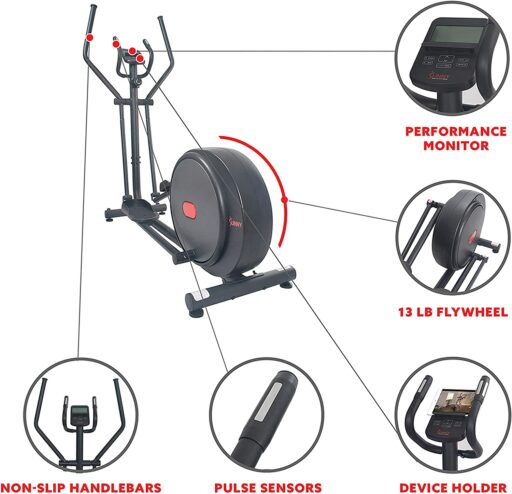 The unit's resistance system is slightly different than the SF-E3890 model. The magnetic brake integrates into the flywheel assembly.
Since the brake is automatic, the resistance system involves a servo motor connecting to the brake and the fitness monitor. When the monitor adjusts the resistance, the motor changes the magnets' pull to increase or decrease the pedaling difficulty.
This Sunny Health & Fitness elliptical trainer offers 16 difficulty levels. The first few deliver a light pedaling difficulty, great for recovery training or low-intensity cardio and muscle toning. Conversely, the 16th tension level offers considerably more resistance simulating a hill climb and allows for a more consistent workout.
The Sunny SF-E3982 features a belt drive system similar to other magnetic resistance elliptical trainers. One of the main advantages of this type of drivetrain is that it does not require lubrication. Also, it delivers a smoother and quieter ride than a chain drive.
The machine integrates a 13-lb (5.8 kg) flywheel. It has a balanced structure to improve the overall stability of the ride. It is also bi-directional. Therefore, the machine allows you to pedal reverse if you focus on different muscle groups. In addition, when pedaling in reverse, the resistance remains constant, given by the selected difficulty level.
Fitness monitor
The Sunny SF-E3982 magnetic elliptical features a good fitness monitor for a motorized treadmill. Unfortunately, it does not have an integrated sound system, a workout fan, or Bluetooth connectivity.
It features an LCD divided into multiple sub-sections to show as many workout metrics as possible. For example, it tracks time, speed, calories, distance, watts, RPM, and pulse.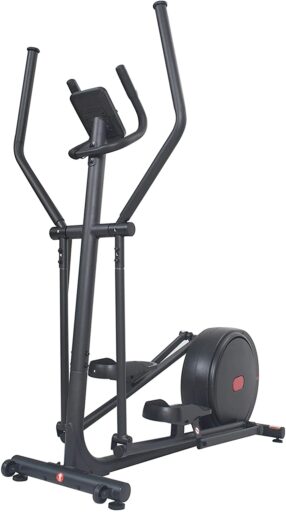 The two larger sections in the middle show the Scan function, which rotates time, distance, speed, pulse, calories, watts, and the program's grid.
Unfortunately, the fitness monitor is not telemetric, meaning it can only track your pulse through the sensors integrated into the handlebars. In addition, you cannot sync it with a wireless HR chest strap. Also, speed and distance are only in Imperial units. There is no option for metric units.
SF-E3982 Workout programs
The fitness monitor makes available 21 workout programs. The first program is Manual. As its name suggests, this program allows you to change the resistance manually. In addition, it also enables you to select time, distance, and calorie targets.
The pre-set programs are 2 to 11. They have different segment layouts for different types of workouts. For example, some are interval-based, others have a peak climb setup, while others focus on helping you burn more calories. Of course, you can still adjust in duration, distance, etc.
The 12th and 13th programs are the Body Fat and Watt programs. The Body Fat program requires you to input your height, weight, age, and gender so that the monitor can calculate your Body Mass Index and Basal Metabolic Rate. The Watt program adjusts the resistance depending on your RPM to keep you at the selected Watt value.
The programs from 14 to 17 are heart rate programs. The first three are 65% HRC, 75% HRC, and 85% HRC. The 17th is the custom HRC program; it requires selecting a desired heart rate percentage. Like the Watt program, the HRC programs automatically adjust the resistance to keep you in the expected % HRC.
Finally, the programs from 18 to 21 are user-defined. They allow you to design and save up to four custom programs, each with specific resistance values, durations, goals, etc.
The monitor also has a Recovery function with its quick key on the dashboard. This function is for the end of the workout. For instance, it enables the monitor to determine the amount of time your heart takes to return to an average BPM after the exercise and, based on the result, gives you a fitness rating between F1 (excellent) and F6 (poor).
SF-E3982 Assembly and Maintenance
The unit's base frame and the operating mechanism come pre-assembled. However, you will still have to attach the front base bar, the rear base bar, the front upright mast, the pedal bars, the moving arms, the fixed handlebars, the pedal trays, and the fitness monitor.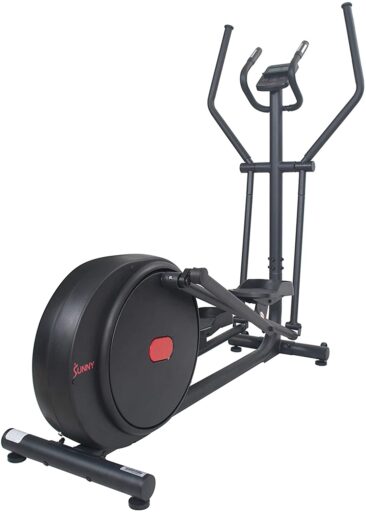 Consequently, it may take up to two hours of your time. However, the process is not too complicated, and the manual provides precise assembly instructions. Also, all the necessary tools come with the machine.
In terms of maintenance, the internal parts do not require any lubrication. However, the unit's joints may require lubrication after a while. In addition, you only have to keep your elliptical clean and periodically check for loose bolts or damaged parts and retighten or replace them.
Pros
Sturdy frame, rated for a maximum user weight capacity of 265 lbs;
Aesthetic design;
Adjustable levelers on both base bars;
Transport wheels on the front base;
Durable textured pedals;
Fixed handlebars with pulse sensors;
Quiet belt drive;
Balanced, 13-lb flywheel for improved motion stability;
Automatic magnetic resistance system with 16 difficulty levels;
Multi-window fitness monitor;
21 workout programs (1 manual, ten pre-set, 1 watt, one body fat, 4 HRC, four user-defined);
Pulse recovery function;
Device holder included;
Easy to assemble;
All the assembly tools included;
Little maintenance is required;
Excellent warranty.
Cons
The fitness monitor does not have online connectivity;
The fitness monitor does not have a USB charging port;
It doesn't have an incline system.
Sunny SF-E3982 Magnetic Elliptical Summary
The Sunny Health & Fitness SF-E3982 is a rear-drive elliptical machine designed for home use. It has a 16-level automatic magnetic resistance system, a 13-lb flywheel, and a fitness monitor with 21 workout programs. In addition, it also has a decent weight capacity of 265 lbs, which is not bad for a home-use elliptical.
Accordingly, it's an excellent machine for light to medium-intensity cardio workouts, muscle toning, interval training, weight loss, and building stamina.
I hope you found this article helpful and informative. Would you please speak up if you have anything you'd like to share on the topic or any opinions about my website? I look forward to your comments, questions, and the sharing of ideas.
Please remember that you should consult your physician to determine if you have any medical or physical conditions that could risk your health and safety or prevent you from using the equipment properly. In addition, your physician's advice is essential if you are taking medication that affects your heart rate, blood pressure, or cholesterol level.