The L NOW LD-582 S5 Indoor Cycling Bike features a 35 lbs flywheel that helps simulate a real road bike ride. The momentum of a heavier flywheel keeps the exercise bike steady and secure while riding. Enjoy the outdoor sports experience at home and perform intense aerobic exercise in a stable position. This bike has a maximum user weight limit of up to 350 lbs.
The LD-582 S5 comes equipped with smooth manual magnetic resistance. You can adjust the resistance level as you need, which provides a more effective workout to burn more calories. Four strong magnets offer enough resistance for a highly efficient cardio workout. In addition, unlike standard friction resistance bikes, there's no need to change the brake pad.
The L NOW (pooboo) LD-582 S5 indoor cycling bike comes with a fitness monitor that features an LCD (without backlight) that tracks time, distance, total distance (odometer), speed, RPM, calories burned, and pulse. Unfortunately, the monitor is not telemetrically enabled and can not track pulse using an HR chest strap. Instead, it requires holding the integrated pulse sensors in the handlebars to track the pulse.
The LD-582 S5 has an ergonomic design to provide a comfortable riding experience. The seat is 4-way adjustable, and the cushion measures 10.43 "×8″ ×2" (L×W×H). In addition, the handlebars are 2-way adjustable, offering a completely customizable experience for ultimate user comfort and compatibility.
Learn more in my complete review below!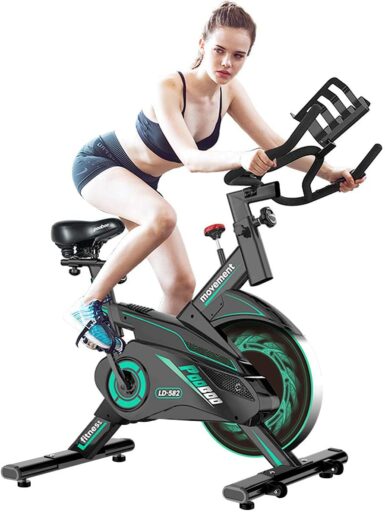 Product: L NOW LD-582 S5 Indoor Cycling Bike
Price: For a great deal on this bike, merely go here on L NOW Sport.com
Warranty: 1-year limited
My rating is 8.5/10
Affiliate Disclosure: As a participant of the L NOW Sport Affiliate Program, I earn commissions on purchases made through links in the post. Full disclosure
Details and Specification
Assembled dimensions: 41L x 21.6W x 51.2H inches (104L x 55W x 130H cm)
Shipping weight: 77 lbs (35 kg)
Flywheel weight: 35 lbs (15.8 kg)
Supported weight: 350 lbs (159 kg)
Drive: Belt
Resistance: Manual magnetic
Fitness Monitor: Time, distance, odometer, speed, RPM, calories, pulse, scan, goals
Extras: Device holder/bottle holder
Warranty: 1-year limited
S5 Frame Construction
The L NOW (pooboo) LD-582 S5 is not commercial-grade but heavy-duty construction. Its frame is thick, ovalized steel tubing, double-coated with a corrosion-resistant paint finish. The colors used are black, teal, and white.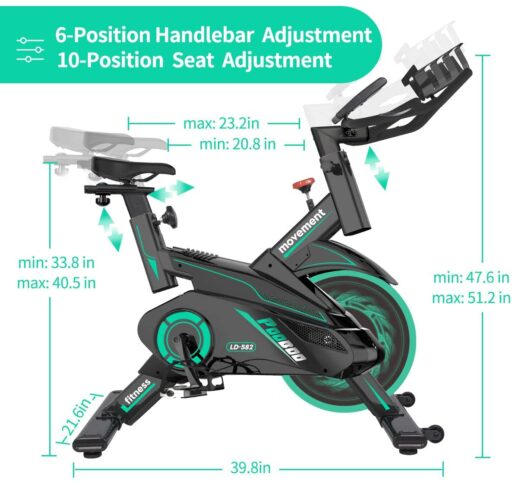 The bike features an X-type frame. Most of its core section has two large ABS plastic guards that protect the drive system. In addition, the fully assembled bike is not too large. It's smaller than a road bike. It is approx 41″ (104 cm) long and 21.6″ (55 cm) wide. With the handlebar extended to its maximum setting, its highest point is approx—51.2″ (130 cm).
Although it's a sturdy stationary bike, the L NOW (pooboo) LD-582 S5 is not extremely heavy. It only weighs approx. 75 lbs (34 kg) but does offer excellent stability. In addition, its base bars have adjustable levelers, and its front base bar features transport wheels.
Seat and handlebars
The L NOW (pooboo) LD-582 S5 indoor cycling bike has a 4-way adjustable seat. The vertical post offers multiple adjustment positions. Furthermore, its adjustment span is approx. 7″ (17.7 cm); its minimum height is 33.8″ (85.8 cm), while its maximum size is 40.5″ (102.8).
Also, its horizontal slider adds approx 2″ (5 cm) of front-to-back adjustment. Therefore, the bike should be able to accommodate users between 5'2 ″ and 6'5 ″ (157 – 196 cm) with no problem. It also has a maximum user weight limit of 350 lbs (159 kg).
The included saddle provides maximum comfort. It features considerably more cushioning than the average spin saddle. In addition, it also has a set of springs at its rear for extra flex and has a cutout in the middle for improved breathability.
It is also important to mention that the saddle has a standard (collar-type) attachment system. Thus, if you ever need to replace it, you should be able to find a compatible replacement in almost any bike shop.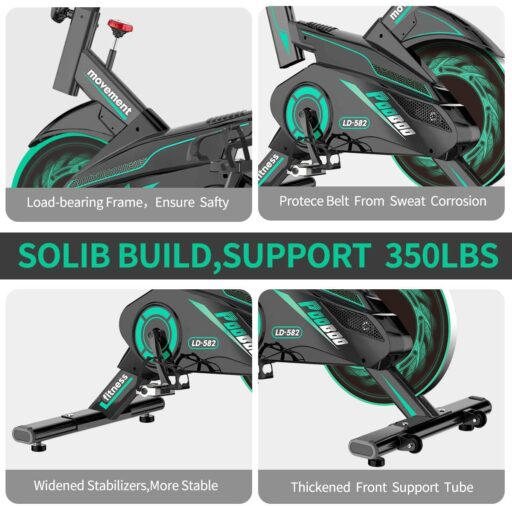 The bike features a multi-grip handlebar. However, it lacks the front-to-back slider feature. Moreover, it is only 2-way adjustable (up, down). Its vertical adjustment span is approx. 4″ (10 cm); its minimum height is 47.6″ (121) above floor level, while its maximum is 51.2″ (130).
The handlebar's side grips integrate HR pulse sensors, and the fitness monitor has a pulse reading function. In addition, a large device holder also comes with the bike. Furthermore, this accessory can accommodate any tablet and has a slot for holding a hydration bottle. It attaches to the median bar of the handlebar assembly.
S5 Drive and resistance
The L NOW (pooboo) LD-582 S5 indoor cycling bike has a manual magnetic resistance system. Thus, you don't have to connect it to a power source and don't need an adapter. But on the other hand, the included fitness monitor cannot adjust the resistance automatically.
The resistance system consists of a magnetic brake pad connected to the tension knob on the bike's front section and guarded by the ABS front cover. For instance, when turning the knob, the magnetic pad moves closer or farther from the flywheel, increasing or decreasing the pedaling load.
In addition, the tension knob also has an emergency stop function. You can press it down to instantly stop the flywheel from spinning.
Unlike the older LD-582 version, the S5 model features a perimeter-weighted flywheel. This type of design improves inertia, which is excellent for spinning workouts.
The flywheel weighs 35 lbs (15.8 kg). It's not as heavy as some other spin bikes, but it still provides a consistent workout even on the lowest resistance setting. Plus, it offers excellent motion stability.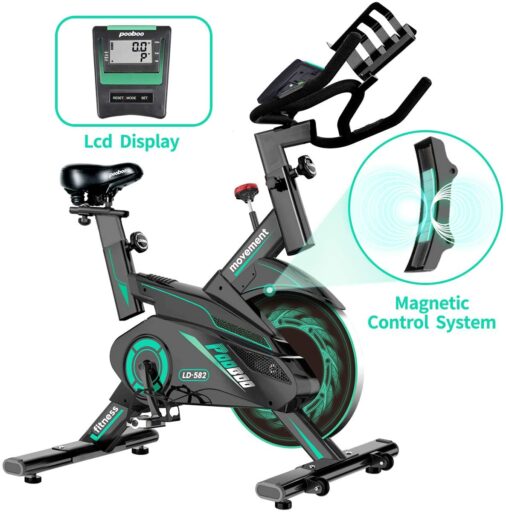 The bike comes equipped with a heavy-duty 3-piece crankset. Its arms are solid steel, and the pedals should withstand users up to 350 lbs (159 kg) during complete standing-up workouts.
The pedals are made of aluminum alloy. They feature adjustable toe cages but don't have SPD elements for spin shoes. Nonetheless, you can replace them with other pedals with standard 9/16″ threads.
Like many other magnetic resistance stationary bikes, the pooboo LD-582 S5 has a belt drive system.
This type of drivetrain comes with several advantages. For example, as would be the case for a chain drive, you don't have to worry about taking the covers apart to lubricate them. Also, it contributes to the ride's overall smoothness as it generates less vibration than a chain.
Fitness monitor
The workout fitness monitor included with the L NOW (pooboo) LD-582 S5 indoor cycling bike is not much different from the one included with the older version.
It has an LCD (without a backlight) that tracks time, distance, total distance (odometer), speed, RPM, calories burned, and pulse. The speed and distance are metric units, and no Imperial metric function exists. However, this shouldn't be a significant inconvenience.
Unfortunately, the monitor is not telemetric. Therefore, it can only track your pulse if you hold on to the sensors integrated into the handlebars. In addition, it cannot communicate with a wireless armband or chest strap HR transmitter.
The fitness monitor is pretty easy to operate. It has three buttons: Mode, Set, and Reset. The Mode button allows you to scroll through the workout values and select the one you want to visualize. You can also select the Scan Mode, and the unit will rotate all the values, showing each one for a few seconds.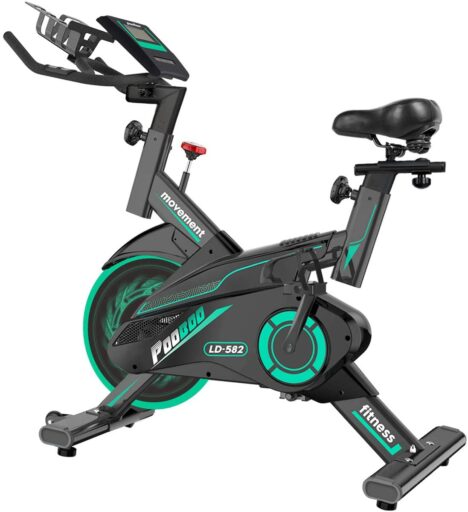 The Set button allows you to select workout targets for time, distance, and calories burned. If a target is assigned, the fitness monitor will countdown from the chosen value and notify you when you complete your workout target. And finally, the Reset button allows you to clear all the values on the monitor to zero.
The monitor is battery-powered. It starts when you pedal and automatically turns off after a few minutes of inactivity on the bike. Unfortunately, it does not have Bluetooth or connection ports for workout data transfer.
S5 Assembly and Maintenance
The flywheel, the drivetrain, the brake, and the crankset are pre-assembled to the mainframe and protected by ABS guards. You only have to attach the two base bars, the seat post, the saddle, the handlebar post, the handlebar, the pedals, the fitness monitor, and the device holder.
Consequently, it shouldn't take more than 30-40 minutes. It's a straightforward task, and the manual provides all the necessary instructions. Also, an essential toolkit comes with the bike.
Once completed, you don't have to worry too much about maintenance. You only have to keep the bike clean and periodically check if all the parts are functioning correctly. Furthermore, lubrication is not needed.
Pros
Heavy-duty construction;
Superior weight capacity – 350 lbs (159 kg);
Aesthetic design – this can be quite a motivation factor;
Transport wheels integrated into the front base stabilizer;
Large, cushioned, and contoured saddle with middle cropping for healthy blood flow;
The seat is 4-way adjustable;
Multi-grip handlebar;
Bottle holder/tablet holder;
Perimeter-weighted (35 lbs) flywheel for a smooth pedaling motion and solid momentum;
Heavy-duty crankset, able to support any user up to the maximum listed weight in an upright pedaling position;
Heavy-duty aluminum pedals with toe cages and standard threads;
Fitness monitor included – it tracks time, distance, total distance, rpm, speed, calories, and pulse;
Goal settings;
Quiet operation, great for apartment use;
Easy to assemble;
Little maintenance is required.
Cons
The fitness monitor LCD does not have a backlight;
The handlebar has no front-to-back adjustment.
L NOW LD-582 S5 Indoor Cycling Bike Summary
The L NOW (pooboo) LD-582 S5 is an indoor cycling bike designed for home use. It features heavy-duty construction with a weight capacity of 350 lbs, a manual magnetic resistance system, a perimeter-weighted 35-pound flywheel, and a high-comfort 4-way adjustable seat. In addition, it also includes a fitness monitor.
Moreover, it's an excellent bike for all kinds of spin workouts, interval training, muscle toning, stamina development, and weight loss. And finally, even though it's not a commercially-rated bike, it's pretty close to the quality and durability.
I hope you found this article helpful and informative. Would you please speak up if you have anything you'd like to share on the topic or any opinions about my website? I look forward to your comments, questions, and the sharing of ideas.
Please remember that you should consult your physician to determine if you have any medical or physical conditions that could risk your health and safety or prevent you from using the equipment properly. In addition, your physician's advice is essential if you are taking medication that affects your heart rate, blood pressure, or cholesterol level.