Like other treadmills, the OMA 5108EB Folding Treadmill features a steel frame with a convenient hydraulic folding deck for easy setup and storage. In addition, the 5108EB comes equipped with a manual incline system with three levels of adjustment 0°, 2°, and 4°, respectively.
Next, the motor of the OMA 5108EB is the DA-225, which comes equipped with a small flywheel for additional stability. It offers 2.25 peak horsepower, with a speed range of 0.6 to 8.1 MPH. Increments in the speed adjustment aren't specified. However, most treadmills in this range of features offer increases in either 0.1 MPH or 0.5 MPH.
The running deck of the OMA 5108EB offers a surface of 50″ L x 16.5″ W (127 L x 42 W cm). Also, the deck consists of a 6-layer belt with the top layer rubberized for an excellent grip. Furthermore, the rollers integrated into the belt have a crowned design for excellent traction and lifespan.
The console of the OMA 5108EB is pretty basic. It features three LCDs that track time, speed, distance, calories burned, and heart rate. The distance and speed are shown only in metric units, i.e., kilometers and km/h, respectively. The handlebars integrate heart rate sensors for users to monitor their pulse.
Learn more in my complete review below!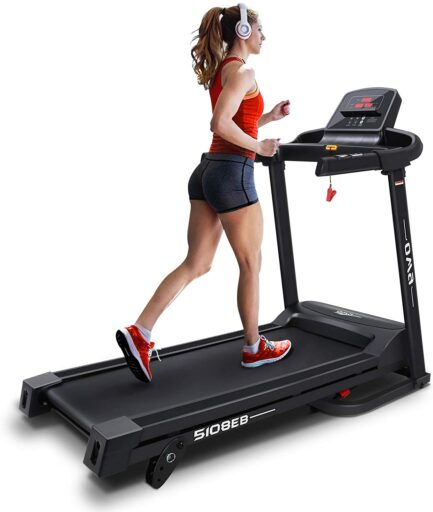 Product: OMA 5108EB Folding Treadmill
Price: For a great deal on this treadmill, merely go here to Amazon.com
Warranty: 1 year
My rating: is 8/10
Affiliate Disclosure: As an Amazon Affiliate Program participant, I earn commissions on purchases made through links in this post. Full disclosure
Details and Specifications
Assembled dimensions: 59.5L x 26.7W x 50.6H inches (151.1L x 67.8W x 128.5H cm)
Tread belt dimensions: 45.3L x 16.5W inches (115.1L x 42W cm)
Assembled weight: 92.2 lbs (41.8 kg)
Supported weight: 300 lbs (136 kg)
Motor: 2.25 HP
Speed range: 0.6 – 8.1 MPH
Incline: Manual, three levels
Console: 3 individual screens, 36 preset programs, three user programs
Extras: Device holders, bottle holders
Warranty: 1 year
5108EB Frame Construction
Most treadmills are on a steel frame, and the OMA 5108EB makes no exception. However, since it's a machine made for home use, it doesn't have such heavy construction as a light commercial or commercial model. As a result, it only weighs 92.2 lbs (41.8 kg) with all the parts assembled. Nonetheless, it's still pretty heavy, so it provides excellent stability.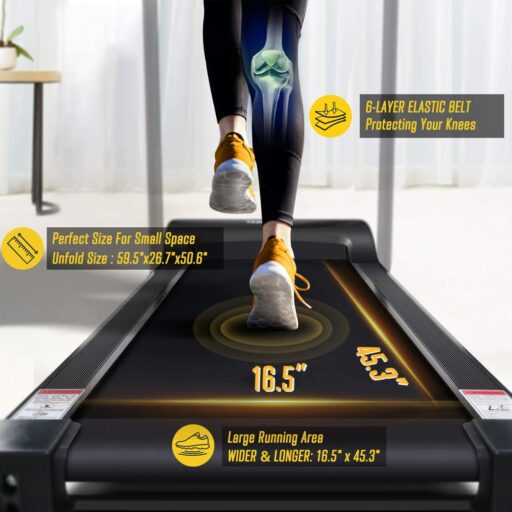 Despite its weight, the treadmill is easy to move by only one person as its front base stabilizer comes equipped with transport wheels.
All the steel parts in the treadmill's construction come coated with a corrosion-resistant paint finish. The color used is black, with the OMA logo painted white. Also, the treadmill integrates several ABS parts. For example, the side rail and motor cover are made of durable ABS plastic materials.
The fully assembled trainer is pretty large for a home-use machine. It is approx 59.5″ (151.1 cm) long and 26.7″ (67.8 cm) wide. Plus, it is advisable to leave at least two feet of clearance on each side of the deck and at least three feet of room at its rear for safe usage.
Like other treadmills for home use, the OMA 5108EB has a folding deck. The folding mechanism uses triangular hydraulic support, which lowers the deck slowly when unfolding. Furthermore, the folding feature saves space when the machine is not in use and makes it easier to clean under the deck.
Deck and incline
The OMA 5108EB treadmill offers a running surface of 45.3″L x 16.5″W (115.1L x 42W cm). Therefore, it comfortably accommodates up to 6'0 ″ (183 cm).
Of course, taller users can also use this treadmill, but they may not benefit from a complete range of motion when running at full speed. In addition, the machine's deck has a maximum user weight limit of 300 lbs (136 kg).
The treadmill's running platform uses a 6-layer belt with a rubberized top layer for a superior grip. It also has several side cushioning elements to reduce the impact generated during each foot strike.
The integrated rollers have a crowned design for excellent traction and prolong the belt's lifespan. In addition, they also integrate high-grade ball bearings for a smooth belt motion.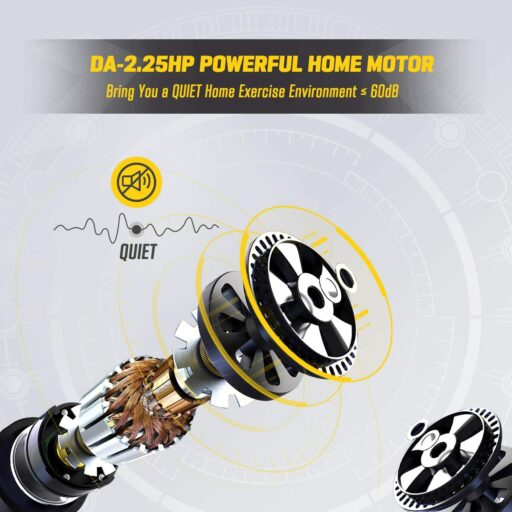 The OMA 5108EB treadmill comes equipped with a manual incline system. The rear stabilizers of the deck lock into three positions. You can set the deck horizontally by inserting the pins in the top spot. Conversely, if the rear stabilizers fold entirely, you will benefit from an incline of approx—4 °.
Of course, this is considerably less than the slope provided by a commercial treadmill, but still, even a 4° incline can add a bit of difficulty to the ride. The middle setting offers a rise of approx—2 °.
With the incline set to 0°, the deck's step-up height is approx 7″ (18 cm). Therefore, it is advisable to use the machine in a room with a ceiling height of at least 10″ (25.4 cm) higher than your size.
5108EB Drive motor
The OMA 5108EB treadmill comes with the DA-225 Home Motor and a small flywheel for extra stability. It can provide 2.25 peak horsepower for more than 40 minutes of running.
However, the motor cannot withstand running at full speed for more than an hour. Therefore, as a general idea, it is advisable to rest the motor for at least 10 minutes after every hour of running.
The treadmill's motor offers a speed range of 0.6 – 8.1 MPH. However, the exact speed adjustment increments are not specified.
However, most motors in this range provide adjustment increments of either 0.1 MPH or 0.5 MPH, so the transition between speed levels is done smoothly without sudden jerks. The belt's speed is adjustable from the console or the controls integrated into the machine's right grip.
There are two more aspects to note here. The first one regards the level of noise generated and power consumption. The unit's motor is pretty silent, and during a walking workout, your cadence is soft. Plus, the two shock absorption elements on each side of the unit reduce vibration.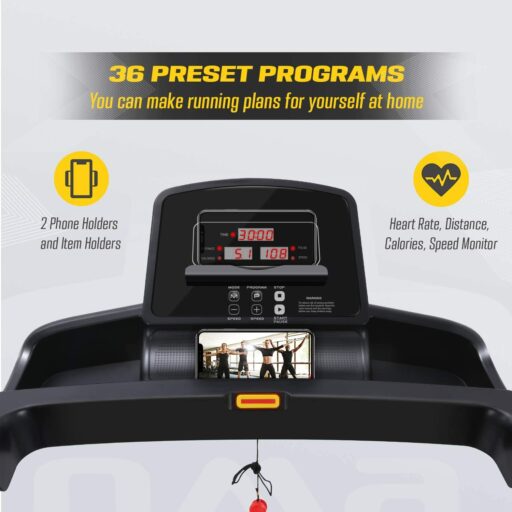 The second and last aspect regards its power consumption. The motor is not potent, so you won't have to worry about high electricity bills even if you use this treadmill daily.
Console
The OMA 5108EB treadmill comes equipped with a pretty simple console. But unfortunately, it does not have Bluetooth capabilities, nor can it connect online to any fitness apps.
It features three LCDs, which indicate time, speed, distance, calories burned, and heart rate. The speed and distance are in metric units (kph and kilometers); they do not have English unit options.
Also, the console is not telemetric. Therefore, it can only read your pulse if you hold on to the sensors integrated into the handlebars. Furthermore, it cannot read your pulse from an HR chest strap or armband.
The console offers 36 preset programs. They cover different workouts. For example, some have an interval-based layout, others provide light exercise, while others focus on boosting your cardiovascular shape. In addition, the console also has three user programs; each can have its program settings for quick access.
The console also features a device holder and two large accessory/bottle holders. The device holder comprises a small shelf between the console controls and the LCDs, which can accommodate any smartphone or tablet. The accessory holders consist of two trays molded into the console's dashboard, one on each side.
5108EB Assembly and Maintenance
The treadmill deck with the motor, belt, rollers and other drive parts comes pre-assembled. Then, you only need to attach the two upright bars and the console.
Consequently, it shouldn't take more than 30 minutes of your time. The included manual provides clear assembly instructions, and a set of necessary tools comes with the treadmill.
In terms of maintenance, the belt requires lubrication periodically. The running belt also needs cleaning to prevent foreign objects from being caught in the rollers or motor. It is also advisable to regularly check the machine for loose bolts or broken parts to prevent accidents or irreparable damage.
Pros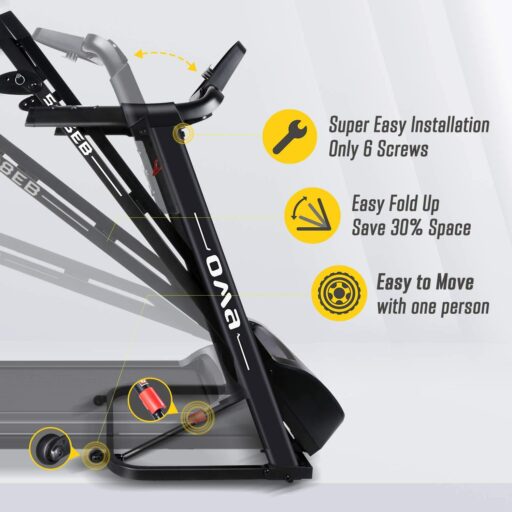 Sturdy construction for a home-use treadmill;
Folding deck, space-saving design;
Transport wheels integrated into the front base;
Deck cushioning for a low-impact workout;
Manual incline with three levels of adjustment (0°, 2°, 4°)
Speed settings up to 0.6 to 8.1 MPH (1.0 to 13 km/h);
Speed controls and Start/Stop controls integrate into the machine's grips;
Low power consumption;
Accessory trays built into the dashboard;
Device holder included;
36 preset workout programs;
Three-user programs;
Pulse reading function;
Reasonably easy to assemble;
Little maintenance is required.
Cons
Calorie reading isn't too accurate;
A tablet placed on the device holder will cover the console LCDs;
The console doesn't have a USB or other ports for your device.
OMA 5108EB Folding Treadmill Summary
The OMA 5105EB is a treadmill made for home use. It has a 2.25 HP motor with a speed range of 0.6 – 8.1 MPH. In addition, it features a manual incline system with three positions and a console with 36 preset workout programs. Accordingly, it's a pretty decent machine for any home gym, great for light to intense cardio workouts, muscle toning, weight loss, and stamina development.
I hope you found this article helpful and informative. Would you please speak up if you have anything you'd like to share on the topic or any opinions about my website? I look forward to your comments, questions, and the sharing of ideas.
Please remember that you should consult your physician to determine if you have any medical or physical conditions that could risk your health and safety or prevent you from using the equipment properly. In addition, your physician's advice is essential if you are taking medication that affects your heart rate, blood pressure, or cholesterol level.