The Horizon Fitness 7.4 AT Smart Treadmill doesn't have the same slick touchscreen consoles from NordicTrack, and others found on treadmills. However, it still delivers immense value for an affordable entry price from a function, features, and build quality standpoint. All in all, this is a capable runner's treadmill.
The Horizon 7.4 AT treadmill features an extra-long and wide 22″ x 60″ running deck. Therefore, it is a good option for taller users and is suitable for high-speed sprints. In addition, the 7.4 AT's 3-Zone variable response cushioning does help to reduce the impact on joints.
The 7.4 AT treadmill is a connected fitness machine. It was designed with interactive training in mind and responded to HIIT and interval training's ever-growing popularity. The 3.5 CHP motor supports a maximum of 12 mph speed and an incline of 15%. Therefore, it's ideal for streamed virtual workouts and interval training to support rapid changes in incline and speed.
The Horizon Fitness 7.4 AT Smart treadmill has ten onboard workout programs. These include 5K, calories, custom, HR, distance, fat burn, heart rate, hill climb, manual, and Sprint 8. The 7.4 AT is also Bluetooth-enabled for interactive training. It can connect to multiple devices, allowing you to stream fitness classes through Bluetooth speakers and track your heart rate.
Learn more in my complete review below!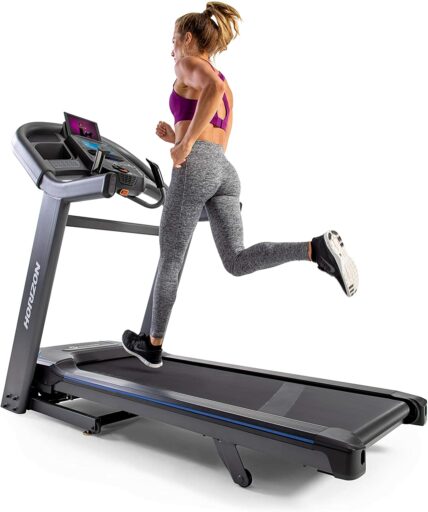 Product: Horizon Fitness 7.4 AT Smart Treadmill
Price: For a great deal on this treadmill, merely go here on Amazon
Warranty: Frame lifetime / Motor lifetime / Parts 5 years / Labor 2 years
My rating: is 9/10
Affiliate Disclosure: As an Amazon Affiliate Program participant, I earn commissions on purchases made through links in this post. Full disclosure
Please note that some pictures contain images of tablets or smartphones, which sell separately.
Details and Specifications
Assembled dimensions: 76L x 37W x 63H inches (193L x 94W x 160H cm)
Running surface: 60L x 22W inches (152L x 56W cm)
Assembled weight: 318 lbs (144 kg)
Max. weight capacity: 350 lbs (159 kg)
Deck cushioning: 3-Zone Variable Response Cushioning
Motor: 3.5 CHP, RapidSync Drive System
Speed range: 0.5-12 MPH
Incline: Automatic, 0-15%
Console: 10 workout programs, Bluetooth, compatible with various Fitness apps
Extras: Sound system, cooling fan, device holders, bottle holders, USB charging port
Warranty: Frame lifetime / Motor lifetime / Parts 5 years / Labor 2 years
7.4 AT Frame Construction
The Horizon Fitness 7.4 AT Smart treadmill features a heavy-duty steel tubing frame. The two upright bars that sustain the console are thick, similar to commercial machines. A median bar also connects the two uprights for improved sturdiness.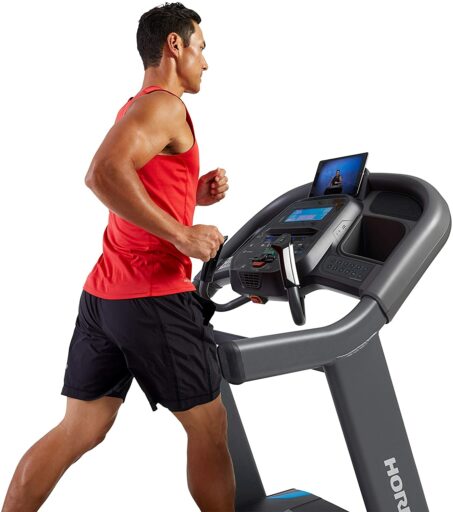 All the steel parts in the machine's construction are double-coated with a corrosion-resistant and abrasion-resistant gray paint finish. The "Horizon" logo is in white on both upright bars.
Of course, the Horizon 7.4 AT also has a few ABS parts in its construction. For example, the covers of the side rails, the motor covers, and the dashboard that sustains the console are all made of heavy-duty thermoplastic material.
The fully assembled machine is pretty significant. It is approx—76 ″ (193 cm) long and 37″ (94 cm) wide. Plus, just like other treadmills, it is advisable to assign at least three feet of clearance at the back of the deck and at least two feet of space on each side of the machine for safe usage and ease of access. Thus, the Horizon 7.4 AT may not fit a small room or apartment well.
The treadmill comes equipped with a folding system. It integrates a hydraulic element that assists you with unfolding the deck to prevent it from sustaining damage. With the deck folded up, the length of the machine is reduced to 42″ (107 cm), while its height becomes 71″ (180 cm).
Last but not least, this Horizon Fitness treadmill is weighty. Its net weight is 318 lbs (144 kg). Therefore, transport and assembly require several people. On the other hand, this weight plays a vital role in its overall stability. You can be sure it won't move or wobble when you run on it.
Deck Construction
The Horizon Fitness 7.4 AT smart treadmill has a sturdy deck. Moreover, it has a maximum user weight capacity of up to 325 lbs (147 kg), which is impressive for an only intended home-based machine.
It offers a large running surface of 60″L x 22″ (152 x 56 cm), which means that it should be able to accommodate users up to 6'6 ″ (198 cm) with no problem, allowing a complete range of motion.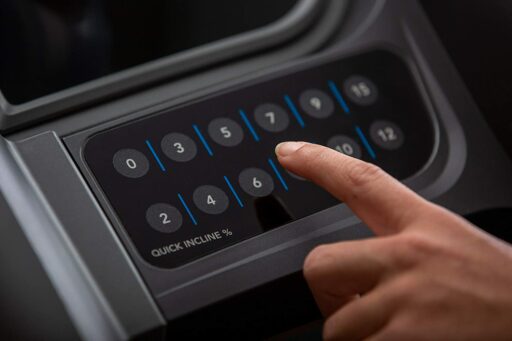 The machine comes with a 1.6 mm silicone belt designed to provide a secure grip and minimize it. The internal rollers are pretty significant. The front one is 60 mm (2.3″) in diameter, while the rear one is 46 mm (1.8″).
These rollers are tapered to provide better traction and prolong the belt's lifespan. The rollers also integrate industrial-grade, sealed ball bearings for a smooth motion.
Like other Horizon Fitness treadmills, the 7.4 AT model features a 3-zone variable deck cushioning. The front section is the impact area with more cushioning to alleviate each foot strike's shock. In addition, the center section offers moderate cushioning for a better transition, while the rear section is harder to promote a better push-off.
7.4 AT Incline and step-up height
The Horizon Fitness 7.4 AT smart treadmill has a motorized incline system. Therefore, the machine can adjust the incline automatically, depending on the user program. You can also change the slope manually while walking or running from the built-in controls.
The unit's incline system consists of a small motor and a lift integrated at the deck's front. The motor enables the lift to elevate the deck's front section as you adjust the incline or the console adjusts the slope.
The machine makes available an incline range between 0% and 15%. The incline is adjustable in increments of 0.5% from the controls integrated into the console or the left upright grip. However, the console also has quick incline selection buttons on the left for the 0, 2, 3, 4, 5, 6, 7, 8, 9, 10, 12, and 15 incline positions.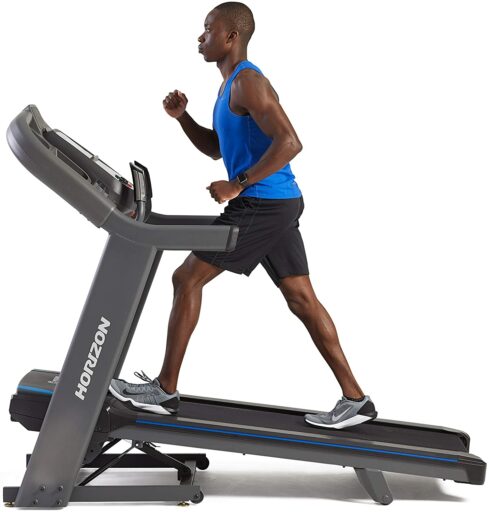 The step-up deck height is approx—9″ (22 cm); however, the deck's front gains a few inches in size with the incline set to maximum. Therefore, it is advisable to use the machine in a room with a ceiling that is at least 15″ – 20″ (38 – 51 cm) higher than the height of the tallest user.
Drive motor and speed range
The Horizon Fitness 7.4 AT smart treadmill comes equipped with a heavy-duty Johnson 3.5 CHP motor designed to withstand prolonged workouts at maximum speeds without losing performance or overheating. It integrates a small flywheel for improved stability as well.
The machine's drive system features RapidSyncTM technology, which ensures no lag between speed and incline adjustments. It also responds very fast to any command, so you'll never fall out of step during your workouts.
This Horizon Fitness treadmill offers a speed range between 0.5 and 12 MPH. The speed adjustment increments are 0.1 MPH. Therefore, it results in a smooth transition from one-speed level to another, giving you plenty of time to adjust your pace.
The unit's speed can gradually adjust from the console arrow keys or the +/- keys incorporated into the right vertical grip. However, the console also makes quick selection speed controls available, just as for the incline. In addition, the console's bottom right section has a tiny keypad with quick speed controls from 1 to 12 MPH.
7.4 AT console
The Horizon Fitness 7.4 AT smart treadmill features a multi-function console. To begin with, it has two displays, one LCD-type, and the other LED-type. They indicate time, distance, pulse, burned calories, speed, and incline.
However, the top LCD, which is more extensive, also shows the program's grid and several other workout metrics. Speed and distance are, by default, set to English units, but metric units are also available.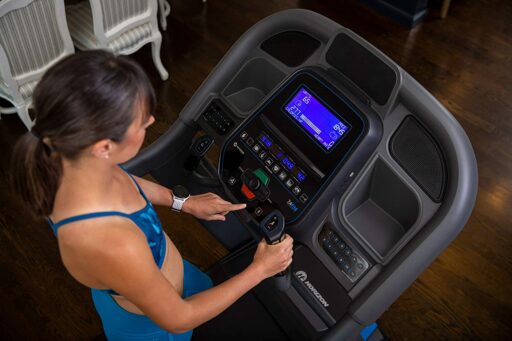 The console can also read your pulse if you hold on to the sensors integrated into the treadmill's vertical grips, but it can also communicate with a Polar Bluetooth wireless HR chest strap. However, this accessory does not come included with the machine.
The console has ten built-in workout modes. Each workout mode has a quick access key. Some of these workout modes have multiple settings or difficulty levels. The ten workout modes are Manual, Hill Climb, 5K, Fat Burn, Custom, Distance, Calories, Custom Heart Rate, Target Heart Rate, and Sprint 8.
Sprint 8 is the standout workout program on the 7.4 AT treadmill. Each 20-minute sprint-based interval training workout contains just 4 minutes of high-intensity exercise. These workouts are only 20 minutes long and allow anyone to add activity to their busy day. Sprint 8 primarily benefits from the 7.4 AT's rapid speed adjustment capability.
All these offer a wide array of workout possibilities; some adjust only the speed. In contrast, others automatically adjust both the machine's speed and incline, depending on each segment.
Amenities
The Studio fitness app is a boutique fitness studio in your home. Take treadmills, outdoor running, and strength classes on your own time for a fraction of the cost. You are led by the world's best instructors, matched to killer playlists, and supported by an uplifting community of 80,000+ members.
Immerse yourself in a fun and rewarding training experience as you explore the virtual roads, tracks, and trails of Zwift. Easily pair your indoor cycle or treadmill with Bluetooth FTMS connectivity to the Zwift app and get ready to discover a new world. Free for runners!
Get access to thousands of live and on-demand classes anywhere, anytime, with or without equipment. Various indoor cycling, running, walking, boot camp, strength, and outdoor (audio-only) classes are included.
In addition to the fitness app connectivity, there is the USB port, the sound system, the cooling fan, the device holders, and the bottle compartments, among other console features. The sound system consists of two prominent speakers placed at the top of the console. You can connect your smartphone or tablet to it via cable or Bluetooth to play music through the integrated speakers for superior sound quality.
The cooling fan is at the bottom of the console. The integrated fan is not extremely large but does provide some cooling if needed. The two device holders consist of two small shelves, one under the LCD and one above. They can provide support for your tablet or smartphone if required.
The two-bottle (or other accessories) compartments are pretty large as well. They are on each side of the console. And finally, the USB port only serves as a charging port for your device. It does not allow workout data transfer on a USB stick.
Pros
Heavy-duty construction – can support users up to 350 lbs;
Folding frame, space-saving design;
Transport wheels on the machine's bases;
3-Zone, variable response, deck cushioning;
Motorized incline, 0% – 15%;
3.5 CHP motor, offering speed levels up to 12 MPH;
Speed can be adjusted at increments of 0.1 MPH, allowing you to find the perfect pace for your workout;
Quick keys for speed and incline;
EGK pulse sensors integrated into handlebars;
Ten workout modes, some of them with multiple settings and difficulty levels;
Compatible with fitness apps such as Peleton, Zwift, and Studio, to name a few;
Bluetooth HR chest strap included;
Various amenities such as cooling fan, speakers, tablet holder, and accessory trays;
Bluetooth function for the integrated speakers;
USB charging port;
One bottle of lubricant included;
Tools for assembly and belt adjustment come included with the machine;
Quiet operation;
Reasonably easy to assemble;
Little maintenance is required;
Excellent warranty.
Cons
The cooling fan is not too overpowering.
Please note that some pictures contain images of tablets or smartphones, which sell separately.
Horizon Fitness 7.4 AT Smart Treadmill Summary
The Horizon Fitness 7.4 AT is a treadmill made for home use. It has a 3.5 CHP motor, a motorized incline system, a 3-zone variable response deck, and a multi-function console with ten workout modes and multiple difficulty settings.
In addition, it offers an XL (60″L x 22″W) running surface, has Bluetooth connectivity, and is also compatible with several fitness apps. Overall, it's a machine for users of all levels, offering the quality of at least a light commercial model.
I hope you found this article helpful and informative. Would you please speak up if you have anything you'd like to share on the topic or any opinions about my website? I look forward to your comments, questions, and the sharing of ideas.
Please note you should consult your physician to determine if you have any medical or physical conditions that could risk your health and safety or prevent you from using the equipment properly. In addition, your physician's advice is essential if you are taking medication that affects your heart rate, blood pressure, or cholesterol level.