Get fit and tackle your in-home exercise routine with the Sunny FA-7966 First Avenue Treadmill. Take advantage of the sturdy frame with a maximum user weight capacity of 220 lbs. In addition, the propriety Soft Drop System ensures that your floors are never damaged when unfolding this treadmill.
The FA-7966 treadmill has a 1.6 HP motor that speeds between 0.5 and 7.5mph. The control is in your hands! Conveniently and quickly, adjust the speed and measure your pulse instantly. Boost your workout intensity with 15 levels of automatic incline. And enjoy 12 pre-programmed, three user-customized, and three countdown-based workouts.
The First Avenue Treadmill features a fitness console to track speed, time, steps, distance (miles and kilometers), calories burned, incline level, and heart rate. Built for your devices, place a tablet onto the built-in tablet holder, and charge your device with the onboard USB port. Listen to music wirelessly when connecting your tablet to the treadmill via Bluetooth.
Learn more in my complete review below!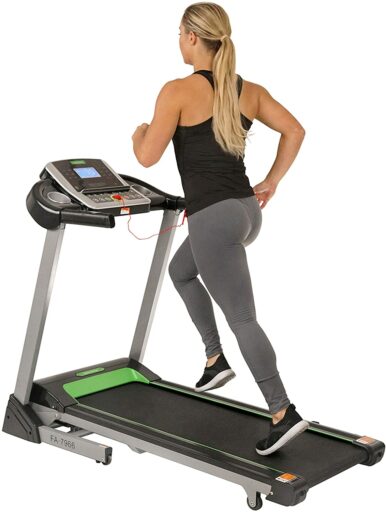 Product: Sunny FA-7966 First Avenue Treadmill
Price: For a great deal on this gym, merely go here to Sunny Health & Fitness.com
Warranty: Frame 3 years / Parts 180 days
My rating: 8.5/10
Affiliate Disclosure: As a Sunny Health & Fitness Affiliate Program participant, I earn commissions on purchases made through links in the post. Full disclosure
Details and Specifications
Assembled dimensions: 60L x 29.5W x 47H inches (152L x 75W x 119H cm)
Tread belt dimensions: 48.7L x 17W inches (123L x 43W cm)
Assembled weight: 117 lbs (53 kg)
Supported weight: 220 lbs (100 kg)
Motor: 1.6 HP, 0.5 – 7.5 MPH
Incline: Automatic, 15 levels
Console programs: 12 preset, 3 HRC, one body fat, one manual, three user profiles
Extras: Sound system, Bluetooth, USB charging port, bottle holders, the device holder
Warranty: Frame 3 years / Parts 180 days
FA-7966 Frame Construction
The Sunny FA-7966 First Avenue Treadmill features a standard rectangular steel tubing frame. In addition, all the steel bars in its construction come coated with a corrosion-resistant gray paint finish. Of course, the treadmill also integrates several parts of thermoplastic material. For example, the side rail covers, the motor cover, the console dashboard, and several other small covers are plastic-made.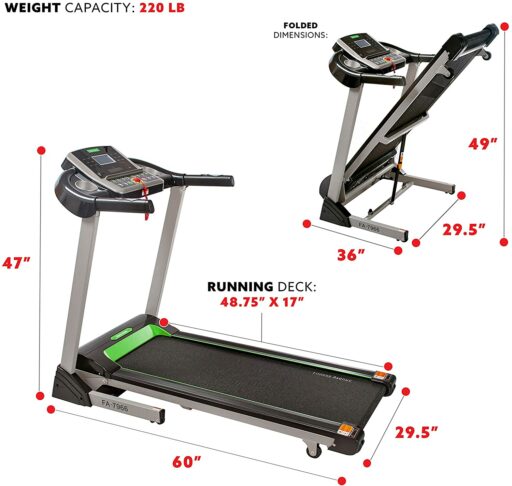 With all the parts assembled, it is only 60″ (152 cm) long and 29.5″ (75 cm) wide. Therefore, it can fit into a small room, but it is still advisable to leave at least three feet of clearance at the rear of the deck and two feet of clearance on each side for correct and safe usage.
The machine's frame has a folding design. The deck can fold up to save space. With the deck folded up, the unit's footprint remains approx. 36″L x 29.5″W (91 x 75 cm), while its height reaches 49″ (124 cm). The folding mechanism uses a hydraulic cylinder, which slowly lowers the deck when unfolded to prevent damage to the floor or the deck.
Although it's a small treadmill, it's not light, weighing 117 lbs (53 kg). Therefore, two people should transport and assemble the machine. However, once completed, one person can relocate the treadmill as its front base has transport wheels. In addition, its rear stabilizers also come equipped with wheels.
Deck construction and incline
The Sunny FA-7966 First Avenue Treadmill offers a walking platform of 48.7″L x 17″W (123 x 43 cm). Thus, it's a machine made for walking and jogging. It uses a multi-layer belt with a top layer designed for improved contact to prevent foot slippage.
The internal rollers have a crowned design and integrate industrial-grade bearings for a smooth belt motion. Also, the deck has a maximum user weight capacity of 220 lbs (100 kg).
Although the treadmill's deck doesn't have cushioning elements visible on the outside, it does integrate eight rubber pads (4 on each side) for improved shock absorption and vibration reduction. Therefore, a walk or jog on this treadmill should be more forgiving on your joints than the same workout on asphalt or concrete.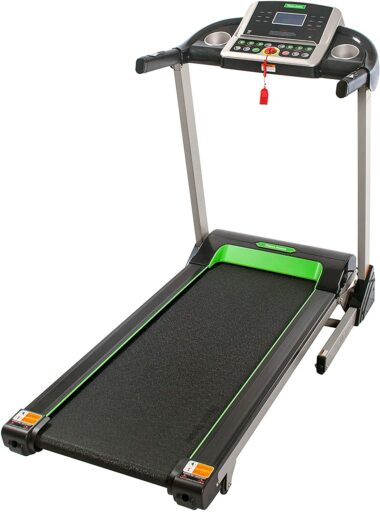 This Sunny Health & Fitness treadmill comes equipped with a motorized incline system. Therefore, you can adjust the incline while using it; it also means that the console can automatically adjust the deck's pitch, depending on the user program.
The incline system consists of a small lift under the deck's front section and a small motor. The motor enables the lift to elevate the deck's front part when the incline is adjusted.
The treadmill makes available 15 levels of incline. It is important to note that the deck is not entirely horizontal, with the pitch set to zero. It still has approx—1.2 ° of incline. Conversely, with the incline set to level 15, the deck will have an approximate angle of —5 °.
Incline adjustment controls integrate into the left grip of the machine and on the console. There also are quick incline selection keys on the console for levels 3, 6, and 9.
The step-up deck's height is approximately—7″ (18 cm) when the incline is 0%. Conversely, by adjusting the angle up to the 15th level, the deck's front will gain a few extra inches in height. Therefore, using this treadmill in a room with a ceiling at least 15″ (38 cm) higher than the tallest user's height is advisable.
FA-7966 Drive motor
The Sunny FA-7966 First Avenue Treadmill is perfect for walking and jogging workouts. Therefore, it doesn't need a super powerful motor. It has a 1.6 horsepower output. A flywheel element also integrates the motor for improved motion stability and reduced vibration.
The unit's drive motor offers a speed range between 0.5 and 7.5 MPH. The speed adjustment increments are 0.1 MPH. As for the incline, speed adjustment controls are integrated into the right grip and on the bottom corner of the console. There also are three quick speed selection keys for 2, 4, and 6 MPH.
Since the machine's motor only offers a peak power output of 1.6 HP, its power consumption is minimal. Thus, even if you use it daily, it shouldn't add more than a few dollars to the electricity bill. Also, the motor doesn't generate much noise when used, but your cadence may create more or less noise depending on how fast you go.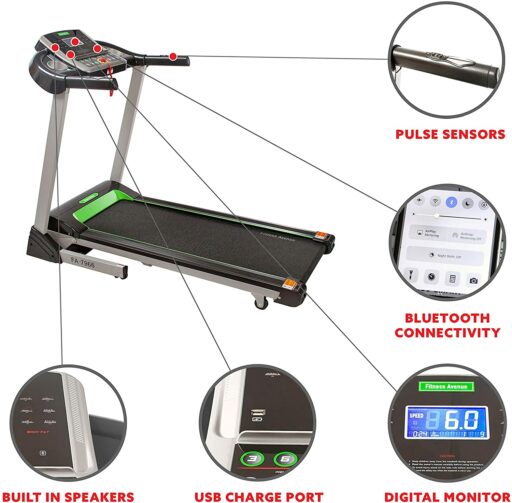 Console
Although the Sunny FA-7966 First Avenue Treadmill is a home-based machine, it has a decent console. To begin with, it has an LCD with an LED backlight for improved readability. In addition, it tracks time, distance, calories burned, pulse, speed, and incline.
Speed and distance can be metric units (km/h, kilometers) or English units (mph, miles). However, the console is not telemetric, though. Therefore, it can only read your pulse if you hold on to the HR pulse sensors integrated into the machine's side grips. Furthermore, it does not work with a wireless HR chest strap or fitness band.
Unfortunately, the console does not have online connectivity and is not compatible with any fitness apps. However, it has built-in programs. First, the Manual mode allows you to adjust the speed and incline as you like throughout the workout. In addition, goal settings are available for time, distance, and calories burned.
The P1-P12 are preset programs. Each one has its segment profile diagram engraved on the console, and these are standard programs, each with its own specific. For example, some are better for burning calories, others have an interval layout, while others progressively increase the speed, then decrease it.
All programs adjust both speed and incline. At the beginning of the program, you will have to select a duration. Each program has 20 segments, each with a period of 1/20 of the total set time.
The U1-U3 are user-defined programs. They work similarly to the preset programs, but each user has to set the speed and incline for each segment. For example, the HRC programs are three in number. Each one has a pre-determined HRC setting and will adjust the belt's speed depending on your current BPM to keep you close to the selected heart rate interval.
And finally, the Body Fat program can calculate your body fat percentage by measuring the relevance between your height and weight if you input your age, weight, size, and gender.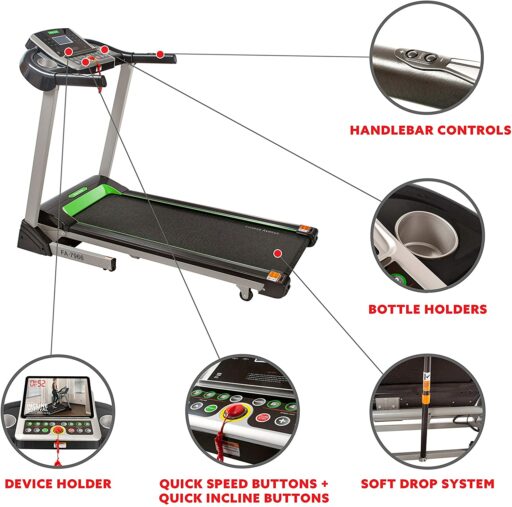 FA-7966 Amenities
The console has several other notable features. These are the sound system, the USB port, the device holder, and the bottle holder. The sound system consists of two speakers on each console's side. In addition, it has Bluetooth connectivity, so you can sync it with your smartphone or tablet to play your music through the treadmill speakers.
The USB port is above the short hand-rail incline controls. It only offers the function of recharging your phone or tablet; it does not allow workout data transfer on a USB stick. The bottle holders are relatively large, placed one on each side of the console. And finally, the device holder consists of a small shelf above the console controls, supporting your tablet.
Assembly and Maintenance
The treadmill comes pre-assembled and in a folded position. All you have to do is unfold it, secure the two upright bars, add the two joint covers, and plug in the machine.
Consequently, it shouldn't take more than 20 minutes of your time. The manual provides all the necessary instructions, and all the tools for assemble are included.
The deck requires lubrication before the first use and periodic lubrication for maintenance. In addition, the console has a lubrication reminder function. A bottle of lubricant comes included with the machine.
Keeping the belt clean is also essential so it won't drag any textile fibers or debris into the motor. Besides, you only have to inspect the machine and ensure it periodically functions appropriately.
Pros
Compact design;
Folding deck with soft-drop mechanism;
Transport wheels;
Integrated deck cushioning;
Automatic incline, 15 levels;
Speed range between 0.5 and 7.5 MPH;
The speed adjustment increments are 0.1 MPH;
Speed and incline controls are built into the side grips;
Quick adjustment buttons for 3%,6%, 12% incline, and 2, 4, 6 MPH;
Low power consumption;
LED-backlit display;
12 preset workout programs;
Three user profiles;
3 HRC programs;
Body Fat function;
Lubrication reminder function;
The sound system included;
Bluetooth connectivity for the speakers;
USB charging port;
Tablet holder included;
Bottle holders built into the dashboard;
Pulse reading function;
A minor assembly is required;
Little maintenance is needed;
Decent warranty.
Cons
A tablet placed on the device holder may cover the console LCD;
The console does not have online connectivity.
Sunny FA-7966 First Avenue Treadmill Summary
The Sunny FA-7966 First Avenue Treadmill from Sunny Health and Fitness is designed for home use. It has a 1.6 HP motor, an automatic incline system with 15 levels, and a console featuring 12 preset programs.
Moreover, it's a decent machine for walking and jogging, muscle toning, maintaining a tremendous cardiovascular shape, and losing weight. And finally, it's one of the most affordable treadmills with an automatic incline, offering excellent value for the price.
I hope you found this article helpful and informative. Would you please speak up if you have anything you'd like to share on the topic or any opinions about my website? I look forward to your comments, questions, and the sharing of ideas.
Please remember that you should consult your physician to determine if you have any medical or physical conditions that could risk your health and safety or prevent you from using the equipment properly. In addition, your physician's advice is essential if you are taking medication that affects your heart rate, blood pressure, or cholesterol level.