The Assault Fitness AirRunner Treadmill is very stable in its construction. With compact solid steel frames and an ergonomic design, it will survive almost all kinds of usage. In addition, this is a comparatively light machine; it weighs 280lbs — which sounds monstrous, but it's not bad compared to other manual treadmills. It has a maximum user weight capacity of up to 350 lbs (158.7 kg).
The AirRunner is a motorless treadmill and uses no electricity, running instead on the user's own movement's energy. This machine can instantly conform to your desired speed, even if you change your output randomly at will. There is no maximum speed setting—if you want to push your limits during a workout, the AirRunner will be up to the task.
The Assault Fitness AirRunner Treadmill has a slat belt design, which means it has individual rubberized slats placed horizontally along the deck. Since the slat belts are a v-shape design, they are nearly indestructible with a flat edge on top. Assault Fitness claims the AirRunner belt will last up to 150,000 miles. That's right – that's not a typo: 150,000.
The AirRunner has an LED-infused fitness monitor that helps you in various ways, from selecting workout routines to monitoring your workout statistics. It tracks time, calories burned, distance, speed, watts, pace, and pulse.
Learn more in my complete review below!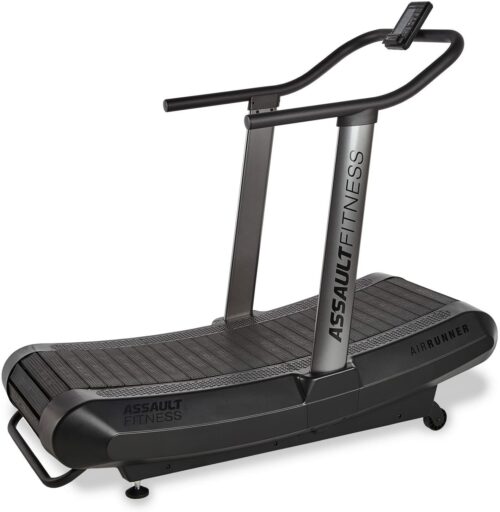 Product: Assault Fitness AirRunner Treadmill
Price: For a great deal on this treadmill, merely go here on Amazon
Warranty: Frame 5 years / Parts 3 years
My rating: 8.25/10
Affiliate Disclosure: As an Amazon Affiliate Program participant, I earn commissions on purchases made through links in this post. Full disclosure
Details and Specification
Assembled dimensions: 69.9L x 32.8W x 64H inches (177.5 x 83.3 x 162.6 cm)
Belt dimensions: 62.2L x 17.1W (158 x 43.4 cm)
Assembled weight: 280 lbs (127 kg)
User weight limit: 350 lbs (158.7 kg)
Incline: N/A
Motor: N/A
Fitness Monitor: 3 interval programs, three target programs, four heart rate programs, one comp program, Bluetooth
Warranty: Frame 5 years / Parts 3 years
AirRunner Frame construction
The Assault Fitness AirRunner features a heavy-duty steel frame. The base frame is rectangular steel tubing, concealed mainly by the large side covers.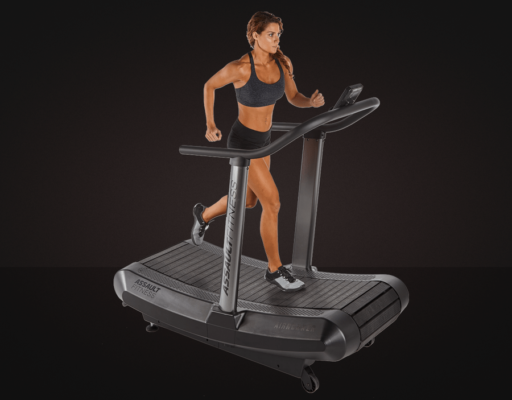 The two upright bars feature an oval design, while the handlebar assembly is cylindrical. All the steel parts in the machine's construction come double-coated with a corrosion-resistance and chip-resistant paint finish.
The unit's side covers are heavy-duty thermoplastic material. Like the belt and the whole deck, they have a maximum user weight capacity of 350 lbs (127 kg). Also, they have a textured surface for improved footing.
Although it may seem smaller than the average electric treadmill, the Assault AirRunner still is a reasonably large fitness machine. It is approximately 69.9″ (177.5 cm) long and 32.8″ (83.3 cm) wide. Plus, it is advisable to leave at least two feet of clearance on each side of the deck and at least three feet at its rear for easy access and safe usage.
This treadmill is also hefty. Its net weight is approx—280 lbs (127 kg). Therefore, two persons should transport the packaged unit. On the other hand, once assembled, one person can relocate it. Its front base features transport wheels, while its rear base integrates a lifting handle. Also, its rear base comes equipped with two adjustable levelers with large base pads.
One last aspect is that the AirRunner treadmill does not have a folding frame. As a result, its upright bars and handlebar assembly do not fold, and the deck does not store vertically.
Deck and belt construction
First, the Assault AirRunner is not an electric treadmill; it does not need an external power source, power cord, or adapter. Instead, the belt is powered exclusively by the user. It also does not have an incline system, and the position of the deck is not adjustable.
The AirRunner treadmill comes equipped with a heavy-duty slat belt. Each belt segment is metal-reinforced and has a thick rubber coating with a textured surface for an improved grip. Assault Fitness rates this belt for outstanding durability of 150,000 miles.
The machine's belt offers a running surface of 62.2″ (158 cm) long and 17.1″ (43.4 cm) wide. Thus, its comfortability accommodates users up to 6'6″ (198 cm) with no problem, allowing a complete stride and leg extension. Also, as mentioned earlier, the treadmill has a maximum user weight capacity of 350 lbs (158.7 kg), which also applies to the belt.
The front and rear rollers integrated into the deck assembly feature two V-groove wheels. The belt has two internal tracks that pass through the rollers' wheels' grooves for maximum stability.
Plus, the deck has 50 sealed bearings, and six guide pulleys on each side (100 + 12 in total), which keeps the slat belt correctly tracked and stable and provides an exceptionally smooth motion with almost no friction.
The deck doesn't have a cushioning system like other treadmills. However, each footstrike's drop is minimal due to the curved design and the slightly higher front section. Therefore, it considerably reduces the impact on your joints and back. It also provides a natural and more comfortable motion than a treadmill with a standard flat running surface.
The machine's deck is much above floor level than a motorized treadmill. At its highest point, the belt is at approx. 18″ (45.7 cm) above ground, at the lowest point (the mid-section area), is approx—13″ (33 cm) above ground.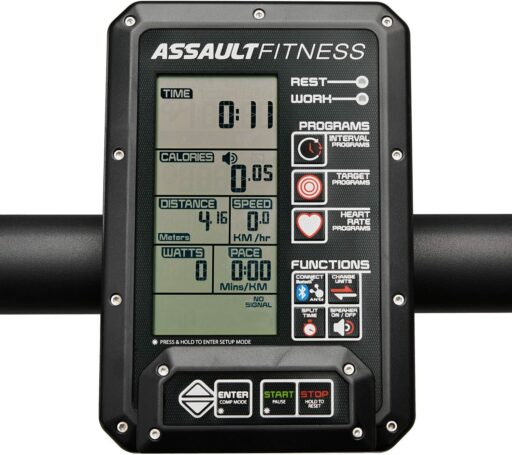 Therefore, using this treadmill in a room with a ceiling at least 25″ (63.5 cm) higher than your height is necessary.
AirRunner Fitness monitor
The Assault Fitness AirRunner Treadmill includes a fitness monitor similar to the Assault Air Bike features. To begin with, it has an LCD that divides into seven sub-sections. It tracks time, calories, distance, speed, watts, pace, and pulse. The speed and distance can either be metric or English units.
The heart rate reading only works if you use a wireless HR chest strap (Bluetooth or ANT). Unfortunately, this accessory does not come with the machine.
The fitness monitor makes several workout programs available, and each program category has its quick-access key on the right side of the monitor. There are three interval programs, three target programs, four heart rate programs, and 1 COMP program.
The interval program category offers two pre-set programs and one custom program. The first two are for 20/10 (20 sec. work, ten sec. rest) and 10/20 (10 sec. work, 20 sec. rest). Each of these two programs has eight intervals (4 minutes total).
The Custom interval program works simultaneously but allows setting up the desired timer for both the work duration and rest duration.
The target programs allow selecting workout goals for time, distance, and calories burned. Once choosing a target for any of these, the monitor will count down from the set value until zero. It also has an alarm to notify you when you have completed one of your goals.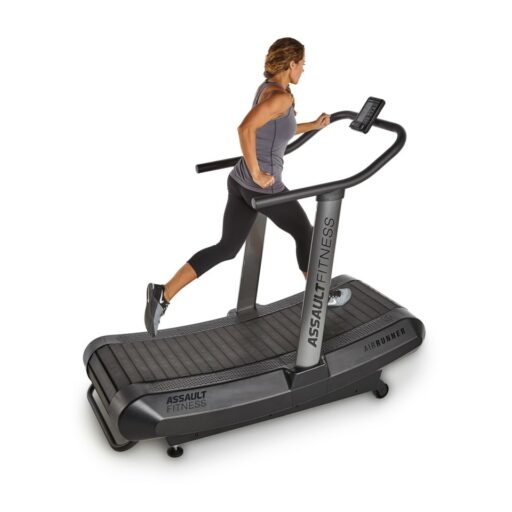 Three are pre-set for 65%, 75%, and 85% of the maximum BPM from the four heart rate programs, while the fourth is Custom, allowing you to select the desired HR percentage. However, you must wear a wireless HR chest strap (not included).
When one of the HR programs is in use, the monitor will count your pulse and prompt you to increase your pace if you're below the selected HR percentage and decrease your speed if you exceed it.
The COMP program is similar to the target programs. You must set a goal for time, distance, and calories. However, if you select a goal for time, only time will count down, while the other metrics will count up. Likewise, the timer will count when setting up targets for distance or calories.
The battery-powered monitor requires four AA batteries, which come with the machine. It starts when it detects belt movement or presses one of the buttons. It also automatically turns off after approx—30 minutes of inactivity on the machine.
AirRunner Assembly and Maintenance
The machine's running deck comes pre-assembled. You only need to attach the two side upright bars, bottom covers, and the handlebar and connect the fitness monitor.
Consequently, it shouldn't take more than 30 minutes of your time. All the necessary tools for the task come with the machine, and the manual provides clear step-by-step instructions.
Maintenance must keep the machine clean, especially the belt, to prevent textile fibers or debris from damaging the inner wheels. The internal bearings are pre-lubricated at the factory and shouldn't need additional lubrication for an extended time. However, lubrication with silicone oil may be necessary if the belt begins making noises.
Pros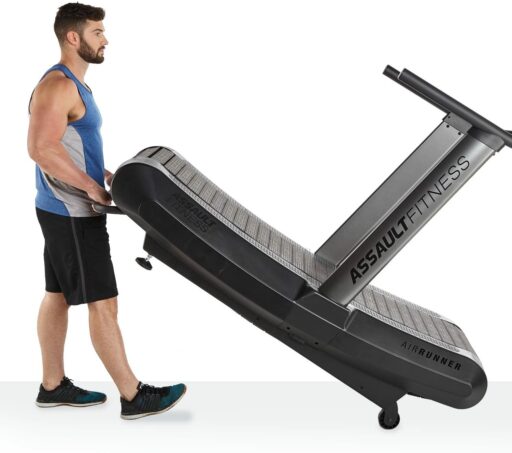 Heavy-duty construction – can support users up to 350 lbs;
Superior stability;
Transport wheels on the front base;
Lifting handle on the rear base;
Energy-saving, environment-friendly fitness machine;
Durable slat belt rated for 150,000 miles of use;
Bearing tracks (50 ball bearings on each side) for a smooth belt motion and superior belt stability;
Curved running surface for a natural movement and reduced running impact;
Multi-function fitness monitor – it tracks time, distance, pace, speed, calories, pulse, and watts;
11 workout programs available – 3 intervals, three targets, four heart rates, and one comp;
Can be integrated into Queenax™ functional circuit training;
Bluetooth connectivity for wireless heart rate reading;
Device holder integrated into the console;
Batteries for the console included;
Minor assembly is required;
All the assembly tools come included;
Little maintenance is needed;
Excellent warranty and customer support.
Cons
The fitness monitor LCD does not have a backlight;
An HR chest strap does not come with the machine.
Assault Fitness AirRunner Treadmill Summary
The Assault Fitness AirRunner is a heavy-duty non-motorized treadmill offering commercial quality and sturdiness. It features a curved running surface with a slat belt for a low-impact ride, and its inner tracks integrate 50 bearings, each designed to deliver an exceptionally smooth belt motion. It also includes a HIIT fitness monitor with 11 workout programs and Bluetooth connectivity.
Moreover, it's a treadmill for users of all levels, great for both low and high-intensity cardio workouts, interval training, muscle toning, stamina development, and weight loss.
I hope you found this article helpful and informative. Would you please speak up if you have anything you'd like to share on the topic or any opinions about my website? I look forward to your comments, questions, and the sharing of ideas.
Please note you should consult your physician to determine if you have any medical or physical conditions that could put your health and safety at risk or prevent you from using the equipment properly. In addition, your physician's advice is essential if you are taking medication that affects your heart rate, blood pressure, or cholesterol level.