The Sunny Indoor Cycling Bike SF-B1876 will keep you engaged and help push your riding experience to new heights. The unique proprietary composite 40 lbs (18 kg) flywheel produces unparalleled smoothness for those intense climbs and speedy sprints.
SF-B1876 features frictionless and contact-free magnetic resistance that has been the choice of studio bike riders as it provides unmatched smoothness and maintenance-free reliability. With a simple twist of the tension knob to increase/decrease resistance, your workout will remain challenging & effective throughout your fitness journey.
The Sunny Indoor Cycling Bike SF-B1876 has an advanced onboard fitness monitor that tracks Time, Speed, Max Speed, Avg Speed, Distance, Calories, Pulse, Cadence, and Avg Cadence. You could also set a target distance or time and a simulated race to help push yourself to the limit.
The SF-B1876 features a 4-way adjustable seat, so your riding experience will be comfortable and tailored to your unique body type! One size does not fit all, but one bike does! In addition, the dual-sided caged pedals allow for secured use with any footwear or flip-it-over and clip-in (SPD-compatible pedals) for a high-performance ride.
Learn more in my complete review below!
Product: Sunny Indoor Cycling Bike SF-B1876
Price: For a great deal on this bike, merely go here to Sunny Health & Fitness.com
Warranty: Frame 3 years / Parts 180 days
My rating: is 8/10
Affiliate Disclosure: As a Sunny Health & Fitness Affiliate Program participant, I earn commissions on purchases made through links in the post. Full disclosure
Details and Specifications
Assembled dimensions: 50L x 20W x 47.5H inches (127L x 51W x 120H cm)
Assembled weight: 111 lbs (50.3 kg)
Flywheel weight: 40 lbs (18 kg)
Supported weight: 300 lbs (136 kg)
Seat: 4-way adjustable
Drive: Belt
Resistance: Manual magnetic
Fitness Monitor: Time, speed, distance, cadence, watts, pulse, goals, race program
Extras: Bottle holder and device holder
Warranty: Frame 3 years / Parts 180 days
SF-B1876 Frame Construction
The Sunny Indoor Cycling Bike SF-B1876 features a heavy-duty steel tubing frame. It combines oval and rectangular tubes in its construction. The structure is triangular for maximum sturdiness, with the main tube slightly curved for improved aesthetics.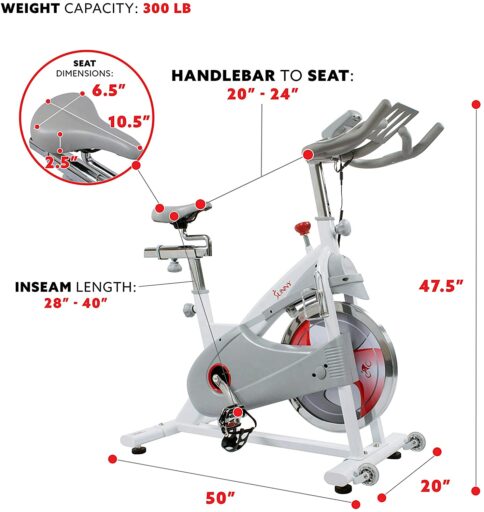 The bike's frame comes double-coated with a white, scratch-resistant, chip-resistant paint finish, with the "Sunny" logo in red. The only exceptions are the seat post, handlebar post, and chrome-plated flywheel.
Of course, the bike also has several plastic parts in its construction. The most notable ones are the covers of the drivetrain and the flywheel covers, durable thermoplastic materials.
The bike is bulky in comparison with other models made for home use. However, like most other spin bikes, it doesn't take up too much space. It is approximately 50″ (127 cm) long and 20″ (51 cm) wide. Therefore, leaving at least two feet of clearance around it is advisable for easy access.
The fully assembled unit is quite heavy for an exercise bike, weighing 111 lbs (50.3 kg). Therefore, two people should carry and build the bike. However, once completed, one person can move the bike as its front stabilizer comes with two large silicone wheels.
The bike's impressive weight provides superior stability. You can be sure it won't move or wobble even when you engage in a high-intensity spin workout. Plus, both its base bars have adjustable levelers with large rubber pads.
Seat and handlebars
The Sunny SF-B1876 includes a pretty standard spin saddle. Its internal shell is a sturdy polymer, while the top cover is a thick layer of high-density foam. It also integrates a layer of cushioning. Plus, its top comes contoured with a median groove for improved breathability.
The bike's seat assembly offers four-way adjustability (up, down, front, and back). In addition, its vertical post has nine adjustment holes, while the horizontal slider offers several extra inches of front-to-back adjustment.
Thus, the applicable user inseam range for this bike is 28″ – 40″ (71 – 101 cm). Therefore, the bike comfortability accommodates users between 5'2″ and 6'6″ (157 – 199 cm). It also has a maximum user weight capacity of up to 300 lbs (136 kg).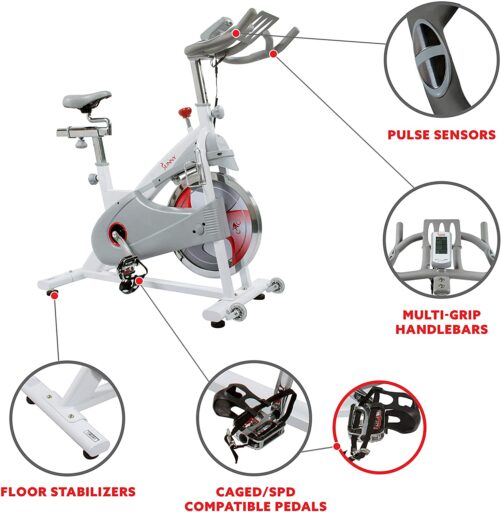 The bike comes equipped with a multi-grip handlebar. It offers a standard grip, a close parallel grip, a racing grip, and a climbing grip. If you don't install the fitness console, you can adopt an aero grip. However, unlike the seat, the handlebar is only up-down and adjustable.
The handlebar has a layer of high-density foam material to provide a comfortable and secure grip. In addition, its side grips feature stainless steel integrated pulse sensors, and the included fitness monitor has a pulse reading function. The handlebar assembly also has a built-in device holder on which you can place your tablet or smartphone.
SF-B1876 Drive system
The Sunny Indoor Cycling Bike SF-B1876 has a hefty 40 lbs (18 kg) flywheel. It has a perimeter-weighted design for enhanced inertia, which is excellent for spinning. It is also bi-directional. Thus, you can pedal in reverse on this bike.
However, just like most other spin bikes, coasting is not possible. So, when pedaling in reverse, you will get the same resistance as when pedaling forward.
This Sunny exercise bike comes equipped with a belt drive system. It integrates a durable, poly-v rubber belt, highly resistant to abrasion and stretching. Since the cycle uses a belt, not a chain, its drivetrain does not require lubrication. Also, a belt generates slightly less vibration than a chain.
Magnetic system
The Sunny indoor cycling bike SF-B1876 features a manual magnetic resistance system, so you don't need an adapter or a power circuit connection. However, it also means that the fitness monitor cannot automatically adjust the resistance.
The main resistance element is a magnetic brake connected to the tension knob on top of the bike's frame. Turning the knob can place the magnets on the brake closer or farther from the flywheel, increasing or decreasing the pedaling difficulty.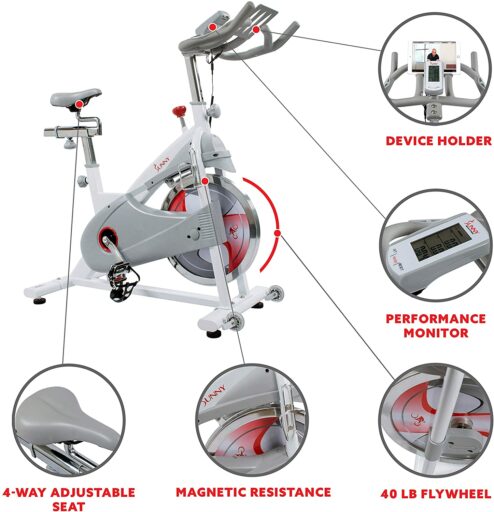 The bike does not have pre-determined resistance settings (or clicks). Instead, you turn the knob until you get the desired pedaling difficulty. And suppose you're wondering about the bike's maximum difficulty. In that case, even the most seasoned cyclist shouldn't be able to maintain a steady pedaling rhythm if the brake is at the highest resistance possible.
Like most spin bikes, the Sunny SF-B1876 comes equipped with a heavy-duty crankset. The included pedals are metallic alloy and dual-sided; they have toe cages and SPD clips for spin shoes on the other. Furthermore, they are durable enough to support all spin workouts, even if the user is close to the maximum weight limit.
Fitness monitor
The Sunny Indoor Cycling Bike SF-B1876 includes a reasonably decent fitness monitor. Although it does not have online connectivity, it does offer plenty of features to keep you motivated. For example, it has a 4-window LCD that indicates speed, average speed, maximum speed, cadence (RPM), average cadence, maximum cadence, distance, calories, time, and pulse.
The speed and distance can be metric or English units, set to MPH and miles by default. Unfortunately, its pulse reading function only works with hand-held integrated sensors. The monitor cannot read your pulse from Bluetooth or a wireless HR chest strap.
The monitor offers time, distance, calories, and cadence target functions. After specifying a target for time, distance, or calories, the monitor counts down from the set target until it reaches zero.
When setting a cadence target, the monitor will prompt you to increase your pedaling rhythm if your cadence falls below the selected target and slow down if your tempo exceeds the RPM.
There is also a Race Mode available on this bike's console. This workout mode only allows you to select a target for time and distance. The cadence is variable. So, you will have to beat the monitor to the set distance by keeping a higher tempo than it does.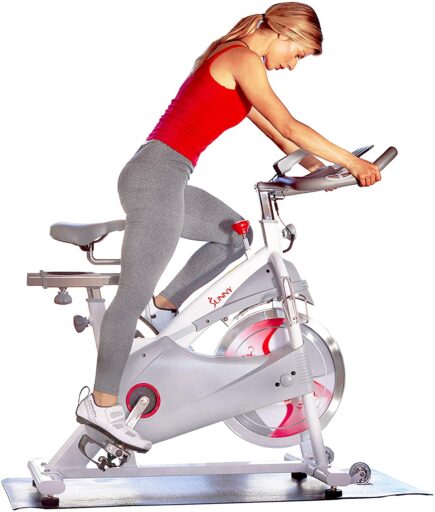 The fitness monitor is battery-powered and includes two AAA batteries with the bike. It starts when you pedal and automatically turns off after a few minutes of inactivity on the bike.
SF-B1876 Assembly and Maintenance
Most of the bike's frame comes pre-assembled—the flywheel, the crankset, the belt, the magnetic brake, and the seat pre-installed. After that, you only have to attach the two base stabilizers and the handlebar pedals and connect the fitness monitor.
Therefore, it shouldn't take longer than 30 minutes of your time. All the necessary tools for the assembly come with the bike, and the manual provides clear assembly instructions and schematics.
For maintenance, you only have to keep the bike clean, wipe off the sweat from the frame at the end of the workout, periodically check for loose bolts and parts and retighten or replace them as necessary. The belt and brake do not require lubrication.
Pros
Heavy-duty steel frame – can support users up to 300 lbs;
Aesthetic design;
Transport wheels on the front base;
Adjustable levelers on both base bars;
Four-way adjustable seat;
Pulse sensors integrated into the handlebar;
Device holder integrated into the handlebar;
Smooth and quiet belt drive system;
Perimeter-weighted 40 lbs flywheel for improved momentum;
Frictionless magnetic resistance;
Dual-sided pedals (SPD clipless on one side, the cage on the other);
Fitness monitor included;
Goal settings for time, distance, calories, and cadence;
Race program;
Bottle holder included;
Device holder included;
Batteries for the fitness monitor included;
Little maintenance is required;
Easy to assemble;
All the tools needed for the assembly included;
Excellent warranty.
Cons
The fitness monitor LCD doesn't have a backlight;
No front-to-back adjustability for the handlebar (only up-down);
The fitness monitor does not have online connectivity.
Sunny Indoor Cycling Bike SF-B1876 Summary
The Sunny SF-B1876 is an indoor cycling bike made for home use. It features a heavy-duty frame with a 40-lbs flywheel, a manual magnetic resistance system, and a fitness monitor that tracks all essential workout metrics. It also has a race program to keep you motivated.
Moreover, it's a well-constructed exercise bike that supports any spin workout, great for high-intensity activities, interval training, stamina development, and weight loss.
I hope you found this article helpful and informative. Would you please speak up if you have anything you'd like to share on the topic or any opinions about my website? I look forward to your comments, questions, and the sharing of ideas.
Please remember that you should consult your physician to determine if you have any medical or physical conditions that could risk your health and safety or prevent you from using the equipment properly. In addition, your physician's advice is essential if you are taking medication that affects your heart rate, blood pressure, or cholesterol level.