Get a fully connected and complete workout with the Sunny SF-B220045 SMART Upright Bike from Sunny's Elite Interactive Series. Download and sync your device with the free SunnyFit app, start cycling with Sunny trainers, connect with fitness enthusiasts, learn how to make healthy dishes, and more! The SF-B220045 is smart for connected fitness in a compact and convenient bike.
The SF-B220045 features 12 levels of contactless magnetic resistance using internal magnets and offers a much smoother and streamlined ride compared with felt, leather, or other types of contact resistance mechanisms. In addition, the internal 9-pound (4 kg) flywheel can generate more inertia than similar bikes in its class for those intense stationary bike workouts.
The Sunny SF-B220045 SMART upright bike has an extra large seat measuring over 3 inches thick and provides unparalleled comfort and support for an indoor exercise bike. In addition, the 4-way adjustable seat easily adjusts up/down and forward/back with a simple twist of the knob.
The all-new free SunnyFit app takes your Sunny workouts to the next level! View your live metrics displayed in real-time as you tour the world with accurate location maps. You'll get the results you want with customized workout plans. Compare your results on the exercise bike leaderboard, share your fitness experiences, get workout tips, and much more!
Learn more in my complete review below!
Product: Sunny SF-B220045 SMART Upright Bike
Price: For a great deal on this bike, merely go here to Sunny Health & Fitness.com
Warranty: Frame 3 years / Parts 180 days
My rating: is 9/10
Affiliate Disclosure: As a Sunny Health & Fitness Affiliate Program participant, I earn commissions on purchases made through links in the post. Full disclosure
Details and Specifications
Assembled dimensions: 41.7L x 22.6W x 53.1H inches (106L x 57W x 135H cm)
Assembled weight: 63.8 lbs (29 kg)
Flywheel weight: 9 lbs (4 kg)
Weight capacity: 275 lbs (125 kg)
Resistance: Manual magnetic, 12 levels
Fitness Monitor: Time, speed, distance, odometer, calories, pulse, goals, scan, goals
Extras: Time, speed, distance, RPM, pulse, calories, BMI, recovery, Bluetooth, SunnyFit compatible
Warranty: Frame 3 years / Parts 180 days
SF-B220045 Frame Construction
The Sunny SF-B220045 SMART upright bike features an oval and rectangular steel frame. All the steel parts have a durable gray paint finish with the "Sunny" logo painted red and white.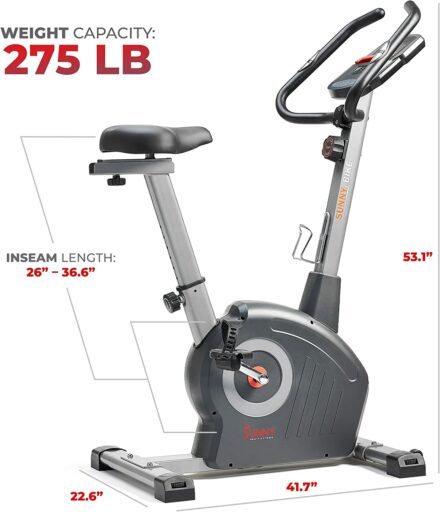 Of course, the bike also integrates several plastic parts. For example, the large guards of the drive and resistance elements, the console casing, the base bar end caps, the adjustment knob caps, and several other small parts are rigid ABS polymer. However, these don't play an essential role in the bike's sturdiness and stability; their role is cosmetic or protective.
Like most other upright bikes, the Sunny SF-B220045 has a small footprint. It is approx—41.7″ (106 cm) long and 22.6″ (57 cm) wide. In addition, you'll have to allow at least two feet of clearance all around it for easy access and safe usage.
The bike is not too heavy, weighing approx—63.8 lbs (29 kg). Therefore, one person can carry and assemble the bike. Once completed, it is easy to relocate as its front stabilizer has transport wheels. Also, both its base stabilizers have adjustable levelers.
Seat and handlebar
The Sunny SF-B220045 SMART upright bike has a four-way adjustable seat (up, down, front, back). Its vertical post has seven adjustment holes, while its horizontal bar adds a few inches of front-to-back adjustment.
Thus, the bike should accommodate users with an inseam between 26″ – 36.6″ (66 – 93 cm), fitting users between 5'0″ and 6'6″ (153 – 198 cm). The bike also has a maximum user weight limit of 275 lbs (125 kg).
The saddle is a standard one built on a nylon shell with a layer of padding and a durable closed-cell foam material cover. Its slider has a triangular plate to which the saddle attaches via three screws. In addition, the saddle is pretty extensive, approx. 12.6″L x 12.2″W (32 x 31 cm), so it provides plenty of contact surface. And it has contours for extra breathability.
The bike has a multi-grip handlebar and can adopt a low grip, an oblique grip, and a climbing grip. In addition, its side grips have rubber-foam sleeves for comfortable and secure contact. Furthermore, they also integrate metallic HR pulse sensors, and the fitness monitor can monitor your heart rate when holding on to them.
The bike's handlebar is non-adjustable. It attaches to the bike's vertical post via two screws, so you cannot adjust its angle. In addition, the front vertical post inclines forward slightly, and the highest point of the handlebar is 53.1″ (135 cm).
SF-B220045 Resistance system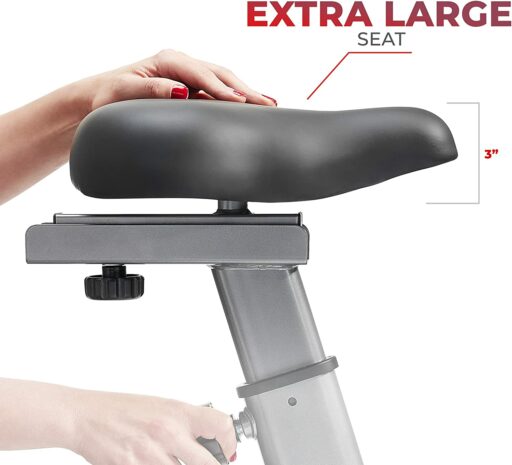 The Sunny SF-B220045 SMART upright bike comes with a magnetic resistance system. It is not motorized; therefore, you don't need to connect it to a power source. It's also essential to mention that since the bike is not motorized, the fitness monitor cannot control the resistance automatically.
The bike integrates a mechanical, magnetic brake which the base frame guards conceal. The brake is attached under the flywheel and connects to the bike's tension knob. So, for example, when you turn the knob right or left, the magnets move closer or farther from the flywheel, increasing or decreasing the pedaling difficulty.
Unlike a bike with a standard friction resistance system, the magnetic resistance system has many advantages. For instance, since the magnets don't touch the flywheel, the pedaling motion is very smooth and quiet. In addition, the brake doesn't suffer wear and tear, so you don't have to worry about brake pad replacements. Furthermore, lubricating the brake pad is not necessary either.
The bike provides 12 levels of resistance. The lowest resistance level is pretty light and great for warm-up, muscle toning, or recovery training. Conversely, on the 10-12 settings, the bike offers quite a challenge, even for a seasoned user, simulating a hill climb.
Drive system
The Sunny SF-B220045 SMART upright bike has a 9-pound (4 kg) flywheel entirely concealed by the drive system covers. Although it's not as heavy as the flywheel of a spin bike, it still is perimeter-weighted, which means it provides a pretty consistent momentum.
The flywheel is bi-directional, which means pedaling in reverse is possible on this bike. However, coasting is not possible.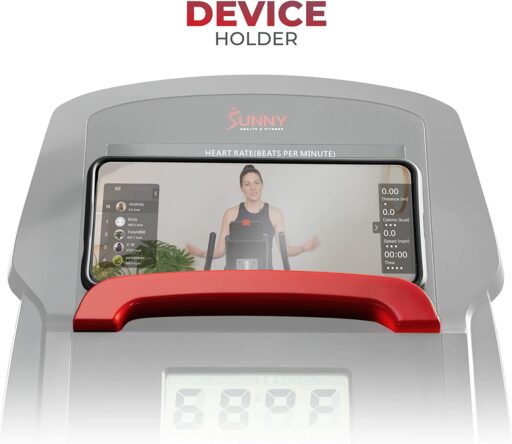 When you stop pedaling, the flywheel also stops spinning, and the monitor ceases the count for calories, distance, etc. In addition, when you pedal in reverse, the resistance remains constant, determined by the selected tension level.
The bike is belt-driven and integrates a PJ400 poly-v belt that is highly resistant to abrasion. Unlike a chain drive, the belt drive comes with a few advantages. For example, the belt generates slightly less vibration than a chain, and you don't have to lubricate it.
The bike's crankset is sturdy, featuring flat steel arms and a chrome plating finish. However, even though they're similar to the crank components of a road bike, the Sunny SF-B220045 is not for standing on the pedals but for seated workouts.
The included pedals are made from durable nylon materials. They have weight elements, so they always self-level when you remove your feet from them. In addition, they also have adjustable straps. The exact Q-Factor of the bike is not specified, but as a general idea, it is narrower than 200 mm, so the pedaling motion is pretty comfortable.
SF-B220045 Fitness monitor
The Sunny SF-B220045 SMART upright bike comes with a reasonably decent fitness monitor. It features an LCD divided into six sub-sections, so it can show up to six workout metrics simultaneously, which is a plus. It tracks time, speed, RPM, distance, calories, and pulse.
The speed and distance are in Imperial units (MPH and miles). Unfortunately, the pulse reading function is hand-grip only. In addition, the monitor is battery-powered and requires two AA batteries.
The monitor does not have pre-set workout programs but does offer the possibility to select workout goals for time, distance, calories, and pulse. After choosing a goal for time, distance, or calories, the monitor counts down from the selected value until it reaches zero.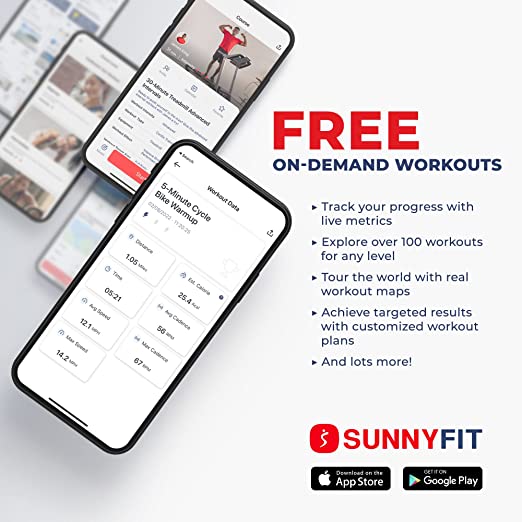 At the same time, the heart rate goal function is a bit different. You select an HR interval, and the bike will prompt you to increase or decrease your RPM to remain within the HR chosen interval.
In addition, a pulse recovery function and a body fat function are also available. These have pre-set buttons on the monitor.
The recovery function determines how fast your heart rate will return to a normal BPM after the workout. Based on the result, it rates your fitness level. Finally, the body fat function calculates your body mass index based on your data, such as weight, height, age, and gender.
One of the bike's best console features is Bluetooth connectivity. In addition, you can sync your bike to your phone or tablet via the free SunnyFit app available for iOS and Android. The app allows you to track your progress online, view workout videos, and ride on various virtual trails worldwide.
Last but not least, the monitor has a device holder. In addition, it also has a sleep mode; it will enter its sleep mode if it does not detect any activity on the bike for more than 4 minutes. Furthermore, sleep mode indicates room temperature, calendar, and clock.
Assembly and Maintenance
The bike's drive and resistance elements come pre-assembled. So you only have to attach the base bars, the seat post, the seat, the pedals, the front upright bar, the handlebars, and the fitness monitor.
Consequently, this shouldn't take more than an hour of your time. All the necessary tools for the task come with the bike, and the manual provides precise assembly instructions.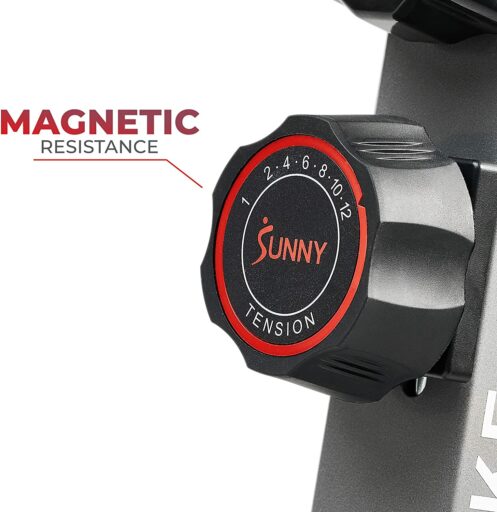 Once assembled, you don't have to worry too much about maintenance. The internal parts are pre-lubricated from the factory and shouldn't need further lubrication. So, you must keep the bike clean, periodically check for loose bolts or parts, and retighten or replace them as needed.
Pros
Sturdy construction – can support users up to 275 lbs;
Compact design;
Adjustable levelers on both base bars;
Transport wheels on the front base bar;
Pulse sensors integrated into the handlebars;
Smooth, frictionless magnetic resistance (12 levels);
Whisper-quiet belt drive;
Weighted pedals with straps;
Multi-window display monitor;
Goal settings for time, distance, calories, and heart rate;
Recovery function;
Body Fat function;
Date, clock, and room temperature readings;
Bluetooth connectivity and compatibility with the all-new free SunnyFit app;
Device holder;
Bottle holder;
Easy to assemble;
Little maintenance is required;
Decent warranty.
Cons
The handlebar is not adjustable;
The fitness monitor LCD does not have a backlight.
Sunny SF-B220045 SMART Upright Bike Summary
The Sunny SF-B220045 SMART upright bike from Sunny's Elite Interactive series is a home-use fitness machine. It has a 12-level manual magnetic resistance system, a 4-way adjustable seat, and a fitness monitor that tracks all the essential workout metrics.
In addition, the fitness monitor also has Bluetooth connectivity and is compatible with the all-new free SunnyFit app. Moreover, it's a bike for users of all levels and offers excellent value for the price.
I hope you found this article helpful and informative. Would you please speak up if you have anything you'd like to share on the topic or any opinions about my website? I look forward to your comments, questions, and the sharing of ideas.
Please remember that you should consult your physician to determine if you have any medical or physical conditions that could risk your health and safety or prevent you from using the equipment properly. In addition, your physician's advice is essential if you are taking medication that affects your heart rate, blood pressure, or cholesterol level.