Brace for the exhilarating and heart-pumping gust of wind with each row from the Sunny SF-RW520008 SMART Rowing Machine. Featuring a unique dual resistance system and a 300-pound maximum user weight limit, the SF-RW520008 lets you work out the way you want. Get a high-intensity connected home gym full-body workout.
Dynamic air resistance adjusts on the fly with each stroke. This dynamic resistance is a more consistent 16-level magnetic resistance system. Rowing with two different resistance mechanisms produces a unique workout experience and endless ways to adjust and tailor your workouts.
Concentrate on the rhythm of your strokes and let the SF-RW520008 onboard digital fitness monitor stay on top of your metrics. It tracks Calories, Count, Time, and Total Count and has a Scan function that periodically rotates these metrics.
The all-new SunnyFit app takes your Sunny workouts to the next level as you tour the world with real location maps. Row with Sunny Health & Fitness expert trainers on the SunnyFit app and explore 100+ workout videos that fit your schedule and goals. Compare your results on the rowing leaderboard, share your fitness experiences, get workout tips, and much more!
Learn more in my complete review below!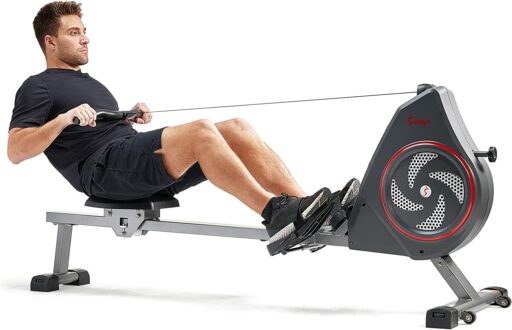 Product: Sunny SF-RW520008 SMART Rowing Machine
Price: For a great deal on this rower, merely go here to Sunny Health & Fitness.com
Warranty: Frame 3 years / Parts 180 days
My rating: 9.5/10
Affiliate Disclosure: As a Sunny Health & Fitness Affiliate Program participant, I earn commissions on purchases made through links in the post. Full disclosure
Details and Specifications
Assembled dimensions: 72.6L x 25.1W x 31.3H inches (184L x 64W x 79H cm)
Assembled weight: 58.1 lbs (26 kg)
Weight capacity: 300 lbs (136 kg)
Frame: Steel
Resistance type: Air & magnetic, 16 levels
Fitness Monitor: Time, count, total count, calories, scan
Warranty: Frame 3 years / Parts 180 days
SF-RW520008 Frame Construction
The Sunny SF-RW520008 SMART Rowing Machine has a steel frame combining rectangular and oval tubes in its construction. The front unit encases the fan, the magnetic resistance system, the footrests, and several other small ABS plastic parts. All the steel tubes in the machine's construction have a durable gray paint finish.
The unit is not too large compared with other models. It is approx. 72.6″ (184 cm) long and 25.1″ (64 cm) wide, while the top of its front part reaches approx. 31.3″ (79 cm) above the floor level.
Its rail is 44.7″ (113 cm) long, while the machine can comfortably accommodate users with an inseam up to 38.5″ (97 cm). Thus, it should fit users up to 6'5″ (196 cm) with no problem.
The rower's rail doesn't fold like some other models. Instead, it can store vertically as its front base features a small stabilizer. If stored vertically, the unit's footprint becomes 31.3″L x 25.1″W (79 x 64 cm), while its height reaches 72.6″ (184 cm).
The machine is relatively light, weighing approx—58.1 lbs (26 kg). Therefore, one person can carry and assemble the rower. Once completed, it is easy to move as its front base bar has transport wheels. Also, its base bars have adjustable levelers.
Seat and other parts
The Sunny SF-RW520008 SMART Rowing Machine comes with a seat for optimal comfort. Its top is high-density closed-cell foam, pretty firm but not entirely rigid.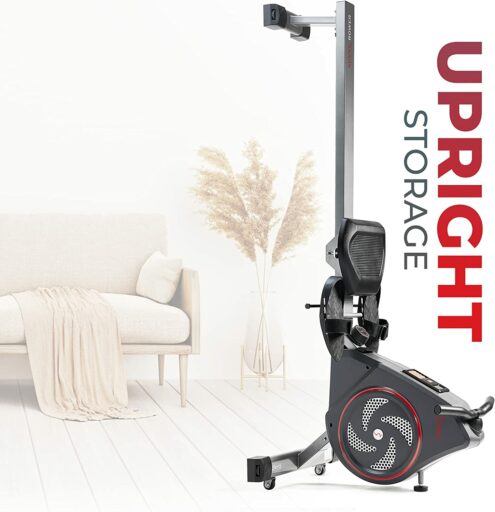 It is textured and contoured to provide better positioning for the user and prevent slippage. It is also relatively large, approx—14″ (35.5 cm) wide.
The base of the seat is steel-made. Both the seat and the rail are durable; the machine has a maximum user weight limit of 300 lbs (136 kg), which applies to both the seat and rail. Also, the rail is not entirely horizontal; it slants forward slightly. Thus its highest point is the back of the rail, where the seat sits approx—15″ (39 cm) above the floor.
The seat's base frame is also steel-made, and it integrates three sets of wheels. In addition, they have internal ball bearings for smooth motion. Outside, they have a thick layer of silicone rubber for reduced noise. Two wheelsets slide on top of the rail while the third slides underneath it for extra stability.
The rower's pulling handle has an ergonomic design with slightly curved grips for comfortable hand positioning. A layer of rubber foam material covers it for a secure grip. Unfortunately, it does not have integrated HR pulse sensors or other controls. Instead, it attaches to a heavy-duty nylon strap which is highly resistant to abrasion.
The machine has a set of pivoting footrests. However, they are non-adjustable, but they tilt on their supporting rods to adapt better to the position of your feet throughout the rowing motion. In addition, they have stoppers at the heel so that they won't tilt backward past an angle of approx. 45°.
As mentioned above, the rower's footrests are durable ABS thermoplastic material. In addition, they have heel guards and adjustable straps, so you can perfectly secure your feet on them. Furthermore, they also have a textured surface.
SF-RW520008 Resistance system
The Sunny SF-RW520008 SMART Rowing Machine combines an air resistance system with a non-motorized magnetic resistance system. Therefore, you don't need a power adapter or cord for it. But unfortunately, this also means that the included fitness monitor cannot adjust the resistance automatically.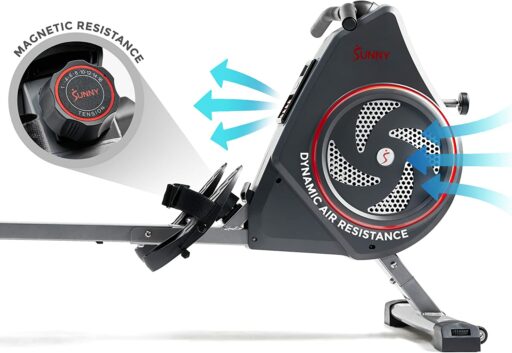 The main resistance-generating element is a flywheel fan connected to the rower's internal pulley system. For example, when you pull the handle, the fan spins inside its casing, generating air resistance. The case does not have a damper like the Concept2 or any adjustment for the air resistance. However, the machine also has magnetic resistance for overall workout adjustment.
The rower's magnetic resistance system consists of a small magnetic brake connecting to the tension knob on the front of the rower. For example, when you turn the knob clockwise, the brake moves closer to the flywheel, increasing the rowing difficulty. And when you turn the knob to the left, the magnets move away from the flywheel, reducing the resistance.
The magnetic brake has 16 tension levels. On the 1st difficulty level, you work only with the resistance generated by the fan, which is excellent for warming up or recovery training. Conversely, the 16th tension level adds quite a bit of resistance to the rowing motion, which is perfect for anyone who wants to improve strength and stamina.
Since the Sunny SF-RW520008 rower has an air resistance system, it generates a dynamic response during rowing. Therefore, if you row faster, the fan spins faster inside its casing, providing more resistance. Consequently, it is similar to the sensation of rowing a real boat through the water and is perfect for users who want to train on a professional level.
Like most other fitness machines with an air resistance system, this Sunny Health & Fitness rower is not completely quiet. The higher the fan speed, the more noise it will generate. But as a general idea, even if you row at a fast pace, the noise shouldn't cover the sound of a TV on a moderate volume level.
Fitness monitor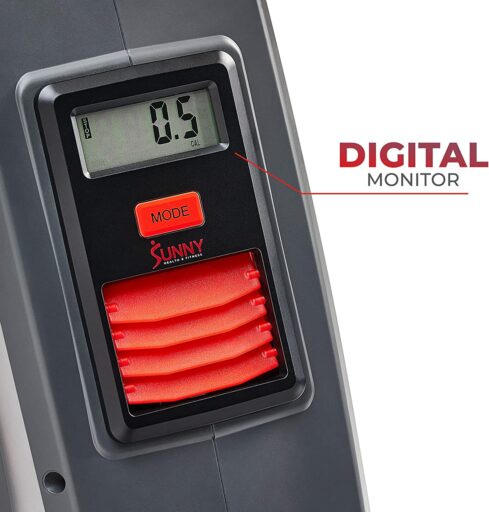 The Sunny SF-RW520008 SMART Rowing Machine has a pretty simple fitness monitor. It has an LCD that displays the time, count, total count, and calories burned. Unfortunately, it does not have a split-time or pulse reading function.
In addition, the calorie reading isn't too accurate since it's based only on the rotations of the flywheel without considering the selected magnetic resistance.
The monitor is straightforward to use, with only one button. You can select one of the workout metrics or its scan mode by pressing the button. In scan mode, it automatically rotates all four metrics, showing each one for 6 seconds. Also, if you press and hold the button, you can reset the data.
Although the fitness monitor is pretty simple, the machine has Bluetooth connectivity, and you can sync it with your phone via the SunnyFit app. This app is free, without any in-app purchases (at least for now), and it's available for both Apple and Android systems.
A scannable QR code comes with the machine, so you can easily install it. The app allows you to track your workout record online, view different workout videos, set workout goals, and even row in a virtual setup based on various locations worldwide.
The fitness monitor is battery-powered and requires two AAA batteries as a power source. It starts when it detects activity on the rower and automatically turns off after four minutes of inactivity on the machine. And finally, the machine has a phone holder. This accessory is above the rower's tension knob and should accommodate most phones.
SF-RW520008 Assembly and Maintenance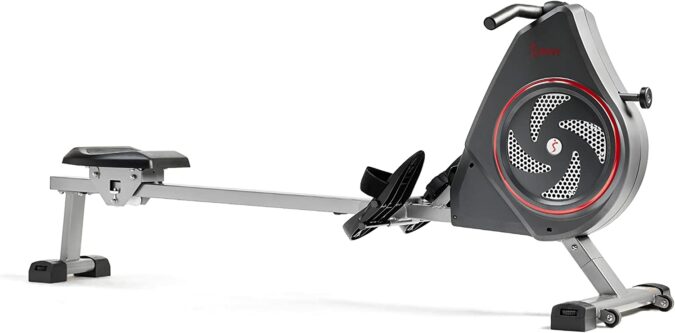 The machine's resistance unit comes pre-assembled and attached to the front frame section. You only need to connect the front base stabilizer, the rail, the seat, the rear stabilizer, and the footrests. The manual provides clear assembly instructions accompanied by detailed schematics. A basic set of tools for the task comes with the machine.
For maintenance, it is advisable to keep the machine clean, especially the rail, to prevent any damage to the seat wheels. If the front unit accumulates dust, you can vacuum it from the outside. You should also periodically inspect your rower to ensure that all the parts are still functional and there are no loose bolts; re-tighten or replace them as needed.
Pros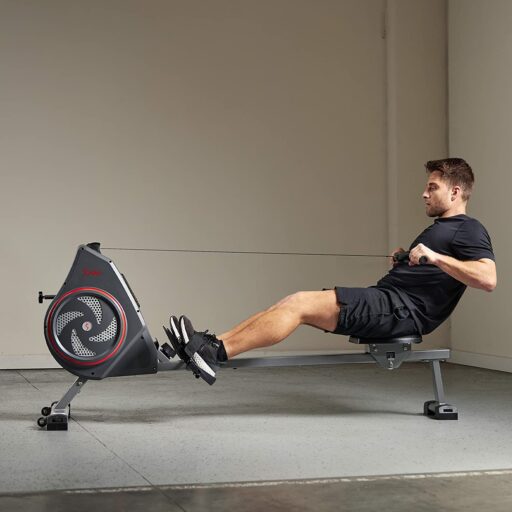 Sturdy steel frame – can support users up to 300 lbs;
It can store vertically;
Adjustable levelers on both base bars;
Transport wheels on the front base;
Long rail – the rower can accommodate users up to 6'5″;
Contoured, non-slip seat with three sets of wheels for extra stability;
Pivoting footrests with adjustable straps;
Air resistance for a dynamic response;
Magnetic resistance with 16 levels for overall workout adjustment;
Fitness monitor included – it tracks time, count, total count, and calories burned;
Bluetooth connectivity;
Fitness monitor syncs with the all-new free SunnyFit app;
Watch training videos on the SunnyFit app;
Device holder included;
Little maintenance is required;
All the tools needed for the assembly included;
Easy to assemble;
Excellent warranty.
Cons
The fitness monitor does not have a pulse reading function;
The fitness monitor does not have a split time/500m function.
Sunny SF-RW520008 SMART Rowing Machine Summary
The Sunny Health & Fitness SF-RW520008 is a home-use rowing machine. It has an air resistance system and a 16-level magnetic resistance system. Furthermore, it has a long rail (38.5″) and a maximum user weight limit of 300 lbs.
In addition, it includes a fitness monitor, but it can sync with the SunnyFit app via Bluetooth. Moreover, it's a reasonably decent fitness machine for cardio training, muscle toning, stamina development, and weight loss, offering excellent value.
I hope you found this article helpful and informative. Would you please speak up if you have anything you'd like to share on the topic or any opinions about my website? I look forward to your comments, questions, and the sharing of ideas.
Please remember that you should consult your physician to determine if you have any medical or physical conditions that could risk your health and safety or prevent you from using the equipment properly. In addition, your physician's advice is essential if you are taking medication that affects your heart rate, blood pressure, or cholesterol level.