The Sunny SF-E3914 Elliptical/Stepper Machine combines all the benefits and advantages of a traditional home elliptical machine with a stair stepper's small footprint and intense workout potential. The 10-inch vertical, 5.5 inches horizontal, and 11.5-inch overall stride length create a unique climbing motion that maximizes workout efficiency.
The smooth motion of the SF-E3914 puts users in a rhythmic whole-body calorie-burning workout. Isolate and target your lower body muscles by cranking up the resistance to focus on your hamstrings, glutes, quads, and more! Engage your upper body for a full-body exercise experience with the upper body motion arms.
The Sunny SF-E3914 Elliptical/Stepper has a fitness monitor with an LCD that keeps track of time, distance, total distance (ODO), calories burned, speed, pulse, and goals. Unfortunately, the pulse reading function is grip-only. It cannot read your pulse from a heart rate chest strap or other devices.
Learn more in my complete review below!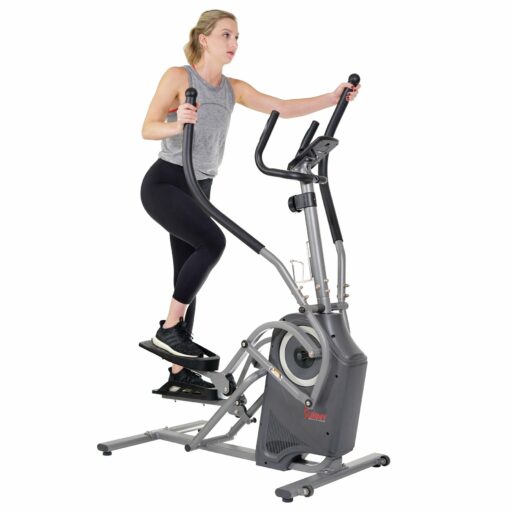 Product: Sunny SF-E3914 Elliptical/Stepper Machine
Price: For a great deal on this elliptical, merely go here to Sunny Health & Fitness.com
Warranty: Frame 3 years / Parts 180 days
My rating: is 8/10
Affiliate Disclosure: As a Sunny Health & Fitness Affiliate Program participant, I earn commissions on purchases made through links in the post. Full disclosure
Details and Specifications
Assembled dimensions: 46.5L x 26W x 62H inches (118L x 66W x 157H cm)
Assembled weight: 97 lbs (44 kg)
Supported weight: 230 lbs (104 kg)
Stride: inches 11.5 inches (29 cm)
Incline: No
Resistance: Manual magnetic, eight levels
Fitness Monitor: Time, distance, odometer, speed, calories, pulse, goals
Extras: Device holder, bottle holder
Warranty: Frame 3 years / Parts 180 days
SF-E3914 Frame Construction
The Sunny SF-E3914 cardio climber features a pretty solid steel tubing frame. It combines oval, cylindrical, and rectangular tubes in its construction, all coated with a corrosion-resistant gray paint finish.
Of course, the machine also integrates several parts of thermoplastic material. For example, the pedal trays and the covers of the drive system are plastic-made.
Since it's not a standard elliptical trainer, but a cardio climber, the Sunny SF-E3914 doesn't take too much space. It is approx. 46.5″ (118 cm) long and 26″ (66 cm) wide, while the top of its moving arms reaches approx. 62″ (157 cm) above floor level. It is advisable to leave at least two feet of clearance all around the machine to ease access.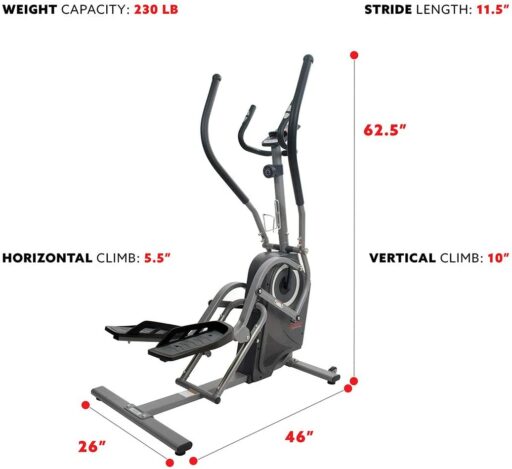 The fully assembled trainer is pretty heavy. Its net weight is approx—97 lbs (44 kg). Thus, two persons should carry and build the unit. However, one person can quickly move the machine once assembled, as its front stabilizer features small wheels.
Also, the machine provides excellent stability due to its weight and low center of gravity. It doesn't wobble or move even if the user is close to the maximum weight limit. Plus, both base bars of the machine has adjustable levelers.
Like most elliptical trainers, the Sunny SF-E3914 features fixed and mobile handlebars. The fixed handlebars are welded directly to the front mast of the machine, so they are non-adjustable. In addition, they integrate metallic HR pulse sensors, and the fitness monitor has a pulse reading function. They also have foam sleeves for improved comfort.
The mobile handlebars feature extra-long grips and ball grips at the top. In addition, they don't have HR pulse sensors, but they also have extra long foam sleeves for an improved grip. They also attach to the pedal bars and do not lock to remain stationary; they move for as long as you pedal.
Stride, elliptical path, and pedal height
First, the Sunny SF-E3914 cardio climber does not have an incline system. Therefore, the length or angle of its elliptical path is not adjustable. Also, since it's a climber, not a standard elliptical, the pedals' rail bars are inclined, so the machine provides a ride resembling climbing stairs.
The machine's rail bars and pedals are sturdy enough to support users up to a maximum weight limit of 230 lbs (104 kg). The rail bars also have stainless steel covers to protect the paint finish. The pedals come equipped with wheels that allow them to move smoothly on their tracks.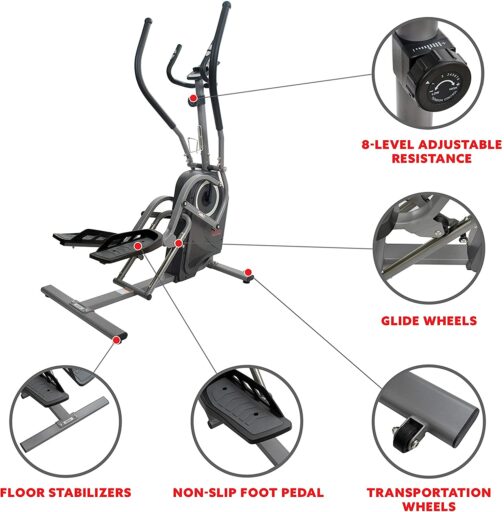 The pedal trays are made of durable thermoplastic material. They have foam inserts with a textured surface for an improved grip and inner guards. However, they are non-adjustable, and they do not have extra articulations. Instead, they attach directly to the pedal bars via bolts and nuts.
The Sunny SF-E3914 offers approx. 10″ (25.4 cm) of vertical climb and 5.5″ (14 cm) of horizontal rise leading to an overall stride of approx. 11.5″ (29 cm). Therefore, the machine should be able to comfortability accommodate users up to 6'2″ – 6'3″ (188 – 190 cm).
One last aspect to note here regards the pedal height. At the lowest point, the pedals are approx—9″ (23 cm) above floor level. Conversely, at their highest position, the pedals are approx. 16″ (41 cm) above floor level. Therefore, using your cardio climber in a room with a ceiling at least 20″ (51 cm) higher than your height is advisable.
SF-E3914 resistance and drive
The Sunny SF-E3914 cardio climber comes equipped with a manual magnetic resistance system. Therefore, you don't need an adapter for it. However, on the other hand, the machine does not auto-adjust the resistance, and the included fitness monitor does not have pre-set programs.
The unit's resistance consists of a magnetic brake attached to the internal flywheel assembly and the tension knob visible on the machine's front upright bar. Furthermore, as you turn the knob, the magnetic brake moves closer or farther from the flywheel, which adds to or reduces the pedaling difficulty.
This Sunny cardio climber offers eight resistance levels. The first resistance level doesn't increase the workout load by a lot. But conversely, the 8th tension level delivers a considerably more incredible pedaling difficulty if you want to perform a more consistent workout, improve strength, increase stamina, and burn calories.
The machine has an 8.8 lbs (4 kg) flywheel featuring a perimeter-weighted structure. This type of flywheel construction improves inertia and adds consistency to the ride. The flywheel is also bi-directional. Therefore, you can pedal in reverse to diversify your workouts.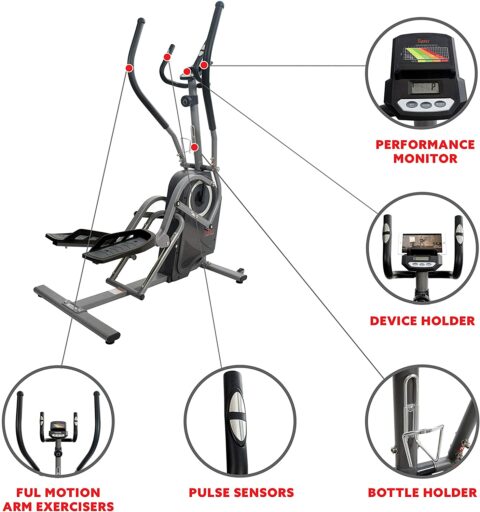 Like other fitness machines with a magnetic resistance system, this Sunny cardio climber is no different and comes equipped with a belt drivetrain. However, this type of transmission comes with several advantages. First, it generates less vibration than a chain, making the pedaling motion smooth and quiet. And second of all, the belt doesn't require periodic lubrication.
Fitness monitor
The SF-E3914 has a reasonably simple fitness monitor without pre-set programs or Bluetooth connectivity. Instead, it features an LCD that tracks time, distance, total distance, calories, speed, and pulse.
It indicates speed and distance in Imperial units (mph and miles), and there are no options for changing them to metric units. In addition, the pulse reading function is grip-only. Therefore, the monitor can only read your pulse if you hold on to the sensors integrated into the machine's fixed handlebar. Unfortunately, it cannot read your pulse from an HR chest strap or other devices.
The fitness monitor is pretty easy to use. Its Mode button covers its selection function. You can repeatedly press it to scroll through the workout metrics and select the one you want to view. In the same way, you can select the Scan Mode, which rotates all the metrics showing each one for 6 seconds.
The Set button allows you to select time, distance, and calorie goals. After choosing a goal for any metrics, the monitor will count from the desired value to zero. And finally, the Reset button clears all the metrics to zero.
The fitness monitor requires two AAA batteries which come with the machine. It starts up when you press the Mode button or detect pedal movement. It also automatically turns off if it does not see machine activity for more than four minutes.
The monitor also integrates a device holder placed above the unit's LCD. It is large enough to support any tablet or smartphone. However, the fitness monitor does not have connection ports for your device.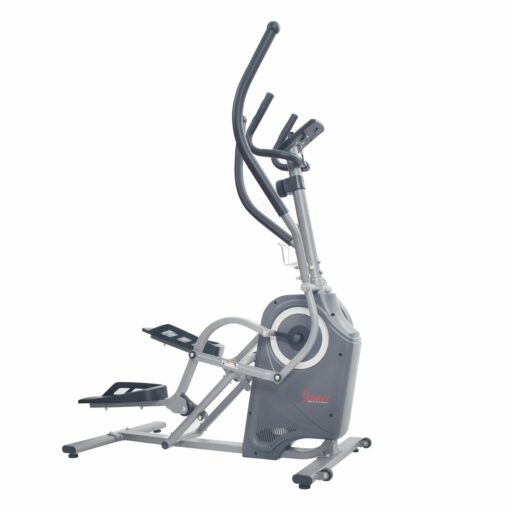 SF-E3914 Assembly and Maintenance
The main body of the Sunny Cardio Climber SF-E3914 comes pre-assembled. Therefore, you only need to attach the base bars, the pedal trays, the front mast, the fitness monitor, and the moving arms.
Therefore, it may take more than an hour of your time, but the task is relatively simple. The manual provides clear, step-by-step assembly instructions, and all the necessary tools come included with the machine. It is advisable to grease the machine's joints during the assembly to avoid developing squeaking noises.
For maintenance, you should keep the machine clean, especially the tracks of the pedals, to prevent any damage to the wheels. If the joints begin to squeak, some lubricant is required. However, the internal parts should not need lubrication for a long time.
Pros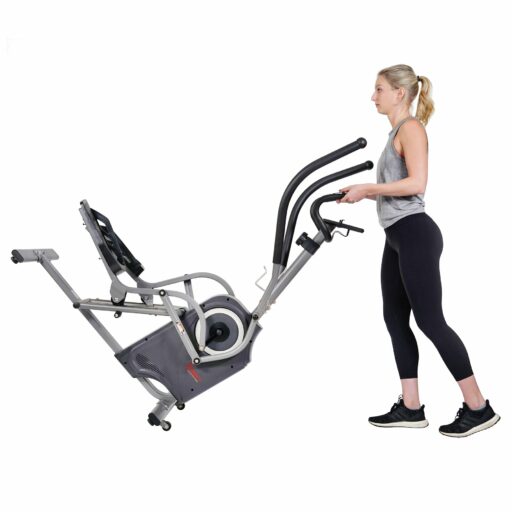 Sturdy steel frame – can support users up to 230 lbs;
Compact design;
Transport wheels on the front base;
Adjustable stabilizers on both base bars;
Durable, oversized pedals with inner guards for extra foot stability;
Moving arms with ball grips at the top;
Fixed handlebars with pulse sensors;
Reinforced and precision-welded rail bars for improved sturdiness;
Quiet belt drive system;
Manual magnetic resistance – 8 levels;
Fitness monitor included – it tracks time, speed, distance, total distance, pulse, and calories burned;
Goal settings for time, distance, and calories;
Device holder included;
HRC sticker included;
Bottle holder included;
Easy to assemble;
All the assembly tools included;
Little maintenance is required;
Excellent warranty.
Cons
The fitness monitor LCD doesn't have a backlight;
The fitness monitor doesn't have online connectivity.
Sunny SF-E3914 Elliptical/Stepper Summary
The Sunny SF-E3914 Elliptical/Stepper is a cardio climber machine featuring an 8-level manual magnetic resistance system, a sturdy frame with a weight limit of 230 lbs, and a fitness monitor that tracks all the essential workout metrics.
Moreover, it's a home-based machine, great for low to high-intensity cardio workouts, muscle toning, interval training, and weight loss.
I hope you found this article helpful and informative. Would you please speak up if you have anything you'd like to share on the topic or any opinions about my website? I look forward to your comments, questions, and the sharing of ideas.
Please remember to consult your physician to determine if you have any medical or physical conditions that could risk your health and safety or prevent you from using the equipment properly. In addition, your physician's advice is essential if you are taking medication that affects your heart rate, blood pressure, or cholesterol level.