You can use the XTERRA Fitness RSX1500 Recumbent/Stepper in your home gym for fitness enthusiasts of any skill level who want a low-impact workout. Seated steppers are ideal for those with disabilities or mobility problems, as they are easier to climb than upright ellipticals. In addition, it is a medium-duty machine, capable of handling user weights up to 300 pounds.
The RSX1500 recumbent stepper uses 24 Magnetic Brake resistance levels utilizing an eddy current brake (the best type). Magnetic resistance has the advantage of no friction, reliability, little to no maintenance costs, and quiet operation.
The XTERRA Fitness RSX1500 fitness monitor features a large, easy-to-read blue and yellow backlit LCD screen that displays everything from speed and distance to calories and heart rate. The 24 motivating programs include 13 Preset, one body fat, 1 watt, four custom, one target heart rate, four heart rate control (55%, 65%, 75%, 85%), and manual.
The RSX1500 high-quality seating features a contoured mesh back support and a high-resiliency foam seat pad – designed for long-lasting comfort and support while the mesh back keeps you cool and comfortable. In addition, the seat handlebar features convenient heart rate sensors, and it pivots back out of the way for easy entry/exit.
Learn more in my complete review below!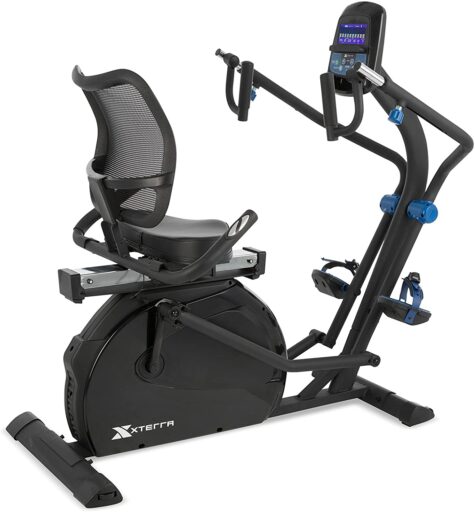 Product: XTERRA Fitness RSX1500 Recumbent/Stepper
Price: For a great deal on this hybrid, merely go here to XTERRA Fitness.com
Warranty: Frame lifetime / Brake lifetime / Parts 3 years / Labor 1 year
My rating: 8.25/10
Affiliate Disclosure: As an XTERRA Fitness Affiliate Program participant, I earn commissions on purchases made through links in this post. Full disclosure
Details and Specifications
Assembled dimensions: 52L x 30.25W x 49.5H inches (132L x 77W x 126H cm)
Assembled weight: 132 lbs (59.9 kg)
Stride: 13″ (33 cm)
Weight capacity: 300 lbs (136 kg)
Resistance: Eddy current, 24 levels
Fitness Monitor: 24 programs, body Fat function, Recovery function
Extras: Sound system and device holder
Warranty: Frame lifetime / Brake lifetime / Parts 3 years / Labor 1 year
RSX1500 Frame Construction
The XTERRA Fitness RSX1500 recumbent stepper features a durable steel frame with ABS covers for the drive and resistance elements. In addition, all the steel tubes in its construction come coated with a corrosion-resistant black paint finish. The only non-painted part is the sliding seat rail, which has a chrome finish.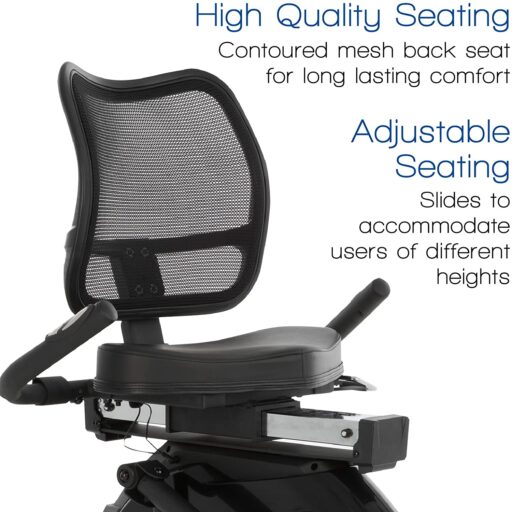 The fully assembled machine is not extremely large but broader than the average recumbent bike. It's 52″ (132 cm) long and 30.25″ (77 cm) wide, while its highest point is the top of the fitness monitor, which reaches approx. 49.5″ (126 cm) above floor level. However, leaving at least two feet of clearance all around the machine is advisable for accessing quickly.
The XTERRA RSX1500 is a reasonably heavy fitness machine. It weighs 132 lbs (~60 kg) with all the parts assembled. Therefore, two people should transport and build the machine. But once completed, it's easily transported via its front base and features transport wheels. Also, its rear base integrates adjustable stabilizers.
Seat and other parts
The XTERRA Fitness RSX1500 comes equipped with a comfortable seat. Its saddle features a thick foam cushioning layer and a durable vinyl cover with contours for better positioning. The backrest is similar to the one of an office chair. Additionally, it's a mesh-type backrest with a durable polypropylene frame.
The whole seat assembly supports users up to 300 lbs (136 kg), which is not bad for a home-use machine.
The seat is adjustable. It is attached to a horizontal rail system and can move closer or farther from the pedals. In addition, its adjustment system is lever-based, so you can easily unlock and re-lock while seated if you want to adjust its position.
Therefore, this seated stepper can accommodate users up to 6'5 ″ (196 cm) with no problem. However, it is essential to mention that the backrest does not recline.
The machine comes equipped with two sets of handlebars. One is attached to the seat; the other is mobile, attached to the front mast and the pedal system. The seat handlebars integrate HR pulse sensors. In addition, they can also fold upward to promote a more accessible entry and exit. Most recumbent bikes don't have this feature.
The mobile handlebars are attached to the pedal and the fitness monitor mast. Therefore, they continue to move for as long as you pedal. They feature adjustable arms with several positions each. In addition, they have articulate grips that can rotate 360° to provide comfortable hand positioning.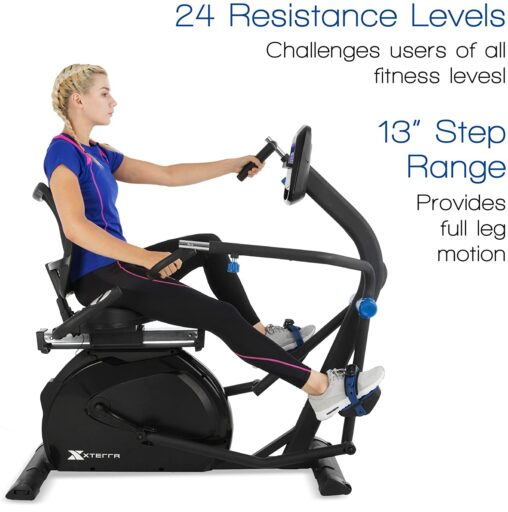 Unlike other recumbent steppers (seated elliptical trainers), such as the Octane Fitness xR4x, the XTERRA RSX1500 features standard exercise bike pedals. They attach at the base of the moving arms. In addition, they have a weighted design and adjustable straps so you can secure your feet in place if needed.
RSX1500 resistance and drive
The XTERRA Fitness RSX1500 recumbent stepper has an eddy current resistance system. Therefore, the machine requires an external power source (a power cord). However, it also means that the fitness monitor can automatically adjust the pedal resistance.
The unit's resistance system comprises a magnetic brake and a servo motor. When the fitness monitor makes adjustments (either automatically or manually), the motor changes the magnets' pull, which results in more or less resistance.
There are 24 levels of resistance available on this machine. The first few levels deliver a reasonably light workout load, which is great for recovery or light cardio training. Conversely, the 20-24 resistance levels allow you to perform a more intense workout to burn more calories and improve stamina.
The machine comes with an internal flywheel. Its exact weight is not specified, but as a general idea, most machines in this range feature a 20-30 lbs (9.0-13.6 kg) flywheel. The flywheel has a balanced structure and provides an exceptionally smooth pedaling motion.
It is bi-directional, but pedaling in reverse doesn't change the movement much, as the pedal path is not elliptical. Also, the machine's stride is approx—13″ (33 cm).
Like most other fitness machines with a magnetic resistance system, the XTERRA RSX1500 uses a belt drive system.
This type of drivetrain comes with several advantages. First, you don't have to take the unit apart to lubricate the belt, so it saves you this hassle. Second, a belt drive generates less vibration than a chain, and third of all, the pedaling motion is whisper-quiet.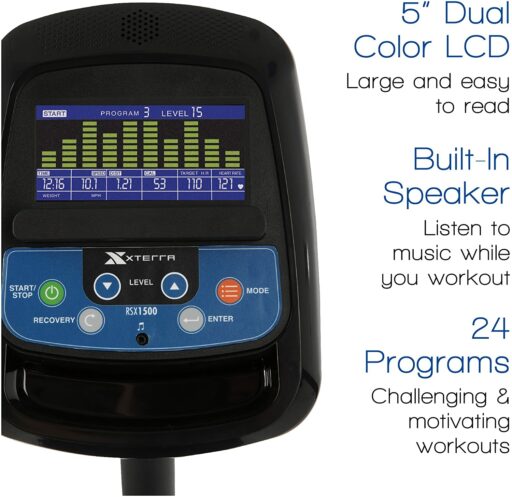 Fitness monitor
The XTERRA Fitness RSX1500 recumbent stepper comes equipped with a multi-function fitness monitor. It features a 5-inch, dual-color LCD with an LED backlight. In addition, its display divides into multiple sub-sections to show as many workout metrics as possible.
It tracks time, distance, total distance, RPM, speed, calories, watts, and pulse. The speed and distance can be Imperial (MPH, miles) or Metric (km/h, kilometers) units.
Unfortunately, the monitor is not telemetric, which means it can only read your pulse if you hold on to the integrated sensors. In addition, it cannot communicate with a wireless HR chest strap.
A Recovery Function and a Body Fat function are available as well. The Recovery function has a button on the monitor. When initiated, it counts your pulse recovery at the end of the workout and will give you a fitness rating based on your performance.
The Start button activates the Body Fat function. It calculates your body fat percentage based on age, height, weight, and gender.
RSX1500 Workout programs
The fitness monitor has 23 programs, a Body Fat Calculator, and a Recovery function. The first program is Manual (P1); this allows unrestricted pedaling and manual resistance adjustment.
The following 12 programs (P2 – P13) are preset. They offer various segment layouts targetting different workouts, including Rolling Hills, Valleys, Fat Burn, Steps, Ramp, Intervals, Plateau, Obstacle, Off-Road, Fasttrek, Climbing, and Hill.
Each program has 24 workout load levels, shown in 8 bars for each column. Each column is 1 minute of work by default; however, this is changeable.
The monitor also has a Watt Control Program, a Target HR Program, four preset HR Control Programs, and 4 User Programs. The monitor adjusts the resistance automatically depending on the pedaling speed for the Watt Control Programs to maintain a constant watt value.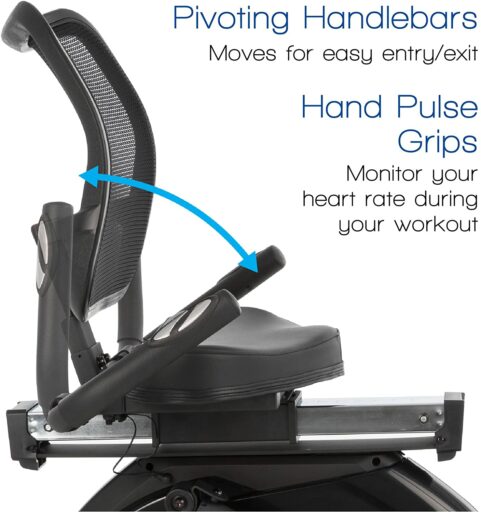 The Target HR Program allows you to select the desired Target HR, and the machine will adjust the resistance to keep you in the HR chosen interval. The preset HR programs are 55% HR, 65% HR, 75% HR, and 85% HR. And finally, the User Programs allow you to create and save custom segment layouts.
Amenities
The fitness monitor offers two other notable features besides the workout programs and fitness features. One is the sound system; the other is the tablet holder.
The sound system consists of two small speakers integrated at the top of the monitor and an AUX connector at the bottom. Therefore, you can connect your tablet or smartphone to the monitor and play your music through the integrated speakers for extra sound depth.
The device holder is between the LCD and the controls. It is large enough to accommodate any tablet or smartphone. However, a USB charging port is not available on the monitor.
RSX1500 Assembly and Maintenance
The main body of the trainer comes pre-assembled. However, the rest of the parts still require assembly. As a general idea, you must connect the two base bars, the front mast, the moving arms, the fitness monitor, the pedal bars, the pedals, and the seat with all its parts.
Therefore, it may take up to two hours of your time. However, the task isn't too complicated; the manual provides clear assembly instructions and schematics, and all the necessary tools come included with the machine.
Once assembled, maintenance doesn't require much. Lubrication of the seat rail and the joints may be necessary occasionally. But other than this, you must only check for loose bolts and parts and keep the machine clean.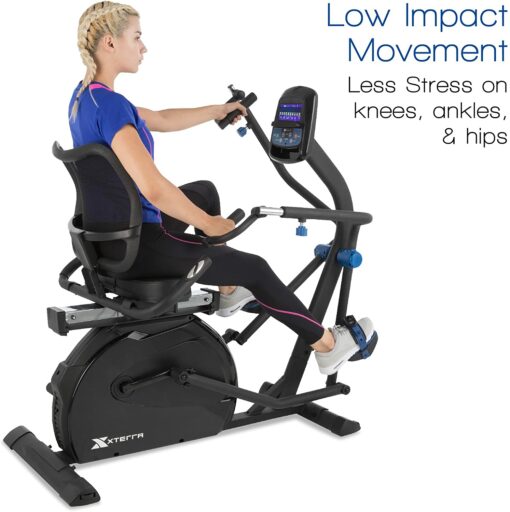 Pros
Durable frame – can support users up to 300 lbs;
Transport wheels on the rear base;
Adjustable stabilizers on the rear base;
Both mobile and stationary handlebars;
The portable arms are length adjustable;
Rotating (360°) grips on the mobile handlebars;
Pulse sensors integrated into the seat handlebars;
Foam-padded and contoured saddle;
Flexible and breathable mesh backrest;
Weighted pedals with adjustable straps;
Adjustable seat – can accommodate users up to 6'5″;
Eddy current resistance system with 24 tension levels;
Multi-function fitness monitor with a 5-inch, dual-color LCD;
Multiple workout programs, including one manual, 12 preset, 1 watt, 1 THR, 4 HR, and four custom user programs;
Recovery and body fat function;
Tablet holder included;
The sound system included;
Reasonably easy to assemble;
Little maintenance is required;
Excellent warranty.
Cons
There is no bottle holder;
A phone or tablet placed on the device holder will cover the fitness monitor LCD;
The monitor does not have a USB charging port.
XTERRA Fitness RSX1500 Rewcumbent/Stepper Summary
The XTERRA Fitness RSX1500 is a recumbent/stepper made for home use. It features a 24-level eddy current resistance system, a comfortable seat with a mesh backrest, adjustable handlebars, and a fitness monitor with multiple workout programs.
Moreover, it's a trainer for light to intense cardio training, low-impact recovery training, stamina development, muscle toning, and weight loss.
I hope you found this article helpful and informative. Would you please speak up if you have anything you'd like to share on the topic or any opinions about my website? I look forward to your comments, questions, and the sharing of ideas.
Please remember to consult your physician to determine if you have any medical or physical conditions that could risk your health and safety or prevent you from using the equipment properly. In addition, your physician's advice is essential if you are taking medication that affects your heart rate, blood pressure, or cholesterol level.