I want to introduce you to the newest evolution of performance-oriented indoor cycles – The Sunny Evolution Pro II SF-B1986. The 40 lb flywheel provides momentum while riding on this low-impact cycling machine. In addition, the smooth and silent belt-drive mechanism guarantees your cycle exercise will be quiet, particularly in shared spaces.
Sunny SF-B1986 bike features a commercial-quality frame, has a maximum user weight capacity of 330 lbs (150 kg), and can take whatever intense fitness routines you could throw at it. In addition, the 40-pound flywheel is designed for speed and stability to create more momentum for more extended periods, keeping your workout going.
It comes equipped with Sunny Health & Fitness' most advanced fitness monitor that tracks: speed, avg speed, max speed, cadence (rpm), avg cadence, max cadence, distance, target distance, time, calories, race, target time, and pulse. However, the pulse reading function is grip contact only. In addition, the monitor cannot communicate with a wireless heart rate chest strap.
Achieve a full-body workout by riding and lifting dumbells simultaneously on the Sunny Evolution Pro II SF-B1986. Switch between intervals of intense riding and upper body exercises to mix things up and add variety to your routine.
Learn more in my complete review below!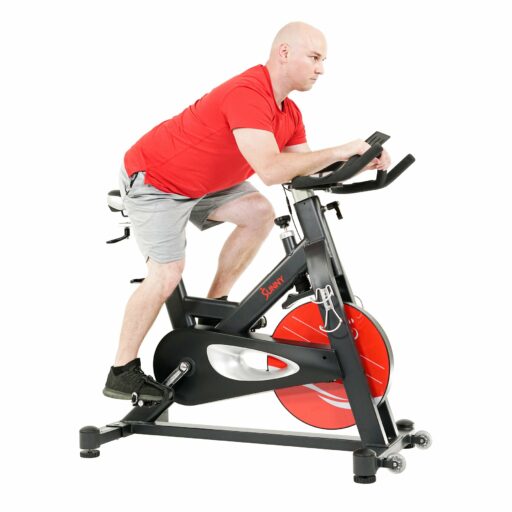 Product: Sunny Evolution Pro II SF-B1986
Price: For a great deal on this bike, merely go here to Sunny Health & Fitness.com
Warranty: Frame 3 years / Parts 180 days
My rating: 8.5/10
Affiliate Disclosure: As a Sunny Health & Fitness Affiliate Program participant, I earn commissions on purchases made through links in the post. Full disclosure
Details and Specifications
Assembled dimensions: 49L x 24W x 50.5H inches (124L x 61W x 128H cm)
Assembled weight: 136 lbs (61.6 kg)
Flywheel weight: 40 lbs (18 kg)
Supported weight: 330 lbs (150 kg)
Handlebars: 4-way adjustable
Seat: 4-way adjustable
Drive: Belt
Resistance: Manual magnetic
Fitness Monitor: Time, speed, distance, cadence, watts, pulse, goals, race program
Extras: Bottle holder, dumbbell holder, the device holder
Warranty: Frame 3 years / Parts 180 days
SF-B1986 Frame construction
The Sunny Health & Fitness Evolution Pro II features a heavy-duty steel frame to support any spin workout. In addition, it combines oval and rectangular bars in its construction for improved sturdiness and aesthetics.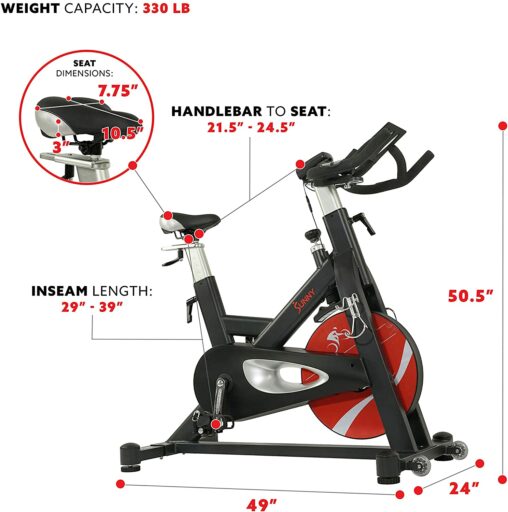 The frame's main section comes double-coated with a corrosion-resistant and chip-resistant paint finish, except for the seat and handlebar posts; these are chrome plated. The bike also has a few plastic parts in its construction. For example, the cover of the drivetrain and the flywheel's side panels are durable thermoplastic materials.
The fully assembled bike is quite heavy, similar to a commercial bike. Its net weight is approx—136 lbs (61.6 kg). Therefore, two people should transport the packaged unit.
However, one person can move the bike once assembled as its front stabilizer integrates two large silicone wheels. Also, both base stabilizers come equipped with large, adjustable levelers.
The Sunny Evolution Pro II SF-B1986 is not an extremely large fitness machine but more extensive than most spin bikes made for home use. It is approximately 49″ (124 cm) long and 24″ (61 cm) wide.
Plus, it has a low center of gravity, and due to its impressive weight, it provides superior stability. As a result, you can be sure that it won't rock or move even if you engage in a high-intensity spin workout.
The bike's frame also has a step-up bar feature, a small bar that connects the seat tube with the main oblique tube of the frame. It can facilitate the mounting/dismounting for a shorter person, serve as stretch support, or step up and down from the structure as some spin workouts require. It also improves the overall sturdiness of the frame.
Seat
The bike comes with a saddle designed for superior comfort. It is approx. 10.5″ (26.6) long and 7.75″ (19.6 cm) wide, so it provides plenty of contact surface. In addition, it integrates a thick layer of foam padding and has a longitudinal groove for improved breathability.
Another essential aspect to note about the seat regards its attachment system. This saddle features a standard collar-type attachment system, which means you can easily remove it if necessary or adjust its angle. It also means that you should be able to find a replacement for it in basically any bike shop if you ever need to replace it.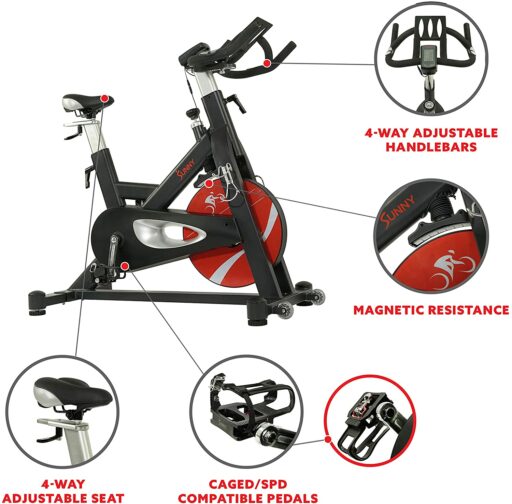 The seat is four-way adjustable (front, back, up, down). Its vertical post has nine adjustment positions and offers an adjustment span of approximately 10″ (25.4 cm). Its horizontal slider also offers approx—3″ (7.6 cm) of front-to-back adjustment.
Therefore, the applicable inseam length for this bike is 29″ – 39″ (73.6 – 99 cm). Thus, the bike should be able to accommodate users between 5'1″ and 6'6″ (155 – 198 cm). It is also has a maximum user weight capacity of 330 lbs (150 kg).
SF-B1986 Handlebars
The bike comes equipped with a multi-grip handlebar. It offers the possibility to adopt a climbing grip, an aero grip, a close grip, a standard grip, and a racing grip. In addition, a layer of high-density foam material fully covers it for an improved grip.
Its side grips integrate metallic pulse sensors, and the included fitness console has a pulse reading function. This feature is not available with the Evolution Pro I model. Also, the handlebar incorporates a tablet holder.
Like the seat, the bike's handlebar is four-way adjustable (up, down, front, back). In addition, its upright post offers five adjustment positions, while its front-to-back slider provides approx. 2 extra inches of horizontal adjustment.
Resistance system
The Sunny Health & Fitness Evolution Pro II SF-B1986 indoor cycling bike comes equipped with a manual magnetic resistance system. Therefore, you don't need an adapter, power cord, or an external power source. But on the other hand, the included fitness console cannot adjust the resistance automatically.
The bike's resistance system consists of a magnetic brake attached to the frame's main inclined bar above the flywheel. The brake connects to the tension knob on top of the frame. Therefore, by turning the knob clockwise, the magnets move closer to the flywheel, which increases the pedaling difficulty.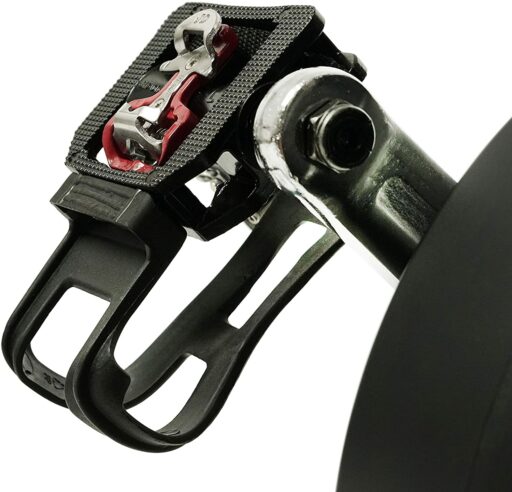 The main advantage of a magnetic brake is that the resistance elements do not touch, so there is no friction, and the pedaling motion is very smooth and quiet.
The bike's brake is stepless. It does not have any pre-determined tension levels. You turn it left or right until you get the pedaling difficulty to where you feel comfortable. But as a general idea, with the brake pad in the closest position to the flywheel, the bike provides great difficulty, simulating a steep climb.
SF-B1986 Drive system
The bike comes equipped with a 40 lbs (18.1 kg) flywheel, a perimeter-weighted design. This flywheel construction improves inertia and leads to a very smooth and consistent pedaling motion. In addition, the flywheel is bi-directional; it allows pedaling in reverse.
However, coasting is not possible on this bike. That's because the pedals continue to spin for as long as the flywheel is spinning.
Since it's an indoor cycling bike designed for spin workouts, the Evolution Pro II SF-B1986 features a heavy-duty 3-piece crankset with solid steel arms and metallic alloy pedals. Thus, the crankset and pedals should support users up to 330 lbs (150 kg) with no problem.
The included pedals are dual-sided. They have adjustable toe cages on one side and SPD elements for spin shoes. They also have 9/16 standard threads, so compatible options are widely available if you need to replace them.
The bike comes equipped with a belt drive system. It uses a 5PK1590 poly-v belt resistant to stretching and abrasion. The main advantage of this belt drive is that you don't ever have to lubricate it. Also, it delivers a vibration-free pedaling motion, which contributes to the overall smoothness of the ride.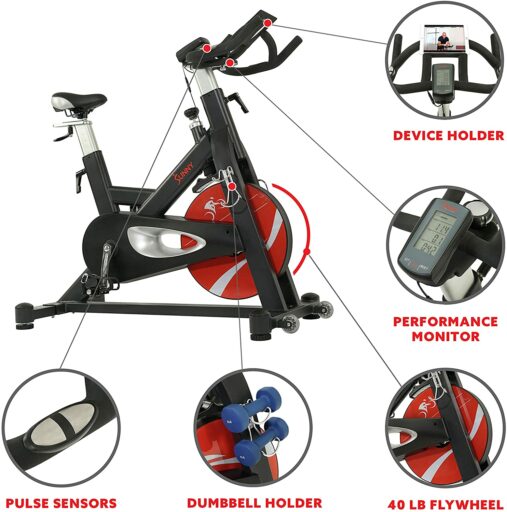 Fitness monitor
The Sunny Health & Fitness SF-B1986 indoor cycling bike includes a mid-range fitness monitor. It is battery-powered and requires two AAA batteries, which come with the bike. It does not have online connectivity but does offer quite a few more features than the average bike console.
First, its display divides into four sub-sections to view up to four workout metrics simultaneously. It shows speed, average speed, maximum speed, cadence (RPM), average cadence, maximum cadence, distance, calories, time, and pulse.
The speed and distance are set to English units (mph and miles) by default, but the fitness monitor displays metric units. The pulse reading function is grip contact only. The monitor cannot communicate with a wireless heart rate chest strap.
The monitor offers target functions for time, distance, calories, and cadence. Upon selecting a target for time, distance or calories, the display will count down from the chosen target until it reaches zero.
After choosing a cadence target, the monitor will prompt you to increase your pedaling rhythm if your cadence falls below the selected target and slow down if your tempo exceeds the RPM.
A Race Mode also is available. If using the Race Mode, you can only select a target for distance and time. The cadence is variable. Therefore, you will have to beat the computer to the specified distance while keeping a higher tempo than it does.
SF-B1986 Assembly and Maintenance
The bike's frame comes pre-assembled. So you only need to attach the two base stabilizers, the pedals, the seat tube, the saddle, the handlebar tube, the handlebar, the fitness monitor, the dumbbell holder, and the bottle holder.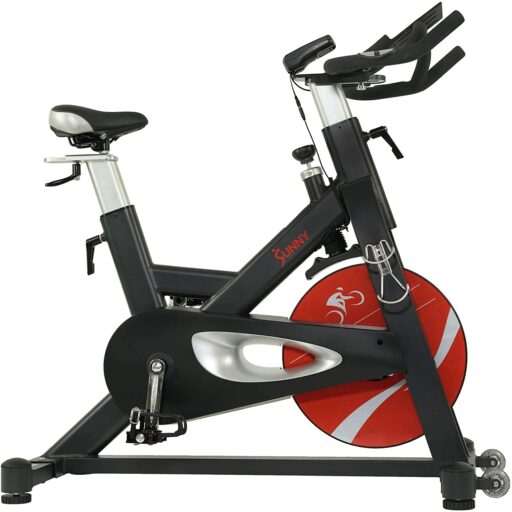 The task is pretty simple and shouldn't take more than 30 minutes. All the tools for the assembly come included, and the manual provides precise assembly instructions.
For maintenance, you only have to keep the bike clean, wipe off the sweat from the frame at the end of the workout, and periodically check for loose bolts and parts and retighten if necessary. The belt and brake do not require lubrication.
Pros
Heavy-duty commercial-grade frame;
Superior weight limit – 330 lbs;
Professional-looking design;
Transport wheels on the front base;
Adjustable levelers on both base bars;
Four-way adjustable seat;
High-comfort cushioned saddle with a large groove in the middle for improved breathability;
Four-way adjustable, multi-grip handlebar;
Pulse sensors integrated into the handlebar;
Device holder integrated into the handlebar;
Smooth belt drive system;
Perimeter-weighted 40 lbs flywheel for improved momentum;
Frictionless magnetic resistance;
Dual-sided pedals (SPD clipless on one side, toe cage on the other);
Fitness monitor included;
Goal settings for time, distance, calories, and cadence;
Race program;
Dumbbell support included;
Bottle holder included;
Batteries for the fitness console come included with the bike;
Little maintenance is required;
Easy to assemble;
All the tools required for the assembly come with the bike;
Excellent warranty.
Cons
No backlight on the fitness monitor LCD;
No online connectivity.
Sunny Evolution Pro II SF-B1986 Summary
The Sunny Health & Fitness Evolution Pro II SF-B1986 is a heavy-duty indoor cycling bike that will support any spin workout. It comes equipped with a magnetic resistance system, a 40-lbs flywheel, dual-sided pedals, a fitness monitor with target settings, and a race program. It also offers superior micro-adjustability for the seat and handlebar and an impressive maximum user weight capacity of 330 lbs.
Moreover, it's an excellent bike for users of all levels for medium to high-intensity cardio workouts, interval training, muscle toning, stamina and strength development, and weight loss.
I hope you found this article helpful and informative. Would you please speak up if you have anything you'd like to share on the topic or any opinions about my website? I look forward to your comments, questions, and the sharing of ideas.
Please note: Before starting any exercise program, you should consult your physician to determine if you have any medical or physical conditions that could put your health and safety at risk or prevent you from using the equipment properly. In addition, your physician's advice is essential if you are taking medication that affects your heart rate, blood pressure, or cholesterol level.