Keep pushing, stay focused, and increase your intensity with the Sunny SF-RB4876 Recumbent Bike. The perfect fitness equipment for any home gym, this recumbent stationary exercise bike will help you burn calories efficiently, comfortably, and effectively.
The SF-RB4876 features a quiet belt drive system and low-impact pedaling provides comfortable training and fitness sessions for extended performance. This Sunny bike features eight adjustable magnetic resistance levels to modify your home workout sessions' intensity easily.
The Sunny SF-RB4876 Recumbent Bike comes equipped with a fitness console that allows you to track your Speed, Distance, Time, Calories, Odometer, Pulse, and Scan. For pulse monitoring, you hold on to the integrated sensors in the seat handlebars. Unfortunately, the console is not telemetric and cannot communicate with a wireless HR chest strap.
The SF-RB4876 features a 2-Way adjustable seat for a comfortable fit and form. The convenient seat lever allows you to adjust on the fly without hassle. Alleviate any pressure sores and ride in plush yet supportive comfort. Monitor and maintain your heart rate with the integrated HR pulse sensors in the seat handlebars.
Learn more in my complete review below!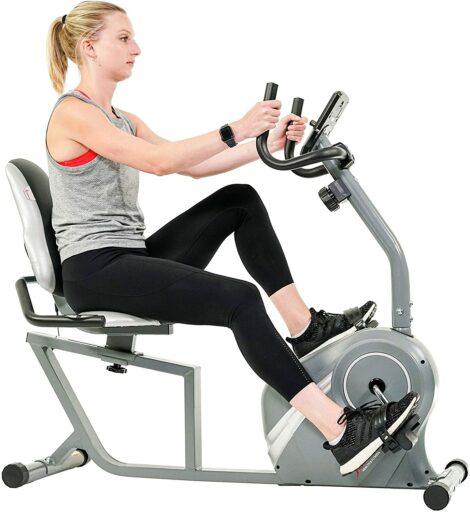 Product: Sunny SF-RB4876 Recumbent Bike
Price: For a great deal on this bike, merely go here to Sunny Health & Fitness.com
Warranty: Frame 3 years / Parts 180 days
My rating: 8/10
Affiliate Disclosure: As a Sunny Health & Fitness Affiliate Program participant, I earn commissions on purchases made through links in the post. Full disclosure
Details and Specifications
Assembled dimensions: 56.7L x 26.6W x 42.9H inches (144L x 68W x 109H cm)
Assembled weight: 51.85 lbs (23.5 kg)
Max. user weight: 220 lbs (100 kg)
Seat: Adjustable
Drive: Belt
Resistance: Magnetic, eight levels
Console: Time, distance, speed, calories, pulse, scan, goals
Warranty: Frame 3 years / Parts 180 days
SF-RB4876 Frame construction
The Sunny Health & Fitness SF-RB4876 recumbent bike features a steel frame combining rectangular and cylindrical tubes in its construction. In addition, all the steel parts come coated with a corrosion-resistant paint finish, gray.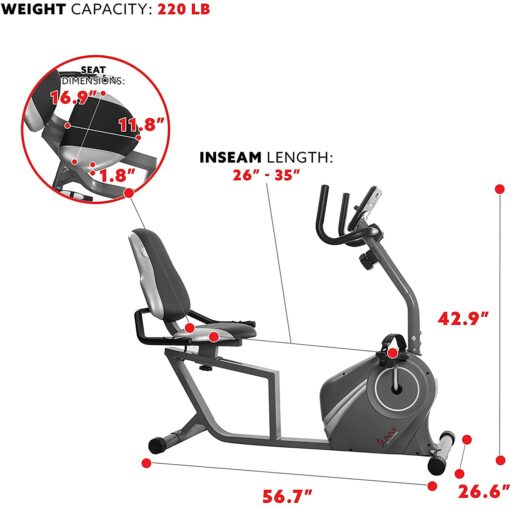 The drive and resistance elements cover ABS plastic, gray to match the rest of the bike, and the "Sunny" logo in red.
Although it's not as significant as other fitness machines, such as treadmills, the Sunny SF-RB4876 bike takes a lot of space. It is approximately 56.7″ (144 cm) long and 26.6″ (68 cm) wide. Plus, it is advisable to leave at least two feet of clearance to ease access.
The bike is not too heavy. Its net weight is approx. 51.85 lbs (23.5 kg). Thus, it can be carried and assembled by only one person. Plus, once assembled, it's easily moved as its front base stabilizer comes equipped with a set of small wheels. Conversely, the rear base stabilizer features a polygonal knob that rotates to serve as levelers.
The bike's main chassis is a one-piece part instead of some other recumbent bikes with a 2-piece frame. The one-piece frame contributes to the bike's overall sturdiness. Also, the seat has two upright support bars as opposed to only one bar.
One last aspect to mention here regards the bike's step-through design. This feature can be quite a plus for users with disabilities as it allows easier entry and exit.
Seat and handlebars
The Sunny SF-RB4876 recumbent exercise bike comes equipped with a cushioned seat. The backrest and bottom pads feature approximately 1.5″ (3.8 cm) foam padding for improved comfort. Their covers are durable double-stitched vinyl material, black and silver, for enhanced aesthetics.
The seat pad is approx. 16.9″ (43 cm) wide and 11.8″ (30 cm) long, pretty large for a light-capacity bike, so it provides plenty of contact surface. However, even though the seat's base frame features two upright support bars, its weight capacity is only 220 lbs (100 kg).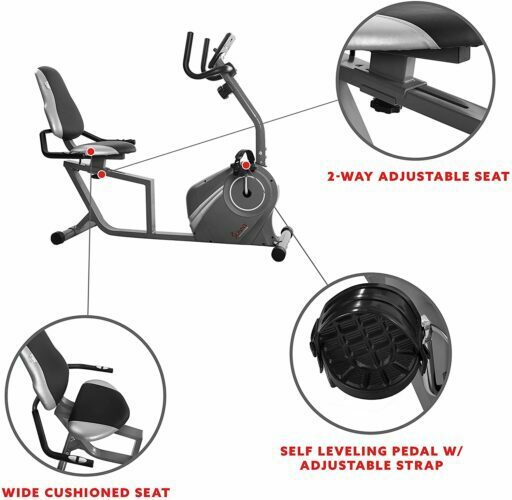 The bike's seat is adjustable. In addition, its base rail offers an adjustment span of approx. 9″ (23 cm), for users with an inseam between 26″ and 35″ (66 – 89 cm). Therefore, the bike should accommodate users between 5'2″ and 6'5″ (157 – 196 cm), allowing a complete leg extension.
It's also important to note that the bike's seat adjustment system involves a turn-knob. Therefore, it is advisable to adjust the seat while you are not seated.
The Sunny SF-RB4876 recumbent bike comes with two handlebars, one attached to the seat assembly and the front mast. The seat handlebars feature extended grips parallel with the seat pad. In addition, they have integrated metallic HR pulse sensors. However, the included fitness console is not telemetric and cannot read pulse using an HR chest strap.
The front handlebars attach directly to the front mast of the bike via screws. They are non-adjustable, and they do not integrate pulse sensors. They are curved upward to provide a parallel grip.
Also, since the front upright mast of the bike is curved towards the user, holding the front handlebars during workouts does not lead to an awkward position, as is the case for some other recumbent bikes.
SF-RB4876 Resistance system
The Sunny SF-RB4876 recumbent bike features a magnetic resistance system with manual action. This means you don't need an external power source or an adapter for it. On the other hand, the bike cannot automatically adjust the resistance, and the included fitness console does not have workout programs.
The bike's resistance system consists of an internal magnetic brake that connects through a steel cable to the tension dial on the front mast. As you turn the dial, the brake moves closer or farther from the flywheel, which adds or reduces the pedaling resistance.
The brake makes available eight distinct tension levels. This first level provides a very light pedaling difficulty, which is excellent for users that require recovery training. The 7-8 levels, on the other hand, give considerably more resistance, perfect for anyone who wants to burn more calories and improve their stamina.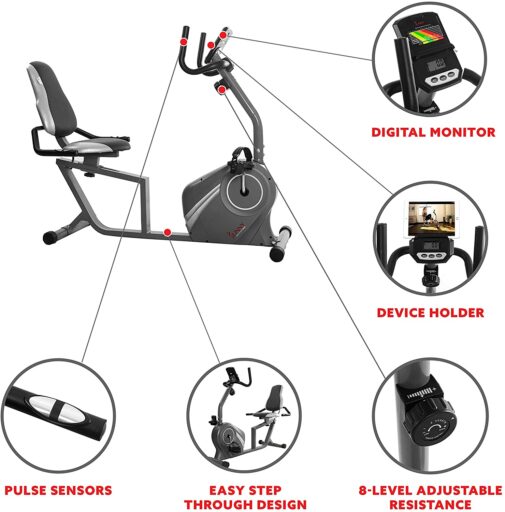 Drive system
Similar to other magnetic resistance exercise bikes, the Sunny SF-RB4876 features a belt drive system. It uses a durable poly-v belt for its internal transmission. This means you don't have to lubricate the drivetrain, as would be the case for a chain-driven bike. Also, the belt contributes to the overall smoothness of the ride.
The bike's internal flywheel is perimeter-weighted for improved inertia. Its exact weight is not specified, but since the bike's overall weight is only 51.8 lbs (23.5 kg), the flywheel probably does not exceed 20 lbs (9 kg). The flywheel allows pedaling in reverse as well.
But as opposed to a road bike, this exercise bike does not permit coasting. So when pedaling in reverse, you will get the same resistance as when pedaling forward.
This Sunny exercise bike comes with a durable crankset, but it is meant for seated workouts only since it's not a spin bike. The included pedals are a durable thermoplastic material.
They are self-leveling, so they always turn face-up if you remove your feet from them. They also come equipped with adjustable straps for improved foot stability during pedaling.
SF-RB4876 Console
As I've mentioned earlier, the included fitness console does not have pre-set workout programs. However, it does have a few more features than the average model. It comes equipped with an LCD that tracks time, distance, total distance, speed, calories, and pulse.
The speed and distance display in MPH and miles; there is no option for changing them to metric units.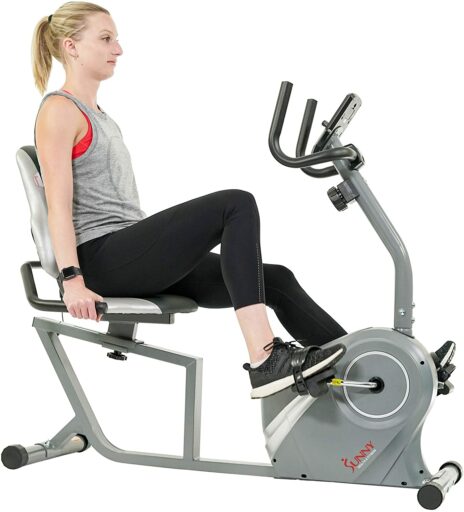 Also, the console is not telemetric. It can only track your pulse if you hold on to the integrated sensors. It cannot communicate with a wireless HR chest strap like the Polar or ANT+ models.
The fitness console features the standard 3-button keypad. The Mode button allows you to scroll through the workout values and select the one that you want to view on display. It also offers the possibility to choose the Scan Mode, which rotates all the values showing each one for 6 seconds.
The Set button covers the target setting function. It gives you the possibility to select a workout target for time, distance, and calories. When a target is assigned, the console counts down from the desired value until it reaches zero. And finally, the Reset button clears all the console values except the odometer, which only resets if you remove the batteries.
The console requires two AAA batteries as its power source, which comes included with the bike. It starts up when you press one of the buttons or when you begin pedaling. It also automatically turns off after 4 minutes of inactivity on the bike.
Amenities
Two other notable features to mention here are the device holder and the heart rate zone sticker. The device holder consists of a small shelf placed above the LCD. It is large enough to accommodate most tablets and smartphones. However, the console does not have a USB port or other ports to connect your device to it.
The HR sticker is a nice touch to have if you want to keep it in a specific BPM zone without consulting the manual.
SF-RB4876 Assembly and Maintenance
The bike's drive mechanism comes pre-assembled, attached to the base frame with the covers already in place. So you only have to connect the two base stabilizers, the seat, the handlebars, the pedals, and the fitness console.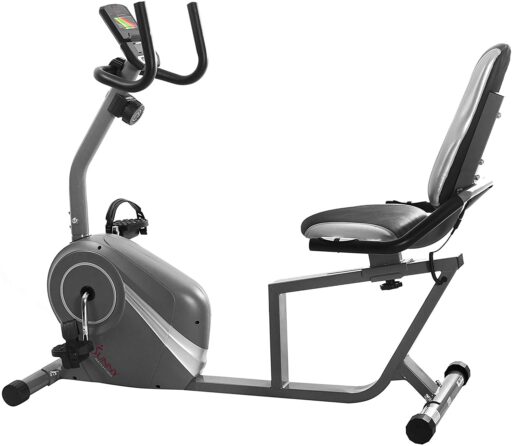 This shouldn't take more than an hour of your time. The task is relatively simple, and the manual provides all the necessary instructions. An essential toolkit also comes included.
Once assembled, you don't have to worry too much about maintenance. The internal parts and the drive train don't require any lubrication. So, you only have to keep the bike clean and periodically check for loose bolts or parts.
Pros
Sturdy, one-piece frame;
Adjustable stabilizers on the rear base;
Transport wheels on the front base;
Cushioned seat and backrest;
Adjustable seat;
Quiet magnetic resistance system;
Adjustable resistance offering distinct eight levels;
Self-leveling pedals with straps;
Fitness console that can track time, distance, total distance, speed, and calories burned;
Goal settings for time, distance, and calories;
Device holder included;
Reasonably easy to assemble;
Little to no maintenance required;
Excellent warranty.
Cons
No bottle holder;
No backlight on the LCD.
Sunny SF-RB4876 Recumbent Bike Summary
The Sunny Health & Fitness SF-RB4876 is a recumbent exercise bike made for home use. It features a manual magnetic resistance system with eight difficulty levels, a comfortable, 2-way adjustable seat, and a fitness console that tracks time, distance, speed, pulse, and calories burned.
It's a relatively decent recumbent bike, great for light cardio training, muscle toning, and weight loss, offering excellent value for the price.
I hope you found this article helpful and informative. If you have anything you would like to share or any opinions about my website, please speak up. I look forward to your comments, questions, and the sharing of ideas.