Looks may be deceiving as the straightforwardly designed Sunny SF-RB4905 Recumbent Bike is an advanced feature-packed exercise machine. Get comfort, technology, and convenience for a tremendous value. Crafted of solid steel, the SF-RB4905 has a maximum user weight capacity of 242 lbs (110 kg).
Use the SF-RB4905 to perform a low-impact cardiovascular exercise while sitting. Control the intensity of your cycle with eight levels of magnetic resistance. It's easy when you need it, hard when you want it.
Stay focused, and keep track of your performance. The Sunny SF-RB4905 recumbent bike features a digital fitness monitor that tracks time, distance, RPM, speed, calories burned, odometer, and pulse. Using the seat handlebars' integrated pulse sensors, measuring your pulse rate is essential for exercising correctly and efficiently.
Easily mount and dismount the SF-RB4905 with the step-through design with minimal leg movement. The wide, adjustable seat has lumbar support to help you work out comfortably for longer durations. Move the adjustable seat with the easy-to-use lever to accommodate leg inseams between 30 and 38 inches. Thus, the bike accommodates users between 5'2″ and 6'4″ (157 – 193 cm).
Learn more in my complete review below!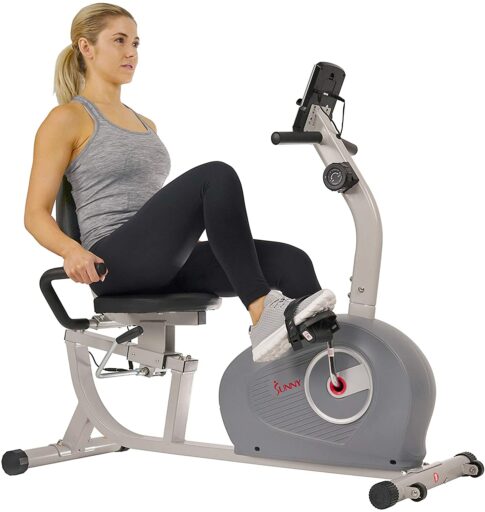 Product: Sunny SF-RB4905 Recumbent Bike
Price: For a great deal on this bike, merely go here to Sunny Health & Fitness.com
Warranty: Frame 3 years / Parts 180 days
My rating: is 9/10
Affiliate Disclosure: As a Sunny Health & Fitness Affiliate Program participant, I earn commissions on purchases made through links in the post. Full disclosure
Details and Specifications
Assembled dimensions: 56L x 25W x 41H inches (142L x 63W x 104H cm)
Assembled weight: 57.7 lbs (26 kg)
Weight capacity: 242 lbs (110 kg)
Seat: Adjustable
Resistance: Magnetic, eight levels
Fitness Monitor: Time, distance, speed, calories, pulse, goals, scan
Extras: Device holder
Warranty: Frame 3 years / Parts 180 days
SF-RB4905 Frame Construction
The Sunny SF-RB4905 recumbent bike features a steel frame with pretty sturdy construction. Moreover, its seat assembly has a maximum user weight capacity of 242 lbs (110 kg), which is not bad for a home-use machine.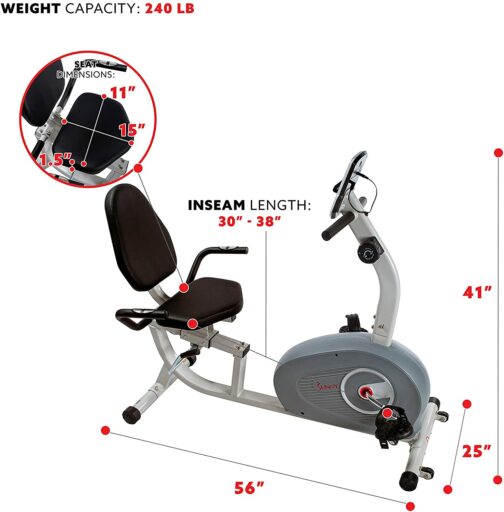 Its frame combines rectangular, cylindrical, and oval steel tubing, while the covers of the drive system are made of durable thermoplastic material. In addition, all the steel bars in the bike's construction come coated with a light gray, corrosion-resistant, chip-resistant paint finish.
The bike is not extremely large but does take approx—56″L x 25″W (142 x 63 cm) of floor space. Leaving at least two feet of clearance all around it is advisable to ease access. Thus, it may not fit too well in a small room. Also, the bike is not foldable and cannot store vertically.
This Sunny exercise bike is not too heavy either. Its net weight is only 57.7 lbs (26 kg), with all the parts assembled. Therefore, one person can carry and build the bike. Once completed, its transport is easy as its front base has two small transport wheels. In addition, its rear stabilizer features two rotating polygonal caps that can serve as floor levelers.
The bike has a step-through design. Not all recumbent bikes have this feature, so it can be quite a plus for users with specific disabilities as it considerably eases entry and exit.
Seat and handlebars
The Sunny SF-RB4905 recumbent bike has a large seat designed for superior comfort. The seat pad is relatively large, approx. 15″ (38 cm) wide and 11″ (28 cm) long, so it provides plenty of contact surface. The seat and backrest pads integrate a thick foam cushioning layer with a durable vinyl cover.
The seat is two-way adjustable (front, back). It is attached to a durable rail system that offers superior stability. In addition, its adjustment system uses a lever, so you don't have to stand up to adjust its position.
The backrest is non-adjustable, has no reclining feature, and you cannot change its height independently from the rest of the seat. It attaches to the backbone of the seat frame via two screws.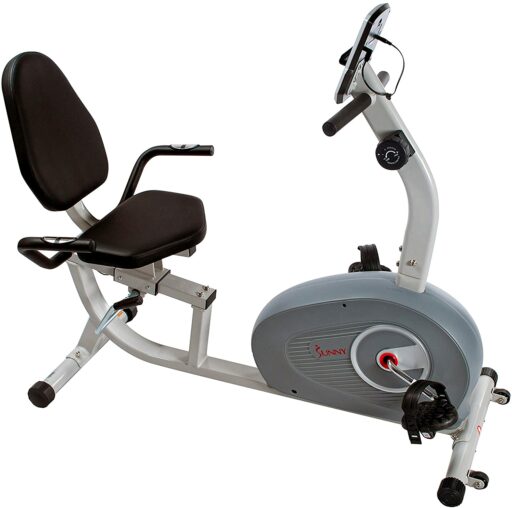 The seat adjustment span is 8″ (20 cm). The applicable inseam length for this Sunny exercise bike is 30″ – 38″ (76 – 96 cm). Therefore, the bike comfortability accommodates users between 5'2″ and 6'4″ (157 – 193 cm), allowing a complete leg extension. As mentioned earlier, the bike has a maximum user weight limit of 242 lbs (110 kg).
The bike comes equipped with two sets of handlebars. One attaches to the seat assembly, and the other welds to the front mast of the bike. In addition, the seat handlebars integrate stainless steel pulse sensors and have more extended, curved-up grips for improved comfort.
The front handlebar has shorter grips slightly bent towards the user, and they do not have pulse sensors. Both handlebars sets feature high-density foam sleeves for an improved grip. However, none of them are adjustable.
SF-RB4905 Drive system
The Sunny SF-RB4905 recumbent bike integrates a relatively small flywheel. It weighs 6.6 lbs (3 kg) and has a perimeter-weighted design. Thus, it improves inertia, adding stability and smoothness to the ride.
The flywheel is bi-directional. In other words, you can pedal in reverse on this bike. However, coasting is not possible. The pedals continue to spin for as long as the flywheel is turning.
The bike comes equipped with a belt drive system. It uses a 370PJ6 poly-v rubber belt resistant to stretching and abrasion. Since it's a belt drive, not a chain, it does not require lubrication. It also contributes to the overall smooth and quiet pedaling motion.
The bike's crankset is reasonably sturdy, but since this is a recumbent bike and not a spin bike, it is not for standing up on the pedals. The crank arms are cylindrical solid steel with a chrome finish.
The pedals are made of durable thermoplastic material. They have weight elements always to turn face-up when you remove your feet from them. They also come equipped with adjustable straps to secure your feet into position correctly.
Magnetic system
The Sunny SF-RB4905 recumbent bike has a standard manual magnetic resistance system. Therefore, you don't need a power adapter, and you don't need to connect it to a power outlet. But it also means that the bike cannot automatically adjust the resistance and does not have pre-set workout programs.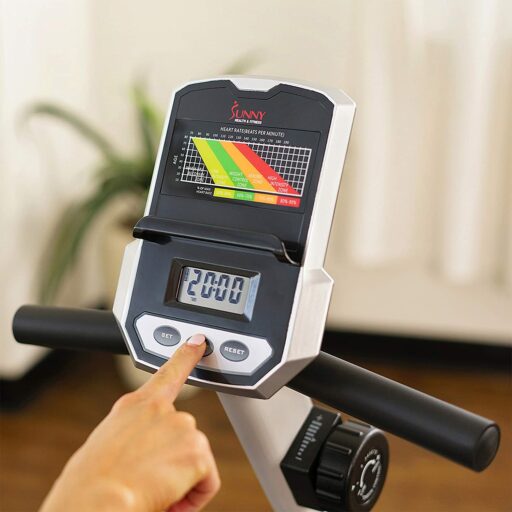 The main resistance element is an internal magnetic brake connected to the tension knob on the bike's front mast through a steel cable. When you turn this knob clockwise, the brake moves closer to the flywheel, which increases the pedaling difficulty.
The bike offers eight distinct tension settings. As a general idea, the first level of resistance is relatively light, providing little pedaling difficulty. The 7-8 levels aren't extreme either but give considerably more tension. Thus, the bike is for light to medium-intensity workouts.
Fitness monitor
The fitness monitor included with the Sunny SF-RB4905 is a monitor without online connectivity or pre-set programs. Instead, it features an LCD (without an LED backlight) that tracks time, distance, total distance, speed, calories, and pulse.
The speed and distance metrics are in English units (mph and miles); metric units have no option. Also, the pulse reading function is grip contact only. The fitness monitor can only read your pulse if you hold on to the sensors integrated into the seat handlebars. Unfortunately, it cannot read your pulse from a wireless heart rate chest strap.
The battery-powered fitness monitor requires 2 AAA batteries, which come with the bike. It starts recording distance, calories, etc., when you begin pedaling and turns off automatically if it does not detect any activity on the bike for more than four minutes.
The fitness monitor features three buttons – Mode, Set, and Reset. For example, the Mode button allows you to select the workout value you want to view on display, or the Scan Mode rotates all the metrics showing each one for 6 seconds.
The Set button allows you to select time, distance, and calories burned goals. After establishing a goal, the unit counts down from the specified value until zero. The Reset button clears all the values to zero, except the odometer (total distance) value, which you can only reset if you remove the monitor's batteries.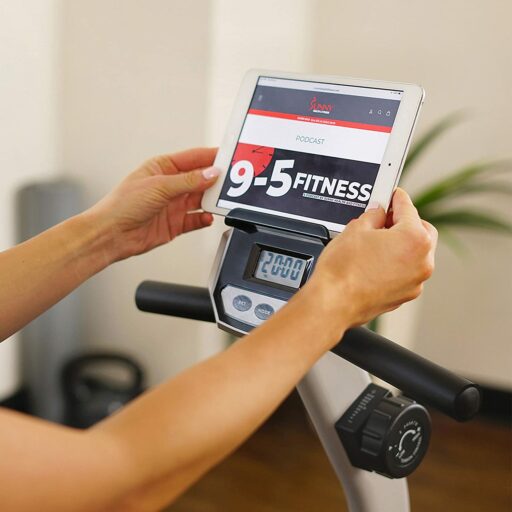 Amenities
The last notable features are the device holder and the heart rate zone sticker. The device holder consists of a small shelf above the monitor's LCD. However, it is large enough to accommodate any tablet or smartphone.
The heart rate sticker is a nice touch. Great to have close by if you want to keep in a particular BPM zone without consulting the manual.
Please note the tablet pictured in the image to the right does not come with the bike.
SF-RB4905 Assembly and Maintenance
The bike's base frame with the drive and resistance unit comes pre-assembled. After that, you only have to add the two base stabilizers, the pedals, the seat, the front mast, and the fitness monitor.
Therefore, it shouldn't take more than an hour of your time. In addition, the manual provides clear assembly instructions and illustrations, and all the necessary tools come included with the bike.
Maintenance doesn't require much. You only have to keep the bike clean, wipe off the sweat that might fall onto the frame or monitor at the end of the workout, and periodically inspect the bicycle to ensure it still functions properly. The internal parts do not require lubrication.
Pros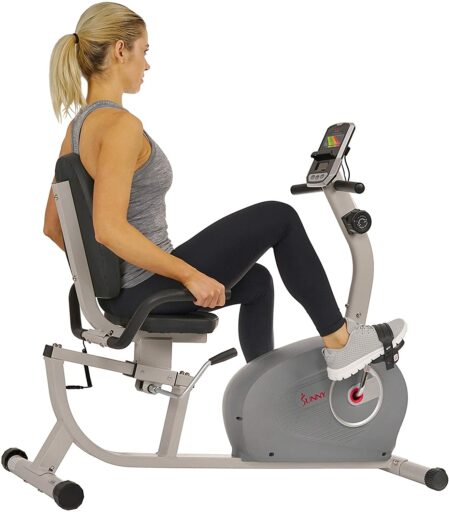 Sturdy, steel frame – 242 lbs capacity
Adjustable levelers on the rear stabilizer;
Transport wheels on the front stabilizer;
Step-through frame design for easy access to the seat;
Seat handlebars with pulse sensors;
Front handlebars included;
Padded seat and backrest for optimal comfort;
Lever-based seat adjustment system;
Quiet magnetic resistance system;
Eight levels of magnetic resistance;
Weighted pedals with adjustable straps;
Fitness monitor that can track time, distance, total distance, speed, calories, and pulse;
Goal setting functions for time, distance, and calories;
Device holder included;
Lightweight, easy to handle;
Reasonably easy to assemble;
Little to no maintenance is required.
Cons
There is no bottle holder;
No LED backlight on the fitness monitor LCD.
Sunny SF-RB4905 Recumbent Bike Summary
The Sunny Health & Fitness SF-RB4905 is a recumbent exercise bike for home use. Furthermore, it has a manual magnetic resistance system, a comfortable seat with lever adjustment, and a fitness monitor that tracks time, distance, speed, calories, and pulse. Moreover, it's an excellent bike for light to medium-intensity cardio training, recovery training, weight loss, muscle toning, and stamina development.
I hope you found this article helpful and informative. Would you please speak up if you have anything you'd like to share on the topic or any opinions about my website? I look forward to your comments, questions, and the sharing of ideas.
Please remember to consult your physician to determine if you have any medical or physical conditions that could put your health and safety at risk or prevent you from using the equipment properly. In addition, your physician's advice is essential if you are taking medication that affects your heart rate, blood pressure, or cholesterol level.