The Sunny SF-RB4953 Recumbent Bike from Sunny Health and Fitness helps you build a solid and consistent cardiovascular routine. Enjoy easy mounting and dismounting with the step-through design, which requires minimal leg movement. In addition, the 275 lb maximum user weight limit makes it effortless to perform long and intense workout sessions.
The Sunny SF-RB4953 recumbent bike allows you to control your cardiovascular intensity. Adjust the magnetic dial to cycle through 8 levels of Resistance. It's easy when you need it, hard when you want it.
The Sunny SF-RB4953 features a multifunctional fitness monitor to track important activity details, including your time, distance, RPM, speed, calories burned, and pulse. In addition, the monitor includes a preinstalled calendar, thermometer, clock, scan, recovery mode, BMI, and body fat percentage calculator.
The SF-RB4953 comes equipped with a fully adjustable seat and back support, and this machine can make working out more enjoyable, comfortable, and convenient. Track your workout intensity with ease with the handrail pulse sensors. Keep your workouts safe and secure for maximum performance when using the adjustable self-leveling pedals to keep your feet from slipping.
Learn more in my complete review below!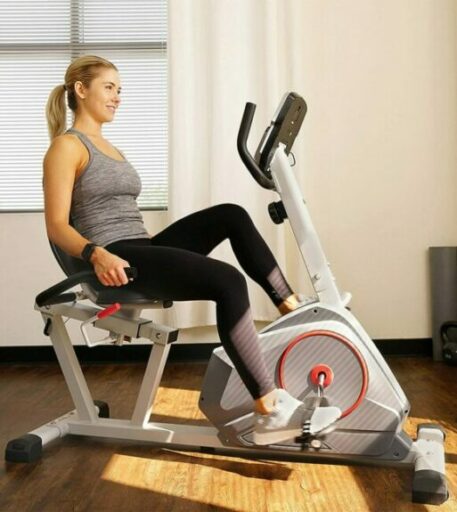 Product: Sunny SF-RB4953 Recumbent Bike
Price: For a great deal on this bike, merely go here to Sunny Health & Fitness.com
Warranty: Frame 3 years / Parts 180 days
My rating: 8.5/10
Affiliate Disclosure: As a Sunny Health & Fitness Affiliate Program participant, I earn commissions on purchases made through links in the post. Full disclosure
Details and Specifications
Assembled dimensions: 57L x 25W x 45.5H inches (145L x 63W x 116H cm)
Assembled weight: 74 lbs (33.5 kg)
Weight capacity: 275 lbs (125 kg)
Seat: Adjustable
Resistance: Magnetic, eight levels
Fitness Monitor: Time, distance, speed, RPM, calories, pulse, BMI, recovery, goals, scan
Warranty: Frame 3 years / Parts 180 days
SF-RB4953 Frame construction
Although the Sunny SF-RB4953 features a sturdy frame with the construction that reminds at least of a light-commercial model, it still is a recumbent bike made for home use only. Its steel tubing features a one-piece base frame with the seat supporting bars directly welded to the base bar for extra sturdiness.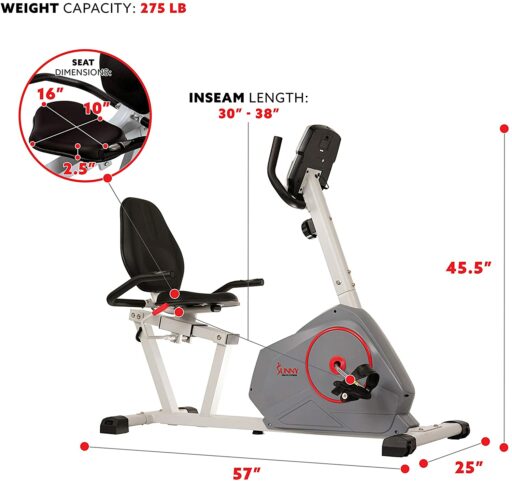 All the steel bars in the bike's frame come coated with a corrosion-resistant paint finish. The color used is light gray, this being the only color available for this particular Sunny exercise bike. The ABS covers of the drive and resistance mechanism are also gray to match the bike's rest.
The fully assembled bike isn't giant compared to other fitness machines. It is approx 57″ (145 cm) long and 25″ (63 cm) wide. Its net weight is 74 lbs (33.5 kg), twice the average road bike's weight. This weight adds stability. Plus, the bike's rear base bar integrates a set of adjustable levelers.
Considering that it weighs 74 lbs (33.5 kg), two people should transport the boxed unit. But on the other hand, once assembled, relocation via the small wheels integrated into the front base. By lifting the bike from its rear base and using the transport wheels, you will only handle approximately 35 % of its total weight.
The bike has a step-through design. Although this may seem to be an insignificant feature, it can be quite a plus, especially for users with specific disabilities. It considerably eases entry and exit, so you don't have to raise your feet too high to step over the frame or the drive and resistance box.
Seat and handlebars
The Sunny SF-RB4953 comes equipped with a large seat. The seat pad is approx. 10″ (25 cm) deep and 16″ (40 cm) wide, so it offers plenty of contact surface. In addition, both the seat pad and the backrest integrate approximately 2″ (5 cm) of foam cushioning for extra comfort. They're also contoured to provide better positioning for the user.
The seat is adjustable. It is attached to an oblique rail system offering multiple adjustment positions. It will accommodate users with an inseam between 30″ and 38″ (76 – 96 cm). In other words, the bike will adjust for users between 5'2 ″ and 6'4 ″ (157 – 193 cm). It's also sturdy enough to support users up to a maximum of 275 lbs (125 kg).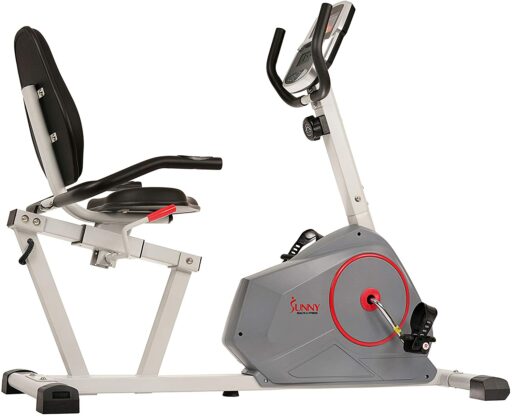 The seat's adjustment system is lever-based, which is quite a plus, as you can adjust its position while you are seated. Other exercise bikes have a knob-based adjustment system, and in most cases, when you need to change the seat, you have to step off the bike.
The Sunny SF-RB4953 features two handlebars, one for the seat and one on the front. It is also a plus, as some recumbent bikes don't have front handlebars.
The seat handlebars come equipped with a metallic pulse sensor. They're non-adjustable, attaching via screws directly to the seat frame. Their grips are approximately 22″ wide, so most users up to 275 lbs (125 kg) should fit.
The front handlebars have relatively long grips as well. However, they do not have EKG sensors as seat handlebars. They're also non-adjustable, but the front mast of the bike comes angled towards the user.
Therefore, holding on to the front handlebars as your pedaling doesn't require an awkward posture. In addition, both handlebar sets feature rubberized grips for extra comfort.
SF-RB4953 Resistance and drive
The Sunny SF-RB4953 recumbent exercise bike comes equipped with a manual magnetic resistance system. Therefore, it cannot adjust the pedal resistance automatically. It also doesn't need a power adapter or an external power source. The only power source required for the monitor is a set of two AA batteries.
The bike's resistance system consists of a magnetic brake that connects through a steel cable to the tension knob on the bike's front tube. When you turn the knob, the brake moves closer or farther from the flywheel, which results in more or less pedaling Resistance.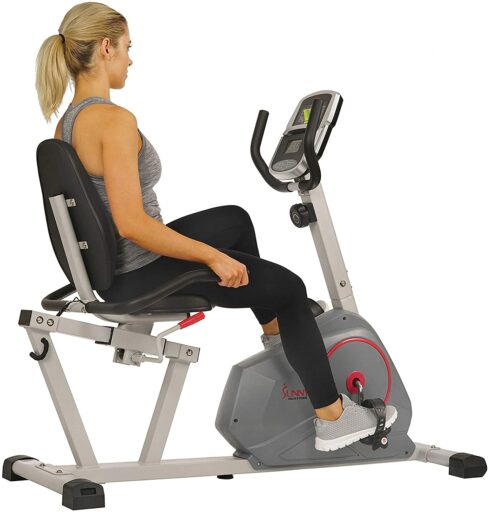 The bike makes available eight levels of Resistance. The first one delivers a relatively light pedaling difficulty, while the 7-8 settings promote a more intense training regimen and simulate a hill climb.
The bike's internal flywheel is perimeter-weighted, which means it provides a bit of extra inertia. Its exact weight is not specified, but it probably doesn't weigh more than 20 lbs (9 kg) since it's not a spin bike.
The flywheel is bi-directional. In other words, it permits reverse pedaling. However, you cannot coast on the bike, and when pedaling in reverse, the Resistance remains constant, given by the selected difficulty setting.
Like most other exercise bikes with a magnetic resistance system, the Sunny SF-RB4953 comes equipped with a belt drive system. Therefore, you don't have to lubricate its transmission. It also promotes a very smooth and quiet pedaling motion.
Last but not least, the bike's crankset is a 3-piece part. It features steel crank arms, but it's not for standing up while pedaling since it's a recumbent bike. The pedals are plastic made with a metallic core. They're also self-leveling and have adjustable straps.
Fitness monitor
As I've mentioned earlier, the Sunny SF-RB4953 recumbent bike doesn't have an automatic resistance system, which means its fitness monitor doesn't have preset programs. Also, it's battery-powered, featuring a self-shut-down function after a few minutes of inactivity on the bike. It shows the clock, calendar, and room temperature when in idle mode.
The monitor has a multi-window LCD (without backlight), showing time, distance, RPM, speed, calories, and pulse. Speed and distance are in English units (MPH, miles). Unfortunately, the console unit cannot display metric units.
Also, the pulse reading function only applies to the sensors integrated into the seat handlebar. The monitor is not telemetric and cannot read your pulse from a wireless HR chest strap.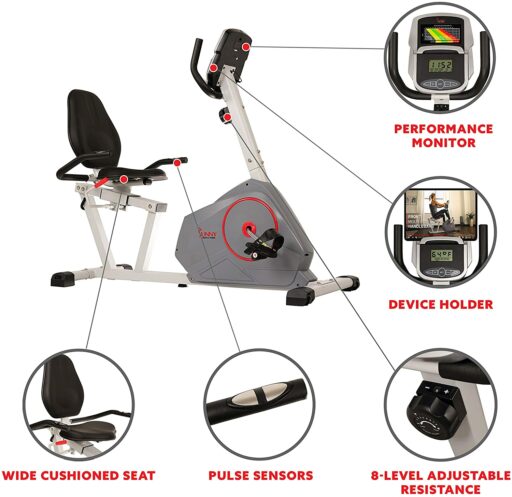 The fitness monitor offers time, distance, calories, and pulse settings. After choosing a goal for the time, distance, or calories, the monitor counts down from the selected value until it reaches zero. Once you get the desired goal for a pulse, it will beep.
A BMI and a Recovery function are also available. The BMI function gives you the possibility to calculate your body fat percentage. For this, the monitor will prompt you to input your height, weight, age, and gender.
The Recovery function counts your pulse at the end of the workout and, based on the pulse cooldown, it will provide you with a fitness rating between F1 – excellent and F6 – poor.
Amenities
I must note two other notable monitor features: the tablet holder and the HR zone sticker. The tablet holder consists of a small shelf under the display, and it will accommodate any table. However, the monitor does not have a sound system or a USB port for charging your phone or tablet.
The HRC sticker shows the heart rate zones you should aim for depending on your age. Most bikes have this diagram in their manual but not on the bike, so it's a plus that you don't have to keep your manual with you all the time if you need to consult it.
SF-RB4953 Assembly and Maintenance
The main body of the bike comes pre-assembled. You only have to attach the two base bars, the pedals, the seat base, the seat pads, the front upright bar, the fitness monitor, the two handlebar sets, connect the tension cable, and the pulse cables.
Therefore, it shouldn't take more than two hours of your time. In addition, the manual provides explicit step-by-step assembly instructions. Also, all the necessary tools for assembly are (included) with the bike.
Once fully assembled, you only have to keep it clean and periodically check for loose parts or bolts and retighten them as needed. The internal components don't need any lubrication.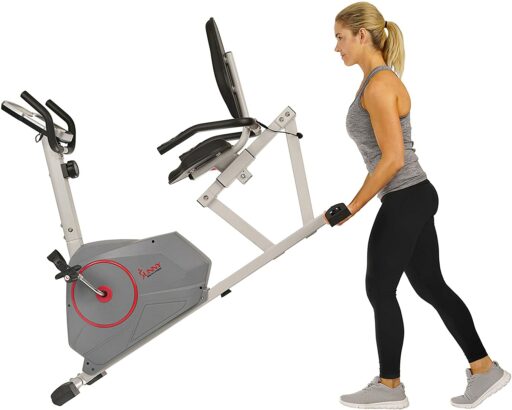 Pros
Sturdy steel frame – can support users up to 275 lbs;
Step-through frame design for easy access to the seat;
Adjustable stabilizers on the rear base;
Transport wheels on the front base;
Seat handlebars with pulse sensors;
Front handlebars included;
Cushioned and contoured seat and backrest;
Lever-based seat adjustment system;
Quiet magnetic resistance system;
Adjustable Resistance offering distinctive eight levels;
Weighted pedals with adjustable straps;
Fitness monitor that can track time, distance, RPM, speed, calories, and pulse;
Goal settings for time, distance, pulse, and calories;
Recovery function;
BMI function;
Tablet holder included;
Heart rate zone sticker on the console;
Reasonably easy to assemble;
Little to no maintenance required;
Decent warranty.
Cons
No backlight on the fitness monitor LCD;
No bottle holder.
Sunny SF-RB4953 Recumbent Bike Summary
The Sunny SF-RB4953 is a recumbent exercise bike designed for home use. It features a manual magnetic resistance system with eight tension levels, a comfortable seat with a lever adjustment system, and a console tracks the primary workout metric. It also features a pretty sturdy construction and can hold users up to 275 lbs.
It's an excellent exercise bike for light to medium-intensity cardio workouts, muscle toning, weight loss, and stamina development. It's also pretty affordable and a great alternative to a more expensive commercial-grade recumbent bike.
I hope you found this article helpful and informative. Would you please speak up if you have anything you'd like to share or any opinions about my website? I look forward to your comments, questions, and the sharing of ideas.
Please note: Before starting any exercise program, you should consult your physician to determine if you have any medical or physical conditions that could put your health and safety at risk or prevent you from using the equipment properly. In addition, your physician's advice is essential if you are taking medication that affects your heart rate, blood pressure, or cholesterol level.