The Circuit Fitness AMZ-986RW magnetic rower features a foldable design that allows you to keep this rower even in the smallest spaces. You can easily set up this machine whenever you want to use it and quickly store it again once you've finished your workout.
The AMZ-986RW has eight manual magnetic resistance levels controlled with the lever- increase and decrease it for a challenging workout. Using this rower, you'll work on your lower and upper body and core section and regularly increase your endurance. The resistance may not be enough for some muscular guys, but it is still plenty for a rowing workout.
The Circuit Fitness AMZ-986RW has a large LCD screen that is very good. You can track your progress quickly with essential stats like the time, distance, speed, calories, and rpm, along with the temperature and date. It also shows your heart rate if you use an HR chest strap or armband to read your pulse. However, the HR chest strap does not come with the rower.
I like the AMZ-986RW having the ability to set a goal-based workout on time, distance, strokes, calories, or pulse. Additionally, you can choose between two modes: manual or race. You select a difficulty level (15 to choose from) and then race against the computer – a great touch on a rower at this price.
Learn more in my complete review below!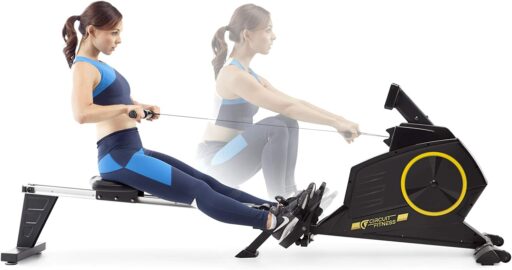 Product: Circuit Fitness AMZ-986RW Magnetic Rower
Price: For a great deal on this rower, merely go here on Amazon
Warranty: 2 years limited
My rating: 8.25/10
Affiliate Disclosure: As an Amazon Affiliate Program participant, I earn commissions on purchases made through links in this post. Full disclosure
Details and Specifications
Assembled dimensions: 91L x 20.5W x 31.5H inches (231L x 52W x 80H cm)
Assembled weight: 90 lbs (40.8 kg)
Flywheel weight: 11 lbs (4.9 kg)
Weight capacity: 300 lbs (136 kg)
Footrests: Pivoting, with straps
Resistance type: Magnetic, eight levels
Fitness Monitor: Time, time/500M, SPM, distance, strokes, total strokes, calories, pulse, goals, recovery, race program
Warranty: 2 years limited
AMZ-986RW Frame Construction
The Circuit Fitness AMZ-986RW rower combines steel and aluminum parts in its construction. Its front section supports the flywheel and the other drive elements, and the base bars are steel. Likewise, the core of the sliding rail is steel. However, the side sections that cradle the wheels of the seat are aluminum alloy. Finally, of course, the flywheel covers are made of durable ABS material.
The machine is relatively heavy. It weighs approximately 90 lbs (40.8 kg) with all the parts assembled. Thus, its transport may require two persons. However, its relocation is smooth due to the two front wheels.
Since the machine is relatively heavy, it offers excellent stability. Its rear base is equipped with adjustable stabilizers, so you can perfectly level it. The front and middle bases rest on non-adjustable rubber pads.
Compared to other rowing machines, the AMZ-986RW is reasonably large. With the frame fully set up, it is approx 91″ (213 cm) long and 20.5″ (52 cm) wide. Plus, it requires at least two clearance feet at the rear and on each side for unhindered usage.
On the other hand, this rower is foldable. Its rail, along with the seat, can fold up. With the sliding rail folded up, the unit's length is 49″ (124 cm). Therefore, the machine's rails are approx. 40″ (101 cm) long, so the machine should accommodate users at least up to 6'3″ (190 cm) with no problem.
Seat and other parts
The Circuit Fitness AMZ-986RW rowing machine comes equipped with a comfortable seat. Its top is durable, mold-injected high-density foam material. It's contoured and designed to prevent the user from slipping backward during the pushing stage of the rowing motion. It's also relatively large, approx—13″ wide (33 cm), providing plenty of contact surface.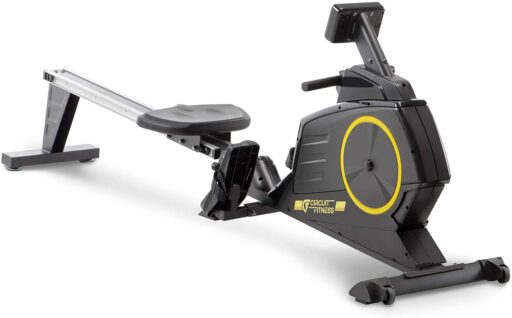 The steel seat base, the seat assembly, and the sliding rail are durable enough to support users up to 300 lbs (136 kg).
The seat base integrates three sets of wheels that slide in grooves on each rail side. The wheels combine sealed ball bearings for smooth motion and a rubberized outer cover to eliminate noise as they roll on the rail. Also, the metallic side sections of the seat frame conceal the wheels for maximum safety.
The machine comes equipped with two pivoting footrests. This pivoting design allows each footrest to slightly change its angle during each stroke, allowing a natural positioning for your feet. They have a stopper at the rear, so the maximum angle they can reach is approx—70 °. Of course, not everyone may like this pivoting design.
The unit's footrests are pretty significant. They comfortably accommodate athletic shoes of all sizes. In addition, they have a textured surface for improved adherence, adjustable straps, and heel guards for extra foot stability.
The rower's pulling handle consists of a simple straight bar with rubber foam grips for maximum comfort. It's attached to a heavy-duty nylon mesh strap, which provides smooth operation. Unfortunately, the pulling handle does not integrate any controls or pulse sensors. Unfortunately, the fitness monitor does have a pulse reading function.
AMZ-986RW Resistance system
The Circuit Fitness AMZ-986RW rowing machine comes equipped with a manual magnetic resistance system. Thus, you don't have to connect it to a power circuit. The only power source required is a set of two AA batteries for the fitness monitor. Also, the monitor does not play any role in the resistance adjustment.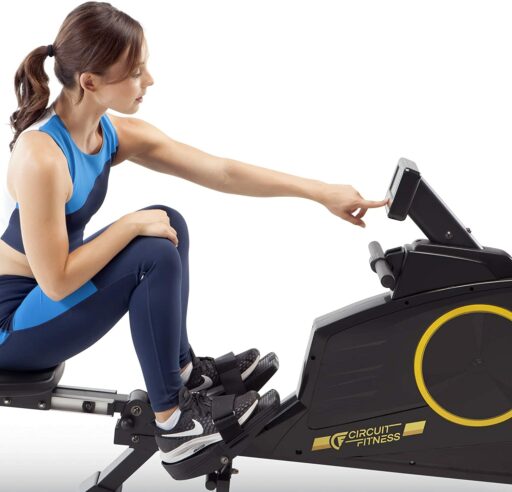 The unit's resistance system consists of a magnetic brake attached to the lever between the two footrests. The magnetic brake moves closer to the flywheel and increases the resistance by pulling this lever towards you seated.
The internal flywheel is steel-made; it weighs 11 lbs (~5 kg) and has a perimeter-weighted design. This structure adds quite a bit of consistency to the rowing motion. It also improves the stability of motion. Also, the internal drivetrain involves a belt, not a chain. Thus, it doesn't need any lubrication.
The machine makes available eight distinct resistance levels. The first set provides a relatively light resistance, employed mainly by the weight of the rotating mass, which is great for recovery training or warming up. Conversely, the 7-8 settings offer considerably more intense tension, which is excellent for anyone who wants a more consistent cardio workout.
Since the machine is equipped with a magnetic resistance system, it is essential to mention that it does not provide an air-resistance or water-resistance rower's dynamic response. In other words, you won't get more resistance if you pull harder. Instead, the selected tension setting strictly determines the resistance.
Therefore, it shouldn't be a major inconvenience as the machine provides anyone with an excellent, full-body cardio workout. However, a professional rowing athlete may need a rowing feel as close as it gets to rowing a real boat through the water.
Fitness Monitor
This magnetic rower includes a mid-range fitness monitor. In addition, it features an LCD that divides into multiple windows to show numerous workout metrics at once, so you don't have to use a scan function to rotate them.
The fitness monitor tracks your time, time/500M, strokes per minute (SPM), strokes (per workout), total strokes (from the first usage of the machine), distance, calories, and pulse. Also, idle mode shows the current date, room temperature, and clock.
If you're wondering, the distance is in meters only. There is no option for miles or kilometers. Also, as I've mentioned earlier, the machine has no integrated pulse sensors, but the monitor is telemetric. Therefore, if you want to track your pulse through it, you will have to use an HR chest strap transmitter. Unfortunately, this accessory does not come with the rowing machine.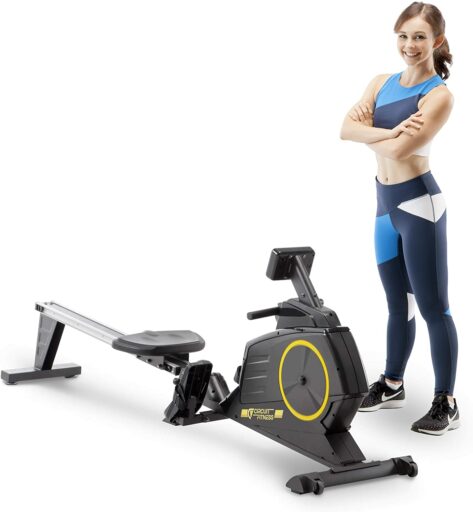 The fitness monitor can select time, distance, strokes, calories, and pulse goals. Once a target is assigned, the monitor will count down from the specified value until you reach your goal, except for the heart rate. If you choose a target heart rate, an alarm will notify you if you exceed it.
The monitor has two main workout modes. One is the Manual Mode, which allows you to select goals and row freely, and the other is Race Mode, which has 15 levels of difficulty. For example, for level 1 (L1), the Time/500m is set at 8:00, while level 15 (L15) is at 1:00. If you select Race Mode for your training, you will compete against the computer to reach a chosen goal.
A Recovery function is also available. However, to use it, an HR chest strap is required. If you run the Recovery function, the monitor will measure how long your pulse takes to reach its normal parameters after the workout based on the result. It will give you a fitness rating between F1 – Best and F6 – Worst.
AMZ-986RW Assembly and Maintenance
The front part of the machine, which integrates the flywheel, the magnetic brake, and the other drive and resistance elements, comes pre-assembled. Therefore, you only need to add the unit's stabilizers, attach the seat to the rail, and add the fitness monitor and the footrests.
Therefore, it shouldn't take more than 30-40 minutes of your time. All the tools for the assembly come with the rower, and the manual provides assembly instructions.
Maintenance doesn't require much. Since it's a magnetic resistance rower, there's no wear and tear between the resistance elements, so you don't have to worry about replacing any brake pads. But, of course, the whole maintenance requires you to keep the seat rail free of any debris that might damage the rollers.
Pros
Durable construction – can support users up to 300 lbs;
Folding frame, space-saving design;
Transport wheels integrated into the front base;
Adjustable stabilizers on the rear base;
Mold-injected, padded seat for optimal comfort;
Pivoting footrests with rear guards and adjustable straps for maximum stability;
Tranquil and smooth magnetic resistance system;
Eight levels of resistance for light to medium workouts;
The fitness monitor can track all the important workout metrics, including time, time/500m, distance (in m), strokes per minute (SPM), total strokes, calories, and pulse;
Goal setting for time, distance, strokes, calories, and pulse;
Recovery function;
Two workout modes, Manual and Race;
Easy to assemble;
Little maintenance is required.
Cons
The HR chest strap for monitoring your pulse does not come with the machine;
The fitness monitor LCD does not have a backlight.
Circuit Fitness AMZ-986RW Magnetic Rower Summary
The Circuit Fitness AMZ-986RW is a full-magnetic rowing machine designed for home use featuring a fitness monitor. It offers eight resistance levels and includes a fitness monitor with two workout modes (Manual and Race), goals, and recovery functions.
It has a sturdy frame that can support users up to 300 lbs. In addition, it is also foldable, offering better storage possibilities if necessary. In all, it's an excellent trainer for a full-body cardio workout, muscle toning, stamina development, and weight loss.
I hope you found this article helpful and informative. Would you please speak up if you have anything you'd like to share or any opinions about my website? I look forward to your comments, questions, and the sharing of ideas.
Please remember that you should consult your physician to determine if you have any medical or physical conditions that could risk your health and safety or prevent you from using the equipment properly. In addition, your physician's advice is essential if you are taking medication that affects your heart rate, blood pressure, or cholesterol level.