The Sunny SF-RW5515 Magnetic Rower is a magnetic resistance rowing machine from Sunny Health & Fitness. Magnetic rowers differ from Air, Water, and Hydraulic-Piston rowers in that they provide a virtually silent row while offering a smooth, realistic rowing motion.
This magnetic rowing machine conveniently provides an eight-level tension knob to switch your workout's intensity. With a simple twist, you can increase or decrease magnetic resistance so your training can remain challenging and active throughout your routine. In addition, this rower features oversized, textured pedals with safety straps to provide the user with a non-slip surface and security.
With the equipped fitness monitor, tracking your progress on the Sunny SF-RW5515 Magnetic Rowing Machine Rower is simple. The featured LCD tracks time, stroke count, total stroke count, and calories burned to keep you focused on achieving personal fitness goals.
This rowing machine remains stable no matter how intense your performance level is. In addition, the Sunny SF-RW5515 Magnetic Rowing Machine provides a cushioned seat with a comfortable rowing experience.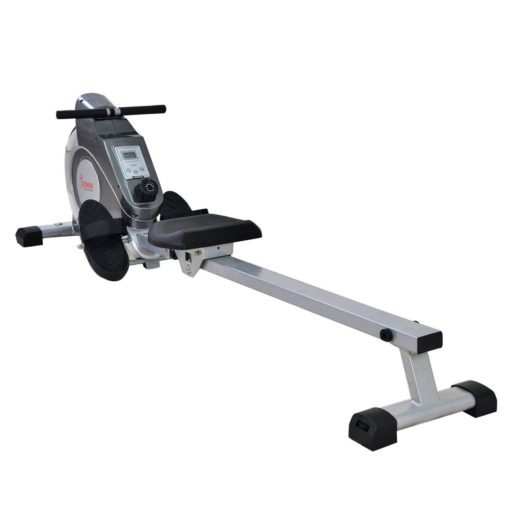 Learn more in my complete review below!
Product: Sunny SF-RW5515 Magnetic Rower
Price: For a great deal on this rower, merely go here to Sunny Health & Fitness.com
Warranty: Frame: 1 year / Parts: 90 days
My rating: is 9/10
Affiliate Disclosure: As a Sunny Health & Fitness Affiliate Program participant, I earn commissions on purchases made through links in the post. Full disclosure
Details and Specifications
Assembled dimensions: 82L x 19W x 23H inches (208L x 48W x 58H cm)
Product weight: 59 lbs (26.7 kg)
Supported weight: 250 lbs (113.3 kg)
Frame: Steel
Footrests: With straps
Resistance type: Magnetic, eight levels
Fitness Monitor: Basic
Warranty: Frame 1 year / Parts 90 days
SF-RW5515 Frame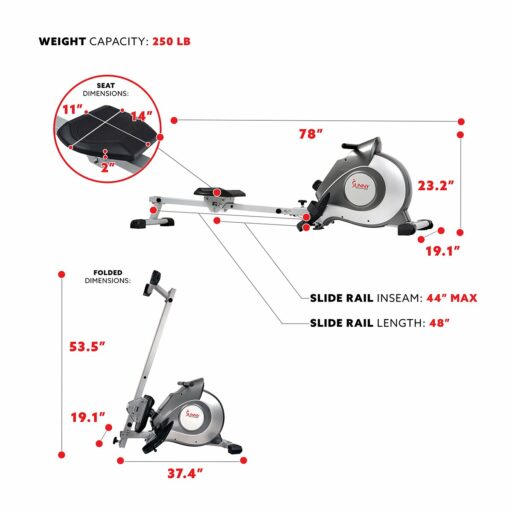 Most parts in this rowing machine's frame construction are steel tubing, including the main rail, the bases, and the elements on which the flywheel and other internal parts. All steel parts a dyed silver, the paint being corrosion-resistant. The only major plastic part is the flywheel casing and resistance system.
The rower's rail is sturdy enough to support 250 lbs (113 kg) users. In addition, the track is placed at an angle that is not entirely horizontal, which means you will benefit from a better workout for your leg muscles and a slightly faster recovery motion.
The frame's bases are also steel. They're finished with plastic caps and rubberized, adjustable stabilizers. These ensure the machine's maximum stability, even on uneven flooring, but they will also prevent the floors from sustaining scratches.
Also, the front base integrates caster wheels for smooth relocation. The machine, however, is not extremely heavy. At 59 lbs, almost anyone should fold it and carry it to its storage place.
This rowing machine features a folding frame. The rail folds up, reducing the length of the rower to more than half. When fully extended, the rower is approx 82″ (208 cm) long and 19″ (48 cm) wide. By folding the rail up, the length remains approx. 38″ (96 cm), offering better storage possibilities.
Persons can use the SF-RW 5515 rowing machine up to 6'7″ (201 cm) or even taller, depending on inseam length. However, even for taller users, the rail and pull strap are long enough to supply a full leg extension and rowing motion.
Seat, Footrest, and Pulling Handle
One of the main advantages of this rowing machine is its seat. It features a full, contoured seat, consistent cushioning, excellent comfort for rowing, and diminishing the lower back. In addition, the seat glides on a set of four high-grade rollers, integrating sealed ball bearings for prolonged use.

If you're wondering, the seat's highest point above floor level is approx. 8″ (20 cm) will give you a total elevation at the rear of approx. 10″ (25.4 cm).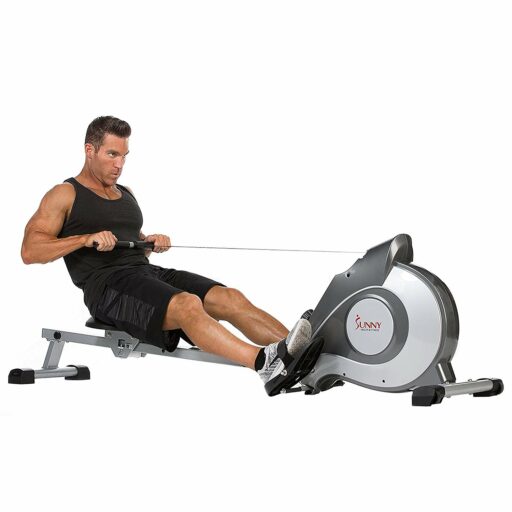 The footrest supplied with this machine is large enough to accommodate all sports shoes and offer the required stability. In addition, they are made of heavy-duty nylon material and feature heel guards to prevent feet from sliding off.
Last but not least, the strap connected to the pulling handle is made of reinforced nylon material. It's exceptionally durable, similar to a car's seat belt. The handlebar comprises a simple, straight steel bar, 15″ long (38 cm), covered by a rubber foam sheet for extra hand comfort.
SF-RW5515 Resistance system
This Sunny rowing machine features a manual magnetic resistance system. Therefore, you don't have to connect it to a power circuit.
The resistance system is somewhat similar to the ones used in upright magnetic bikes involving a balanced flywheel and a magnetic pad. As you turn the resistance knob, the magnetic pad is moved closer or farther to the wheel; thus, resistance adjusts.
The flywheel is slightly bigger in diameter and somewhat heavier than folding magnetic bikes in this rower.
The resistance system of this rower features eight distinctive levels. As a general idea, the first levels offer little resistance, intended for light cardio and for users with disabilities, beginners, or users who require recovery training.
But the 7-8 levels will offer quite a challenge to a beginner. However, this machine is not precisely advisable for a professional athlete rower, and one of the reasons is that it has magnetic resistance.
In other words, it doesn't generate the "natural" feel of a water or air rower, as the resistance remains constant and doesn't intensify if you pull harder. Nonetheless, the machine provides excellent aerobic training, focusing on multiple groups of muscles.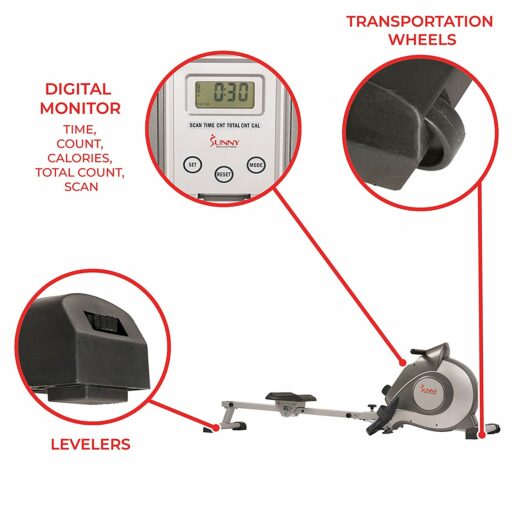 Since this Sunny rower features a magnetic resistance system, its operation is smooth and quiet. There's no drag, air current generated, and almost no sound as you work on the machine. Thus, it's an excellent choice for apartment use, as you can be sure you won't disturb the neighbors.
Fitness Monitor
The fitness monitor of the Sunny SF-RW5515 rowing machine integrates within the flywheel case. It features an LCD that keeps track of your workout time, strokes per session (count), the total number of strokes (total count), and calories.
This fitness monitor does not calculate the distance. Instead, you can select one of these values to be displayed on the screen at all times, or you can use the SCAN function, which will show each value for a couple of seconds, then move to the next, and so on.
The monitor features three keys: SET, RESET, and MODE. With the MODE key, you can scroll through the values of the console. The SET key allows you to select one, while RESET deletes all workout data to zero. The battery-operated fitness monitor powers on by pressing one of its buttons or after detecting usage. It uses 2-AA batteries.
SF-RW5515 Assembly and Maintenance
There are only four steps for assembling this Sunny rowing machine: connecting the rail to the mainframe, adding the seat, the rear stabilizer, and finally, the pedals. The whole task shouldn't take more than 20 min. Manual and tools for assembly come with the rowing machine.
You don't have to worry about the "insides when it comes to maintenance." They come pre-lubricated from the factory and should remain that way for an extended period of use.
The central aspect of maintaining and prolonging the machine's life is keeping the gliding rail free of sand, dirt, or small objects that may cause nicks or damage to the rollers.
Pros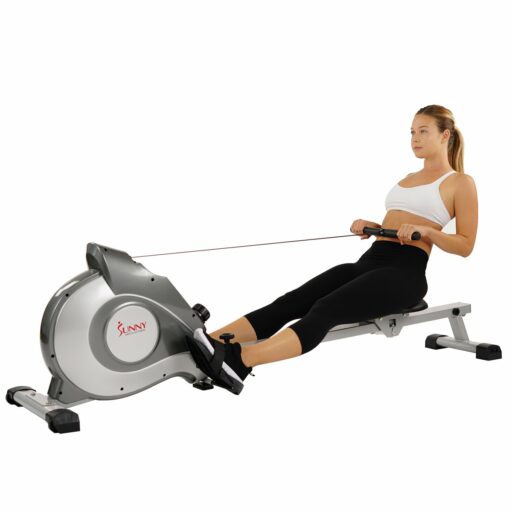 Sturdy and stable construction;
Folding frame, offering space-saving possibilities when the machine is not in use;
Elegant design;
Cushioned, contoured seat;
Pedals with heel guards and straps offer excellent possibilities to secure your feet for your exercise;
Eight levels of magnetic resistance;
The fitness monitor included the following;
Smooth and quiet operation, great for apartment use;
Easy to assemble;
Easy to handle and relocate;
Little maintenance is required.
Cons
It takes quite a bit of space, length-wise, when fully extended.
Sunny SF-RW5515 Rower Summary
The Sunny Health & Fitness SF-RW5515 rower is one of the most affordable magnetic rowers. It's well-constructed and can support users up to 250 lbs.
In addition, it's an excellent machine for cardio exercises, as rowing involves multiple groups of muscles, such as deltoids, rhomboids, biceps, paraspinal, hamstrings, quads, and glutes.
Moreover, you can be sure that all these muscle groups will benefit from consistent toning if you work out daily on this fitness machine. Other than that, it's great for anyone who wants to build stamina and lose weight.
Finally, considering that it currently costs less than $300, while other similar rowers are $400-$500, this machine is quite a bargain and offers excellent value. So far, it has benefited mainly from positive reviews from users worldwide.
I hope you found this article helpful and informative. Would you please speak up if you have anything you'd like to share or any opinions about my website? I look forward to your comments, questions, and the sharing of ideas.
Please remember that you should consult your physician to determine if you have any medical or physical conditions that could risk your health and safety or prevent you from using the equipment properly. In addition, your physician's advice is essential if you are taking medication that affects your heart rate, blood pressure, or cholesterol level.