The Sunny Zephyr SF-B2715 Air Bike has an 18" fan wheel in a steel cage for safety. Air bikes provide wind resistance, which works on the premise that the faster you pedal, the higher the resistance. Thus, effectively allowing for unlimited resistance levels and putting you in total control of your workout.
The Sunny Zephyr Air Bike utilizes a hybrid chain/belt drive system for the best of both worlds – the fan wheel creates resistance through the belt drive system to provide a smooth and quiet workout while the pedals connect to a chain drive for an authentic outdoor bike feel.
The Sunny Zephyr Air Bike's moving handlebars add an upper body workout to your cycling, helping to tone your arms, back, and shoulders muscles at the same time as your legs. In addition, the Zephyr's handlebars and saddle are ergonomic for comfort and height-adjustable for different users' custom fit.
The Sunny Health & Fitness Zephyr SF-B2715 Air Bike comes with an easy-to-use digital fitness monitor that tracks and displays motivating workout data as you exercise, including time, speed, distance, RPM, calories, and scan.
Learn more in my complete review below!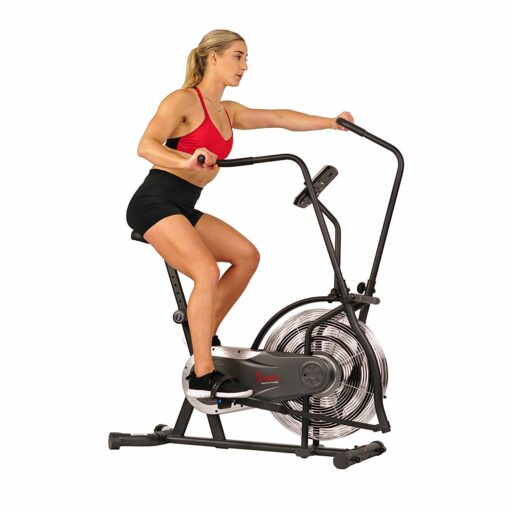 Product: Sunny Zephyr SF-B2715 Air Bike
Price: For a great deal on this bike, merely go here to Sunny Health & Fitness.com
Warranty: Frame 3 years / Parts 180 days
My rating: 8.25/10
Affiliate Disclosure: As a Sunny Health & Fitness Affiliate Program participant, I earn commissions on purchases made through links in this post. Full disclosure
Details and Specifications
Assembled dimensions: 44L x 24W x 45H inches (112L x 61W x 114H cm)
Assembled weight: 60 lbs (27 kg)
Supported weight: 240 lbs (109 kg)
Drive: Belt / Chain
Resistance: Air
Fitness Monitor: Time, speed, distance, odometer, calories, SCAN
Warranty: Frame 3 years / Parts 180 days
SF-B2715 Frame construction
The Sunny Zephyr SF-B2715 Air Bike features a durable construction; its frame has a user weight capacity of 240 lbs (109 kg). Most of its structure is steel tubing, featuring cylindrical and ovalized bars with precision-welded joint points. The only notable non-metallic parts are the covers of the chain/belt drive elements.
All the steel frame parts come with a durable corrosion-resistant black paint finish, which is resistant to corrosion.
This Sunny exercise bike doesn't have a weighty structure. Its fully assembled frame weighs approximately 60 lbs (27 kg). Thus, its transport and assembly shouldn't be a problem for one person. In addition, its front base comes with two small transport wheels, which ease its relocation once you have finished your workout.
The bike isn't giant. With all the parts assembled, it's approximately 44″ (112 cm) long and 24″ (61 cm) wide. Thus, it can fit well even into a smaller room. But it is recommended to leave at least two feet of clearance all around it for safe usage and easy access.
Despite its tiny footprint, the Sunny Zephyr bike offers pretty decent stability. Its rear base bar is curved and equipped with polygonal caps. These caps can rotate and act as stabilizers, so you can level the unit if the floor is uneven.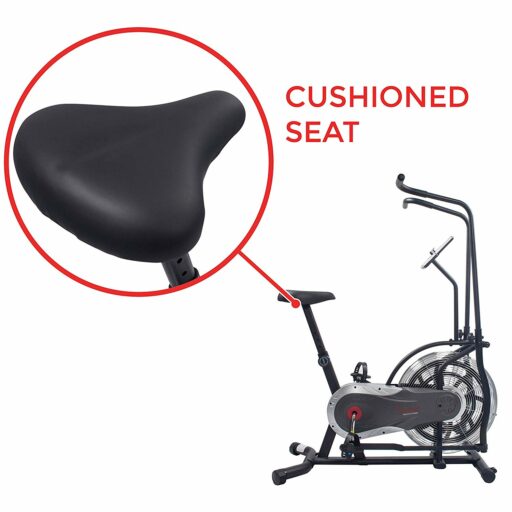 Seat & handlebars
The Sunny Health & Fitness Zephyr SF-B2715 Air Bike features a large seat that integrates a padding layer. Its dimensions are 9″D x 12″W (23 x 30.5 cm), so it provides plenty of contact surface. Its top is a durable vinyl material, which is also sweat-proof.
The saddle attaches directly to the triangular plate of the upright adjustment bar via three screws. It's a pretty standard attachment system, and in case you want to replace the saddle, there should be many compatible options with more cushioning. Also, a gel seat cover may improve the comfort of the saddle.
The upright bar of the seat has multiple adjustment positions. It's long enough to accommodate users with an inseam between 21.3″ (54 cm) and 33.7″ (85.5 cm). In other words, it should be able to fit users up to 6'4″ (192 cm) comfortably.
The bike's moving arms are composed of two bars each. The top bars with the grips have two adjustment holes. Therefore, you can adjust their height by a few inches if needed.
The moving arms have pure grips with a rubberized cover for extra comfort. Unfortunately, they don't integrate pulse sensors, and the console can't track your pulse.
SF-B2715 Resistance & drive
The Sunny Zephyr SF-B2715 Air Bike is an air resistance exercise bike. Its main resistance generator is its fan. It doesn't have any magnetic resistance elements, while the fan doesn't have a damper to adjust the overall resistance.
However, like any other exercise bike or fitness machine with an air resistance system, the SF-B2715 provides a dynamic response. In other words, the faster you pedal, the more resistance you will get.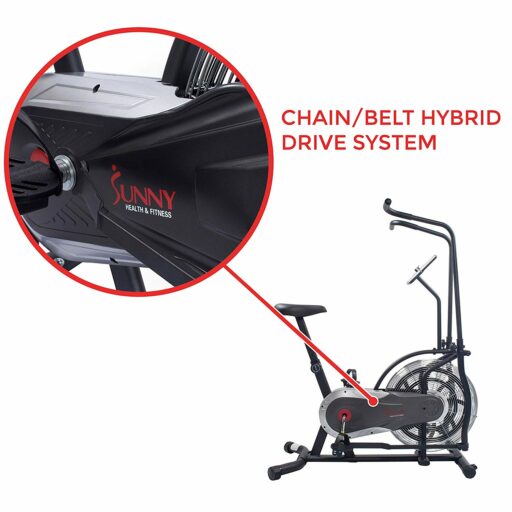 The integrated fan is 18″ (~46 cm) in diameter and weighs 2.2 lbs (1 kg). It's made of thick ABS material, while its cover is steel-made with a chrome finish. As a result, it delivers plenty of resistance for you to break a sweat and undergo a great cardio workout.
The bike's moving arms are directly attached to the pedal's bars. Therefore, they do not lock. They will continue to drive for as long as you pedal. Conversely, the pedals will spin for as long as you move the arms. Or for as long as the flywheel is spinning.
The bike doesn't have foot resting pegs like some other bikes. However, you can rest your feet on the top section of the belt cover.
The bike's drive system uses a belt and a chain. Along with a belt pulley with a crank and the main crank with the pedals. Thus, the pedaling motion is very smooth and slightly more difficult, which is excellent for toning muscles.
The crank arms are solid steel, finished with durable nylon pedals, weight elements for self-leveling, and adjustable straps. The crank and pedal assembly are substantial enough to support the user in standing-up pedaling routines. Also, the pedals have standard threads, so replacements for them are widely available.
Fitness Monitor
The bike comes with a simple fitness monitor. It features an LCD, indicating five workout metrics: time, speed, distance, total distance, and calories burned. The distance displays in miles, while the speed is in miles per hour. Unfortunately, the monitor cannot display metric units.
The fitness monitor does not have a pulse reading function. It cannot read your pulse rate through an HR transmitter, and the bike does not have any pulse sensors. Therefore, if you need to watch your heart rate during exercising, you will have to use a separate device.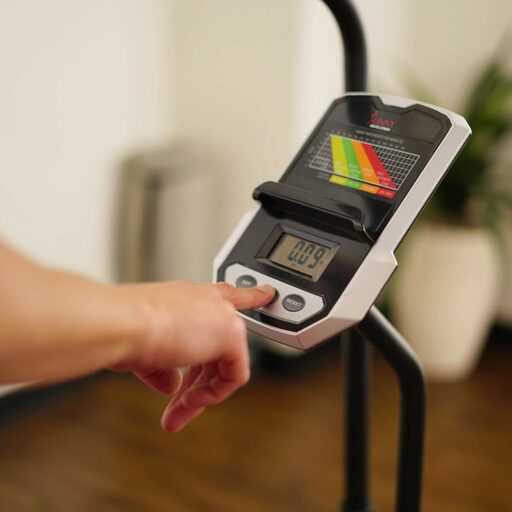 The monitor is straightforward to use. It only has one button, which covers two main functions. The first function is toggling ON/OFF the scan mode. When in scan mode, the monitor rotates all the workout metrics, showing each for 5 seconds.
When turning scan OFF, you can select any of the parameters shown on display all the time. The second function is the value reset. By pressing and holding the button for 3 seconds, all the monitor metrics will reset to zero.
The monitor is battery-powered; it needs 2 AAA batteries that come with the bike. It starts when you begin pedaling if you press the button and have a sleep mode to enter if it detects any bike activity for 4 seconds.
Last but not least, the monitor integrates a tablet holder, which is above the console display. Therefore, a tablet or smartphone placed on it won't block the view of your workout stats.
SF-B2715 Assembly & Maintenance
The Sunny Zephyr SF-B2715 air bike comes partially assembled. The flywheel, the pulleys, the belt, the chain are already attached to the mainframe. Therefore, you will only have to connect the base bars, the foot bars, the moving arms, the pedals, the seat, the front mast, and the fitness monitor.
This may take more than an hour, but the included manual provides precise assembly instructions — also, all the tools needed come with the bike.
For maintenance, the internal chain and the foot-arm joints may need lubrication after a while. Other than this, it's advisable to periodically inspect the bike for broken parts or loose bolts and keep it clean.
Pros
Sturdy construction – can hold users up to 240 lbs;
Aesthetic design, an aspect that can serve as a good motivation factor;
Adjustable levelers on the rear base;
Transport wheels on the front base;
Mobile handlebars for arms workouts;
Large, padded seat;
Air resistance system for a dynamic response;
Fitness Monitor included that tracks time, speed, distance, total distance, and calories;
Tablet holder included;
Little maintenance required;
Fairly quiet operation;
Easy to assemble;
Decent warranty.
Cons
No pulse reading function;
It doesn't have a bottle holder;
No footrests.
Sunny Zephyr SF-B2715 Air Bike Summary
The Sunny Zephyr SF-B2715 Air Bike is an air resistance exercise bike with pretty sturdy construction and a dual belt/chain transmission for a smooth feel. In addition, it comes with a fitness monitor that tracks the main workout metrics.
Moreover, it's perfect for muscle toning, recovery training, stamina development, and weight loss. And finally, it's one of the most affordable air bikes that you can find at the moment, offering an excellent price/quality ratio.
I hope you found this article helpful and informative. Would you please speak up if you have anything you'd like to share or any opinions about my website? I look forward to your comments, questions, and the sharing of ideas.