Look no further if you're looking for compact exercise equipment ideal for home use. The Valor Fitness BD-62 Cable Station allows you to target various muscle groups while remaining incredibly compact. Versatile, space saver provides the opportunity to incorporate strength training with a cable system in your home.
This system must mount to a wall to ensure optimal safety and workout effectiveness. There are attachment points at the top and bottom of the machine for mounting. The BD-62 is a dual-pulley system that adjusts into 16 different positions. The versatility of this cable station allows you to perform various exercises.
With this machine, it's possible to perform bicep curls, triceps extensions, shoulder presses, reverse flyes, squats, lunges, ab crunches, chest presses, rows, single-arm rows, pull-throughs, face pulls, and many more. From competition training to stretching and rehabilitation, Valor Fitness has what you need to hone in on your body and your budget.
The BD-62 holds Standard Plates but is commonly used with Olympic Plates, as shown in photos. The Valor Fitness EX-10 Olympic Sleeve Adapter and the Valor Fitness SC-1 Olympic Sized Spring Clips can also be purchased separately to secure Olympic Sized Plates. Add the optional MB-attB Bundle to your BD-62 and add more versatility to this multi-functional unit!
Learn more in my complete review below!
Product: Valor Fitness BD-62 Cable Station
Price: For a great deal on this gym, merely go here on Amazon
Warranty: Frame 3 years / Cables 2 years / Pulleys 1 year
My rating: is 9/10
Please note that the weight plates do not come with the machine.
Affiliate Disclosure: As an Amazon Affiliate Program participant, I earn commissions on purchases made through links in this post. Full disclosure
Details and Specifications
Assembled dimensions: 25″D x 26″W x 80″H (63.5D x 66W x 203H cm)
Assembled weight: 62 lbs (28 kg)
Weight capacity: 250 lbs (113.3 kg)
Possible exercises: 15+
Accessories: 2x adjustable hand strap handle
Warranty: Frame 3 years / Cables 2 years / Pulleys 1 year
BD-62 Frame Construction
Since it's a minimalistic fitness machine, the Valor Fitness BD-62 cable station doesn't take up much usable space. As a result, its total length (from the wall attachment point and to the front) is 25″ (63.5 cm), while its width, given by the full size of the weight plate pegs, is approx—26″ (66 cm).
The unit's assembled height reaches 80″ (203 m) above floor level. Thus, it can fit in a room with a 7′ (213 cm) ceiling with no problem. Since this Valor Fitness home gym doesn't include a weight stack, it is not extremely heavy. Its total weight is approx — 62 lbs (28 kg). Therefore, its unboxing and assembly shouldn't be a problem for one user.
The unit's frame is steel tubing. The base and top parts feature a black, non-corrosive, and scratch-resistant paint finish. However, the mobile pulleys' adjustment bar and the plate holder's guide bars feature a chrome finish.
The unit's base comes with plastic caps to protect the floor. They don't have adjustable stabilizers, though. In addition, they don't have anchor points, so if you want to anchor them to the floor, you will have to improvise. Finally, if you're wondering, the machine must be attached to a wall from the top part. Otherwise, it will wobble or move during exercises.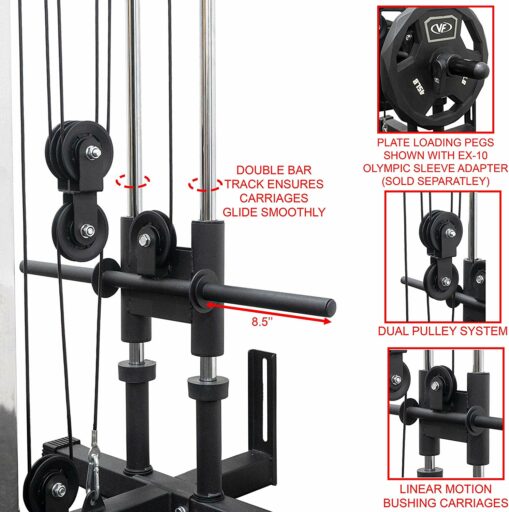 Last but not least, the two adjustable D-handles are included with this fitness machine. However, you can always opt for an ab harness, short bar, ankle cuff, or even a lat pulldown bar to diversify the exercise repertoire.
Pulleys and Cables
The Valor BD-62 wall-mount cable station integrates 12 pulleys. They're made of heavy-duty nylon material and incorporate stainless steel ball bearings for smooth operation. In addition, the cables are steel-made; they have a tensile strength of 2,000 lbs and a layer of PVC material, which also adds to the smoothness of the unit's operation.
The front bar of the unit features 16 adjustment positions for the mobile pulley assembly. The lowest adjustment setting is approx. 8″ (20 cm) above floor level, while the top adjustment position is approx. 72″ (183 cm) above floor level.
The 2-pulley housing on each side of the adjuster can swivel 180° from front to back, allowing plenty of movement flexibility.
BD-62 Weight Resistance
The Valor Fitness BD-62 home gym does not include weight plates. However, its weight carriage comes with two Standard (1″ – 2.5 cm) pegs of approx. 8″ (20 cm) each. Therefore, it's advisable to use Standard, 1″ weight plates.
However, you can also opt for a set of 2″ adapter pegs if you want to use Olympic plates. A collection of two 1″ spring stoppers for the plates also comes with the machine. The unit's weight capacity is 250 lbs (113.3 kg).
In terms of weight ratios, the unit offers 2:1 for each arm. Therefore, if you load up the carriage with 50 lbs (22.6 kg), when pulling with one arm, it will feel like 25 lbs (11.3 kg), and when pulling with two arms, it will feel like 50 lbs (22.6 kg).
Possible Exercises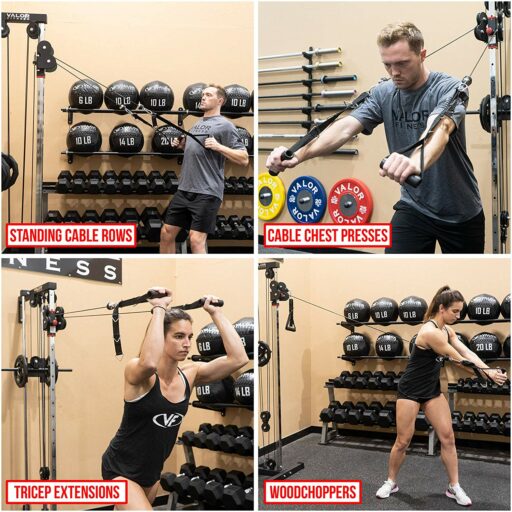 The Valor Fitness BD-62 Wall mount cable machine can perform more than 15 exercises. Among them, I can count:
Bicep curl
Tricep pushdown
Cable fly
Cable punch
Cross tricep extension
Hammer curl
Tricep kickback
Lat pulldown
Standing ab crunch
Standing oblique crunch
Woodchop
Reverse wood chop
Shoulder press
Shrug
Standing row
Seated row
Cable deadlift
Kickback
Leg adduction
Leg abduction
And more
Of course, some of these exercises require extra accessories, such as a triceps rope, ankle cuff, or short-row bar.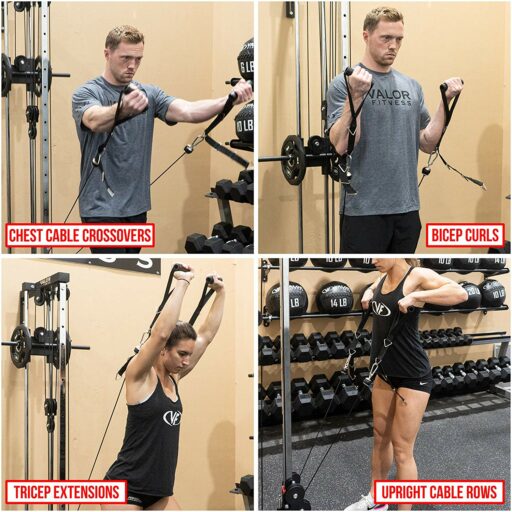 It's important to note that you can always opt for a second wall station and attach it parallel to the first one to perform all kinds of crossover exercises. For example, fly press exercises or cable press exercises are much better this way. However, if you only have one cable machine, you can still perform complete fly exercises for one arm each.
BD-62 Assembly and Maintenance
Compared to other fitness machines, the Valor BD-62 wall cable station is relatively easy to put together. You'll need to start with the base, connect all the bars then install the pulleys and cables. The whole task shouldn't take more than one hour. The included manual provides clear, step-by-step assembly instructions.
It's advisable for maintenance to lubricate the weight carriage guide bars for smoother operation periodically. In addition, the pulleys may also require some lubrication after a while.
Pros
Sturdy frame construction;
Small footprint;
16 adjustment positions for the mobile pulley assembly;
The mobile pulley housings can swivel 180° on their vertical axis;
Durable cables and pulleys;
Can support loads up to 250 lbs;
Can work with both Standard or Olympic plates;
2:1 ratio per arm;
Offers the possibility to perform more than 15+ exercises;
Adjustable D-handles included;
Standard spring collars included;
Easy to assemble;
Little maintenance is required.
Cons
Olympic plate adapters not included;
Short row bar not included;
Ankle cuff(s) not included.
Valor Fitness BD-62 Cable Station Summary
The Valor Fitness BD-62 is a wall-mount cable station featuring 16 adjustment positions for its mobile pulleys. It has a durable construction and can support loads up to 250 lbs. It can be used with both Standard and Olympic weight plates and offers the possibility to perform more than 15+ gym-quality exercises.
It's a highly versatile fitness machine that doesn't take up a lot of usable space, making it ideal for home use. And finally, it's one of the most affordable home gyms available, offering excellent quality and value for the price.
I hope you found this article helpful and informative. Would you please speak up if you have anything you'd like to share on the topic or any opinions about my website? I look forward to your comments, questions, and the sharing of ideas.
Please remember that you should consult your physician to determine if you have any medical or physical conditions that could risk your health and safety or prevent you from using the equipment properly. In addition, your physician's advice is essential if you are taking medication that affects your heart rate, blood pressure, or cholesterol level.