Reap the benefits of cycling right in the comfort of your home with the Circuit Fitness AMZ-587R Recumbent Bike! Perform a full-body workout while sitting that offers convenience, performance, and safety. The step-through design facilitates quick entry and exit from the bike. In addition, heavy-duty construction supports a maximum user weight of up to 300 lbs (136 kg).
Twenty-four resistance levels are adjustable via the console, providing easy to reasonably difficult resistance intensities. Thus, they are suitable for those recovering from an injury, beginners, intermediaries, and everyone else whose goals are to lose weight and improve heart and lung health and overall physical fitness.
The Circuit Fitness AMZ-587R recumbent bike fitness console combines the magnetic resistance system, 15 preset workout programs, and handlebar-integrated HR pulse sensors to provide the best workout possible. In addition, you can accurately track your fitness progress with the backlit LCD that tracks time, distance, RPM, speed, watts, calories burned, and pulse.
The AMZ-587R comes with a high-density foam-padded backrest and seat that allows you to ride the bike comfortably for extended periods. Pull on the large lever under the seat to adjust the padded seat as necessary for comfort. In addition, the bike has two pairs of ergonomic handles, one for sitting forward and the other for sitting back, in a traditional recumbent bike position.
Learn more in my complete review below!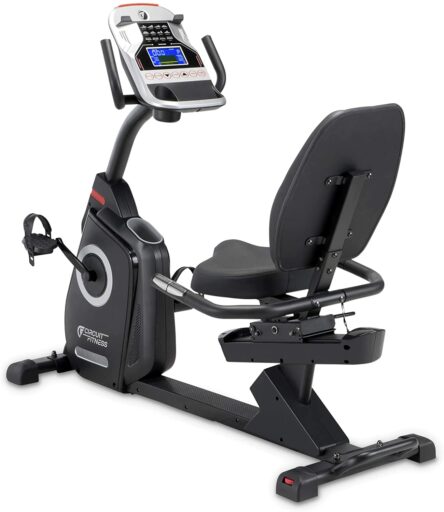 Product: Circuit Fitness AMZ-587R Recumbent Bike
Price: For a great deal on this bike, merely go here on Amazon
Warranty: Frame 2 years
My rating: 8.25/10
Affiliate Disclosure: As an Amazon Affiliate Program participant, I earn commissions on purchases made through links in this post. Full disclosure
Details and Specifications
Assembled dimensions: 55L x 24.8W x 48.5H inches (140L x 63W x 123H cm)
Shipping weight: 99.2 lbs (45 kg)
Supported weight: 300 lbs (136 kg)
Drive: Belt
Resistance: Eddy current, 24 levels
Console: 15 programs, BMI, Recovery
Extras: USB charging port, sound system, bottle holders, tablet holder
Warranty: Frame 2 years
AMZ-587R Frame Construction
The Circuit Fitness AMZ-587R recumbent bike features a heavy-duty steel tubing frame. It combines rectangular, ovalized, and cylindrical tubes to improve sturdiness and aesthetics.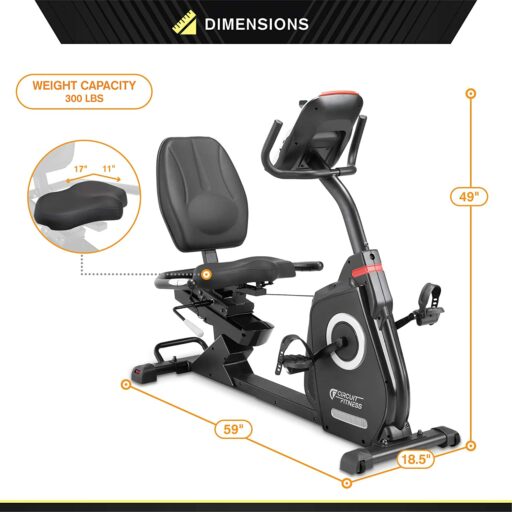 All the steel parts in its construction come with a chip-resistant and abrasion-resistant paint finish. In addition, several frame parts have ABS covers along with the drive and resistance elements.
The fully assembled bike is relatively heavy. Its specified shipping weight is 99.2 lbs (45 kg), so its net weight should be at least 90 lbs (40.8 kg). This weight contributes to its overall stability. Plus, the bike has adjustable and concealed stabilizers on both bases.
Although transporting the boxed bike may require two people, one person can relocate the cycle once assembled. Its rear base features a lifting handle, while its front base comes equipped with transport wheels.
The bike is not extremely large compared to other fitness machines. However, it is 55″ (140 cm) long and 24.8 (63 cm) broad. Plus, it is advisable to allow at least two feet of clearance all around it to ease access.
The bike features a step-through frame design. Therefore, taking a position on the seat is considerably more accessible, as you don't have to step over the bike's front unit. Consequently, it can be quite a plus for users with disabilities or the elderly.
Seat and handlebars
The Circuit Fitness AMZ-587R comes with a cushioned seat designed for improved comfort. In addition, the seat pad is relatively large; it is approx 17″ (43 cm) wide and 11″ (28 cm) long, offering a bit of extra contact surface compared to other recumbent bikes.
The backrest integrates extra cushioning in the lumbar area to deliver better support. In addition, the covers of both the seat and backrest pads are made of durable vinyl, sweatproof material.
The seat offers plenty of adjustability. It is attached to a robust rail system and has a user weight limit of 300 lbs (136 kg), which is not bad for a home-use recumbent bike.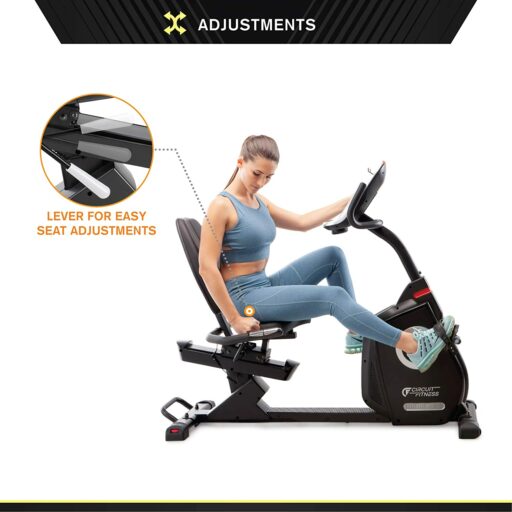 The exact adjustment span of the seat is not specified, but as a general idea, the cycle should accommodate users between 5'0 ″ and 6'5 ″ (153 – 196 cm) with no problem.
Furthermore, the adjustment system of the seat features a lever mechanism. Therefore, you can easily unlock it, move it into the desired position, and re-lock it while you are seated, which is considerably more convenient than a knob-adjusted seat.
It's also important to note that, unfortunately, the backrest does not recline nor adjust independently from the seat.
The AMZ-587R recumbent bike features two handlebars attached directly to the seat frame and the front mast. Furthermore, the seat handlebars come with integrated HR pulse sensors. The front handlebars come close to the user due to the bike's front pole's curvature, resulting in a more comfortable position.
None of the handlebars are adjustable; the seat handlebars attach to the seat frame via bolts, while the front connects to the bike's upright mast.
AMZ-587R Resistance System
The Circuit Fitness AMZ-587R exercise bike has an eddy current resistance system. Thus, you have to connect it to a power source to adjust the resistance. The bike's console has multiple workout programs and coordinates the resistance automatically if you select one of them to use.
The bike's resistance system uses a magnetic brake and a servo motor. As you adjust the console's resistance or automatically adjust the resistance, the servo motor changes the magnets' pull to the flywheel, which results in more or less pedaling difficulty.
The bike makes available 24 levels of resistance. The 1-3 difficulty levels deliver a light resistance for exercising heart and lung function. The 4-6 levels are for advanced aerobic exercise and burning calories, and the 7-10 are great for toning leg muscles and improving strength and stamina.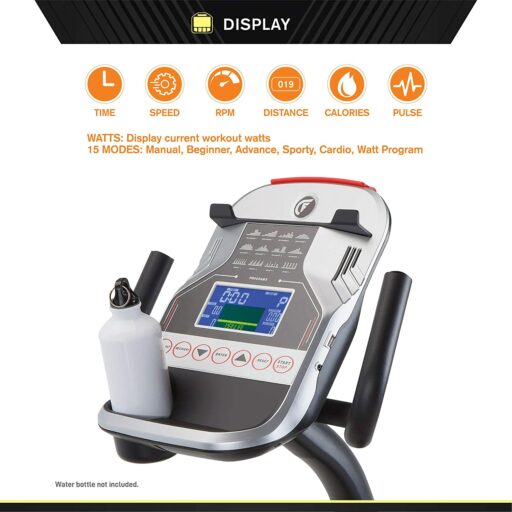 In contrast, the 20-24 levels allow you to achieve a higher calorie burn and an increased cardiovascular rate in a shorter time.
Drive System
This Circuit Fitness recumbent bike integrates a balanced flywheel. Its exact weight is not specified, but considering the bike's weight, it is probably between 15-25 lbs (6.8 – 11.3 kg), which is a mid-range flywheel. Furthermore, it provides a steady pedaling feel and gives a bit of inertia.
The flywheel allows reversing pedaling. Therefore, you can alternate normal pedaling with backpedaling sessions to focus more on muscle groups. Also, when pedaling in reverse, the console monitors your workout metrics.
The bike's crankset features heavy-duty steel arms. The pedals are made of durable ABS material. They integrate self-leveling elements and adjustable straps, so you can correctly secure your feet on them during pedaling. Consequently, it can be a plus for users with specific disabilities.
Finally, this exercise bike has a belt drive system, which means the bike's transmission does not require lubrication. Also, it generates less vibration than a chain drive.
AMZ-587R Console
The AMZ-587R recumbent bike has a reasonably large console that incorporates several other features besides the workout computer. For example, it has a USB charging port for smart devices, a sound system compatible with MP3 players, and a foldable tablet holder.
In addition, an LCD tracks multiple workout metrics, including time, distance, RPM, speed, watts, calories, and pulse.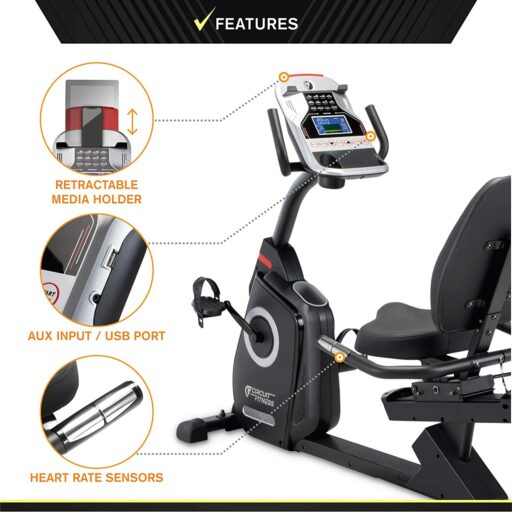 Unfortunately, the unit is not telemetric. Therefore, it cannot communicate with wireless HR chest strap transmitters. So, to track your pulse, you must hold on to the sensors integrated into the seat handlebars.
The console has 15 workout programs. The first one is Manual mode. It allows you to adjust the resistance during your workout freely and will enable you to set up workout goals for time, distance, calories, and pulse.
The following 12 workout programs divide into Beginner, Advanced, and Sporty. Each has four preset curricula, and their workout profiles are on the console section above the LCD.
The 14th and 15th programs are for Cardio and Watts. The Cardio program has three preset HRC values (55%, 75%, and 90%) and allows you to set a custom HRC value. The Watts program is for constant work and great for losing weight and toning muscles.
The console also has a Recovery function and a BMI calculator. The Recovery function helps you establish your fitness level. It measures the time it takes your pulse to return to normal after the workout and based on it. It will rate your performance between F1 (excellent) and F6 (poor).
The BMI function calculates your body fat percentage based on height, weight, and gender input.
AMZ-587R Assembly and Maintenance
The base frame of the bike with all the drive and resistance elements comes pre-assembled. You only have to attach the two base bars, the seat frame, the seat pads, the seat handlebars, the front mast, the fitness console, and the pedals.
Consequently, it may take up to an hour of your time, but the assembly task is far from being too complicated. Plus, the manual offers clear assembly instructions, and all the necessary tools for the job come with the bike.
All the internal parts are pre-lubricated from the factory and shouldn't need maintenance for a long time. Therefore, once assembled, you only need to check for loose bolts and parts from time to time and retighten them as required.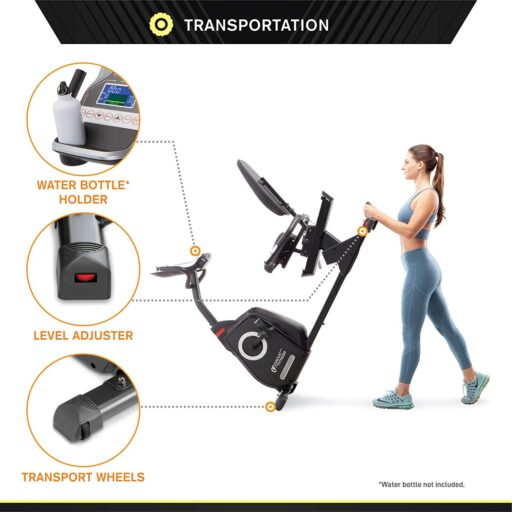 Pros
Sturdy, steel frame – 300 lbs capacity;
Transport wheels on the front base;
Lifting handle on the rear base;
Adjustable stabilizers on both bases;
Step-through frame design for easy access to the seat;
Seat handlebars with pulse sensors;
Cushioned and contoured seat pad and backrest;
Lever-based rail adjustment system for the seat;
Weighted pedals with adjustable straps;
Eddy current resistance system;
24 resistance levels available;
Mid-range console with an LCD that can track time, distance, speed, RPM, Watts, calories, and pulse;
15 workout programs;
Body Fat calculator;
Recovery function;
Foldable tablet holder included;
The sound system included;
USB charging port included;
Two bottle holders included;
Reasonably easy to assemble;
Little maintenance is required.
Cons
The calorie reading is not too accurate;
The console is not telemetric;
The console does not have online connectivity.
Circuit Fitness AMZ-587R Recumbent Bike Summary
The Circuit Fitness AMZ-587R is a heavy-duty recumbent bike made for home use. It features an eddy current resistance system, superior ergonomics, and a fitness console with 15 workout programs.
Moreover, it's a mid-range exercise bike, great for recovery training, light to medium-intensity cardio workouts, muscle toning, interval training, and weight loss. It's not exactly one of the most affordable recumbent bikes for home use, but it does offer excellent quality for the price.
I hope you found this article helpful and informative. Would you please speak up if you have anything you'd like to share on the topic or any opinions about my website? I look forward to your comments, questions, and the sharing of ideas.
Please remember that you should consult your physician before starting any exercise program to determine if you have any medical or physical conditions that could put your health and safety at risk or prevent you from using the equipment properly. In addition, your physician's advice is essential if you are taking medication that affects your heart rate, blood pressure, or cholesterol level.