With the Women's Health Men's Health (WHMH) Eclipse 1227 Indoor Cycling Bike, you'll work out from the comfort of your home. The bike allows the user to stand up and pedal, creating a harrowing road experience for the rider. In addition, the sturdy steel frame can support users up to 300 lbs.
Specially calibrated magnetic resistance provides the smoothest ride and whispers quietly so you won't wake up anyone else. Level 1 is excellent for absolute beginners, while level 14 will challenge even hardcore riders. In addition, the Eclipse 1227 features a Smart Power Knob – Your speed, distance, watts, and calories will change depending on your resistance level.
With a MyCloudFitness premium subscription (free for 30 days), you can view hundreds of workouts with top trainers, get personalized programs, and World Tour Solo allows you to work out in Paris, Central Park, and more. Take a day trip or ride at night with Women's Health Men's Health Eclipse 1227 Indoor Bike and Scenic workout videos and go anywhere you want.
Learn more in my complete review below!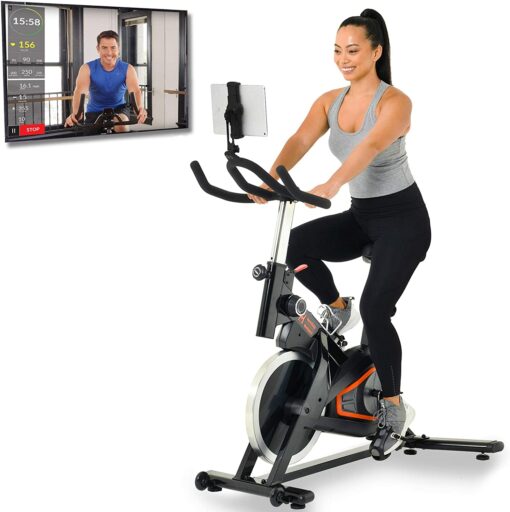 Product: WHMH Eclipse 1227 Indoor Cycling Bike
Price: For a great deal on this bike, merely go here on Amazon
Warranty: Frame 1 year / Parts 90 days
My rating: 8.5/10
Affiliate Disclosure: As an Amazon Affiliate Program participant, I earn commissions on purchases made through links in this post. Full disclosure
Please note that the tablet shown in some of the images sells separately
Details and Specifications
Assembled dimensions: 42L x 22W x 43H inches (106L x 56W x 109H cm)
Assembled weight: 89.5 lbs (40.5 kg)
Flywheel weight: 17.6 lbs (8 kg)
Weight capacity: 300 lbs (136 kg)
Seat: 4-way adjustable
Drive: Belt
Resistance: Manual magnetic, 14 levels
Fitness Monitor: Not included
Extras: Device holder, bottle holder
Warranty: Frame 1 year / Parts 90 days
1227 Frame construction
The Women's Health Men's Health Eclipse 1227 indoor cycling bike features a triangular steel tubing frame for improved sturdiness. It combines precision-welded rectangular and ovalized tubes in its construction. Also, unlike many other spin bikes, it has a V-shaped rear base bar with three levelers for improved stability. The front base stabilizer also has adjustable levelers.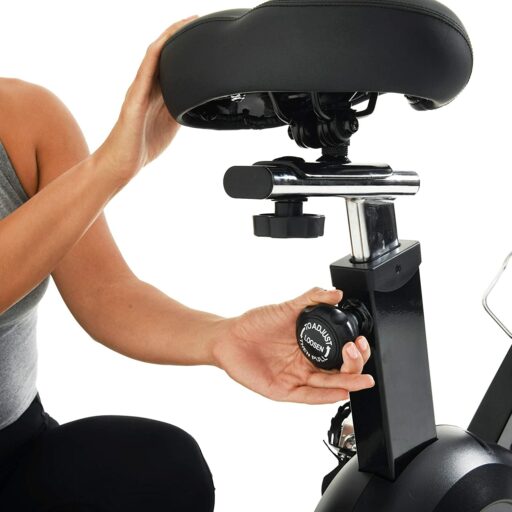 The bike's frame is double-coated with a rust-resistant and abrasion-resistant paint finish. The color used is black; this is the only color available for this exercise bike. The only exceptions are the seat post, the handlebar post, and the flywheel. These have a chrome finish.
It's also important to mention that the drive train covers and the flywheel's side covers are plastic material, not metal.
The WHMH 1227 indoor bike doesn't take too much space. It is only approx 42″ (106 cm) long and 22″ (56 cm) wide. However, leaving at least two feet of clearance all around it is advisable to ease access is advisable.
The bike is pretty heavy. Its net weight is close to 90 lbs (~40.5 kg), which is more than twice the weight of the average road bike. This weight plays an essential role in its overall stability. Plus, it has a low center of gravity. Once assembled, it is easy to move, though. Its front base comes equipped with two sets of wheels.
Seat and handlebars
The WHMH Eclipse 1227 exercise bike includes a high-comfort saddle. First, it is considerably more significant than the average spin seat or race seat, providing plenty of contact surface. Second, it integrates a thick layer of polyurethane foam and has a median groove for improved breathability. Finally, its cover is PU leather, double-stitched, and highly durable.
It's also important to mention that the included saddle features a standard, collar-type attachment system. Therefore, you can easily replace it if needed. Also, compatible replacements should be available in almost any bike shop.
The bike's seat is adjustable (up, down, front, back). In addition, its vertical post has multiple adjustment positions, while the horizontal slider adds several inches of front-to-back adjustment.
Thus, the bike should be able to accommodate users between 5'0 ″ and 6'4 ″ (153 – 193 cm) with no problem, allowing a complete leg extension. Also, its maximum weight limit is 300 lbs (136 kg).
The bike comes with a multi-grip handlebar. It offers the possibility to adopt a standard grip, a climbing grip, a racing grip, and an aero grip. A layer of high-density foam material fully covers it for improved comfort. However, it does not integrate pulse sensors.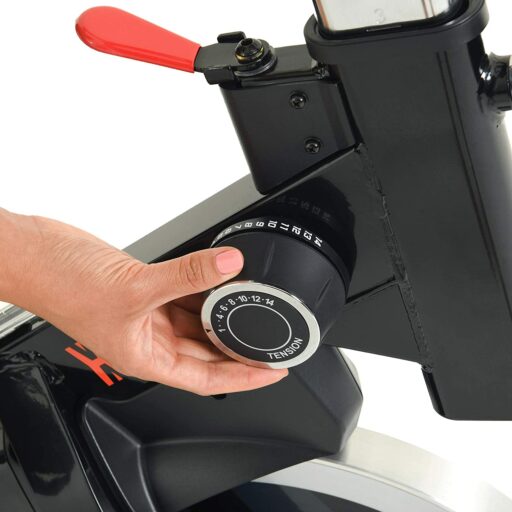 The bike's handlebar only offers two-way adjustability (up, down) instead of the seat. It does not have a horizontal slider feature. Also, its angle is non-adjustable.
1227 Resistance system
The WHMH Eclipse 1227 indoor cycling bike has a manual magnetic resistance system. Therefore, you don't need to connect it to a power source to adjust the resistance. However, the cycle cannot change the resistance automatically and does not have pre-set workout programs.
The resistance system consists of a magnetic brake concealed by the top frame covers. The brake is attached to the tension dial at the front of the frame through a steel cable. As you turn the knob clockwise, the brake covers a more significant portion of the flywheel, which increases the pedaling difficulty.
Unlike many other magnetic resistance exercise bikes, the WHMH Eclipse offers 14 difficulty levels. The first level provides a low difficulty level, great for beginners or warm-ups. Conversely, the 14th tension level offers quite a challenge, simulating a steep climb.
The bike comes equipped with a 17.6 lbs (8 kg) flywheel. It features a chrome finish and ABS side covers and is perimeter-weighted for improved inertia. It also allows reverse pedaling. However, it is essential to mention that you cannot coast on this bike, and when pedaling in reverse, you will get the same resistance as when you pedal forward.
Drive system
Like most other magnetic resistance spin bikes, the Eclipse 1227 has a belt drivetrain. However, it uses a durable poly-v belt that does not require lubrication. Also, the pedaling motion is almost entirely silent and generates less vibration than a chain.
The bike's crankset features heavy-duty steel arms and aluminum alloy pedals. Thus, it is durable enough to support any spin workout and user up to the specified 300 lbs (136 kg) weight capacity.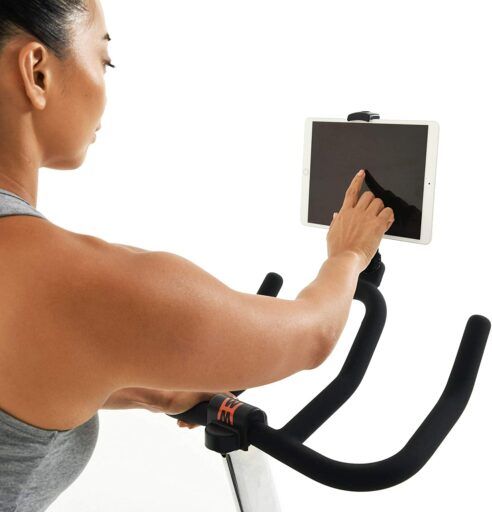 The pedals feature adjustable toe cages but do not have SPD clips for spin shoes. However, their threads are standard (9/16″), so compatible options are widely available.
1227 MyCloudFitness App
The WHMH Eclipse 1227 indoor cycling bike does not include a fitness monitor. However, it has a built-in Bluetooth module so that you can sync it with your smartphone or tablet via the MyCloudFitness app.
The app has two versions, basic and premium. The basic version is free. This version allows you to select your workout's time, distance, and calorie goals. In addition, it has an activity log and a report feature that will enable you to track your progress online.
The premium version offers extra features like coaching videos, training programs led by top trainers, and virtual trails that sync with your pedaling motion.
Amenities
The two notable accessories included with this indoor cycling bike are the tablet holder and the bottle holder. The tablet holder attaches to the handlebar's front section and is angle-adjustable and height-adjustable to provide perfect visibility. In addition, it accommodates tablets of all sizes.
The bottle holder attaches to the main tube of the frame. It's metallic but flexible, so it should fit most types of water bottles.
1227 Assembly and Maintenance
The main body of the bike comes pre-assembled. The flywheel, the crankset, the magnetic brake, and the belt are already attached to the frame. So you only have to connect the two base stabilizers, the pedals, the seat post, the saddle, the handlebar post, the handlebar, and the device holder.
Therefore, it shouldn't take more than 20-30 minutes of your time. The manual provides step-by-step assembly instructions, and an essential toolkit comes with the bike.
Since the bike features a belt drive mechanism, its transmission does not require lubrication. Therefore, keeping the bike clean and periodically checking for loose parts is the only required maintenance.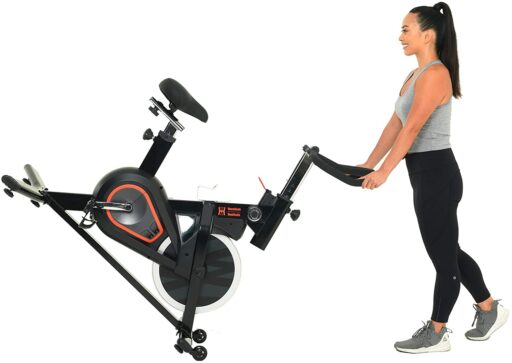 Pros
Sturdy frame – can support users up to 300 lbs;
Aesthetic design;
Transport wheels;
Adjustable stabilizers on both base bars;
4-way adjustable seat;
2-way adjustable handlebar;
Multi-grip, padded handlebar
Smooth, almost silent belt drive;
Aluminum alloy pedals with toe cages;
Perimeter-weighted flywheel for enhanced inertia;
14-level magnetic resistance
Bluetooth connectivity;
Free (basic version) MyCloudFitness for online progress tracking and workout goals;
Angle-adjustable and height-adjustable tablet holder;
Bottle holder included;
Easy to assemble;
Little maintenance is required;
Decent warranty.
Cons
There is not a fitness monitor.
Eclipse 1227 Indoor Cycling Bike Summary
The Women's Health & Men's Health Eclipse 1227 indoor cycling bike features a heavy-duty steel frame, a 14-level manual magnetic resistance system, 17.6 lbs flywheel, and Bluetooth connectivity. It also includes a high-comfort saddle that offers excellent micro-adjustability. As a result, it's a perfect stationary bike for all types of spin workouts, interval training, stamina development, and weight loss.
I hope you found this article helpful and informative. Would you please speak up if you have anything you'd like to share on the topic or any opinions about my website? I look forward to your comments, questions, and the sharing of ideas.
Please note you should consult your physician to determine if you have any medical or physical conditions that could put your health and safety at risk or prevent you from using the equipment properly. In addition, your physician's advice is essential if you are taking medication that affects your heart rate, blood pressure, or cholesterol level.