The Total Gym Apex G3 Home Gym is one of the best home gym equipment you can get when strengthening and toning muscles. The Apex G3 can help anyone looking to lose weight, sculpt and build muscle, and stay healthy. It's a great piece of equipment for people of all ages and genders, no matter their current fitness levels or experience with exercise.
It does more than help you lose weight; it allows you to transform fat into lean, healthy muscle, which helps out all kinds of things. Moreover, it helps raise your metabolism, burning calories more efficiently. It can help regulate blood sugar, blood pressure, and cholesterol levels.
One of the best features of the G3 is that it provides eight different resistance levels. Therefore, you can use the equipment no matter where you are on your fitness journey. Even better, becoming healthy and more toned doesn't mean you "outgrow the machine." Instead, you go up to the next resistance level for a more strenuous workout.
The main features of the G3 are its glideboard, wing attachments, cable kit, and pulley system. With these, you can perform 70+ exercises to work other areas of your body. These exercises – and so many more – can be found either in the exercise guide, flipbook, DVD, or the Total Gym TV site.
Learn more in my complete review below!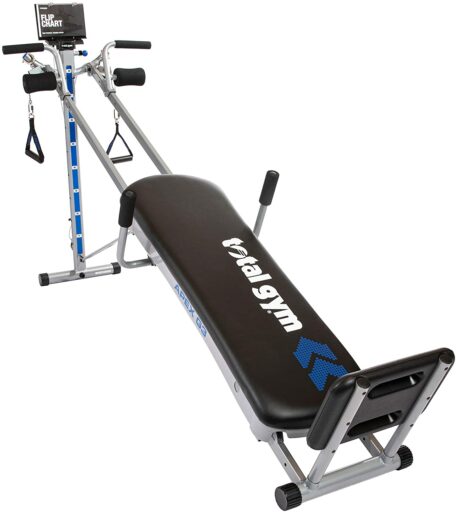 Product: Total Gym APEX G3 Home Gym
Price: For a great deal on this gym, merely go here on Amazon
Warranty: 1 year
My rating: is 9.5/10
Affiliate Disclosure: As an Amazon Affiliate Program participant, I earn commissions on purchases made through links in this post. Full disclosure
Details and Specifications
Assembled dimensions: 93L x 15.5W x 43.25H inches (236 x 39 x 110 cm)
Assembled weight: 53.2 lbs (24 kg)
Max. user weight: 300 lbs (136 kg)
Possible exercises: 70+
Weight resistance system: Body-weight resistance
Warranty: 1 year
G3 Frame Construction
The Total Gym APEX G3 features a durable steel frame with two main pieces that fold for better storage possibilities. In addition, the connection between the two parts is pretty reliable when the unit is fully extended; it can support users up to 300 lbs (136 kg).
All the steel parts in the machine's construction come coated with a corrosion-resistant light gray paint finish. The fully assembled and extended unit is relatively large. It measures approximately 93″ (236 cm) in length, and 15.5″ (39 cm) in width, while its highest point reaches approx. 43.25″ (110 cm) above floor level.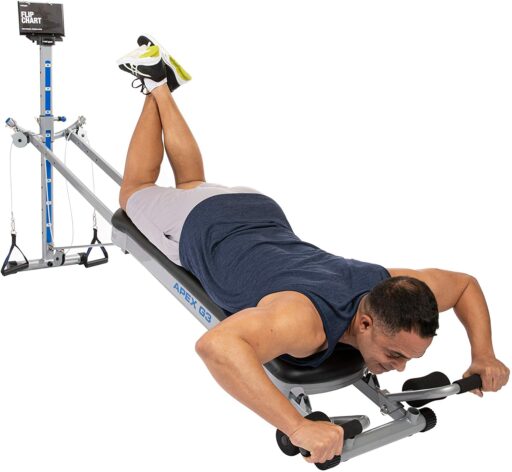 It's advisable to leave at least two feet of clearance on each side of the machine and at the front to execute all the exercises without hindrance. Thus, it may not fit too well into a small room or apartment.
This Total Gym exerciser is not extremely heavy. With all the parts and accessories assembled, it weighs approximately 53.2 lbs (24 kg). Therefore, one person can carry and build the gym. In addition, the rear base bar features rotating caps, which can serve as wheels when moving the folded unit.
If you're wondering, the folded-flat machine is 50.5″ (128 cm) long, 15.5″ (39 cm) wide, and approximately 8″ (20 cm) high. It can store vertically against a wall or fit in a small closet or under a bed if there's a clearance or more than 8″ (20 cm).
Like the Total Gym 1400, the APEX G3 has eight adjustment positions on its backbone bar. Thus, it offers the bench and rail system angles between 0° and 45°. In addition, when the unit folds, the backbone bar enters between the two rails to create a more compact footprint.
Sliding board
The sliding board of the Total Gym APEX G3 is relatively large; it measures approximately 40″ (102 cm) in length and 14″ (35.5 cm) in width. It integrates a thick layer of foam padding, and its top cover is durable faux leather and sweatproof.
The bench slides on a set of four heavy-duty rollers. They integrate sealed ball bearings for the board's smooth motion and have a rubberized outer layer to reduce noise.
It's also important to note that the sliding board can lock onto the rails to remain fixed to execute various exercises such as sit-ups. Also, the lower section of the two-rail frame features a set of rubberized stoppers.
G3 Attachments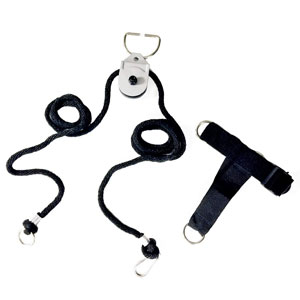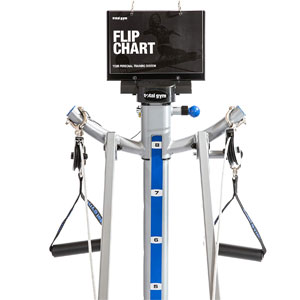 The Total Gym APEX G3 includes quite a few terms of attachments. The Cable Kit with the pulleys and D-handles for arm exercises, the Wing Attachment with the grips and foam rollers for pull-ups, push-ups, and various other movements, the Squat Stand, the Dip Bars, and the Leg Pulley system with an ankle cuff/bootstrap.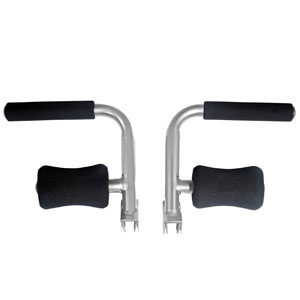 On the list of included accessories, the Flip Chart support attaches at the top of the adjustment bar and, of course, the included Exercise Flip Chart. A DVD with exercises also comes included.
Plus, the trainer comes with Gym TV access; Gym TV is an on-demand video platform that allows you to stream Total Gym workouts from any device 24/7 with an internet connection.
The Total Gym APEX G3 includes four in number in terms of pulleys. Three of them are part of the Arm Pulley & Cable Assembly. The two main pulleys for the D-Handles can freely swivel, allowing multiple exercises from different angles.
The third pulley connects to the sliding board. And finally, the fourth pulley is part of the Leg Pulley & Rope assembly and attaches to the top of the adjustment bar. All the pulleys are made of heavy-duty nylon material. They also integrate sealed ball bearings for smooth cable and rope motion.
Weight Resistance System
The Total Gym APEX G3 uses your body weight as the main workout load. Therefore, there are no weight stacks or any additional weights. However, a weight bar (not included) can be attached to the moving bench, and you can load it with dumbbell plates for extra weight, as long as you don't exceed the unit's 300 lbs (136 kg) weight limit.
The back adjustment bar of the trainer features attachment positions for the rail system. The higher you lock the rails, the more resistance you get during cable or rope pulls. As a general idea, the machine's weight can generate approximately 55% of the user's weight, plus approximately 10 lbs, which is half the weight of the gliding bench.
This home gym doesn't use a heavyweight stack like other cable gym systems. Therefore, it is not for advanced bodybuilding and strength training. Nonetheless, it allows you to perform a full-body workout, tone muscles, improve stamina, lose weight, and maintain a tremendous physical and cardiovascular shape due to many exercises.
G3 Possible Exercises
Abdominal Exercises
Crunches
Trunk rotations
Resisted crunches
Inclined crunches
Crunches with leg curls
Sit-ups with feet attached
High leg pull-ins
Low leg pull-ins
Side planks
Arm Exercises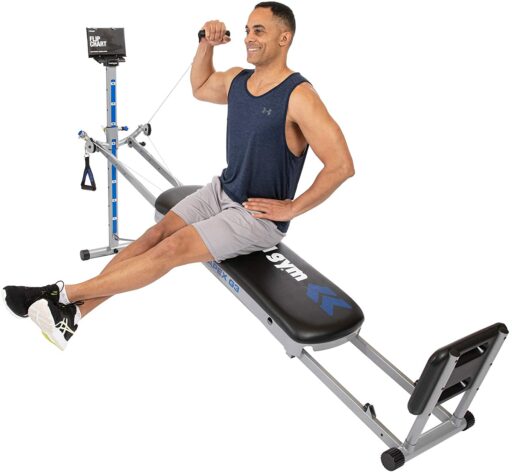 Biceps curls
Lateral single-arm biceps curls
Lying biceps curls
Biceps curls with hyperextensions
Biceps curls with leg curls
Chin-ups
Dips
Triceps extensions
Kneeling triceps extensions
Lateral single-arm triceps extensions
Prone triceps extensions
Back Exercises
Pull-ups
Back flies
Prone back flies
Back flies with leg curls.
Hyperextensions
Aerobic rowing
Crossover rowing
Kneeling rowing
Lateral pulldowns
Lateral pulldowns with squats
Chest Exercises
Chest presses
Wide grip chest presses
Close grip chest presses
Incline push-ups
Chest flies
Incline chest flies
Lateral chest flies
Decline chest flies
Pullovers
Pullovers with crunches
Leg Exercises
Leg curls
Calf raises
Reverse leg curls
Squats
Single-leg squats
Kneeling single-leg squats
Wide squats
Twisting squats
Jumping squats
Front lunges
Hip extensions
Hip adductions or Hip abductions
Shoulder Exercises
Shoulder presses
Upright rows
Lateral deltoid raises
Front deltoid raises
Lying front deltoid raises
Front deltoid raises with leg curls.
Wide grip front deltoid raises
Front deltoid raised with supination grips
Shoulder extensions
Shoulder extension with hyperextension
Lateral arm pulls
G3 Assembly and Maintenance
The main body of the Total Gym APEX G3 comes pre-assembled and folded. All you need to do is unfold it and connect the attachments you want for your exercises. For example, the Wing Attachments, Leg Pulley Attachment, Squat Pad, and Dip Bars don't require connection to the unit. However, depending on the exercises you want to perform, some of them should disconnect from the machine.
Consequently, the setup shouldn't take more than 15 minutes, and the included manual provides precise assembly instructions. In addition, all the necessary tools and pins for the attachments come included with the machine.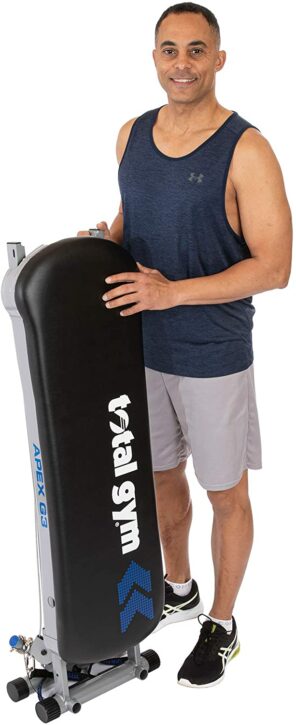 Keeping the unit clean is essential, especially the rails, to prevent damage to the maintenance bench rollers. In addition, the pulleys may need lubrication from time to time. Besides this, you only have to periodically check for loose bolts and parts and retighten them if necessary.
Pros
Sturdy frame construction – can support users up to 300 lbs;
Space-saving, folding design;
The thick vinyl finish on the gliding board and 3.5″ cushioning;
Eight adjustment positions for the rail system;
Heavy-duty nylon pulleys with internal ball bearings;
A versatile machine, offering the possibility to perform more than 70 exercises;
Workout exercise booklet, along with diet plan, included;
Multiple attachments included;
Exercises DVD included;
Access to Total Gym TV;
Excellent for strength, pilates, and cardio training;
You can use it for inclined dumbbell press as well;
Quiet operation, suitable for apartment building use;
Little maintenance is required;
A minor assembly is required.
Cons
They have limited weight resistance.
Total Gym APEX G3 Home Gym Summary
The Total Gym APEX G3 is a versatile home gym system that uses your weight for resistance. It offers the possibility of performing more than 70+ exercises and benefiting from a full-body workout. In addition, it includes various accessories, such as the Wing Attachment, the Cable Kit with D-Handles, Dip Bars, Squat Stand, Leg Pulley Set, an exercise flip chart, a start-up DVD, and access to the Total Gym TV.
Moreover, it's an excellent machine for muscle toning, pilates, stamina development, weight loss, and maintaining a healthy physical and cardiovascular shape.
I hope you found this article helpful and informative. Would you please speak up if you have anything you'd like to share on the topic or any opinions about my website? I look forward to your comments, questions, and the sharing of ideas.
Please remember that you should consult your physician to determine if you have any medical or physical conditions that could risk your health and safety or prevent you from using the equipment properly. In addition, your physician's advice is essential if you are taking medication that affects your heart rate, blood pressure, or cholesterol level.