The design of the Body-Solid DLAT-SF Pro Dual Lat & Mid Row Machine is impressive with advanced structural engineering and biomechanics. The machines are innovative and feature robust materials that increase the durability of frequent use. The exterior of the frame features electrostatically applied powder coating with 11-gauge oval tubing for additional comfort and protection.
The high-density foam rubber handgrips and handles make it easier to exercise because there is less pressure. The aircraft cables withstand 2500 lbs of force (1133.9 kg), and they are .217 inch in diameter (5.5 mm). Durafirm upholstery, constructed with two-inch high-density foam, is featured on the seat and can withstand the wear-and-tear of daily use.
The Lat Pulldown with Mid Row Machine also features a no-cable-change design to provide seamless transitions between long pull and seated row exercises. Adjustable hold-down pads add stability for lifts beyond that of a user's body weight.
This device is made of quality materials and is highly effective for people who need a quality workout. The variety of exercises is a great way to get an effective upper body workout. This machine provides a full upper body workout and is compact enough to be placed in a small home gym.
Learn more in my complete review below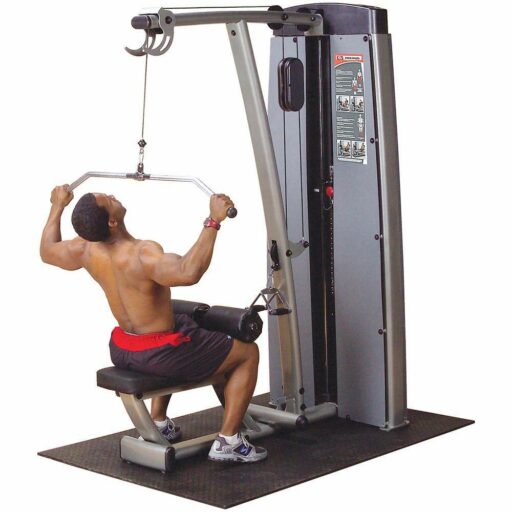 Product: Body-Solid DLAT-SF Pro Dual Lat & Mid Row Machine
Price: For a great deal on this gym, merely go here on Amazon
Warranty: Frame & Welds Lifetime / Pulleys, Bushings, Bearings, Hardware, Plates, Guide Rods Lifetime / Cables, Upholstery, Grips  Lifetime (Normal Wear) (see the commercial warranty below)
Amazon Affiliate Disclosure: I may earn commissions on purchases made through links in this post.
Details and Specifications
Assembled dimensions: 68L x 33W x 83H inches (173L x 84W x 211H cm)
Assembled weight: 529 lbs (240 kg)
Weight stack: 210 lbs (95 kg)
Possible exercises: 15+
Commercial Warranty: Frame & Welds Lifetime / Pulleys, Bushings, Bearings, Hardware, Plates, Guide Rods 3 years / Cables, Upholstery, Grips 1 year (Normal Wear)
In-home Warranty: Frame & Welds Lifetime / Pulleys, Bushings, Bearings, Hardware, Plates, Guide Rods Lifetime / Cables, Upholstery, Grips  Lifetime (Normal Wear)
DLAT-SF Frame construction
The Body-Solid DLAT-SF Pro is a commercial-grade lat machine, and therefore, it features heavy-duty construction. Its frame consists of 11 gauge 2.375″ x 4.625″ oval steel tubing designed to withstand 24/7 usage within the premises of a commercial gym club.
All the steel parts in its construction feature a corrosion-resistant and abrasion-resistant, electrostatically applied powder coating. The color used is metallic gray, this being the only color available for this Body-Solid home gym.
The fully assembled unit is hefty. It weighs over 500 lbs, and therefore, once assembled, it's relocation would be difficult. Also, its assembly requires two people. The base of the machine rests on stabilizers with rubber pads for floor protection. However, due to its impressive weight, it is recommended to place it on a rubber mat.
The unit is relatively large for a lat machine. It is approx. 68″ (173 cm) long, and 33″ (84 cm) wide, while its height is approx. 83″ (211 cm). Therefore, it should fit in a room with a 7′ (213 cm), but it will be a pretty tight fit. Also, it is advisable to leave at least two feet of clearance on each side and at the front for ease of access and unhindered usage.
One last aspect to mention here regards the weight stack covers. Not all home gyms come with such accessories. They add compactness to the machine and also maximize their overall safety.
Bench and Pulleys
The unit's bench features a durable base made of the same 11-ga ovalized steel bars like the rest of the frame. It does not have any specified weight capacity because it can pretty much support any user. Its exact dimensions are not specified, but it provides plenty of contact surface for any user. Its top cushion features 2″ (5 cm) of DuraFirm cushioning for optimal comfort.
The machine's bench comes with a heavy-duty knee stopper featuring 6″ (15 cm) thick foam rollers for each knee. The knee stopper is adjustable; its upright bar has several adjustment positions. It's also important to mention that the bench of the unit is non-adjustable. Its top is at approx. 16″ (40 cm) above floor level.
The Body-Solid DLAT-SF lat machine integrates seven fiberglass-reinforced nylon pulleys. They are all equipped with industrial-grade sealed ball bearings for a prolonged lifespan. The aircraft cables are .217 inch (5.5 mm) steel ropes coated with a layer of PVC material to prevent pulley scratching and to deliver a smoother movement. They are both rated for 2,500 lb duty so that they can handle with ease the 210 lbs (95 kg) weight of the machine's stack.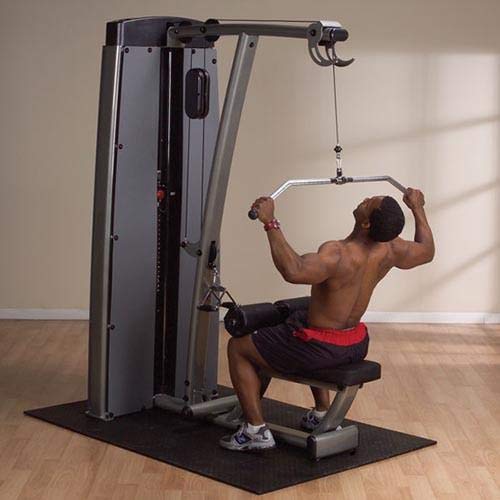 DLAT-SF Workout stations and accessories
The Body-Solid DLAT-SF lat machine makes available two workout stations. These are:
Lat pull-down station (high pulley). This offers the possibility to perform all types of lat pull-down exercises, as well as tricep press downs. It includes a standard lat bar with curved grips for optimal comfort. You can also opt for a tricep rope.
Mid-pulley station. This workout station offers the possibility to perform seated rows, woodchops, and other mid-pulley exercises. The machine includes a seated row V-handle for it. However, you can also equip it with an ab crunch harness, a single-grip D-handle, or a short straight bar. These accessories are not (included) with the machine.
It's also important to mention here that each workout station has its cable. Thus, you don't have to swap cables if you want to alternate exercises. This can save a lot of time and hassle for each workout session.
Weight Resistance
The Body-Solid DLAT-SF lat and the mid-row machine come with a 210 lbs (95 kg) weight stack, which is composed of 20 weight plates, 10 pounds (4.5 kg) each. The top selector plate also weighs 10 lbs (4.5 kg), so the total weight of the stack is 210 lbs (95 kg).
The weight plates are made of heavy-duty cast iron. This is one of the reasons it is more expensive than other lat machines; cast iron plates are superior to cement/vinyl plates. The stack features a standard, pin-based selection system, and each plate has a sticker that specifies the weight load.
The unit's weight stack is upgradable. You can opt for a 310 lbs stack (140.6 kg), in case the included 210 lbs (95 kg) doesn't suffice your needs.
DLAT-SF Possible Exercises
Since it's a fitness machine with only two main workout stations, the repertoire of exercises is not too broad. However, DLAT-SF offers the possibility to perform more than 15 activities. Among them, we can count:
Lat pull-downs
Behind neck lat pull-downs
Close grip lat pull-downs
Reverse grip lat pull-downs
One-arm lat pull-downs
Straight arm pull-downs
Standing tricep press downs
Seated tricep press downs
Seated rows
Stand-up rows
Mid-pulley curls
Cable crunches
Cable punches
High-pulley woodchops
Mid-pulley woodchops
… and more.
Of course, some of these exercises require extra accessories. For example, woodchops are possible by using the included V-grip, but these can work better with a woodchop bar. Also, for mid pulley ab crunches, an ab harness is recommended.
DLAT-SF Assembly and Maintenance
The DLAT-SF lat and mid-row machine require full assembly. It comes in several heavy boxes, so it's best to have two people for its transport and construction. The assembly part will take at least a couple of hours, but it's far from being a complicated task. The included manual offers detailed step-by-step assembly instructions and schematics. Tools for assembly are not (included); you will need two adjustable wrenches, a set of Allen wrenches, a Phillps screwdriver, and a rubber mallet for it.
Once fully assembled, you don't have to worry too much about maintenance. It is recommended, though, to periodically lubricate the guide bar of the weight stack for a smooth plate movement. Pulleys may also require lubrication from time to time.
Pros
Heavy-duty commercial-grade construction;

Body-Solid DLAT-SF Pro Dual

Aesthetic design;
Rubber pads on all base contact points;
Adjustable knee stopper;
6″ thick cushions for the knee stopper attachment;
A sturdy bench with 2″ cushioning and DuraFirm upholstery;
Heavy-duty nylon pulleys, with sealed ball bearings;
2,500 lbs tensile strength, PVC-coated cables;
Mid-pulley station included;
Standard lat bar with curved grips included;
Seated row V-grip included;
210 lbs weight stack;
The weight stack is upgradeable to 310 lbs;
Cast iron weight plates;
Offers the possibility to perform more than 15+ exercises;
Fairly easy to assemble;
Little maintenance required;
Lifetime warranty for all parts.
Cons
The bench is non-adjustable;
Ab crunch harness and other accessories are not (included) with the machine.
Body-Solid DLAT-SF Summary
The Body-Solid DLAT-SF is commercial-grade lat and mid-row machine. It features heavy-duty construction and includes a 210-lb cast iron weight stack. Also, it comes with an adjustable knee stopper featuring 6″ thick cushions. It offers the possibility to perform more than 15+ exercises. In all, it's a top-quality lat machine, great for any home gym or commercial gym setup, and users of all levels.
I hope you found this article helpful and informative. If you have anything that you'd like to share or any opinions about my website, please do speak up. I look forward to your comments, questions, and the sharing of ideas.
Related articles: