The Body-Solid Endurance E5000 Elliptical Trainer is the perfect blend of research, engineering, performance, and technology. Patented technologies provide a stable, space-efficient platform for rigorous, low-impact, full-body workouts.
Combining a natural stride, quality manufacturing, and superior programming has created the latest evolution in cardio training. The E5000 uses an internal generator eliminating any power requirement. Designed for extreme durability, the E5000 offers a commercial warranty.
The Body-Solid Endurance E5000 elliptical trainer offers various program modes, including a Quick-Start Mode, 6 Preset Program Modes, 5 HRC (Heart Rate Control) Programs, and two User Profile Modes. The six program modes are Mountain, Hill, Random, Interval, Interval Mountain, and Interval Speed Training.
In addition, it has a 2-window, color LED display with easy-to-use functional buttons and program controls. The message window displays Time, Distance, Speed, Stride/Min, Calories Burned, Pulse, Resistance Level, and Calories/Hour. The 10 X 14 LED profile window displays Program Profile, Tension Bar, Heart Rate Bar (HR Programs only), Lap Progress Display, and Lap Counter.
Learn more in my complete review below!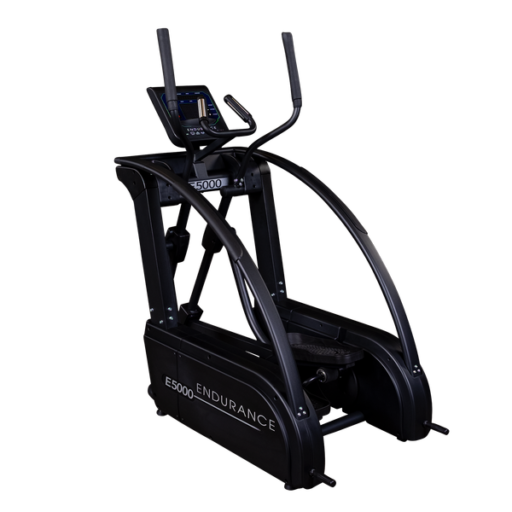 Product: Body-Solid Endurance E5000 Elliptical Trainer
Price: For a great deal on this elliptical, merely go here to Amazon.com
Warranty: In-home: Frame lifetime / Parts 5 years / Labor 1 year (see the commercial warranty below)
My rating: 9.25/10
Affiliate Disclosure: As an Amazon Affiliate Program participant, I earn commissions on purchases made through links in this post. Full disclosure
Details and Specifications
Assembled dimensions: 68L x 31W x 69H inches (173L x 79W x 175H cm)
Assembled weight: 249 lbs (113 kg)
Max. weight capacity: 325 lbs (147 kg)
Stride: 21 inches (53.3 cm)
Incline: No
Handlebars: Both mobile and fixed (with pulse sensors)
Resistance system: Magnetic (motorized), 20 levels, self-generated power
Console: 14 programs
Extras: Bottle holder
Warranty:
– In-home: Frame lifetime / Parts 5 years / Labor 1 year
– Commercial: Parts 3 years / Labor 1 year
E5000 Frame Construction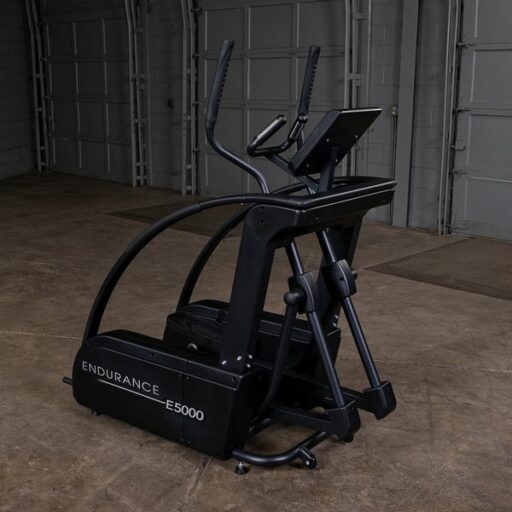 The Body-Solid Endurance E5000 elliptical trainer features a heavy-duty frame combining rectangular and cylindrical bars in its construction. In addition, all the steel parts come double-coated with a corrosion-resistant and chip-resistant paint finish.
However, the trainer also integrates a few plastic parts. For example, the side covers of the drive elements and several other small covers are durable thermoplastic polymers. However, these don't reduce the machine's overall sturdiness; their role is only protective and cosmetic.
One of the main pluses of the Endurance E5000 elliptical is its small footprint. Due to the central drive system, it only takes 68″L x 31″W (173 x 79 cm) of floor space. However, when in use, the base sections of the moving arms extend past the base, so the machine's total length becomes approximately 72″ (183 cm).
Therefore, leaving at least two feet of clearance all around the unit is advisable for easy access and correct usage.
Like most other commercial ellipticals, the E5000 is quite heavy. Its net weight is 249 lbs (113 kg), so two people should carry and assemble the trainer. However, once completed, one person can move the machine as it has two handles on the rear base and small wheels on the front base. It also rests on four heavy-duty adjustable levelers.
The machine comes equipped with two sets of handlebars. One is stationary; the other one is mobile. The stationary handlebars attach to the front transversal bar of the machine. They also integrate HR pulse sensors.
The moving arms connect to the pedal bars and the top front section of the frame. They have more extended grips but do not integrate any HR pulse sensors. In addition, this elliptical trainer also has two curved side rails, which can be extremely handy for users who require recovery training.
Drive system and pedal construction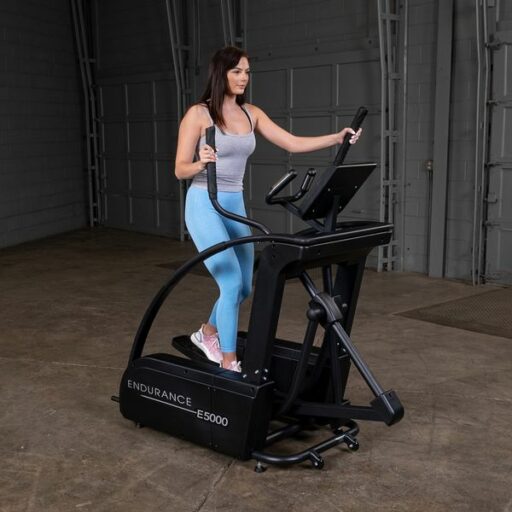 As I mentioned earlier, the Body-Solid Endurance E5000 elliptical trainer has a central drive system. So, for example, the pulley and the flywheel integrate into one of the base side units of the machine, while the other side has an extra drive wheel for balance.
The pedals are right in the middle. Their base bars slide on two cylindrical wheels with heavy-duty ball bearings attached to a Z-shaped crankshaft. The shaft connects to the primary pulley and the drive wheel on the opposite side.
The pedals have a pretty standard construction. They do not have extra cushioning. Their trays are durable ABS material and have front guards and a textured surface for superior foot stability. They're solid enough to support users up to 325 lbs (147 kg).
The machine's drivetrain uses a poly-v belt. Therefore, you don't have to worry about taking the drive unit apart to lubricate the drivetrain. Also, the belt generates less vibration than a chain, leading to a smoother pedaling motion.
Furthermore, this Body-Solid elliptical trainer does not have an incline system. Instead, it offers a stride of 21″ (53.3 cm), providing plenty of motion range for most users. However, the stride length is non-adjustable.
Also, due to the center drive system, the machine offers a natural elliptical path that simulates a walk on a plane surface without being inclined too forward or backward. Therefore, it results in better balance for the user, a healthy posture, and a low impact on the joints and back.
The step-up pedal height is approx—8″ (20 cm). Thus, stepping up on the pedals should be easy for most users. However, the pedals reach approximately 16″ (40 cm) above the floor at their highest point. Therefore, it is advisable to use this machine in a room with a ceiling of at least 20″ (51 cm) higher than the height of the tallest user.
E5000 Resistance system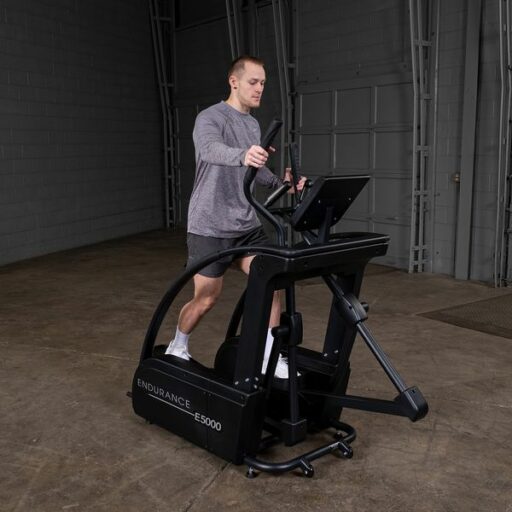 The Body-Solid Endurance E5000 elliptical trainer comes equipped with a motorized magnetic resistance system. In addition, it also has an internal generator that turns the kinetic energy created by your pedaling into the necessary power for the console and the internal motor.
Therefore, you don't need a power cable or adapter for the machine. Also, since the resistance is motorized, the elliptical can automatically adjust the resistance depending on the user program.
The machine's resistance system consists of a magnetic brake integrated into the internal flywheel system. The brake connects to the resistance motor, which connects to the console. Therefore, when you manually adjust the resistance from the + / – keys or when the user program automatically adjusts the resistance, the pull of the integrated magnets increases or decreases.
The E5000 elliptical offers 20 levels of resistance. The lowest level provides a reasonably light workout, great for recovery training. Conversely, even for the most seasoned users, the highest resistance level is challenging.
Magnetic resistance is a big plus for any fitness machine. The magnets don't touch the flywheel or the other internal parts. Therefore, the brake elements have no friction and wear-and-tear, while the pedaling is smooth and quiet.
Console
The Body-Solid Endurance E5000 elliptical trainer comes with a reasonably decent console, even if it does not have Bluetooth connectivity and is not compatible with any fitness apps. In addition, it features two LED displays.
The top-long LED display indicates the workout metrics, such as time, calories, distance, pulse, speed, resistance level, strides per minute, and calories per hour. In addition, the 10 x 14 inch LED display shows the grid of the program in use, as well as other workout-related messages.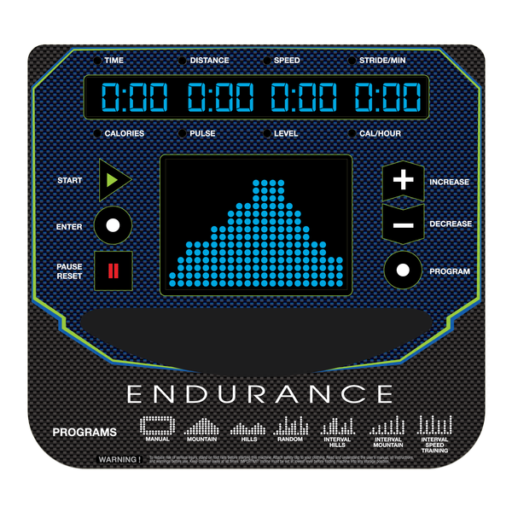 For speed and distance, you can select either Imperial or metric units. The console's pulse reading function is bi-functional. It can read your pulse if you hold on to the integrated HR pulse sensors on the fixed handlebars of the machine or if you wear the included wireless HR chest strap.
The console offers several workout programs. You are starting with the Manual program, which allows you to exercise freely, making manual resistance adjustments from the +/- keys on the console. If the manual program is in use, the console shows a lap counter, each lap having approx. 400 m.
Next, there are six preset programs. These are Mountain, Hill, Random, Interval Speed, Interval, and Interval Mountain. In addition, five heart rate programs adjust the machine's resistance depending on your current heart rate. And finally, there are two user profiles available. Each user can save their program preferences and create their custom program.
The console is pretty easy to use. It has Start/Pause buttons, an Enter button for the data confirmation function, +/- buttons for increasing or decreasing resistance and program parameters, and a program button that allows you to select the desired program.
Unfortunately, it does not have integrated speakers or a cooling fan. However, it has a small shelf to place your phone. In addition, a bottle holder comes with this machine.
E5000 Assembly and Maintenance
The machine's base with the drive and resistance elements comes pre-assembled. However, the rest of the parts require user assembly. You will have to connect the upright frame to the base frame and the cables, add the side handrails and attach the pedals, the moving arms, the console, and several other small parts and covers.
Therefore, it may take up to two hours of your time. Also, two people should assemble the trainer due to the impressive weight of the parts. The whole task is not too tricky, though, and the manual provides clear, step-by-step instructions with attached schematics.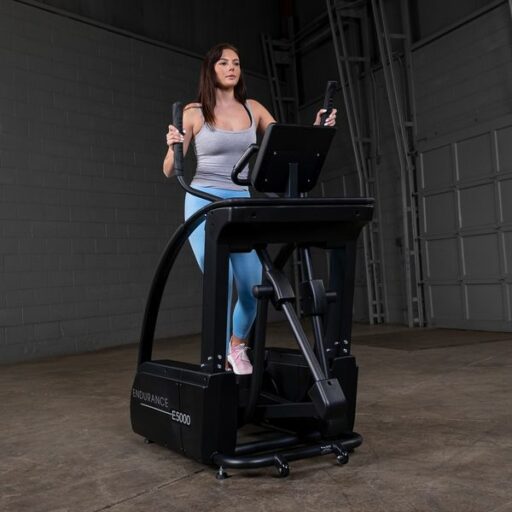 For maintenance, it is advisable to keep the machine clean. The pedals and the joints may require lubrication from time to time. However, the internal parts do not require lubrication. It is also advisable to periodically inspect the trainer to ensure that all the parts are tight and function correctly.
Pros
Heavy-duty commercial-grade construction;
Can support users up to 325 lbs;
Low center of gravity and superior stability;
Adjustable levelers;
Transport wheels and rear handles;
Center drive design for an anatomically correct elliptical path, promoting a natural stride;
Small footprint;
EKG HR pulse sensors integrated into the fixed handlebars;
Wireless HR chest strap included;
Extended handrails for recovery training and physiotherapy.
Quiet operation, ideal for apartment use;
Easy-to-use console with straightforward controls;
Self-generated power – no adapter or power cord required;
20 levels of eddy current resistance;
Six preset workouts;
Two user profiles;
Five heart rate programs;
Lap count function;
Bottle holder included;
Device holder included;
Little maintenance is required;
Excellent warranty.
Cons
The console does not have Bluetooth connectivity;
The console is not compatible with any fitness apps.
Body-Solid Endurance E5000 Elliptical Trainer Summary
The Body-Solid Endurance E5000 is a heavy-duty, commercial-grade elliptical trainer. It features a center drive design with a small footprint and an anatomically correct elliptical path. In addition, it has a self-powered magnetic resistance system with 20 distinct levels and a console with 14 workout programs.
Moreover, it's an excellent machine for users of all levels for recovery training, high-intensity cardio training, stamina and strength development, muscle toning, and weight loss.
I hope you found this article helpful and informative. Would you please speak up if you have anything you'd like to share on the topic or any opinions about my website? I look forward to your comments, questions, and the sharing of ideas.
Please note that you should consult your physician to determine if you have any medical or physical conditions that could risk your health and safety or prevent you from using the equipment properly. In addition, your physician's advice is essential if you are taking medication that affects your heart rate, blood pressure, or cholesterol level.