Suppose you're looking for an affordable treadmill. In that case, the XTERRA Fitness TR150 Treadmill combines the quality and performance you desire with the flexibility of a machine that can be easily folded up and stored away.
Specifically designed for the home environment, the TR150 incorporates thoughtful features XTERRA developed with your performance and comfort. So start on the road to fitness today with the XTERRA TR150 Treadmill.
The TR150 comes equipped with a powerful, smooth, and quiet high torque 2.25 HP motor to power the treadmill at 0.5 – 10 mph speeds. In addition, the 16W x 50L running surface provides enough room for users of all fitness levels and sizes. The three manual incline settings offer maximum variety.
The XTERRA Fitness TR150 treadmill console features an easy-to-read 5″ LCD that tracks all necessary workout feedback, including time, speed, distance, calories burned, and pulse. Additionally, hand pulse sensors are conveniently integrated into the side handlebars to keep you in your training zone and help you achieve your goals.
Learn more in my complete review below!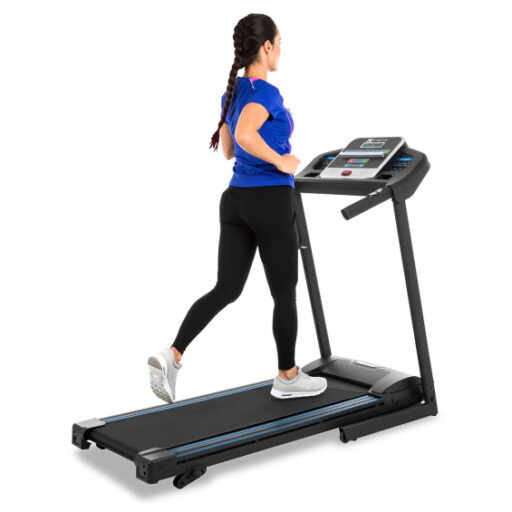 Product: XTERRA Fitness TR150 Treadmill
Price: For a great deal on this treadmill, merely go here to XTERRA Fitness.com
Warranty: Frame lifetime / Motor 1 year / Parts 90 days / Labor 90 days
My rating: 8.75/10
Affiliate Disclosure: As an XTERRA Fitness Affiliate Program participant, I earn commissions on purchases made through links in this post. Full disclosure
Details and Specifications
Assembled dimensions: 63.4L x 28.75W x 51.4H inches (161L x 73W x 130H cm)
Tread belt dimensions: 50L x 16W inches (127L x 40.6W cm)
Assembled weight: 97 lbs (44 kg)
Weight capacity: 250 lbs (113.3 kg)
Motor: 2.25 HP, 0.5-10 MPH
Incline: Manual, three levels
Deck cushioning: XTRASoft
Console: 12 programs
Extras: Tablet holder, accessory holders
Warranty: Frame lifetime / Motor 1 year / Parts 90 days / Labor 90 days
TR150 Frame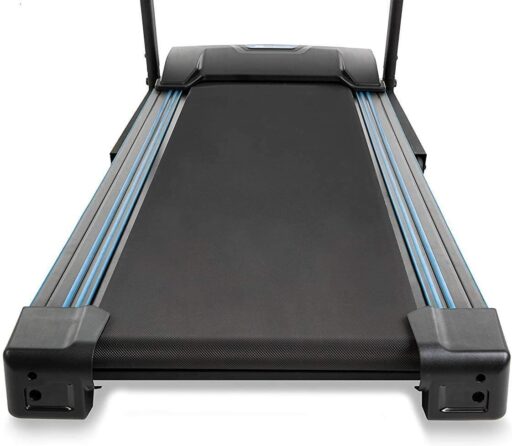 Although it's considered a light-capacity treadmill, the XTERRA Fitness TR150 Treadmill has a durable steel tubing frame. Thus, the machine has a maximum user weight capacity of up to 250 lbs (113.3 kg).
The only ABS parts in its construction are the side rail covers, the motor cover, and the console dashboard. In addition, all the steel parts within the frame feature a corrosion-resistant black paint finish.
The XTERRA TR150 is not as large as a commercial machine. However, it's still 63.4″ (161 cm) long and 28.75″ (73 cm) wide. Plus, it's advisable to leave at least two feet of clearance on each side, at least three feet at the rear, and at least one at the front, for safe operation and ease of access. Therefore, it may not fit very well in a small room.
On the other hand, the unit features a folding design. Its deck can fold up, and its footprint is approximate with the deck folded up. 29″D x 28.75″W (74 x 73 cm).
The fully assembled unit is pretty heavy. It weighs approx—97 lbs (44 kg). However, the front base comes equipped with a set of transport wheels. So, relocating the treadmill once you have finished your workout isn't too difficult as you won't be handling more than 35%-40% of its total weight.
Deck
The XTERRA Fitness TR150 comes equipped with a heavy-duty, non-slip rubber belt. It provides a running surface of 50″L x 16″W (127 x 40.6 cm).
Therefore, it's a treadmill for walking and jogging, even if it provides a maximum running speed of 10 MPH. A person taller than 6'0″ (183 cm) may find this running surface short for a complete and satisfying stride. But for walking and light jogging, it should suffice.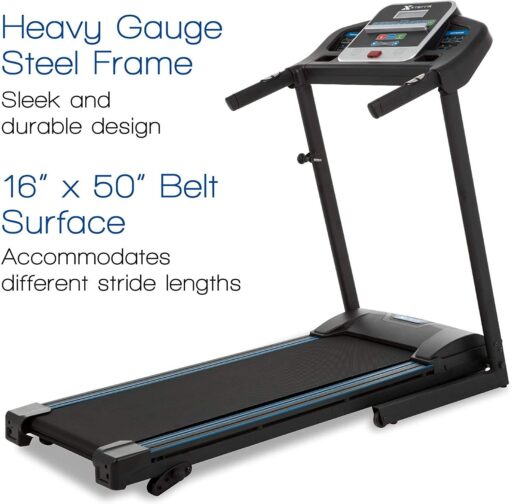 The deck comes with the XTRASoft cushioning system, similar to the XTERRA Fitness TRX3500. This cushioning system consists of three shock absorption elements on each side of the deck. These reduce 20% of the impact generated during each foot stroke, which results in a healthier and more comfortable stride.
TR150 Incline & step-up height
This XTERRA treadmill features a manual incline system. Therefore, you cannot adjust the deck's incline during your workout. Instead, the adjustable rear stabilizers make the unit's deck incline. They can easily lock into the desired position via a poppin.
The maximum incline level isn't extreme. The three incline increments are approximately 0.5°, 1°, and 2°. Nonetheless, even with two degrees of incline, you can still add some difficulty to your workout to burn more calories and lose weight.
Depending on the incline setting selected, the step-up deck height may vary. For example, at 0° incline, the step-up deck height is approx—5.5″ (14 cm). However, with the rear down, it is approximately 4.0″ (10 cm). Therefore, placing and using the machine in a room with a ceiling at least 10″ (25 cm) higher than the tallest user's height is advisable.
Drive Motor
The XTERRA Fitness TR150 treadmill comes equipped with a 2.25 HP motor. Although it's not a super powerful motor, it can withstand prolonged jogging or walking workouts, even at full speed. It also comes with a small flywheel which stabilizes the rotation motion, rendering the movement of the belt much smoother.
The unit's motor offers a speed range between 0.5 and 10 MPH. There are quick speed adjustment keys on the console for 1 MPH to 9 MPH. However, the gradual speed adjustment keys offer increments of 0.1 MPH. Also, the speed of the belt adjusts smoothly, without abrupt changes, allowing you to adapt your pace accordingly.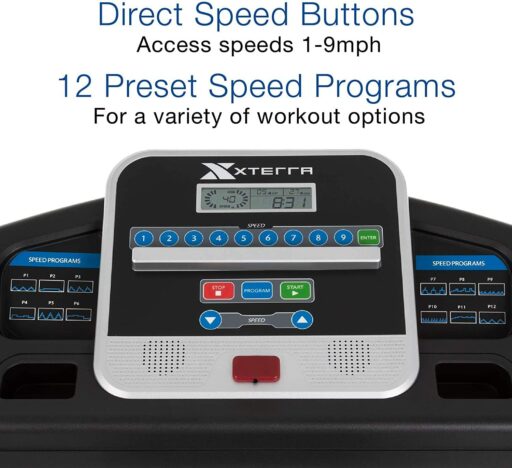 The machine's console offers several programs; if you choose to exercise via one of these programs, the treadmill automatically adjusts the speed of the belt according to each segment of the workout in use.
Last but not least, its power consumption is also minimal since it's a light motor. Accordingly, even if you use it daily, it shouldn't add more than a few dollars to the electricity bill. Also, the motor doesn't generate much noise when used, but your cadence may create more or less noise depending on how fast you go.
TR150 Console
Although it doesn't have Bluetooth and is not compatible with any online fitness apps, the console of the XTERRA TR150 does have quite a few features to keep you motivated. To begin with, it has an LCD with pretty significant, easy-to-read digits, which tracks time, distance, speed, calories, and pulse.
There are only English (miles, MPH) settings for distance and speed. However, the distance traveled has an oval race track on the left side of the screen. This feature counts the laps you have completed every 1/4 mile.
Unfortunately, the console is not telemetric. Therefore, it can only read your pulse through the sensors integrated into the handlebars. It doesn't work with POLAR or other HR chest strap transmitters.
There are 12 preset programs available (P1-P12), plus the Manual program. Most of the preset programs are interval-based. Each one of them has a default duration of 30 min. During a selected program, the speed adjusts automatically every 3 minutes.
Each one of the programs is customizable, though. You can increase or decrease the speed setting of each interval. Of course, the Manual program allows you to exercise freely, adjusting the speed as you like during your workout.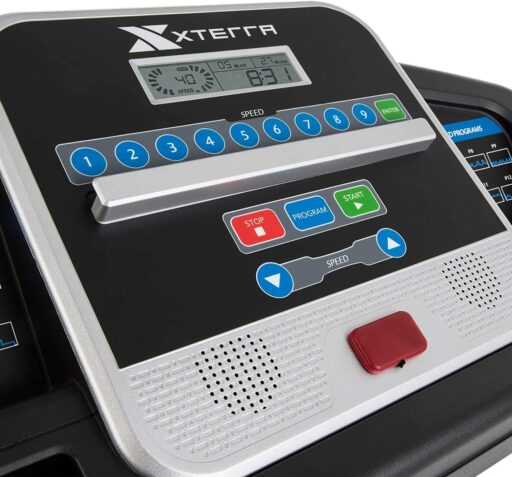 The console features Stop/Start buttons. The Stop button gives you the possibility to pause your workout if needed. However, the pause is only 5 minutes long. After 5 minutes, the display will reset and return to the start-up mode.
In terms of non-fitness features, the console has a reading rack or tablet holder. Also, its dashboard has two molded, small compartments for various accessories. Unfortunately, the console doesn't have a sound system, USB charging port, or a cooling fan.
TR150 Assembly & Maintenance
The treadmill's deck comes completely assembled. Therefore, you only have to attach the side console masts and the console and connect its wires in assembly.
Consequently, it shouldn't take longer than 30 minutes of your time. Furthermore, all the assembly instructions are precise, and the tools for assembly and belt adjustment come with the machine.
You should lubricate the belt after every 40 hours of use in terms of maintenance. The console has a lube notification function that reminds you to lubricate the belt.
It would also help keep the belt clean to prevent foreign objects from being dragged into the rollers or motor and causing damage. And finally, it's advisable to periodically check the machine for loose bolts or broken parts and retighten or replace them to prevent accidents or irreparable damage.
Pros
Sturdy construction for a walking treadmill (can hold users up to 250 lbs);
Folding deck, space-saving design;
Transport wheels;
XTRASoft cushioning for a low-impact ride;
Manual incline with three levels of adjustment;
Speed settings up to 10 MPH;
Speed adjustment increments of 0.1 MPH give you the possibility to find the perfect pace for your workout;
Quick keys for speed adjustment for the 1-9 speed settings;
Low power consumption;
Accessory trays built into the dashboard;
Tablet holder included;
12 preset workout programs;
Track function for distance, which counts the laps you have completed;
Pulse reading function;
Very easy to assemble;
Little maintenance is required.
Cons
There is no goal function;
No backlight on the console LCD;
The calorie reading function isn't too accurate.
XTERRA Fitness TR150 Treadmill Summary
The XTERRA Fitness TR150 is a treadmill for walking and jogging, equipped with a 2.25 HP motor that offers a speed range of 0.5-10 MPH. It has a manual incline system with three positions. Furthermore, its frame is foldable and pretty durable for a light-capacity machine, having a maximum user weight limit of up to 250 lbs.
Moreover, it's an excellent fitness machine for light to medium cardio workouts, muscle toning, weight loss, intervals, and stamina development. And finally, it's an affordable machine, offering great value.
I hope you found this article helpful and informative. Would you please speak up if you have anything you'd like to share on the topic or any opinions about my website? I look forward to your comments, questions, and the sharing of ideas.
Please note that you should consult your physician to determine if you have any medical or physical conditions that could risk your health and safety or prevent you from using the equipment properly. In addition, your physician's advice is essential if you are taking medication that affects your heart rate, blood pressure, or cholesterol level.