The Body-Solid Endurance B4UB Upright Bike is a comfortable, easy-to-use cardio bike for home and commercial use. The B4UB gives users the experience of a road bike in the comfort of a home workout space or fitness facility.
Ergonomic handlebars provide users with a wide range of hand positions and offer stability and safety when getting on and off the bike. Designed for comfort even on long rides, the B4UB's DuraFirm Seat features custom shaping and extra support. The 4-way adjustable seat also guarantees that users of all sizes can find a comfortable, stable fit.
The B4UB features numerous programs, including Manual, Strength, Cardio, Hill, Fat Burn, Interval, Speed Training, Fitness, Watt, Personal, Target Heart Rate, and Random. In addition, real-time feedback gives users speed, RPMs, heart rate, distance, time, watts, and calorie readings on an easy-to-read bright LED display.
Learn more in my complete review below!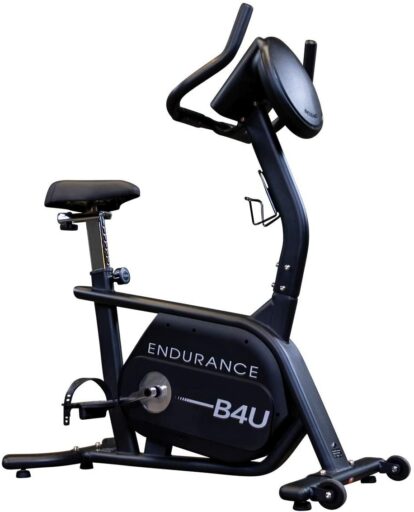 Product: Body-Solid Endurance B4UB Upright Bike
Price: For a great deal on this bike, merely go here to Amazon.com
In-Home Warranty: Frame lifetime / Parts 5 years / Electronics 2 years / Wear parts 6 months / Labor 1 year (see light-commercial warranty below)
My rating: is 9/10
Affiliate Disclosure: As an Amazon Affiliate Program participant, I earn commissions on purchases made through links in this post. Full disclosure
Details and Specifications
Assembled dimensions: 47L x 22W x 55H inches (119L x 56W x 140H cm)
Assembled weight: 96 lbs (43.5 kg)
Weight capacity: 300 lbs (136 kg)
Seat: Cushioned, adjustable
Backrest: Mesh, non-adjustable
Resistance: Motorized magnetic, 24 levels
Console: 6 workout modes, 21 programs
Extras: Device holder, bottle holder
In-Home Warranty: Frame lifetime / Parts 5 years / Electronics 2 years / Wear parts 6 months / Labor 1 year
Light-Commercial Warranty: Frame 15 years / Parts 3 years / Electronics 2 years / Wear parts 6 months / Labor 1 year
B4UB Frame Construction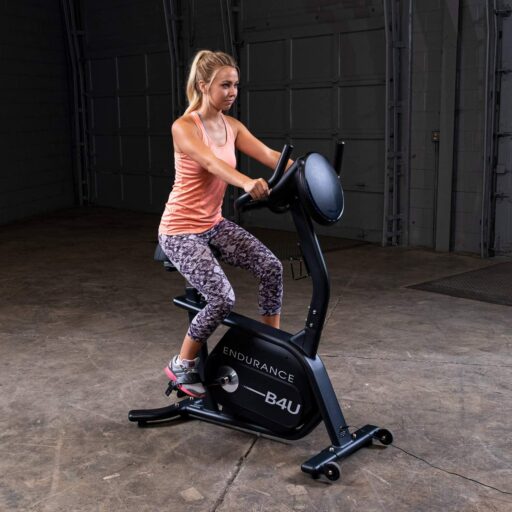 The Body-Solid Endurance B4UB Upright Bike features a different construction than most other models. First, it has a bar connecting the seat and front mast tubes while providing upper protection and reinforcement for the drive unit.
Second, the tube that holds the crankset and pulley (concealed by the plastic guards) welds to the base bar and top bar, which considerably improves the structural strength of the frame.
All the steel frame parts come double-coated with a black paint finish. The only exception is the chrome-plated seat post. The bike also integrates several plastic parts. The most notable ones are the drive and resistance covers, the console casing, and the pedals. These are all rigid ABS polymers.
The Endurance B4UB is relatively large for an upright bike. Its net footprint is 47″L x 22″W (119 x 56 cm), while the top of the handlebars reaches approx—55″ (140 cm) above the floor. Body-Solid advises leaving at least two feet (61 cm) of clearance all around the bike for easy access.
The bike is pretty heavy, as well. Its net weight is 96 lbs (43.5 kg). Therefore, two people should carry and assemble the bike. However, one person can handle and move it with ease once completed. Its front bar stabilizer has two large transport wheels. Also, both stabilizers rest on large adjustable levelers.
Seat and handlebars
The Body-Solid Endurance B4UB upright bike comes equipped with a pretty standard saddle constructed on a nylon shell with a thick urethane cover and a layer of padding.
It does not have a median groove like other types of bike seats and does not have super contouring. However, it is relatively large, providing plenty of contact surface and optimal comfort.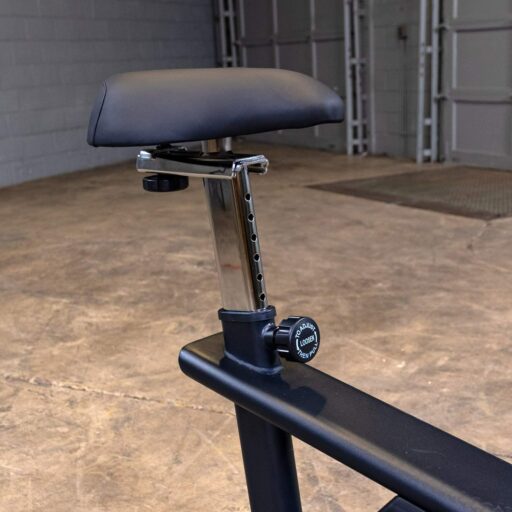 The seat post features a triangular plate at the top, and the saddle attaches to it via three screws. The seat is four-way adjustable (up, down, front, back). Its vertical post has multiple adjustment holes, while the horizontal slider adds a few more inches of front-to-back adjustment.
Therefore, the bike comfortably accommodates users between 5'0″ and 6'5″ (153 – 196 cm). It also has a maximum user weight limit of up to 300 lbs (136 kg).
The bike's handlebar features a multi-grip design. It offers the possibility of adopting three grips: an off-road grip, a climbing grip, and a standard grip. In addition, its side grips feature PVC foam sleeves for improved contact. It also comes equipped with integrated metallic HR pulse sensors.
Unfortunately, the handlebar assembly is non-adjustable. However, it attaches to the front mast of the bike via four screws which considerably improves its sturdiness. As I've mentioned, its top grips reach approximately 55″ (140 cm) above the floor.
B4UB Resistance system
The Body-Solid Endurance B4UB upright bike has a motorized magnetic resistance system (or eddy current resistance). However, it does not have an internal power generator.
Therefore, you will need to connect it to an electrical outlet to power up its console and adjust the resistance. An adapter comes with the bike, and the connector integrates into the front base of the frame.
The resistance elements are a small servo motor and a magnetic brake integrated into the flywheel system. The motor makes the connection between the brake and the console. Therefore, when you increase or decrease the resistance from the console, the motor changes the magnets' pull on the flywheel, increasing or decreasing the pedaling difficulty.
The bike's eddy current resistance system has a few advantages over a standard friction system. First of all, the magnets do not touch the flywheel. Thus, there is no wear-and-tear, and you don't have to worry about brake pad replacements. Second of all, the pedaling motion is almost entirely silent.
The bike makes available 24 levels of resistance. The first few levels deliver a light pedaling difficulty, great for a workout warm-up, muscle toning, or recovery training. On the other hand, the 20-24 resistance levels provide an advanced difficulty level, which is great for strength development.
Drive system
The Body-Solid Endurance B4UB upright bike comes equipped with a belt drive system. It uses a poly-v belt designed for superior traction. The large ABS guards completely conceal it. Since it's not a chain, you don't have to worry about its lubrication.
The internal belt pulley is relatively large in diameter. However, the crankset is sturdy enough to support the user's standing.
However, this is not advisable, as the bike is not for spin workouts. The crank arms are steel-made with a chrome plating finish. The pedals are weighted, so they always self-level when you remove your feet from them. They also have adjustable straps.
The exact weight of the internal flywheel is not specified. But since the bike's net weight is 96 lbs (43.5 lbs), the flywheel probably weighs at least 20 lbs (9 kg). Nevertheless, it has a balanced structure for a smooth pedaling motion and delivers consistent momentum.
The flywheel is bi-directional, which means you can pedal reverse on the bike. When pedaling in reverse, the resistance remains constant, given by the selected tension level. However, you cannot coast on this bike; if you stop pedaling, the flywheel also stops.
B4UB Console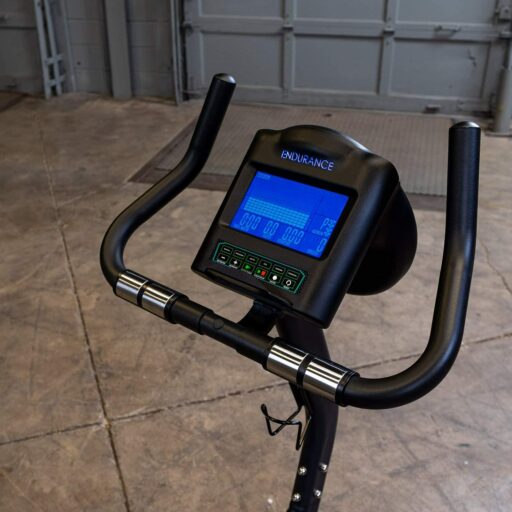 The Body-Solid Endurance B4UB upright bike comes with a multi-function console. It features an LCD with a blue LED backlight, divided into multiple sub-sections to show as many workout metrics at once. It tracks time, speed, RPM, distance, watts, calories, and pulse.
The speed and distance can be metric units (km/h, kilometers) or imperial units (MPH and miles). Also, the unit can read your pulse either through the sensors integrated into the seat's handlebars or a wireless heart rate chest strap. Unfortunately, the HR chest strap accessory does not come with the bike.
The console makes available six workout modes (Manual, Program, Watt, HRC, Random, and Personal) with a total of 21 workout programs. Each workout mode has a quick selection key on the console.
The Manual program allows you to exercise freely, adjusting the resistance as you like from the + / – buttons. You can also set time, distance, or calorie goals using this program.
The Program mode covers 12 pre-set programs, and these have various segment layouts, from hills and peaks to intervals. Finally, the Watt mode requires you to set a watt value to maintain during the workout.
The HRC mode has four heart rate programs; 3 of them are pre-set for 55%, 75%, and 90% HR, while the 4th one is custom. If using one of these programs, the console automatically adjusts the resistance depending on your BPM to keep you within the selected heart rate zone.
The Random mode will randomly create a program every time you initiate it. And finally, the Personal mode has five user profiles; each user can input their data (age, gender, height, weight) for better calorie and overall data monitoring.
It's also important to note that the console does not have Bluetooth and is not compatible with any fitness apps. It also does not have a sound system or a workout fan. However, it does integrate a small shelf that can serve as a tablet or phone holder.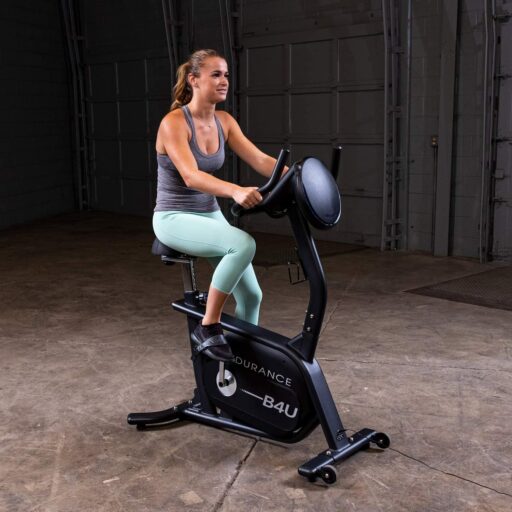 B4UB Assembly and Maintenance
The base frame of the bike comes pre-assembled. You only have to attach the two base bars, the front mast, the seat post, the seat, the handlebars, the console, and the pedals.
Therefore, it may take more than an hour of your time, but the whole task is pretty straightforward. The manual provides clear assembly instructions, schematics, and all the necessary assembly tools with the bike.
For maintenance, you only have to keep the bike clean, periodically check for loose bolts and parts, and retighten them as needed. The drive and resistance mechanism does not require lubrication or any other type of maintenance.
Pros
Professional-looking design, light-commercial bike;
Sturdy frame – can support users up to 300 lbs;
Large padded seat;
The seat is four-way adjustable;
Multi-grip handlebar with pulse sensors;
Weighted pedals with adjustable straps for extra stability;
Motorized magnetic resistance – 24 levels;
Multi-function console with a backlit LCD;
Six workout modes with a total of 21 workout programs;
Five user profiles;
Goal settings for distance, calories, and heart rate;
The console is telemetric – it can read pulse from a wireless HR chest strap;
Device holder included;
Bottle holder included;
Little maintenance is required;
Easy to assemble;
All the necessary assembly tools included;
Excellent warranty.
Cons
The heart rate chest strap does not come with the bike;
The console doesn't have online connectivity.
Body-Solid Endurance B4UB Upright Bike Summary
The Body-Solid Endurance B4UB is a light-commercial upright exercise bike. It has a 24-level motorized magnetic resistance system, a 4-way adjustable seat, and a console with six workout modes and 21 workout programs.
Furthermore, it's a bike for users of all levels, for light to intense cardio training, muscle toning, stamina and strength development, and weight loss. Moreover, it's not exactly the most affordable upright bike, but it offers excellent value.
I hope you found this article helpful and informative. Would you please speak up if you have anything you'd like to share on the topic or any opinions about my website? I look forward to your comments, questions, and the sharing of ideas.
Please note that you should consult your physician to determine if you have any medical or physical conditions that could risk your health and safety or prevent you from using the equipment properly. In addition, your physician's advice is essential if you are taking medication that affects your heart rate, blood pressure, or cholesterol level.