Get into shape with the Sunny SF-B1516 Commercial Cycling Bike! This bike offers all the necessities for an intense, enjoyable cycling workout at the gym or in-home comfort. The quality of its heavy-duty commercial-grade steel crank and mainframe will withstand time and go the distance with users of all sizes and levels!
With a newly improved crankshaft system, 48.5 lb chromed solid flywheel, fully adjustable seat and height-adjustable handlebars, micro-adjustable resistance, and built-on transportation wheels, the SF-B1516 is designed for convenience while also providing the challenging feel of outdoor cycling.
The Sunny SF-B1516 Commercial Cycling Bike features a 48.5 lb (22 kg) flywheel engineered for speed and stability. This flywheel will create more momentum for more extended periods keeping your workout going the distance. With a simple adjustment, you can increase or decrease resistance so your SF-B1516 training can remain challenging and effective.
Your SF-B1516 comes equipped with a quiet and smooth leather brake pad system. The resistance system allows for various tension levels, which will enable you to create an intense workout, thus burning more calories. The dual-sided pedals will accommodate both high-performance SPD cleats and traditional fitness shoes. Avoid foot slippage at increased levels of speed and intensity!
Learn more in my complete review below!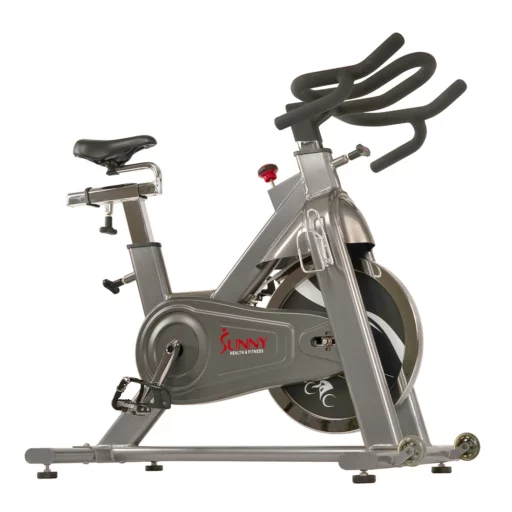 Product: Sunny SF-B1516 Commercial Cycling Bike
Price: For a great deal on this bike, merely go here to Sunny Health & Fitness.com
Warranty: Frame 3 years / Parts 180 days
My rating: 9/10
Affiliate Disclosure: As a Sunny Health & Fitness Affiliate Program participant, I earn commissions on purchases made through links in the post. Full disclosure
Details and Specifications
Assembled dimensions: 46L x 23W x 43H inches (117L x 58W x 109H cm)
Assembled weight: 135 lbs (61.2 kg)
Flywheel weight: 48.5 lbs (22 kg)
Supported weight: 300 lbs (136 kg)
Handlebar: 2-way adjustable
Seat: 4-way adjustable
Pedals: Dual-action SPD/Cages
Drive: Chain
Resistance: Friction, leather pad
Fitness Monitor: Not included
Warranty: Frame 3 years / Parts 180 days
SF-B1516 Frame construction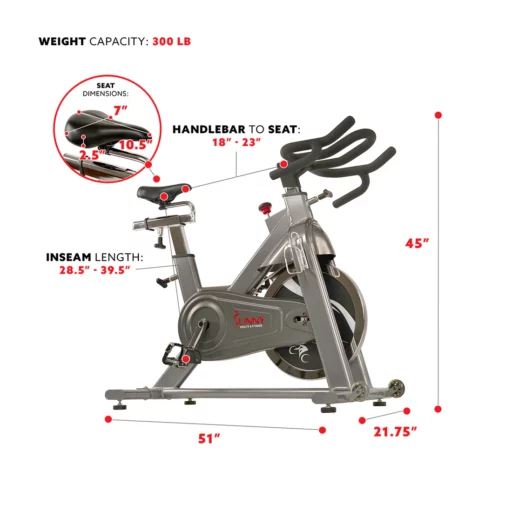 The Sunny SF-B1516 Commercial Cycling Bike is a heavy-duty indoor cycling trainer to support all spin workouts. Its frame is durable steel tubing. Most of the frame components are steel-made, except the chain guard. The brake pad guard is also steel-made, directly welded to the front fork and the main tube of the frame.
The bike's frame features a corrosion-resistant, industrial powder coating gray finish. However, the seat and handlebar posts, the crank arms, and the flywheel perimeter feature a chrome finish.
Although this Sunny exercise bike is not a large fitness machine compared to an elliptical trainer or a treadmill, it's still slightly bulkier than other bikes. Its footprint is 46″L x 23″W (117 x 58 cm), but it is advisable to leave at least two feet of clearance all around it for safe operation.
The Sunny SF-B1516 is considerably heavy compared with other models. When fully assembled, it weighs 135 lbs (~62 kg), approximately three times more than the average road bike.
Therefore, it provides excellent stability even for the workouts that require a lot of movement or the continuous changing of your position. In addition, two sets of adjustable levelers with rubber caps are on each base tube for enhanced stability.
Due to the bike's weight, two people should carry and assemble the bike. However, once completed, one person can easily relocate the bike by using the two transport wheels integrated into the front base. By leaning the bike onto its front wheels, you will essentially have to handle only half of its total weight.
Seat and handlebars
The saddle supplied with the Sunny SF-B1516 commercial cycling bike is a standard model, similar to most spin bikes. It integrates a thin layer of padding and features a contoured surface.
It measures 7″ (~18 cm) at its widest point, and its front-to-back length is 10 3/4″ (~27 cm). As a general idea, it's not a seat made for comfort. After all, this is an indoor cycling bike made for spin exercise routines.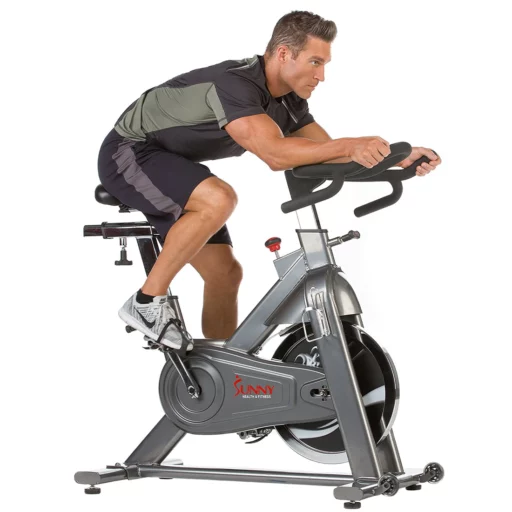 However, the saddle attaches to the adjustment bar via a standard system, so you can easily find a compatible replacement for it if you want a more comfortable seat. Its comfort can also be increased by a gel seat cover as well.
The bike's seat is 4-way adjustable. You can also slightly tilt it forward or backward. Its vertical post offers 14 adjustment positions and a total adjustment span of approximately 11″ (28 cm). At its lowest setting, the seat-to-pedal distance is 29.5″ (75 cm), while at its highest, the space is 40″ (102 cm).
The Sunny SF-B1516 commercial cycling bike features a multi-grip handlebar, which integrates aero bars and handles for a drop-down training position. It's wholly padded with rubber foam material for a sure grip and optimal comfort. Unfortunately, it's only 2-way adjustable, with a vertical adjustment span of 3.5″ (9 cm).
Thus, the bike can comfortably accommodate users between 5'0″ and 6'5″ (153 – 196 cm). However, users shorter than 5'5″ (160 cm) may find it challenging to exercise with both forearms on the aero bars, even with the seat adjusted all the way forward.
Last but not least, both the handlebar and the seat come equipped with large knobs and are easy to adjust. You can easily grip and turn the knobs, and the whole adjustment process does not take more than one minute.
SF-B1516 Drive system
The Sunny SF-B1516 commercial cycling bike features a chain drive system with several pluses and minuses. For example, a chain is much more durable than a belt and, with proper care, can last a lifetime. In addition, it's pretty much a standard bike chain; therefore, you can easily find a replacement for it if it breaks. Plus, it's stretch free.
On the other hand, it requires periodic lubrication to prevent rust. It also generates more noise than a belt drive. However, the noise generated by the chain is relatively soft and negligible.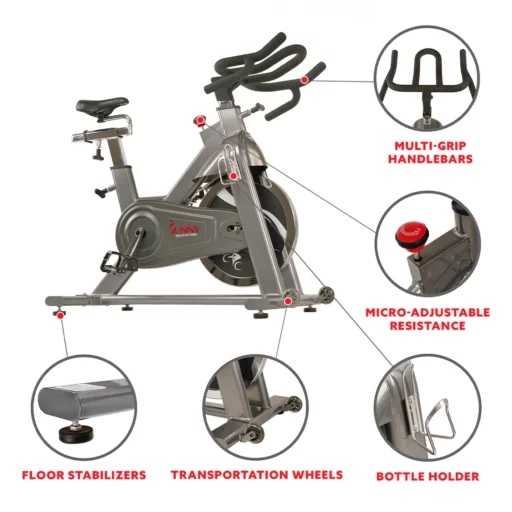 This Sunny exercise bike comes equipped with one of the heaviest flywheels that you can find on a spin bike. The flywheel weighs 48.5 lbs (22 kg) and delivers a very consistent momentum. It's also a perimeter-weighted, an aspect that adds stability and smoothness to the pedaling motion.
The bike comes with a heavy-duty crankset with solid steel crank arms, which can easily support up to 300 lbs (136 kg) of user weight. Therefore, the bike offers the possibility to exercise while completely standing up on the pedals.
The crank arms come with a metallic alloy finish and dual-action pedals; they feature SPD clips on one side and toe cages on the other. Thus, you can use various types of athletic shoes and SPD footwear.
Since it doesn't have a gear system like most road bikes, pedaling in reverse is possible. However, when changing the pedaling direction, it is advisable to use the emergency brake to stop the flywheel. Also, keep in mind that pedaling in reverse may loosen the pedals and require retightening.
Resistance system
When it comes to resistance, the Sunny SF-B1516 features a classic friction resistance system, which consists of a leather and felt pad connected to the main tube of the frame and the resistance knob that goes through it. By turning the knob clockwise, the pad applies more pressure and drags onto the flywheel, increasing the overall pedaling resistance.
There aren't any resistance levels or "clicks" specified on the resistance knob of the bike. Instead, tighten the brake until you obtain the suitable resistance for your workout. Remember that the bike comes with a heavy flywheel, and pedaling isn't exactly light. Therefore, this exercise bike may not be a good choice if you require recovery training due to surgery.
SF-B1516 Assembly and Maintenance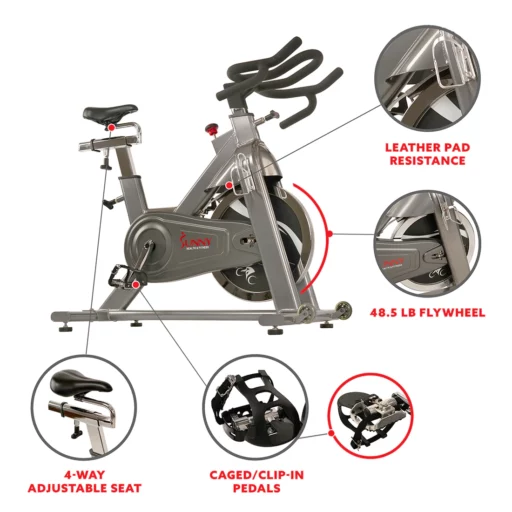 The bike's assembly is simple and doesn't take long. The main body of the cycle, including the flywheel, crankset, chain, chain guard, and resistance elements, comes pre-assembled.
Consequently, all you have to add are the base tubes, the seat, the handlebar, and the pedals. All the tools required come with the bike, and the manual supplied offers clear and concise assembly instructions.
For maintenance, the chain requires periodic lubrication. In addition, the brake pad may also require lubrication if it emits a squeaky noise when in contact with the spinning flywheel. For this, it's advisable to use a silicone-based lubricant.
Pros
Heavy-duty, commercial construction;
Adjustable, rubberized stabilizers on both bases;
Transport wheels;
300 lbs maximum user weight limit;
Accommodates users between 5'0″ – 6'5″;
Extra-heavy, perimeter-weighted flywheel, delivering a consistent momentum;
Solid crank assembly, which can support all kinds of spin workouts;
Dual-action, metallic pedals with SPD clips and toe cages;
4-way adjustable seat;
Multi-grip handlebar with low handles and aero bars;
Quiet, smooth, and durable chain drive;
Limitless resistance settings;
Bottle holder included;
Little maintenance is required;
Easy to assemble.
Cons
There is not a fitness monitor;
The handlebar is only 2-way adjustable.
Sunny SF-B1516 Commercial Cycling Bike Summary
The Sunny SF-B1516 is a commercial-grade indoor cycling bike featuring an extra-heavy flywheel, classic friction resistance, and excellent micro-adjustability. In addition, it has a heavy, durable, and stable construction designed to support any spin workout.
Furthermore, it's perfect for daily cardio training, interval training, strength and stamina development, and weight loss. Moreover, even though it's a gym-quality exercise bike, it's still a few $100s cheaper than other similar models, which results in an outstanding price/value/quality ratio.
I hope you found this article helpful and informative. Would you please speak up if you have anything you'd like to share on the topic or any opinions about my website? I look forward to your comments, questions, and the sharing of ideas.
Please note: Before starting any exercise program, you should consult your physician to determine if you have any medical or physical conditions that could put your health and safety at risk or prevent you from using the equipment properly. In addition, your physician's advice is essential if you are taking medication that affects your heart rate, blood pressure, or cholesterol level.