With the Sunny SF-RW5940 Rowing Machine, you can feel the intensity and vigorousness of your rows as you get hit by gushes of wind coming from the large fan in front of this rowing machine. Furthermore, this rowing machine offers unique dual resistance to fine-tune and match your fitness goals.
The SF-RW5940 provides optimal air resistance; the steel fan blades have minimal flex and produce more air resistance the faster you row. As a result, the SF-RW5940 delivers an authentic, pure air resistance rowing experience. In addition, the 16 levels of magnetic resistance work in conjunction with the fan blades to give just the proper workout you want.
The Sunny SF-RW5940 rowing machine features a fitness monitor that tracks Time, Time/500, SPM, Distance, Strokes, Total Strokes, Calories, Heart Rate (optional), Calendar, Temperature, and Clock. Place your tablet or smartphone on the device holder to stay connected. Follow along online with Sunny Health & Fitness trainers for certified fitness tips, advice, and lessons.
Maintain your position and composure for those marathon rowing sessions with the SF-RW5940. The cushion seat alleviates discomfort and promotes blood circulation through the legs and glutes. In addition, being 17 inches above the floor, mounting and getting off the SF-RW5940 is convenient, quick, and accessible.
Learn more in my complete review below!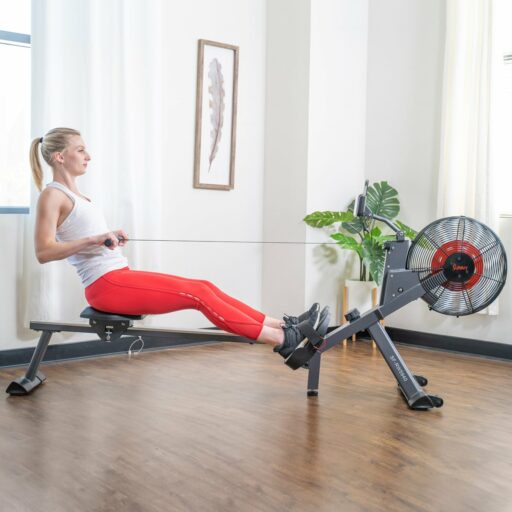 Product: Sunny SF-RW5940 Rowing Machine
Price: For a great deal on this rower, merely go here to Sunny Health & Fitness.com
Warranty: Frame 3 years / Parts 180 days
My rating: is 8/10
Affiliate Disclosure: As a Sunny Health & Fitness Affiliate Program participant, I earn commissions on purchases made through links in the post. Full disclosure
Details and Specifications
Assembled dimensions: 94L x 21W x 39H inches (239L x 53W x 99H cm)
Assembled weight: 81.6 lbs (37 kg)
Weight capacity: 300 lbs (136 kg)
Frame: Steel & aluminum
Resistance: Air & magnetic, 16 levels
Fitness Monitor: Time, time/500m, SPM, distance, strokes, total strokes, calories, pulse, race program, recovery
Extras: Device holder
Warranty: Frame 3 years / Parts 180 days
SF-RW5940 Frame Construction
The Sunny SF-RW5940 rowing machine features a steel frame combining oval, rectangular, and triangular tubes in its construction for improved sturdiness and aesthetics.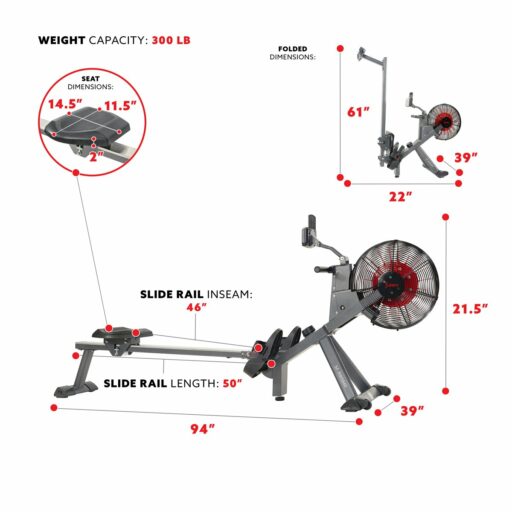 However, its rail also has an aluminum strip across the top to prevent the paint from wearing out and provide a smoother motion for the seat. In addition, the steel parts come coated with a rust-resistant and chip-resistant dark gray paint finish.
The rower is not too bulky, but it's relatively long. With all the parts assembled, it is approximate—94″ (239 cm) long and 21″ (53 cm) wide. In addition, the top of the fitness monitor at its highest point is approximately 39″ (99 cm) above the floor. It is also advisable to allow at least two feet of clearance on each side of the rail and at its rear for ease of access and safe usage.
The machine's rail is 50″ (127 cm) long and offers an inseam measuring approximately 46″ (116 cm). Therefore, the rower comfortably accommodates users up to 6'6″ (198 cm) with no problem, allowing a complete leg extension.
Furthermore, the rail also folds up. With it folded up, the unit's footprint becomes approximately 39″L x 21″W (99 x 53 cm), while its height reaches around 61″ (155 cm).
This Sunny Health & Fitness rower is not super heavy, weighing 81.6 lbs (37 kg). Therefore, two people may need to carry the packaged rower. However, once assembled, one person can relocate it as its front stabilizer has a set of transport wheels. Also, the rear stabilizer and the middle stabilizer have adjustable levelers.
Seat and other parts
The Sunny SF-RW5940 rowing machine comes equipped with a pretty standard seat. Its top section is high-density foam, with contouring and texturing to provide better positioning for the user. It is also approximately 14″ (35.5 cm) wide, giving a decent contact surface.
The base frame of the seat is steel-made. In addition, it integrates three sets of wheels. Two sets slide on top of the rail, and the other closes the seat assembly and slides underneath it for extra stability. The wheels have internal ball bearings for a smooth motion and an outer rubber layer to reduce noise.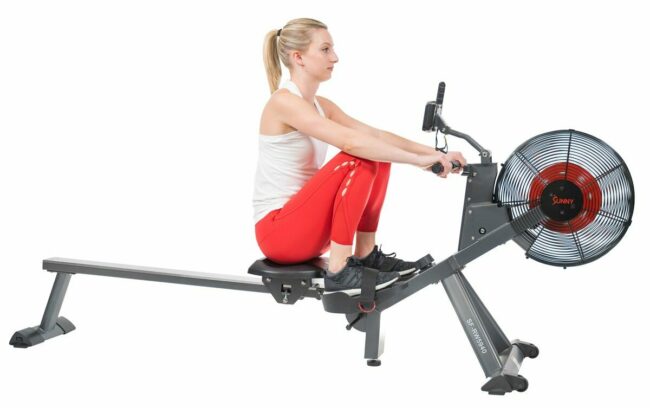 The rail itself is not fully horizontal. Instead, it slants slightly towards the front. Thus, the seat is somewhat higher when close to the rear. Its highest point is approximately 17″ (43 cm) above the floor. Also, the seat and the rail assembly have a maximum user weight limit of 300 lbs (136 kg).
The rower's thermoplastic footrests are not super large but should accommodate footwear of all sizes. They have heel guards and adjustable straps for improved foot stability. They also have a pivoting design, so they can tilt forward to adjust better to your position during each stroke, and they have heel stoppers and won't tilt backward past an angle of approx. 60°.
The pulling handle is a simple, straight bar. It has rubber foam sleeves for an improved grip. It attaches to the machine's resistance system via a heavy-duty, braided nylon strap, highly resistant to stretching and abrasion.
SF-RW5940 Resistance system
The Sunny SF-RW5940 rowing machine combines air resistance with magnetic resistance. The main resistance-generating element is the sizeable metallic flywheel fan visible at the front of the rower. It connects to the machine's pulley system, so pulling the handle spins the fan inside its casing, increasing the workout load.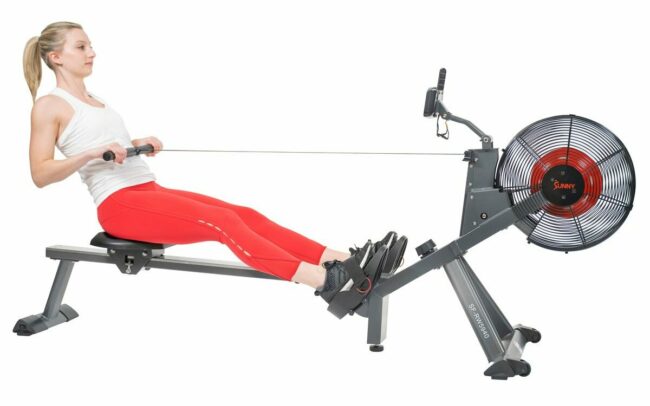 Like other fitness machines with an air resistance system, the Sunny SF-RW5940 delivers a dynamic response during usage. Thus, the resistance increases or decreases depending on how fast you pull the handle. For example, if you row fast, the fan will spin more quickly and generate more resistance. Therefore, it resembles the rowing of a real boat through the water.
The machine's overall resistance is also adjustable and equipped with a magnetic resistance system. A magnetic brake connects to the tension knob on the front section of the rower. The flywheel has an extra metallic sheet next to the brake, so when you adjust the resistance, the brake covers more or less, increasing or decreasing the workout load.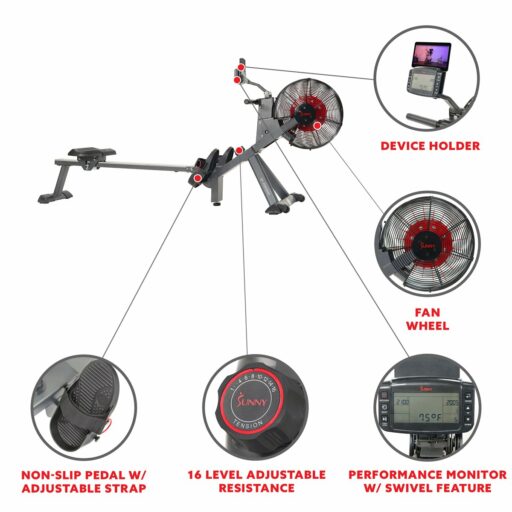 The magnetic brake offers 16 levels of resistance. The first one delivers little extra resistance; in this setting, you will work only with the resistance generated by the fan. Conversely, the 16th tension level provides noticeable extra resistance, which is excellent if you want a more intense workout.
Fitness monitor
This Sunny SF-RW5940 rower has a fitness monitor with a 7-window LCD to view up to 7 workout metrics. It shows time, time/500 m, strokes, strokes per minute (SPM), total strokes, calories burned, distance, and pulse (HR chest strap or armband required).
The distance displays in meters and can not change to miles, kilometers, or yards. Also, the pulse reading function requires wearing a 5.3 kHz heart rate chest strap or armband. Unfortunately, this accessory does not come with the rowing machine.
The monitor does not have Bluetooth and is not compatible with any fitness apps. It has two workout modes: Manual and Race. When using the manual mode, it simply monitors your stats. You can also select goals for some workout metrics in this work mode.
For example, selecting a calorie goal will count down from the specified value until it reaches zero, notifying you that you have completed your goal. Likewise, you can set distance, time, strokes, calories, or pulse goals.
The Race mode has 15 levels of difficulty. For level 1 (L1), the Time/500m is set at 8:00, while level 15 (L15) is 1:00. If the Race mode is on, you will race with the computer for the specified time/distance.
The center display will indicate the user and the PC on two separate lanes. Each virtual boat advances towards the set goal, and the monitor will end when either your boat or the PC boat reaches the goal.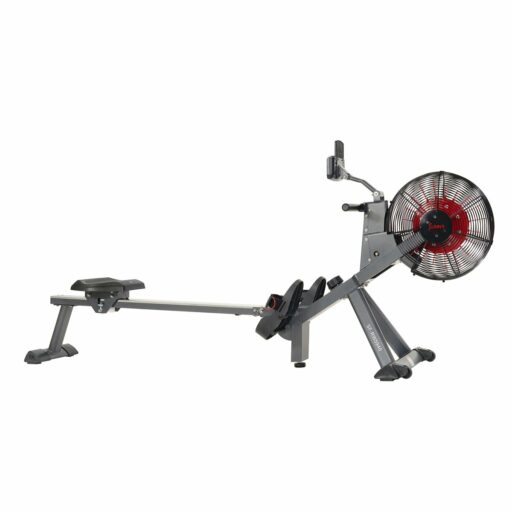 The fitness monitor also has a pulse recovery function and a quick selection button. Of course, it requires you to wear an HR chest strap or armband. Unfortunately, the HR chest strap or armband sells separately. It counts your pulse at the end of the workout and rates your fitness level from F1 – excellent to F6 – poor.
Last, the battery-operated fitness monitor requires two AA batteries. It starts when you row and automatically turns off after a few minutes of inactivity on the machine. In addition, the LCD indicates the current date (year, month, day), room temperature, and clock in idle mode.
SF-RW5940 Assembly and Maintenance
The front unit of the rower with all the drive and resistance elements comes pre-assembled. So, you only have to attach the front stabilizer, insert the seat on the rail, connect the rail to the front unit, and add the rear stabilizer, the footrests, and the fitness monitor.
Consequently, it shouldn't take longer than 30 minutes of your time. Furthermore, the manual provides clear assembly instructions with attached illustrations, and all the necessary tools come with the machine.
For maintenance, you only have to keep your rower clean, especially the rails, to prevent damage to the seat wheels. If the fan accumulates dust, you can vacuum it from the outside without taking the casing apart. The internal parts do not require lubrication or any maintenance.
Pros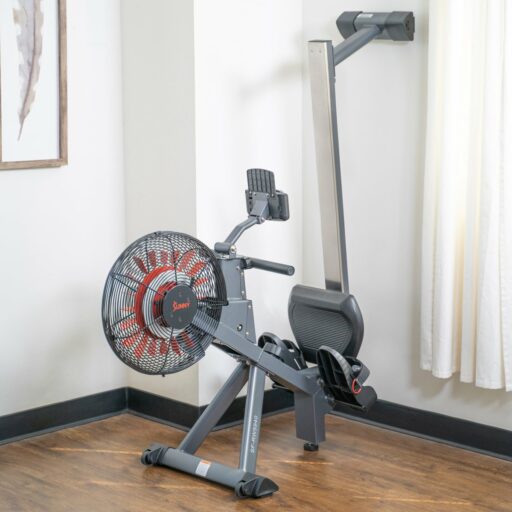 Sturdy construction – can hold users up to 300 lbs (136 kg);
Folding rail;
Adjustable levelers on the rear stabilizer and mid-base;
Transport wheels on the front stabilizer;
Aluminum beam reinforcement for the main rail;
Long rail for users with an inseam up to 46″;
Pivoting footrests with heel guards and adjustable straps;
Padded and contoured seat;
Air resistance for a natural, dynamic response during rowing;
16 levels of magnetic resistance;
Multi-window fitness monitor that tracks time, time/500 m, strokes, strokes per minute(SPM), total strokes, calories burned, distance, and pulse;
Target function for a time, distance, strokes, pulse, and calories;
Very quiet for an air-resistance rower;
Easy to assemble;
All the necessary assembly tools come with the machine;
Little maintenance is required;
Excellent warranty.
Cons
The fitness monitor does not have online connectivity;
An HR chest strap does not come with the rower;
The fitness monitor LCD does not have a backlight.
Sunny SF-RW5940 Rowing Machine Summary
The Sunny SF-RW5940 is a rowing machine made for home use. It has an air resistance system, a 16-level magnetic resistance system, a comfortable seat, and a fitness monitor with two workout modes (manual and race).
In addition, it is also pretty sturdy (300 lbs capacity) and has a long rail for an applicable user inseam of 46″. Moreover, it's a decent machine for a full-body cardio workout, muscle toning, stamina development, and weight loss.
I hope you found this article helpful and informative. Would you please speak up if you have anything you'd like to share on the topic or any opinions about my website? I look forward to your comments, questions, and the sharing of ideas.
Please remember to consult your physician to determine if you have any medical or physical conditions that could risk your health and safety or prevent you from using the equipment properly. In addition, your physician's advice is essential if you are taking medication that affects your heart rate, blood pressure, or cholesterol level.