The Body-Solid Fusion 500/2 home gym features materials and parts of only the highest quality and durability. The 500 frame features continuous, four sides welded construction instead of the typical 2-side welds that have become common in the industry. The Fusion 500 features 50mm x 100mm 11 oval gauge tubing and 6mm upper support plates.
Due to the multiple workout stations, it provides a lot of versatility, allowing you to perform more than 60+ gym-quality exercises. As a result, it is one of the best home gyms you can find at this price point. Station to station, the Body-Solid Fusion 500 provides you with a superior workout experience.
The Fusion 500's single-stack, multi-function approach to home gym design provides you with an amazingly versatile workout. For example, isolate individual muscles or introduce functional training into your routine to establish and sustain improved coordination, balance, and stability.
The multi-grip press arm system also delivers deep and practical muscle interaction for chest, incline, and shoulder press movements. The  Fusion 500 includes a 210-pound weight stack. Two pre-cabled accessory attachment points enable you to add the Multi-Hip Station (FMH), Leg Press (FLP), and Weight-Assisted Dip/Pull-Up (FCDWA) (two attachments maximum, sold separately).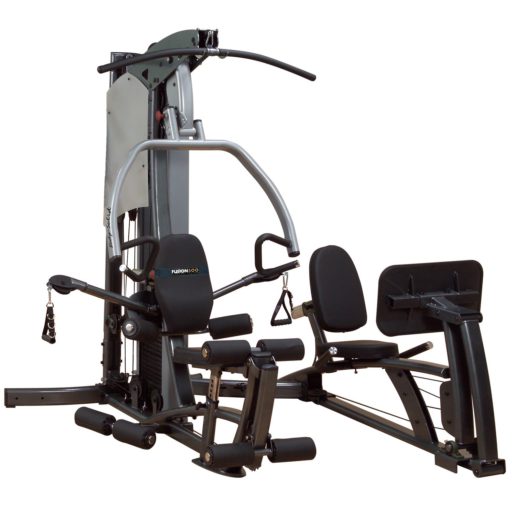 Learn more in my complete review below!
Product: Body-Solid Fusion 500/2 Home Gym (210 lbs weight stack)
Price: For a great deal on this gym, merely go here on Amazon
Warranty: In-home Lifetime on everything (original owner). You name it, and it's covered 100%
My rating: 9.5/10
Affiliate Disclosure: As an Amazon Affiliate Program participant, I earn commissions on purchases made through links in this post. Full disclosure
Please note: The pictured images contain optional equipment which sells separately.
Details and Specifications
Assembled dimensions: 76L x 48W x 83H inches (193L x 122W x 211H cm)
Assembled weight: 755 lbs (342.4 kg)
Weight stack: 210 lbs (95.3 kg)
Possible exercises: 60+
Warranty: Lifetime
F500/2 Frame Construction
The Body-Solid Fusion 500/2 home gym is a trainer made almost entirely from steel tubing. Most bars in its structure are 50mm x 100mm 11 oval gauge tubing, while the support plates are 6mm thick. Like many other gyms, they have a 4-side precision welded construction instead of 2-side welds. Thus, it results in a much higher sturdiness.
Since it's machine-made almost wholly of steel and its 210 lbs (140.6 kg) plate stack, it weighs approximately 955 lbs (342.4 kg). In addition, it provides a lot of stability for most exercises and improves overall sturdiness.
The unit's bases have several rubberized pads. However, it's advisable to assemble it on a rubberized mat due to its weight, which will prevent any damage to the floor.
All the steel parts in its construction come with an electrostatically applied powder finish resistant to corrosion, chipping, and scratching. It's also straightforward to maintain.
This Body-Solid home gym is not extremely large without any optional attachments compared to other cable machines. It's 79″ (193 cm) long and 80″ (122 cm) wide. However, to perform the exercises correctly and without hindrance, it's advisable to have two clearance feet around the gym.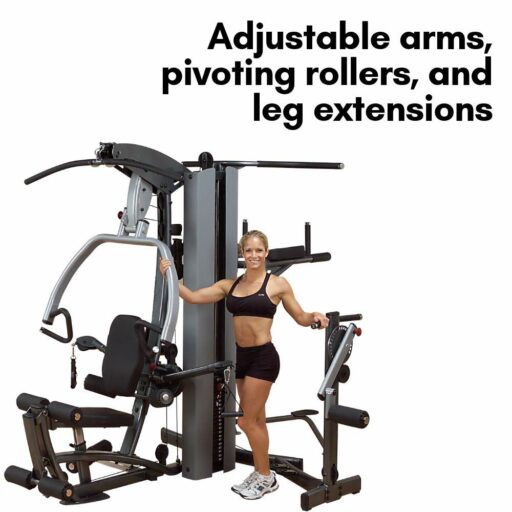 The unit's highest point reaches approx. 83″ (211 cm) above floor level. Thus, it should fit in a room with a seven-foot ceiling if it's the case.
Seat and backrest
The seat and backrest are adjustable. The seat has seven upright adjustment positions, while the backrest bar offers nine adjustment positions. Therefore, the machine should accommodate users up to 6'6″ (198 cm) with no problem, allowing a correct execution and a complete range of motion for all exercises.
The pads on the seat and backrest and the rollers on various workout stations integrate DuraFirm material. As a result, they're tear-resistant and offer superior comfort. In addition, due to the high-density foam, they can deliver a lifetime of support without bottoming out or changing shape, even with daily use.
F500/2 Pulleys
The unit's cables are coated with a polyurethane sheet, gliding smoothly over the pulleys. Also, all the pulleys integrate industrial-grade, sealed ball bearings for a long lifespan and quiet operation.
In addition, they're made of fiberglass-reinforced nylon material and are highly resistant to wear and tear. Each one precision-matched the thickness of the cables and provided a lifetime friction-free performance.
Accessories
There are several accessories included with this home gym. I can count the lat pulldown bar, the two ergonomic handles for the side arms, and an ankle cuff.
Optional workout stations and other accessories are available for this unit and are listed below. Images contain pictures of optional equipment.
FCFWA Fusion Weight-Assisted Dip & Pull-up Station
FKR Fusion Vertical Knee-Raise Station
2.5 lbs adapter plates for the weight stacks
5 lbs adapter plates for the weight stacks
F500/2 Workout stations
The Body-Solid Fusion 500/2 home gym offers several workout stations. These are:
Lat pulldown station. The high pulley station can perform lat pulldown exercises and train triceps, shoulder, and back muscles, along with the standard lat bar. For this purpose, the lat bar comes with a layer of rubber material for a secure grip.
Adjustable side arm station. This feature is one that not many other home gyms have. This workout station consists of two adjustable side arms with pivoting pulleys. For example, it's similar to the arm station of the BodyCraft Xpress Pro. The side arms offer nine adjustment positions, while their cables come with standard D-type handgrips.
Although the machine doesn't have a conventional butterfly station, these two side arms allow you to perform cable fly exercises, stand-up curls, shoulder presses, trunk rotations, baseball swings, etc.
Adjustable chest press. To begin with, this workout station doesn't double as a fly station. It features six adjustment positions, two for seated rows and four for chest presses. Furthermore, its arms come equipped with ergonomic, multi-grip handles featuring a layer of rubber foam material to prevent hand slippage.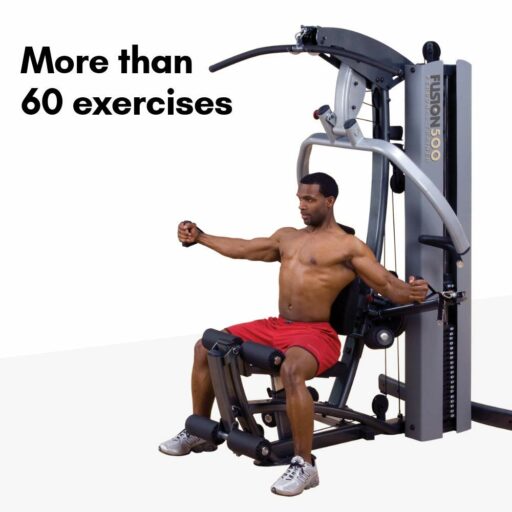 Leg developer. This element allows you to perform leg extensions and standing leg curls. Hence, it is equipped with 4″, high-density foam rollers to provide optimal comfort for these exercises.
Low pulley station. The low pulley to which the leg developer permits the execution of various exercises. For instance, with a short bar and chain attached to it, or merely the D-handles, this workout station allows you to perform stand-up curls, stand-up rows, seated rows, etc.
Weight stack
This Body-Solid Fusion F500/2 has 20 weight plates, each one weighing 10 lbs (4.5 kg), while the top stopper plate weighs 10 lbs (4.5 kg) for a total of 210 lbs (95.3 kg).
There are also 2.5 lbs (1.13 kg) and 5.0 lbs (2.26 kg) plate adapters, but these accessories do not come with the machine.
One of the machine's main pluses is that the weight plates are solid cast iron. As a result, they're considerably more durable than cement/vinyl plates, and with proper care, they can last a lifetime.
Furthermore, the weight stack glides on two parallel beams; this assembly type adds stability to each exercise's motion. In addition, two metallic side guards conceal the weight stack, leaving only the selectorized section with the pop-pin available to prevent accidents.
F500/2 Possible Exercises
Arm Exercises
Triceps Pushdown
French Press
Standing French Press
Triceps Press
Triceps Extension
Cross Triceps Extension
Rope Pushdowns
Standing Hammer Grip Curls
Standing Biceps Curl
Seated Biceps Curl
Reverse Grip Triceps Pushdown
Triceps Kickback
Reverse Curl
Biceps Curl
Seated Wrist Extension
Standing Wrist Curls
Standing Wrist Extension
Abdominal Exercises
Standing Trunk Rotation
Trunk Rotation
Standing Oblique Crunch
Kneeling "Wood Chop"
Kneeling Low to High Trunk Rotation
Reverse Crunch
Seated Abdominal Crunch
Seated Oblique Abdominal Crunch
Back Exercises
Standing Wide Angle Lat Row
Narrow Pulldowns with Hand Grips
Seated Lat Rows
Stiff Arm Pulldown
Standing Lat Row High Pulley
Standing Lat Row Low Pulley
Seated Low Back Extension
Standing Low Back Extension
Shoulder Pullover
Reverse Grip Lat Pulldown
Wide Pulldowns
Chest Exercises
Seated Press
Cable Fly
Cable press
Resisted Punch
Cable Crossover
Standing Chest Press
Standing Chest Fly
Leg Exercises
Leg Extension
Prone Leg Curls
Standing Hip Flexion w/ Knee Flexion
Standing Leg Kickback
Ankle Eversion
Ankle Inversion
Hip Abduction
Hip Adduction
Standing Hip Internal Rotation
Standing Hip External Rotation
Leg Press
Shoulder Exercises
Rear Deltoid Rows
Standing Lateral Shoulder Raise
Seated Shoulder Press
Standing Shoulder Press w/ Alternating Motion
Standing Shoulder Press
Front Shoulder Raise
Standing Front Shoulder Raise
Shoulder Extension
Shoulder Shrug
Scapular Protraction
Reverse Fly Cable Cross
Seated Lateral Shoulder Raise
Standing Shoulder Extension
F500/2 Assembly and Maintenance
The Body-Solid Fusion 500/2 home gym comes in four reasonably large and heavy boxes; thus, it's advisable to be transported and assembled by at least two people.
The assembly process isn't easy and may take quite a few hours and many pieces to put together. However, the included manual provides pretty clear assembly instructions and schematics. Unfortunately, the tools for assembly do not come with the Fusion 500/2.
This home gym doesn't require much maintenance. However, it's advisable to periodically grease the weight stack's metallic rods to ensure a smooth journey for the plates. Occasionally, pulleys may need lubrication. It's also advisable to regularly check for loose parts and bolts and retighten them as required.
Please note: The pictured images contain optional equipment which sells separately.
Pros
Sturdy and heavy frame, offering excellent stability;
The aesthetic design can also serve as a motivation factor;
Adjustable seat and backrest;
DuraFirm upholstery and thick padding for optimal comfort;
Five workout stations, including press station, adjustable arm station, lat pulldown station, low pulley station, and leg developer attachment;
Multiple grip possibilities for the chest press;
4″ thick rollers for the leg developer element;
Nine adjustment positions for the lateral pulley arms;
4 + 2 adjustment positions for the chest press;
180° rotating pulleys on the lateral pulley arms;
Heavy-duty pulleys and cables;
Accessories included: two pulling handles, a lat bar, and an ankle strap;
Highly durable, cast iron weight plates;
210 lbs weight stack;
Over 60+ exercises available;
Little maintenance is required;
Excellent warranty.
Cons
No conventional fly press;
Assembly tools do not come with the Fusion 500/2;
Leg press not included.
Body-Solid Fusion 500/2 Home Gym Summary
In short, the Body-Solid Fusion 500/2 is a home gym offering a 210 lbs metallic weight stack and five workout stations, including a lat pulldown station, press station, adjustable arm station, low pulley station, and leg developer.
It has a highly durable construction, similar to commercial-grade trainers. Accordingly, it excels in ergonomics, featuring an adjustable seat and backrest with DuraFirm upholstery and top-quality 4″ foam rollers for the leg developer and knee stoppers.
Thus, it's one of the best home gyms you'll find; and finally, even though it's not exactly an affordable machine, it offers excellent value and quality for the price.
I hope you found this article helpful and informative. Would you please speak up if you have anything you'd like to share on the topic or any opinions about my website? I look forward to your comments, questions, and the sharing of ideas.
Please remember that you should consult your physician to determine if you have any medical or physical conditions that could risk your health and safety or prevent you from using the equipment properly. In addition, your physician's advice is essential if you are taking medication that affects your heart rate, blood pressure, or cholesterol level.