The Body-Solid G3S Home Gym features advanced engineering, resulting in an exceptional range of motion and full adjustability for any size user. In addition, the multi-grip press arm system delivers deep and effective muscle interaction for chest, incline, and shoulder press movements.
There's no need to sit on the floor to perform rowing exercises with the G3S. The Seated Row / Low Pulley Station is essential for well-developed backs. Seated row exercises build depth in the middle back and train the hard-to-reach lower lats. The low pulley swivels smoothly and fully to provide accurate resistance for cable curls, upright rows, shrugs, leg abduction, leg adduction, etc.
Switch between high, mid, and low pulley exercises quickly and easily with the G3S no cable change design. In addition, you'll be able to perform lat pulldowns, triceps press downs, biceps curls, resistance abdominal crunches, and dozens of more exercises with the included cable attachments.
The Leg Extension / Leg Curl Station is prepared to help you meet your goals when you're ready to build muscular legs and stronger knee joints. First, the biomechanically accurate pivot point ensures a natural hamstring and leg biceps development. Then, add the optional Leg Press / Calf Press station with 420 lbs of resistance.
Learn more in my complete review below!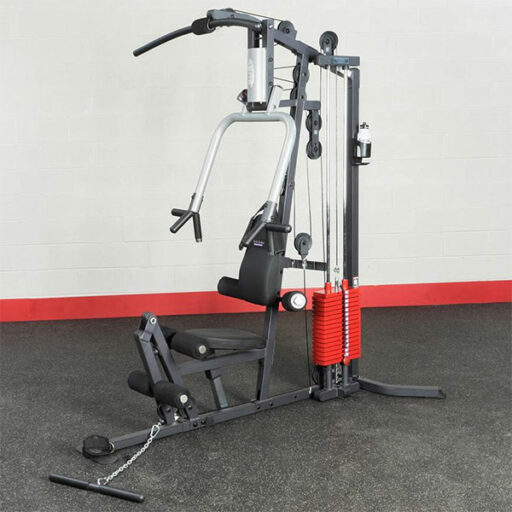 Product: Body-Solid G3S Home Gym
Price: For a great deal on this gym, merely go here to Amazon.com
Warranty: Lifetime
My rating: is 8/10
Affiliate Disclosure: As an Amazon Affiliate Program participant, I earn commissions on purchases made through links in this post. Full disclosure
Details and Specifications
Assembled dimensions: 80L x 47W x 83.5H inches (203L x 119W x 212H cm)
Assembled weight: 339 lbs (154 kg)
Weight stack: 160 lbs (72.5 kg)
Workout stations: 5
Possible exercises: 40+
Included Accessories: Stirrup handles, lat bar, straight bar, ankle strap, ab/tricep rope, exercise chart, Total Body Workout DVD, bottle/towel holder
Warranty: Lifetime
G3S Frame Construction
The Body-Solid G3S home gym has a 12-gauge steel frame that combines rectangular and cylindrical bars for improved sturdiness and aesthetics.
All the steel parts come coated with a black corrosion-resistant paint finish. The only exceptions are the front press arm, painted gray, the seat post, and the upright posts of the weight stack, which are chrome plated.
This Body-Solid strength training machine is not too large compared to other models. With all the parts assembled, its footprint is approximately 80″ (203 cm) long and 47″ (119 cm) wide. However, it is advisable to allow at least two feet of clearance on each side of the unit, and at least three feet at the front, for ease of access and correct exercise execution.
The unit's height is approximately 83 1/2″ (212 cm), less than seven feet (214 cm). However, it would be a tight fit, so placing and using this machine in a room with at least one foot of clearance above is necessary.
The frame's base frame does not have pre-drilled holes in it for anchoring to the floor. However, the unit's net weight is approximately 339 lbs (154 kg), providing excellent stability. It is advisable to place the gym on a rubber mat to prevent floor damage.
Parts and accessories
The Body-Solid G3S home gym comes equipped with an adjustable seat. Its post offers several adjustment positions with a maximum distance between it and the lat bar of approx—41″ (104 cm). The backrest is also adjustable as well. It does not have a recline function but does decline forward, which may be necessary for certain types of front press exercises.
Both the seat and the backrest have padding. However, the backrest integrates a thicker layer of padding than the seat. It also has contouring for improved ergonomics. Also, both have durable vinyl covers, which are sweatproof and easy to maintain.
The machine has knee stoppers attached to the front main upright frame bar under the backrest. In addition, they have thick foam rollers for improved comfort, similar to the ones on the leg developer. Unfortunately, they are non-adjustable.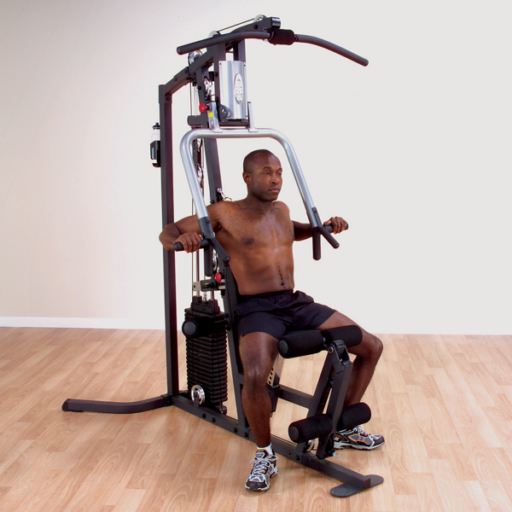 This Body-Solid home gym comes equipped with a set of 14 pulleys. The standard ones that come with the gym are fiberglass-reinforced nylon. They integrate sealed ball bearings for a smooth motion.
The cables are durable, rated for 1000 lbs test, and have PVC sleeves. It's essential to note that Body-Solid also offers an optional set of aluminum pulleys (see the optional accessories below) for this particular home gym.
The G3S home gym comes with quite a few accessories. The most notable ones you will probably use daily are the lat bar, the short row bar, the two stirrup handles, the tricep rope, and the ankle strap.
An ab harness does not come with the G3S, but you can use the tricep rope for mid-pulley ab crunches. The gym also has a bottle & towel holder, a DVD that presents various exercises, and an exercise chart.
G3S Workout stations
The Body-Solid G3S home gym comes equipped with five different workout stations. These are:
High-pulley and lat pulldown station. The unit has one terminal pulley at the top, which allows the execution of various pulldown exercises. A curved bar for lat pulldown exercises comes with the machine. In addition, it features PVC foam sleeves for an improved grip.
Front press station. It consists of a simple U-type bar with triple grips on its ends. In addition, it offers the possibility to perform front press exercises and tricep presses.
Mid-pulley station. The mid-pulley integrates into the front upright bar of the frame, right above the backrest. It allows the execution of various exercises, including ab crunches, power punches, woodchops, standing rows, etc. Not all home gyms with a similar design have this, so it's quite a plus.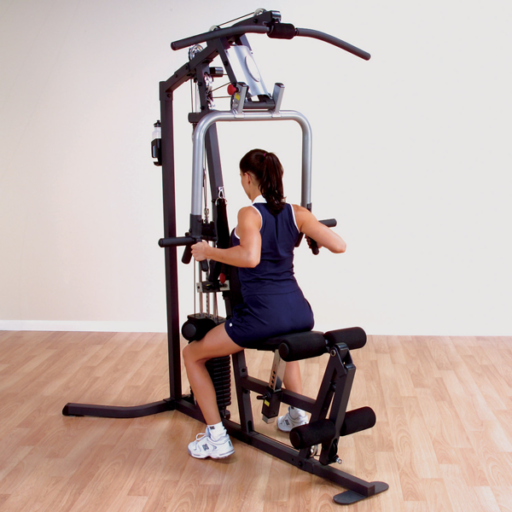 Low pulley station. The low-pulley integrates into the front support frame bar of the gym. It allows you to perform seated rows, tricep pulls, bicep curls, etc. A short bar with a small extension chain comes with the gym, especially for these exercises.
Leg developer. It is essentially an attachment to the home gym. It offers the possibility to execute leg curls and leg extensions. In addition, it features four large foam rollers for improved comfort. The front section of the frame also has a small rubber bumper, so it won't hit the frame when it reaches its lower position.
Optional accessories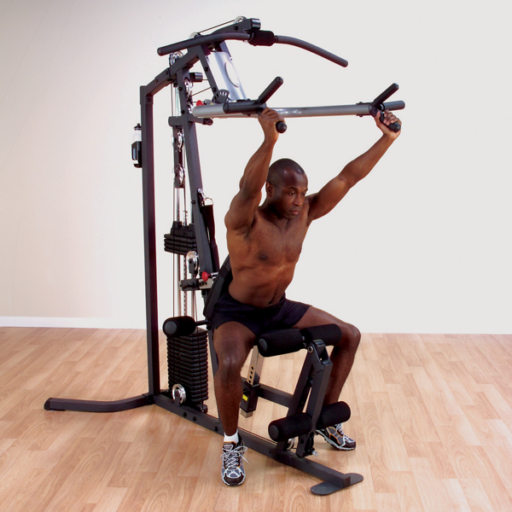 G3S Weight Resistance
One of the main advantages of the GS3 home gym is that it comes with a cast-iron weight stack. Cast iron plates are considerably sturdier than cement/vinyl plates and can last a lifetime, primarily if the machine is used in a home gym setting and not in a public health club.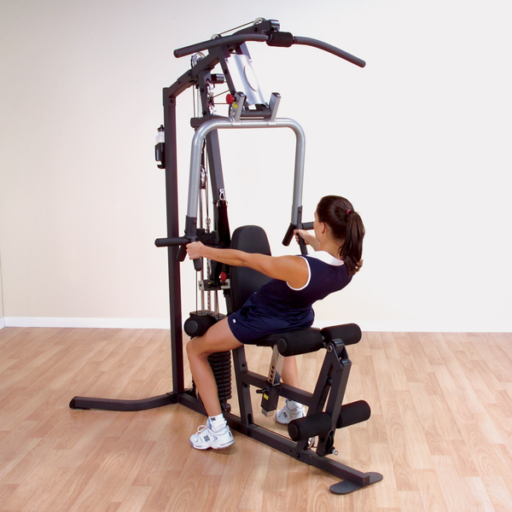 The included weight stack consists of 15 plates, 10 lbs (4.5 kg) each, while the top selector plate weighs 10 lbs (4.5 kg). Thus, the base stack weighs 160 lbs (72.5 kg).
The machine's stack is upgradeable. You can purchase extra plates; the maximum weight loaded onto this machine is 210 lbs (95 kg). Body-Solid also offers 2.5 lbs (1.13 kg) and 5.0 lbs (2.26 kg) plate adapters for micro-adjustability. However, these do not come with the machine.
The weight stack glides on two parallel chrome-plated beams; this type of assembly adds stability to the motion of each exercise. Unfortunately, guards to conceal the stack are unavailable for the G3S model.
Possible Exercises
The Body-Solid G3S home gym offers the possibility to execute more than 40 exercises to perform a full-body workout during every session. Among the most notable exercises performed on this machine are:
Arm Exercises
Triceps Pushdown
French Press
Standing French Press
Triceps Press
Triceps Extension
Rope Pushdowns
Standing Hammer Grip Curls
Standing Biceps Curl
Seated Biceps Curl
Reverse Grip Tricep Pushdown
Tricep Kickback
Reverse Curl
Biceps Curl
Seated Wrist Extension
Standing Wrist Curls
Standing Wrist Extension
Abdominal Exercises
Standing Trunk Rotation
Trunk Rotation
Standing Oblique Crunch
Woodchops
Kneeling Low to High Trunk Rotation
Reverse Crunch
Seated Abdominal Crunch
Seated Oblique Abdominal Crunch
Back Exercises
Standing Wide Angle Lat Row
Narrow Pulldowns with Hand Grips
Seated Lat Rows
Stiff Arm Pulldown
Standing Lat Row High Pulley
Standing Lat Row Low Pulley
Seated Low Back Extension
Standing Low Back Extension
Shoulder Pullover
Reverse Grip Lat Pulldown
Wide Pulldowns
Chest Exercises
Seated Press
Cable press
Resisted Punch
Leg Exercises
Leg Extension
Prone Leg Curls
Standing Hip Flexion w/ Knee Flexion
Standing Leg Kickback
Ankle Eversion
Ankle Inversion
Hip Abduction/Hip Adduction
Standing Hip Internal Rotation
Standing Hip External Rotation
Shoulder Exercises
Rear Deltoid Rows
Standing Lateral Shoulder Raise
Seated Shoulder Press
Standing Shoulder Press w/ Alternating Motion
Standing Shoulder Press
Front Shoulder Raise
Standing Front Shoulder Raise
Shoulder Extension
Shoulder Shrug
Scapular Protraction
Scapular Retraction
Seated Lateral Shoulder Raise
Standing Rear Deltoid Row
Standing Shoulder Extension
G3S Assembly and Maintenance
The Body-Solid G3S home gym requires complete assembly. It comes in several heavy boxes; two people should carry and assemble the gym. However, the assembly process is not too complicated, and the manual provides clear step-by-step instructions and schematics.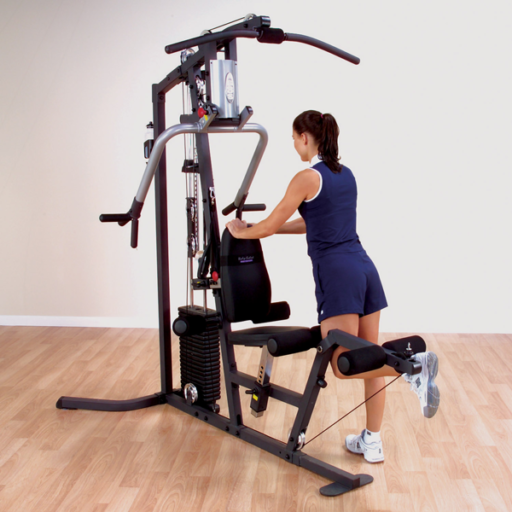 However, it may take up to 4-5 hours of your time due to the many parts. Unfortunately, tools for the assembly do not come with the gym so you will need a set of wrenches, a Phillips screwdriver, and a rubber mallet.
Once assembled, maintenance doesn't require much. All you need to do is keep it clean, periodically check for loose bolts and parts, retighten it as required, and grease the weight stack's guides and the posts of the seat and backrest.
Pros
Commercial quality construction, extremely sturdy frame;
Adjustable seat and backrest;
The durable upholstery and thick padding for optimal comfort;
Five workout stations, including front press station, lat pulldown station, leg attachment, low pulley station, and mid pulley station;
Heavy-duty pulleys and cables;
Multiple accessories included;
Cast iron weight stack (160 lbs);
The weight stack is upgradable (up to 210 lbs);
Relatively small footprint for a home gym system;
Offers the possibility to perform more than 40 exercises;
Reasonably easy to set up;
Little maintenance is required;
Decent warranty package.
Cons
Tools for assembly do not come with the machine;
No guards for the weight stack.
Body-Solid G3S Home Gym Summary
The Body-Solid G3S is a multi-function home gym with a 160 lbs cast iron weight stack. It has five workout stations, including a front press station, lat pulldown station, leg attachment, low pulley station, and mid pulley station.
Furthermore, it can execute over 40 exercises and comes with multiple accessories, including stirrup handles, a short bar, a lat bar, an ankle cuff, and more.
I hope you found this article helpful and informative. Would you please speak up if you have anything you'd like to share or any opinions about my website? I look forward to your comments, questions, and the sharing of ideas.
Please remember to consult your physician to determine if you have any medical or physical conditions that could risk your health and safety or prevent you from using the equipment properly. In addition, your physician's advice is essential if you are taking medication that affects your heart rate, blood pressure, or cholesterol level.