The Body-Solid S2CC Cable Column combines the power and durability of Body-Solid's Series II commercial line with a virtually unlimited range of exercise possibilities. In addition, the S2CC's compact footprint and simple adjustments make it an ideal fit in any home workout space or commercial gym setting.
Moreover, the S2CC features a fully-covered, sleek shroud offering aesthetic and safety benefits. The S2CC withstands even the most strenuous workouts without compromising effectiveness, featuring commercial-grade cables and construction. The weight stack is available in 160, 210, and 310 lbs.
Equipped with 36 different pulley starting positions, the Body-Solid S2CC allows users to perform high-pulley, mid-pulley, or low-pulley exercises, including rows, crunches, wood chops, biceps curls, and more. In addition, the adjustable pulley swivels 180 degrees, increasing the range and variety of exercise options.
In addition, the Body-Solid S2CC  includes a nylon cable handle, a low-row bar, and an ankle cuff. Attach additional handles to the S2CC and open up a new world of movements. The S2CC combines efficient space-saving design, user-friendly ergonomics, adjustability, and precision-fitted components into one of the market's most compact and versatile machines.
Learn more in my complete review below!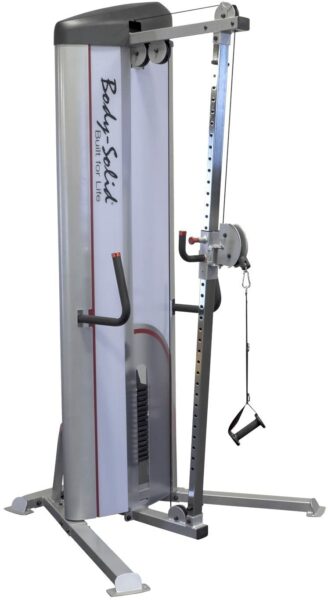 Product: Body-Solid S2CC Cable Column
Price: For a great deal on this gym, merely go here to Amazon.com
Warranty: Frame and welds lifetime / Bearings and hardware lifetime / Cables and grips lifetime (normal wear)
My rating: 9.25/10
Affiliate Disclosure: As an Amazon Affiliate Program participant, I earn commissions on purchases made through links in this post. Full disclosure
Details and Specifications
Assembled dimensions: 53L x 58W x 99H inches (135L x 147W x 251H cm)
Assembled weight: 467.6 lbs (212 kg)
Weight stack: 160 lbs (72.5 kg)
Possible exercises: 15+
Accessories: D-handle, ankle strap, short straight bar
Warranty: Frame lifetime / Bearings and hardware lifetime / Cables and grips lifetime (normal wear)
Commercial Warranty: Frame and welds lifetime / Bearings and hardware three years / Cables and grips one year (normal wear)
S2CC Frame Construction
The Body-Solid S2CC Cable Column features heavy-duty commercial-grade construction. Its frame is 2 x 3-inch 11-gauge steel tubing. The base bars, the two main upright bars, and the top frame bar of the machine come coated with a corrosion-resistant paint finish gray in color.
The two guide rods that hold the weight stack are chrome-plated, while the guidepost of the adjustable pulley is stainless steel.
This cable column machine also includes several large guards made of durable thermoplastic material. The largest one covers the machine's front part, leaving only a narrow opening at the bottom enough to have access to the weight stack to make adjustments. The other plastic guard covers the top of the unit protecting the high pulleys and cable.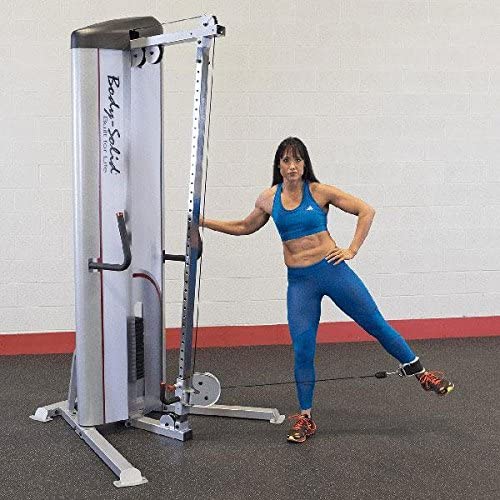 The fully assembled machine is not extremely large and bulky compared with other strength training systems, such as the Marcy SM-4033. It is approximately 53″ (135 cm) deep and 58″ (147 cm) wide. It is advisable to allow at least two feet of clearance on each side of the unit and at least three or four feet at the front to execute all the exercises correctly and safely.
The unit is pretty tall as well. Its top reaches approximately 99″ (251 cm) above the floor level with all the parts assembled. Thus, it won't fit in a room with an 8-foot ceiling. You'll need a ceiling height of at least 8'5″.
The base frame bars rest on small metallic plates with pre-drilled holes if you may want to secure the machine to the floor. However, the unit's net weight is approximately 467.6 lbs (212 kg), offering excellent stability, so this shouldn't be necessary. It is advisable to assemble and place the machine on a rubber mat to damage the floor due to its weight.
Adjustability, parts, and accessories
The Body-Solid S2CC Cable Column integrates eight heavy-duty pulleys, four large and four small. They're fiberglass reinforced and combined with ball bearings for smooth operation. The machine has only one cable.
Its exact rating is not specified, but undoubtedly it is rated for much higher tensile strength than the weight of the stack. It is a steel cable featuring a PVC sleeve to prevent the scratching of the pulleys.
The machine's front guide post features 36 adjustment positions for the mobile pulley. In addition, the pulley holder can swivel 180° to adapt better to the exercises you're performing. Finally, it locks onto the guide post via a pop-pin which is very easy to use.
It's important to note that the S2CC cable column machine has two handlebars. These are curved up and feature PVC sleeves for improved comfort. They attach to the upright frame posts via screws, which are non-adjustable. They're great when performing low-pulley leg curls, leg abductions, or leg adductions.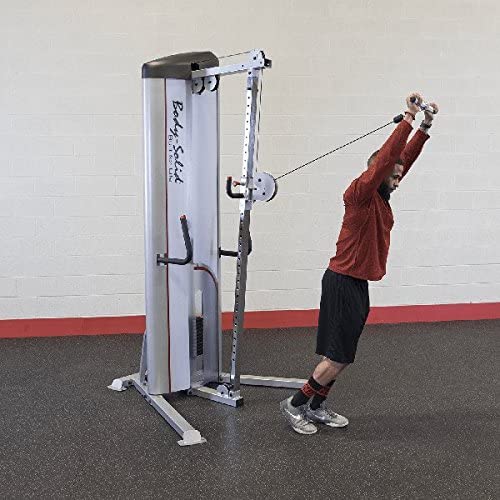 The machine comes with three accessories. One is the nylon cable D-handle; this features three attachment rings for length adjustment. The second one is the ankle strap, which is excellent for performing leg exercises. The third is a short straight bar with a swivel for exercises requiring both hands. Unfortunately, a standard lat bar or an ab harness does not come with the machine.
S2CC Weight Resistance
The Body-Solid S2CC is available with three different weight stacks, these being 160 lbs (72.5 kg), 210 lbs (95.25 kg), and 310 lbs (140.6 kg). In particular, this is the Body-Solid S2CC/1, which comes with the 160 lbs (72.5 kg) weight stack. Accordingly, the stack is upgradeable; you can always opt for extra plates.
One of the best parts of the machine's weight stack is that the weight plates are cast iron, not cement/plastic, as with other home gyms. Accordingly, this is one of the reasons the unit costs quite a bit more. So, regardless of whether the cable column machine is in a home or commercial gym, its weight stack can last a lifetime.
The unit's weight stack consists of 15 weight plates; each weighs 10 lbs (4.5 kg), and the weight carriage weighs 10 lbs (4.5 kg). The machine's weight ratio is 1/2:1. Therefore, the weight divides in half. For example, if you select ten weight plates with the carriage, you'll have a total weight of 110 lbs (49.8 kg), and the machine will provide a weight resistance of 55 lbs (24.9 kg).
Body Focus
Abs
Adductor/Abductor
Back Rehab
Biceps
Bodybuilding
Calves
Circuit Training
Core Strength
Delts
Fat Burn
Forearms
General Fitness
Glutes
Hamstrings
Knee Rehab
Lats
Lower Back
Muscle Endurance
Obliques
Pectorals
Physical Therapy
Quads
Senior Fitness
Shoulder Rehab
Shoulders
Strength Interval Training
Total Body
Traps
Triceps
S2CC Possible Exercises
Pec Fly
Bench Press
Pull Over
Crossover
Upright Row
Deltoid Raise
Shoulder Press
Standing Military Press
Wide Grip Front Lat Pullup
Close Grip Front Lat Pullup
Wide Grip Front Lat Pulldown
Close Grip Front Lat Pulldown
Bent-Over Row
Seated Row
Shoulder Shrug
Ab Crunch
Leg Raise
Oblique Bend
Biceps Curl (seated)
Biceps Curl (standing)
Tricep Press Down
Tricep Extension
Leg Extension
Glute Kick
Standing Leg Curl
Reverse Fly
Ankle Strap Leg Curl
Ankle Strap Leg Abduction
Glute Kickback
and more
Of course, some of these exercises require additional accessories which do not come with the machine. For example, you will need a standard lat bar for a wide grip lat pulldown, while for a bench press, you will need a bench. On the other hand, you can perform seated exercises with almost any chair available in the average household.
S2CC Assembly and Maintenance
The Body-Solid S2CC comes in two large, heavy boxes; two people should carry the boxes. Furthermore, the machine requires complete user assembly. However, the task is not too complicated but may take more than 3-4 hours due to the many pieces.
The manual provides clear assembly instructions for it. Unfortunately, the tools for the assembly do not come with the machine. Instead, you will need a set of Allen keys, two adjustable wrenches or a standard wrench set, and a Phillips screwdriver.
For maintenance, it is advisable to lubricate the weight stack's guide rods and the mobile pulley's guide bar for smooth operation. The pulleys may also need some lubrication from time to time. It would be best to periodically inspect the machine to ensure that all the parts still function correctly and are secure.
Pros
Heavy-duty commercial-grade construction;
Aesthetic design;
Anchor points pre-drilled into the base plates;
Front and top plastic guards for improved safety;
Two ample support handles;
36 adjustment positions for the mobile pulley;
180° swivel for the mobile pulley;
Durable fiberglass reinforced nylon pulleys with internal ball bearings;
160 lbs weight stack;
The weight stack is upgradeable to 210 lbs or 310 lbs;
Cast iron weight plates;
Offers the possibility to perform more than 25+ exercises;
Short straight bar included;
D-handle with adjustable strap included;
Ankle cuff included;
Reasonably easy to assemble;
Little maintenance is required;
Excellent warranty.
Cons
A standard lat pulldown bar does not come with the machine;
An Ab harness does not come with the machine.
Body-Solid S2CC Cable Column Machine Summary
The Body-Solid S2CC is a commercial-grade cable column machine. It comes equipped with a 160 lbs cast iron weight stack (upgradeable to 210 or 310 pounds) and has 36 adjustment positions for its mobile pulley. In addition, it includes a short bar, a D-handle with an adjustable strap, and an ankle cuff.
Moreover, it offers the possibility to perform more than 25+ exercises. Above all else, it's a fitness machine for users of all levels, great for any home or commercial gym setup. It's not exactly an affordable trainer, but it offers excellent value.
I hope you found this article helpful and informative. Would you please speak up if you have anything you'd like to share or any opinions about my website? I look forward to your comments, questions, and the sharing of ideas.
Please remember to consult your physician to determine if you have any medical or physical conditions that could risk your health and safety or prevent you from using the equipment properly. In addition, your physician's advice is essential if you are taking medication that affects your heart rate, blood pressure, or cholesterol level.