Define the motions suitable for you and your individual workout goals with the Body-Solid GDCC210 Functional Trainer. This dual independent weight stack system provides dedicated resistance with exact isolateral movements.
Core stability training can lead to improved balance, coordination, and stability. The GDCCC210 Functional Trainer offers strength-building results to users of all sizes by efficiently working your body's stabilizer muscles with a limitless number of exercises.
Available multiple planes of motion approximate the muscle activity required for many activities you do in everyday life. In addition, the Body-Solid GDCC210 features ergonomically designed adjustments and an interchangeable cable handle engineered to put hundreds of strength-building exercises within your grasp.
With a space-saving footprint, dual independent weight stacks, user-friendly ergonomics, and adjust-ability and precision-fitted components, the GDCC210 Functional Training Center isolates an unbeatable value in today's advanced fitness market.
Learn more in my complete review below!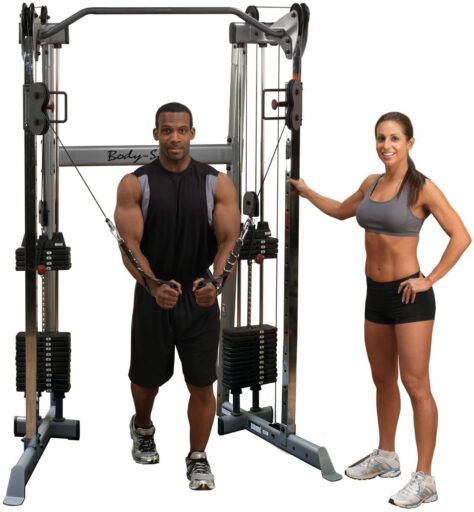 Product: Body-Solid GDCC210 Functional Trainer
Price: For a great deal on this gym, merely go here on Amazon
Warranty: Frame lifetime / Hardware lifetime / Wear parts lifetime (see the commercial warranty below)
My rating: 8/10
Affiliate Disclosure: As an Amazon Affiliate Program participant, I earn commissions on purchases made through links in this post. Full disclosure
Technical Details and Specifications
Assembled dimensions: 43D x 58W x 83H inches (110D x 147W x 211H cm)
Assembled weight: 493 lbs (223.6 kg)
Weight resistance system: Steel plate stacks
Max. weight resistance: 2 x 160 lbs (72.5 kg) (1/2 : 1 ratio)
Possible exercises: 25+
Commercial Warranty: Frame and Welds Lifetime / Pulleys, Bushings, Bearings, Hardware, Plates, Guide Rods 3 years / Cables, Upholstery, Grips (Normal Wear) 1 year
Warranty: Frame lifetime / Hardware lifetime / Wear parts lifetime
GDCC210 Frame Construction
To begin with, the Body-Solid GDCC210 functional trainer features an 11ga steel frame with 2″ x 4″ square tubing. When fully assembled and with its weight stacks on, this cross trainer weighs over 490 lbs. All this weight enhances its stability.
Thus, the frame doesn't need anchoring to the floor. In addition, the bases of the frame feature injected rubber caps, which provide a better grip on the floor. Nonetheless, it is best to assemble this machine on a mat to prevent floor damage due to its weight.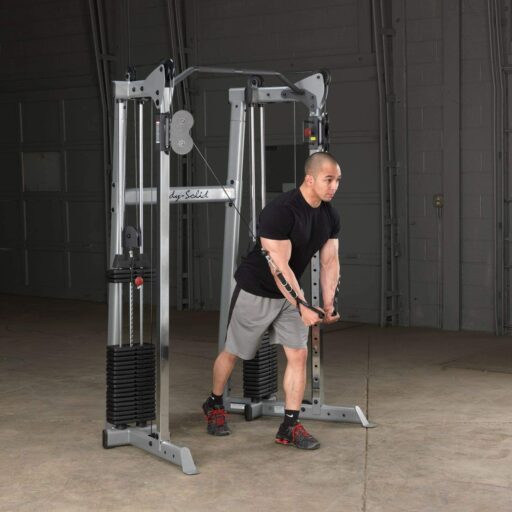 There are several aspects to be mentioned when it comes to its dimensions. First, the frame bases are not parallel, so the distance between their front ends gives its footprint the widest point, which is 58″ (147 cm).
The distance between the rear endpoints of the bases is shorter, close to 40″ (101 cm). Therefore, the base tubes' length is approximate—43″ (110 cm).
You'll need more clearance at the front to use this cross trainer properly for all the exercises. The recommended footprint for safe usage of the machine is 66″D x 84″W (168 x 213 cm).
The machine's height is 83″ (211 cm); therefore, it can fit a room with a seven ′ ceiling. But it's going to be a very tight fit, and there won't remain too much clearance above the machine for the safe execution of pull-up exercises. Therefore, assembling and using the trainer in a room with an eight ′ (244 cm) ceiling is advisable.
One last aspect to mention here regards the paint used. The mainframe bars are powder coated with silver-gray paint, scratch and corrosion-resistant. However, the adjustable pulleys' upright bars and the weight stacks' gliding bars feature a chrome finish.
Pulleys and pull-up bar
The distance between the machine's pulleys is 48″ (122 cm), offering plenty of space for users of all sizes. However, since the pull-up bar is behind the pulleys, the distance between the oblique grips is only 44″ (112 cm).
The Body-Solid GDCC210 functional trainer uses ten pulleys, the adjustable ones being a set of two each. They're all heavy-duty nylon materials, integrating sealed ball bearings for a long life span and smooth usage.
The adjustable front pulleys feature a pivoting design, rotating 180° on their bars. Their vertical bars have 20 adjustment holes, the distance between them being 3 1/4 inches (8 cm). Also, the highest adjustment position of the movable pulleys is approx. 59″ (150 cm) above floor level.
This Body-Solid compact, functional trainer machine uses spun steel cables, tested for over 2,500 lbs of tension.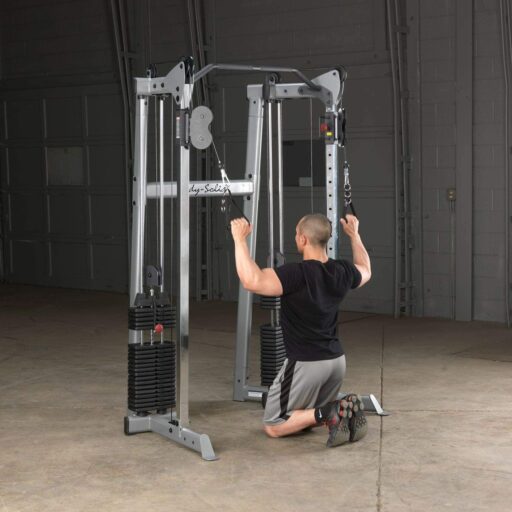 The integrated pull-up bar offers dual-grip possibilities for close and full grip pull-up exercises. Furthermore, it is exceptionally sturdy, supporting over 400 lbs of user weight. Thus you can perform a weighted pull-up without the fear of its failure. In addition, its surface is knurled to supply a better grip.
GDCC210 Optional accessories
First, the included accessories with the GDCC210 are two handgrips and two ankle straps. In addition, a press /pulldown bar accessory is also available, but this is an optional part.
This bar connects to both cables of the weight stacks for bench presses, incline presses, squats, stand-up bar curls, or shoulder presses. So, if you want to order it too, the part number is GDCCBAR.
The weight stacks are upgradeable. Each stack allows an upgrade by an additional 50 lbs worth of plates.
Like any other functional trainer machine, this model works with various benches for presses and pulldowns. However, the bench does not come with the trainer.
Weight Resistance System
This Body-Solid GDCC210 functional trainer has two stacks of steel alloy plates, 160 lbs (72.5 kg) each. Each plate weighs 10 lbs (4.5 kg), so the weight increments are 10 lbs. However, the weight ratio of this machine is 1/2:1, which means that the maximum load per stack is 80 lbs (36.2 kg).
Each weight stack is upgradeable. For example, add up to 5 more plates on each stack to increase its gross weight to 210 lbs (95.2 kg).
A set of stickers specifying the plates" weight is (supplied) with the machine. They're supposed to be on the plates in ascending order, top-to-bottom.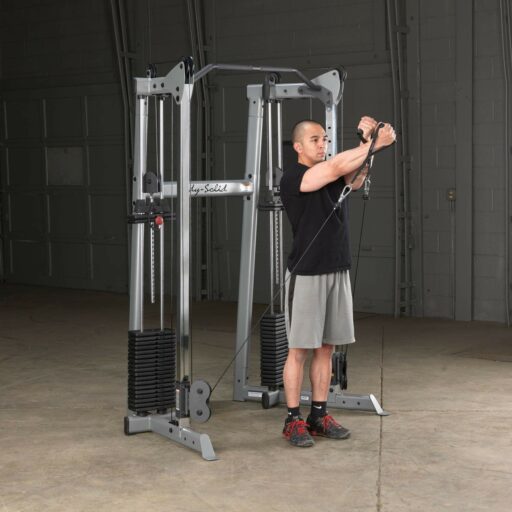 GDCC210 Possible Exercises
The Body-Solid GDCC210 functional trainer offers the possibility to perform an impressive array of exercises. Some of the most important are:
Chest press
Incline press
Cable fly
Leg extension
Stand-up curl
Shoulder press
Upright row
Lateral deltoid raise
Leg abduction
Leg adduction
Triceps press down
Triceps extension
Concentration curl
Oblique crunch
Oblique twist
Glute kickback
One-arm row
Seated row
Reverse fly
Biceps curl
Leg lift
Ab crunch
Seated crunch
These exercises are available with the machine, without any additions. However, if you also opt for the curl bar accessory, there are several more exercises that you can perform, such as:
Bench press
Decline press
Lat pulldown
Squats
and more.
GDCC210 Assembly and Maintenance
The assembly of this Body-Solid functional trainer is not highly complicated. However, due to the many parts included, it will take at least a few hours.
It comes packaged in three rather heavy boxes; that's why it's advisable to be transported and assembled by two people. Two hex keys for specific bolts and parts come with the trainer. However, you will also need an adjustable wrench and a Phillips screwdriver.
One is applying silicone lubricant onto the pulley bars and the gliding bars of the weight stacks.
It is not bad regarding the maintenance for the machine idea to do this during assembly, as it will lead to the smooth operation and adjustment of the machine. Also, if the pulleys begin to squeak, a silicone spray lubricant should fix this problem.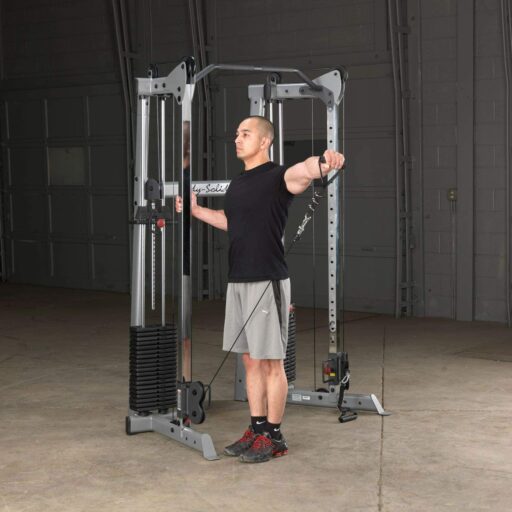 Pros
Sturdy and substantial, all-steel frame;
4-way adjustable hand straps;
Smooth pulley and cable movement;
20 adjustment positions for its mobile pulleys;
Ergonomic, dual position pull-up bar;
160 lbs weight for each stack;
Upgradable weight stacks by up to 50 lbs each;
Over 25 exercises available;
Works well with various types of benches, such as the Body-Solid GFID31;
Relatively small footprint for a home gym system;
Two ankle straps included;
Little maintenance is required;
Quiet operation;
Easy to set up;
Excellent warranty plan.
Cons
A Pulldown bar does not come with the trainer.
Body-Solid GDCC210 Functional Trainer Summary
The Body-Solid GDCC210 is quite a versatile, functional trainer machine, which comes with two weight stacks of steel plates, 160 lbs each, with the possibility to upgrade each stack to 210 lbs. Its adjustable pulleys feature 20 positions and a pivoting design for exercise flexibility. Like any other cross trainer, it's great for core and arm exercises and supports several types of leg exercises.
Moreover, it is not exactly an affordable machine, but it does have an exceptionally sturdy construction built to light commercial standards. Therefore, I can safely say that it offers an excellent price/quality ratio.
I hope you found this article helpful and informative. Would you please speak up if you have anything you'd like to share on the topic or any opinions about my website? I look forward to your comments, questions, and the sharing of ideas.
Please remember that you should consult your physician to determine if you have any medical or physical conditions that could put your health and safety at risk or prevent you from using the equipment properly. In addition, your physician's advice is essential if you are taking medication that affects your heart rate, blood pressure, or cholesterol level.