The Sunny SF-XF9933 Half-Rack Power Cage does not have any compromises. It's fully featured and durable like a full power rack and flexible enough with a small footprint like a squat rack. Furthermore, this half-rack can stay with you on your strength training journey, and with a 1,000 lb max weight capacity – it does not quit!
The 2″ x 2″ high-quality steel pipe construction makes this one of the most durable power cages. To add stability and sturdiness to your lifts, you may bolt the Power Zone Half Rack to your floor. Additionally, there are six separate weight plate storage pegs along the rear of the power rack, helping to add stability to the overall structure.
The Sunny SF-XF9933 half-rack power cage comes with adjustable J-hooks and spotter's arms with 18 settings to give you peace of mind as you focus on your strength training. In addition, the pull-up bars are adjustable with settings to suit your height or type of workout.
Learn more in my complete review below!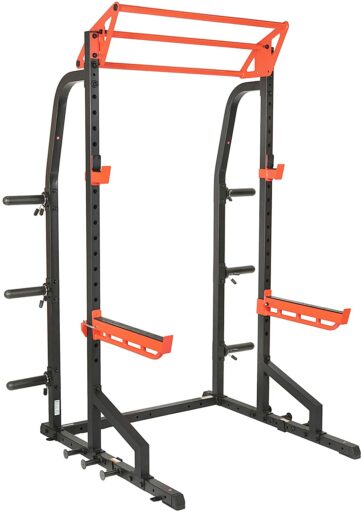 Product: Sunny SF-XF9933 Half-Rack Power Cage
Price: For a great deal on this gym, merely go here to Sunny Health & Fitness.com
Warranty: Frame 1 year / Parts 180 days
My rating: is 9.25/10
Affiliate Disclosure: As a Sunny Health & Fitness Affiliate Program participant, I earn commissions on purchases made through links in the post. Full disclosure
Details and Specifications
Assembled dimensions: 64.3L x 50.4W x 86.9H inches (163L x 128W x 220H cm)
Assembled weight: 165.3 lbs (75 kg)
Max. weight capacity: 1,000 lbs (453.5 kg)
Possible exercises: 25+
Warranty: Frame 1 year / Parts 180 days
SF-XF9933 Frame Construction
The Sunny SF-XF9933 half-rack is 14-gauge, 2″ x 2″ steel tubing. All the bars in its construction come double-coated with a durable paint finish. The color used for the mainframe is black, while the color used for the pull-up bar assembly, safety bars, and j-hooks is orange. Thus, it improves the overall aesthetics of the cage and serves as a motivational factor.
This half rack is not too bulky, but it is not tiny either. Its footprint is approximately 64.3″L x 50.4″W (163 x 128 cm), and you'll need a clearance of at least a few feet on each side and at the front of the unit for safe use. That's because it's for use with Olympic, 7-foot barbells.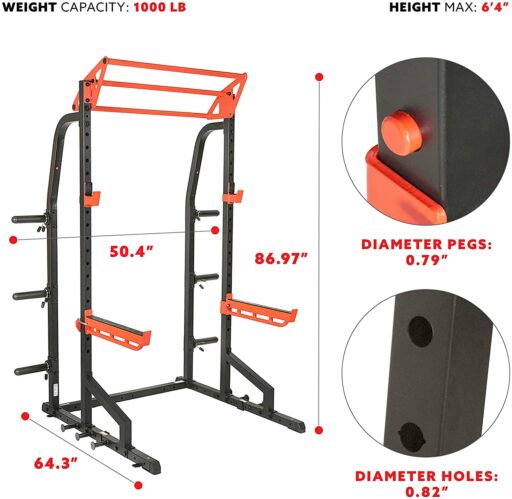 The unit's height is approx—86.9″ (220 cm). Therefore, the rack won't fit in a room with a 7-foot (214 cm) ceiling. Plus, leaving at least a foot of clearance at the top of the unit is advisable to perform all the pull-up exercises correctly. As a general idea, the maximum user height for this rack is 6'4″ (193 cm).
The Sunny SF-XF9933 Half-Rack Power Cage has a maximum weight capacity of 1,000 lbs (453.5 kg) which is not bad for a home-use cage. In addition, the weight capacity also applies to the safety bars and j-hooks.
The rack's upright bars feature 18 adjustment holes to attach the j-hooks and safety bars. However, it's important to note that their diameter is only 0.82″ (2 cm), not 1″ (2.5 cm). Therefore, standard 1″ attachments won't fit this rack like other j-hook sets or dip attachments.
The base bars rest on large rubber pads. However, just like any other strength training machine, placing and using it on a rubber mat is advisable. The lateral base bars also have anchor points, so you can secure the rack to the floor if needed. However, it is pretty heavy, weighing approximately 165 lbs (75 kg).
Other parts and accessories
The Sunny SF-XF9933 Half-Rack Power Cage includes several attachments and accessories. To begin with, it comes with a multi-grip pull-up bar attachment. In addition, it features three horizontal bars at different heights, with the maximum height being ~86″ (220 cm).
They have a textured surface for an improved grip. The middle pull-up bar has two attachment positions. Also, the whole pull-up bar assembly can attach upside down for a different configuration.
Similar to other power racks, the Sunny SF-XF9933 model comes with two j-hooks and a set of two safety bars. They have a maximum weight capacity of 1,000 lbs (453.5 kg). In addition, they feature a thick layer of rubber on their upper sections to prevent paint chipping and reduce noise when placing the barbell on them.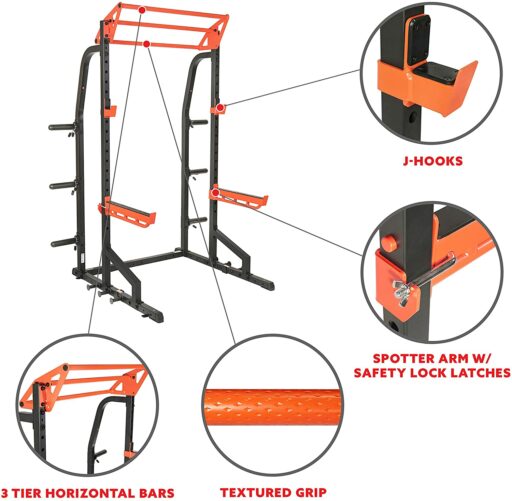 As I've mentioned earlier, their attachment pins are 0.82″ (2 cm), not 1″ standard. Therefore, standard pins won't fit on this rack. However, if used accordingly, the included j-hooks and safety bars are sturdy enough to last a lifetime.
I count six storage posts on the list of attachments included with this Sunny Health & Fitness half-power rack. They attach to the rear upright bar of the frame. Their exact weight limit is not specified, but they should hold several weight plates of any weight each.
They are 2″ in diameter and are meant for Olympic weight plates. Unfortunately, their sleeves are not removable, so you cannot load them with Standard 1″ plates. And six spring clips for securing the weight plates on the storage posts come with the cage.
The base bars of the cage have several holes for attaching resistance band pins. Six pins come with the rack. Their heads are flat to prevent the resistance bands from slipping off.
Several other attachments are available (but not included). Among them, I can count a set of dip handles, a landmine attachment, a U-ring attachment, a lat pulldown attachment, and a power bench.
SF-XF9933 Possible Exercises
Pull-ups
Wide grip pull-ups
Muscle pull-ups
Behind head pull-ups
Around the world, pull-ups
One-arm pull-ups
Cliffhangers
Weighted pull-ups
Chin-ups
Close grip chin-ups
Wide grip chin-ups
One hand chin-ups
Weighted chin-ups
Hanging knee raises
Hanging leg raises
Deadlifts
Calf raises
Squats
Wide squats
Twisting squats
All kinds of resistance bands exercises
and more.
Of course, if you opt for any of the attachments mentioned above, you can also perform dip exercises, presses, lat pulldowns, and more.
Assembly and Maintenance
The Sunny SF-XF9933 requires complete user assembly. However, the task is far from being complicated and shouldn't take more than two hours of your time. You must assemble the unit's base first, add the upright bars, close the rack with the pull-up bar assembly, and install all the other attachments.
All the necessary tools come with the cage, and the manual provides clear step-by-step assembly instructions and schematics.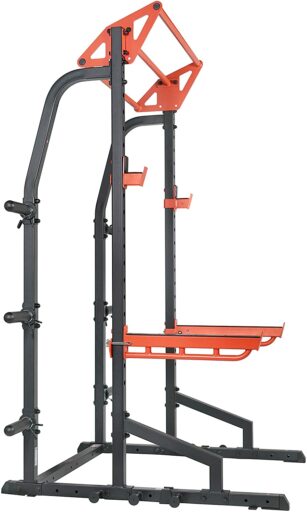 Once fully assembled, you don't have to worry too much about maintenance. However, wiping off any sweat droplets that may fall onto the frame at the end of the workout is advisable. You should also periodically inspect the rack, checking for loose bolts and parts and retightening as necessary.
Pros
Sturdy frame, 14-ga, 2″ x 2″ steel;
Excellent weight limit – 1,000 lbs (453.5 kg);
Adjustable pull-up bar assembly;
Rubberized j-hooks and safety bars;
18 adjustment positions for the safety bars and j-hooks;
Six resistance band pins for the base of the cage;
Six weight plate storage posts;
Safety springs for the storage posts included;
Anchor points to the base bars of the cage;
Over 25+ possible exercises;
Multiple optional attachments are available;
Easy to assemble;
Tools for assembly included;
Little maintenance is required;
Decent warranty.
Cons
Storage posts are only for Olympic 2″ weight plates;
The attachment holes are 0.82″ (2 cm), not 1″ (2.5 cm), so only Sunny attachments will fit the rack.
Sunny SF-XF9933 Half-Rack Power Cage Summary
The Sunny SF-XF9933 is a half-rack power cage designed for home use. In addition, it offers a reasonably decent weight capacity of 1,000 lbs, and it comes with safety bars, j-hooks, plate storage posts, and a multi-grip pull-up bar assembly.
Furthermore, it offers the possibility to perform 25+ exercises or more if you opt for some available attachments. Moreover, it's a fairly decent power cage for users of all levels, offering excellent value and quality for the price.
I hope you found this article helpful and informative. Would you please speak up if you have anything you'd like to share on the topic or any opinions about my website? I look forward to your comments, questions, and the sharing of ideas.
Please remember to consult your physician to determine if you have any medical or physical conditions that could put your health and safety at risk or prevent you from using the equipment properly. In addition, your physician's advice is essential if you are taking medication that affects your heart rate, blood pressure, or cholesterol level.