The Body Power Deluxe ERG8000 Indoor Cycle is for people who want to work out at home; this exercise bike is easy to use, compact, and practical. It has been constructed and tested for a maximum user weight limit of 300 lbs.
This front flywheel bike features a bidirectional magnetic resistance system with a fully encased flywheel for enhanced silence, smoothness, and safety. With an ergonomic crank positioned on the side of the upright arm, you can quickly and safely adjust the resistance level while still cycling. Choose between 8 resistance levels for a complete indoor cycle workout.
The curved crank on the Body Power Deluxe ERG8000 indoor cycle applies constant tension to the X and Y axes, delivering a dead-zone-free rotation as you pedal. Get the most out of your cardio workout equipment with its smooth operation and efficient motion.
The ERG8000 indoor cycling bike has an ergonomically designed, more oversized, and full seat to support comfortable, longer rides. The seat is 4-way adjustable up, down, front, and back. Additionally, the bike has a vertically adjustable handlebar to get the best riding position for your height.
Learn more in my complete review below!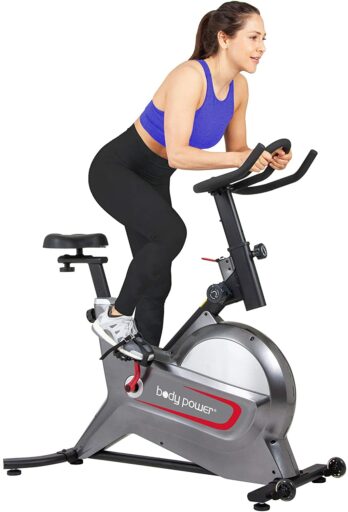 Product: Body Power Deluxe ERG8000 Indoor Cycle
Price: For a great deal on this bike, merely go here on Amazon
Warranty: Frame 1 year / Parts 90 days
My rating: 8/10
Affiliate Disclosure: As an Amazon Affiliate Program participant, I earn commissions on purchases made through links in this post. Full disclosure
Details and Specifications
Assembled dimensions: 46L x 23.6W x 48H inches (117L x 60W x 122H cm)
Assembled weight: 68.3 lbs (31 kg)
Supported weight: 300 lbs (136 kg)
Handlebars: 2-way adjustable
Seat: 4-way adjustable
Drive: Belt
Resistance: Magnetic, eight levels
Fitness monitor: N/A
Warranty: Frame 1 year / Parts 90 days
ERG8000 Frame Construction
The Body Power Deluxe ERG8000 indoor cycle features an X-type frame with a low center of gravity for improved stability. The bike's frame is steel tubing. In addition, all the tubes in its construction are oval for enhanced sturdiness and aesthetics.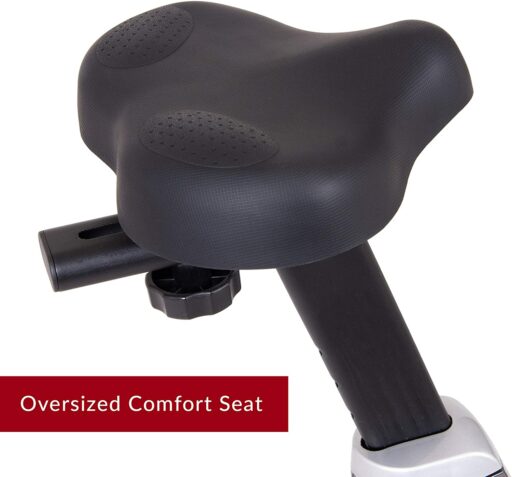 All the steel tubes come coated with a corrosion-resistant black paint finish. Also, most of the frame has large ABS side panels.
The fully assembled bike is not extremely large. It is approximately 46″ (117 cm) long and 23.6″ (60 cm) wide. However, leaving at least 24″ (61 cm) of clearance around it is advisable for safety and easy access. Furthermore, its highest point is 48″ (122 cm) when the handlebar fully extends.
The bike isn't hefty either. It weighs approximately 68 lbs (31 kg) when fully set up. Therefore, one person can carry and assemble the bike. In addition, the front base features large silicone wheels, which facilitate its relocation. Plus, both base bars come equipped with adjustable levelers for improved stability.
It's important to note that the bike's frame doesn't have a step-up bar between the seat and the main oblique tube. Since the ABS side panels cover most of the bike's frame, stepping on the frame will lead to side panel cracking.
Seat and handlebars
The Body Power Deluxe ERG8000 indoor cycle includes a broad saddle, similar to upright bikes. Its top is a firm but flexible layer of urethane material, with ventilation sections at the rear.
The seat features a triangular plate attachment system, so you must opt for a similar saddle if you need to replace it. Unfortunately, most models don't have this type of attachment. So, it won't be easy to find a replacement if you want to replace it with a slim spin seat.
The bike's seat is four-way adjustable (front, back, up, down). In addition, its vertical post has several adjustment holes with increments of more than one inch.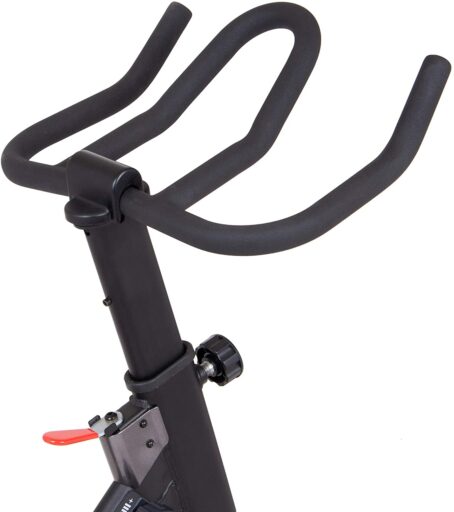 The horizontal slider adds several extra inches of front-to-back adjustment. Thus, the bike can accommodate users between 5'0″ and 6'2″ (153 – 188 cm) with no problem. Also, the seat has a maximum user weight limit of up to 300 lbs (136 kg).
The Body Power ERG8000 comes equipped with a pretty standard handlebar. However, it offers several grip possibilities. For example, its side grips allow a conventional, off-road, and climbing grip. In addition, the center loop bar enables an aero grip.
A layer of rubber foam material fully covers the bike's handlebar for an improved grip. Unfortunately, it does not have integrated HR pulse sensors, and the cycle doesn't have a pulse reading function.
ERG8000 Resistance system
The Body Power Deluxe ERG8000 indoor cycle has a manual magnetic resistance system. Therefore, you don't have to connect it to an external power source. But on the other hand, the bike doesn't auto-adjust the resistance.
The bike's resistance system consists of an internal magnetic brake connected to the tension knob on the mainframe tube's right side via a steel cable. For example, as you turn the knob clockwise, the brake moves closer to the flywheel and increases the load. Conversely, if you turn the knob counter-clockwise, the brake moves away from the wheel, and the pedaling difficulty reduces.
Like most upright bikes, the bike's resistance system offers eight distinct tension levels. The first level delivers a relatively light pedaling difficulty, ideal for warming up or recovery training, while the 8th tension level is pretty high and can simulate a hill climb.
The bike also has an emergency brake feature with a small lever next to the tension knob. Therefore, you can press this lever down if you want to stop the flywheel from spinning immediately and safely.
Drive system
One of the essential features of the Body Power Deluxe ERG8000 indoor cycle is curved-crank technology. So first, the bike comes equipped with a sturdy 3-piece crank, which can support users up to 300 lbs (136 kg) while standing up on the pedals.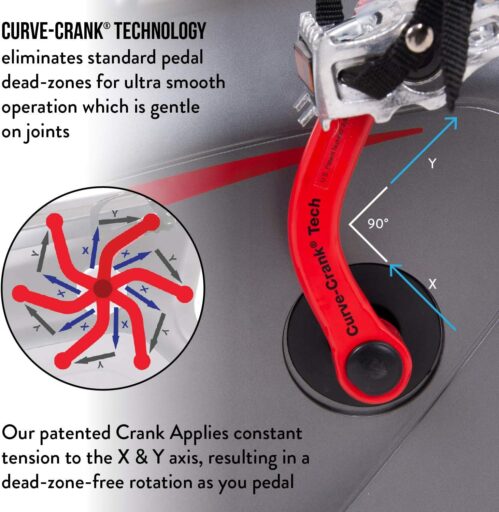 The two cranks are curved to reduce the dead zone during the pedaling motion. Therefore, the pedaling sensation is smoother, and the impact on your joints reduces.
The included pedals are aluminum alloy. In addition, they have a non-slip design and feature urethane toe cages with adjustable straps. Unfortunately, they don't have SPD elements for spin shoes; their threads are standard 9/16. Thus, you can find compatible replacements in any bike shop.
The bike comes equipped with a large flywheel, similar to most other spin bikes. Its exact weight is not specified, but as a general idea, the flywheel is approximately 30 lbs and provides consistent momentum.
The flywheel is bi-directional; it allows pedaling in reverse as well. However, free-wheeling or coasting is not possible. That's because the pedals continue to spin for as long as the flywheel is spinning. It would be best if you stopped the wheel safely using the emergency brake to change the pedaling direction.
Lastly, the Body Power Deluxe ERG8000 has a belt drive system, which goes for any other bike with a magnetic resistance system. Its internal transmission uses a poly-v belt highly resistant to abrasion and stretching. Furthermore, the belt doesn't require lubrication. It also produces less vibration than a chain.
ERG8000 Assembly and Maintenance
The main body of the indoor cycling bike comes pre-assembled. The flywheel, the crankset, the brake, and other drive and resistance systems elements are pre-assembled. You only need to attach the bike's two-base bars, the seat post, handlebar post, and pedals.
Consequently, it shouldn't take more than 30 minutes of your time. All the necessary tools come with the bike, and the manual provides precise assembly instructions.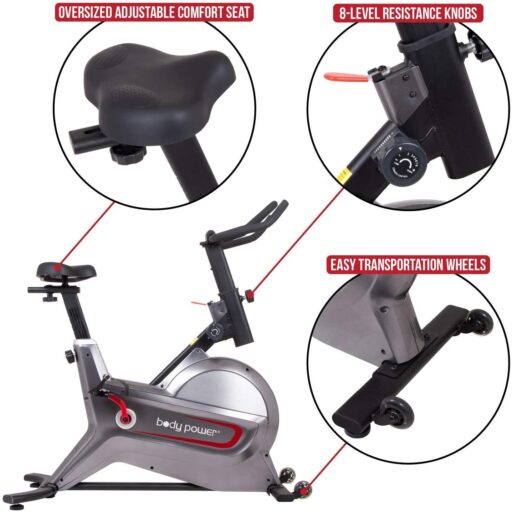 Once assembled, maintenance doesn't require much. Its transmission doesn't need lubrication. You only have to clean the unit, periodically check for loose parts, and retighten them as required.
Pros
Sturdy construction – can support users up to 300 lbs;
Aesthetic and compact design;
Adjustable levelers on both base bars;
Transport wheels on the front base;
4-way adjustable seat;
Large and contoured saddle for extra comfort;
Multi-grip handlebar with a long aero bar;
Silent belt drive;
Bi-directional and perimeter-weighted flywheel;
Frictionless magnetic resistance (8 levels);
Curved-crank technology for a dead-zone-free pedaling motion;
Durable metallic pedals with toe cages;
Easy to assemble;
Little maintenance is required.
Cons
The bike does not have a fitness monitor;
There is not a bottle holder.
Body Power Deluxe ERG8000 Indoor Cycle Summary
The Body Power ERG8000 is a home-use indoor cycling bike. It has an 8-level magnetic resistance system, a heavy flywheel for improved inertia, a sturdy crankset with curved arms, and an oversized saddle for extra comfort. Furthermore, it's a decent exercise bike for intense cardio training, intervals, stamina development, weight loss, and muscle toning.
I hope you found this article helpful and informative. Would you please speak up if you have anything you'd like to share or any opinions about my website? I look forward to your comments, questions, and the sharing of ideas.
Please note you should consult your physician to determine if you have any medical or physical conditions that could put your health and safety at risk or prevent you from using the equipment properly. In addition, your physician's advice is essential if you are taking medication that affects your heart rate, blood pressure, or cholesterol level.