There is no better way to begin the dumbbell experience than to start with the Bowflex SelectTech 552 Adjustable Dumbbells. These dumbbells had been one of the top-selling dumbbells since their release back in 2013. It is perfect for the ultimate strength training because of it's adjustable weight level.
The 552's offer a reasonably wide weight range. You are starting from as little as 5 lbs to as much as 52.5 lbs (per dumbbell). There are 15 different weight settings to choose from. What's nice about the SelectTech 552's is that you can adjust weight in 2.5 lb increments for the first 25 lbs (once you get to 25 lbs, it moves up in 5 lb increments).
For most people, trying to increase weight in more significant increments (like 5 or 10 lbs at a time) is too difficult for your muscles to do. So, you struggle with keeping good form and can't complete your reps, which means you don't build strength as well.
Fortunately, because the SelectTech 552's can adjust in such small increments, you can increase weight at a more steady pace. This allows you to keep perfect form, get your full rep range, and gain strength faster and easier.
Learn more in my complete review below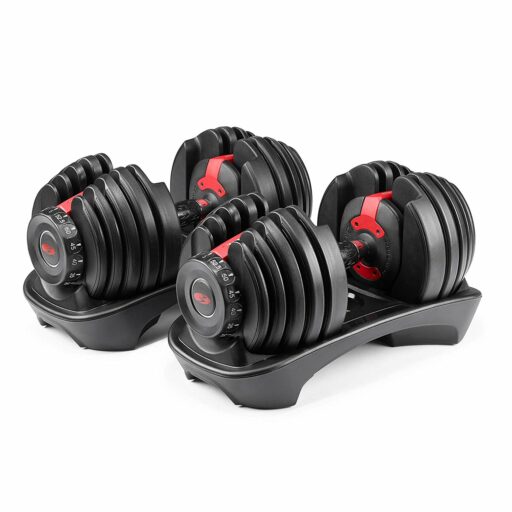 Product: Bowflex SelectTech 552 Adjustable Dumbbells
Price: For a great deal on these dumbbells, merely go here on Amazon
Warranty: 2-years
My rating: 9.5/10
Affiliate Disclosure: I may earn commissions from purchases made through links in this post.
Details and Specifications
Weight range of 5lbs – 52.5lbs per dumbbell.
Weight increment of 2.5lbs for the first 25lbs.
Provides Fifteen different weight settings: 5, 7.5, 10, 12.5, 15, 17.5, 20, 22.5, 25, 30, 35, 40, 45, 50, and 52.5 lbs with an increment of 5lbs after 25lbs.
Two-year warranty.
Six-week Fitness Results Guarantee with a money-back guarantee.
Bonus workout DVD present in each set.
Dimensions are (L x W x H)15.75″ x 8″ x 9″
Ability to replace 30 pairs of traditional dumbbells.
Weight selector that dials on end.
They have rubber handles that reduce slipping and hand injuries.
Allows adjusting the weight in seconds.
Warranty: 2-years
552's Weight Range
The Bowflex SelectTech 552's gives a wide variety of weight range to work with, from 5 lbs to 52.5 lbs(per dumbbell). It consists of fifteen different weight settings to select from. The best part of SelectTech 552's is that you can adjust the weight in 2.5 lbs increments for the first 25 lbs then with an increase of 5lbs from 25lbs to 50lbs respectively.
Other dumbbells mostly give an increase of 5lbs or 10lbs, which seems a problem for beginners facing a struggle in maintaining proper form.
Hence, SelectTech 552's can vary in small increments of 2.5lbs and 5lbs. It allows you to increase weight at a steady pace giving you proper form, endurance, confidence, and ability to complete a full set of the workout.
However, there is a problem faced mostly by professionals regarding the weight range. You cannot add additional weight after 52.5 lbs. To do that you have to purchase an entirely different set of dumbbells having a much wider variety of range.
Adjustability
Bowflex SelectTech dial-a- weight adjustment systems are one of the best features of Bowflex 552's. When selecting different weight settings, there is a numbered dial that you have to twist to choose your desired weight.
Each handle consists of weight plates that are attached using brackets. So, when you turn the dial and select a weight, the brackets, will grab the weight according to the number you have dialed.
The base cradle is set up in SelectTech 552's, which is a tray that holds all the weight plates and so when you change the weight setting it can easily slide up and down. It nearly takes 2-3 seconds to change the weight that is why SelectTech 552's are the fastest and easiest to adjust.
552's Durability and Quality
Bowflex, a brand from the USA, is known for producing high-quality gym equipment. So, there isn't any chance that Bowflex will compromise its prestige on Select 552 Adjustable dumbbells regarding quality.
Bowflex Select 552's are the highest-rated and best-selling adjustable dumbbells present in the market right now. They are having a positive review rate of ninety-six percent on Amazon, which clearly shows how outstanding Bowflex SelectTech 552's are.
When you are performing a good pace of fast and rough workout, these dumbbells adjust up very well. The smoothness of these dumbbells shows how durable they can be in the future.
The bracket, core, and handle are Heavy-Duty metal giving them a secure fit. Hence, neglecting wobbling weights, and also the durable hard plastic on weights can withstand regular gym abuse.
Warranty
Bowflex gives a two-year warranty on SelectTech 552's which handles both parts of the product and the labor work it may require. The company will send its manufacturers if there is any issue regarding the product.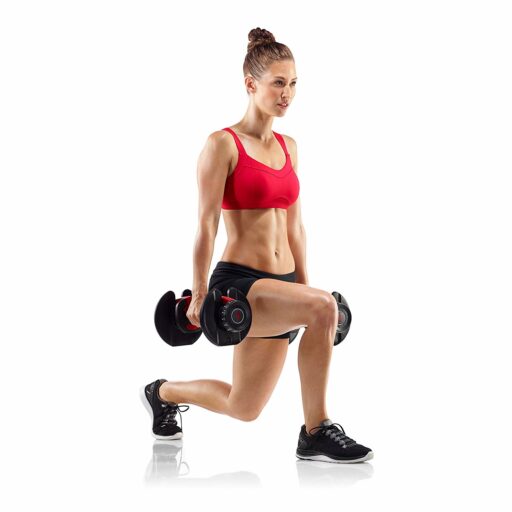 It also gives you the 6-week Fitness Results Guarantee. If you are unhappy with them, you can return to the company without any questions asked.
Pros
Quality– Made from chrome steel 14'' x 1''.
Strength– Impressive weight range of 5lb to 52.5lbs.
Effectiveness– Dumbbells are useful even though they are so compact.
They are affordable for a wide range of users.
Design– Flexible and convenient dial system.
Ergonomic handle– provides comfort and safety
Cons
The adjustable dial system seems frail to some users.
Bowflex SelectTech 552's Summary
If you are looking forward to equipping that home gym, the Bowflex SelectTech 552 Adjustable Dumbbells deserve your consideration. They allow you to work on every part of the body you choose to work on.
Overall, the Bowflex SelectTech 552 dumbbells are one of the best sets of adjustable dumbbells I've ever used. What impressed me the most about the 552's was that they excelled in nearly every category you can look at when comparing different models.
They have a vast weight range to work with, small and precise weight settings, excellent design. But most of all, they are incredibly easy to use thanks to the SelectTech dial adjustment system.  If you want a fantastic set of adjustable dumbbells at a great price, the Bowflex SelectTech 552's are for you.
I hope you found this article helpful and informative. If you have anything that you'd like to share or opinions about the content on my site, please do speak up. I look forward to your comments, questions, and the sharing of ideas.
Recommended articles: