Experience a total body workout on the Echelon Row S Rowing Machine! Enjoy daily live and on-demand studio instruction from world-class instructors, plus on-demand scenic rides from some of the best waterways in the world. With hundreds of on-demand classes available anytime, you will never have to leave your home to get in the best shape of your life.
Enjoy a FREE 30-day trial of the Echelon Premier Membership with access to more than 3,000 live and on-demand connected fitness classes led by the world's best instructors through the Echelon Fit App. Classes range from 5 to 45 minutes for everyone, from beginners to pro athletes. One membership allows up to five users, so your friends and family can enjoy the Echelon experience together.
Echelon's most advanced rower has a new 22″ rotating HD fitness monitor, making it easy to mix up your workouts. Unfortunately, the screen's crystal-clear resolution makes it easy to get lost when rowing. At the same time, Wi-Fi-enhancing antennas ensure consistent connectivity during every exercise—featuring Bluetooth technology and dual audio jacks.
Learn more in my complete review below!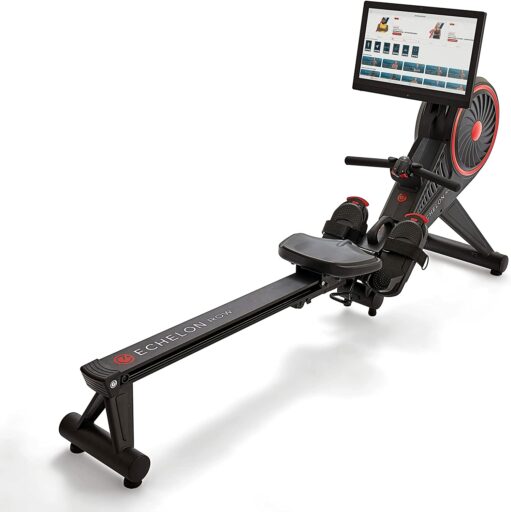 Product: Echelon ROW S Rowing Machine
Price: For a great deal on this rower, merely go here to Amazon.com
Warranty: 1 year limited
My rating is: 8.5/10
Affiliate Disclosure: As an Amazon Affiliate Program participant, I earn commissions on purchases made through links in this post. Full disclosure
Details and Specifications
Assembled dimensions: 84L x 21W x 47H inches (213L x 53W x 119H cm)
Assembled weight: 114.5 lbs (52 kg)
Flywheel weight: 8 lbs (3.6 kg)
Weight capacity: 300 lbs (136 kg)
Frame: Steel
Footrests: Adjustable
Resistance type: Motorized magnetic, 32 levels
Fitness Monitor: 22″ display, WiFi connectivity, Bluetooth speakers, Ethernet port
Warranty: 1 year limited
ROW S Frame Construction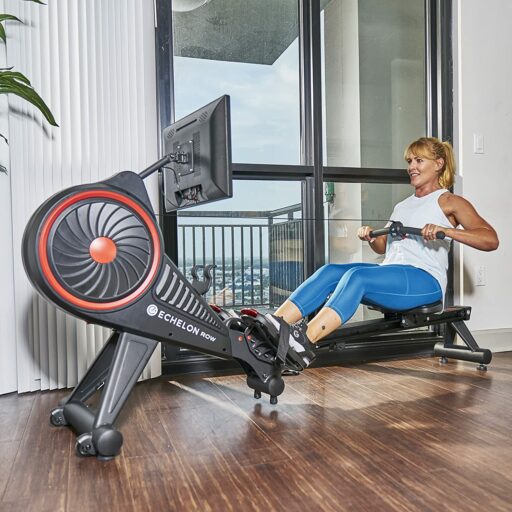 The Echelon ROW S rowing machine combines steel and ABS plastic parts in its construction. The steel tubing frame and all the steel parts come with a chip-resistant and rust-resistant black paint finish. The most significant ABS plastic parts of the rower are the covers of the resistance system, the steel tube end caps, the adjustable sections of the pedals, and most of the console.
The rower has a pretty durable rail. It has a maximum user weight limit of 300 lbs (136 kg). The rail is over 40″ (102 cm) in length, so the machine should comfortably accommodate users up to 6'5″ (196 cm) with no problem.
The machine is also foldable. The rail with the seat can fold up. In addition, there is a small handle right between the two footrests and another foldable one under the rail, which facilitates the folding and transport of the machine. With the rail folded up, the unit's footprint remains approximately 40″L x 21″W (102 x 53 cm), while its height reaches approximately 60″ (152 cm).
In addition, the rower is pretty heavy as well, weighing approx. 114.5 lbs (52 kg), so two people should carry and assemble the rower. Once completed, one person can quickly move the rower as its front stabilizer features two small wheels.
Seat and other parts
The Echelon ROW S rowing machine features seats similar to most other rowing machines. However, its top section is pretty broad, approx. 16″ (40 cm), so it provides plenty of contact surface. Furthermore, it has contours and padding for extra comfort. In addition, at its highest point, it is at approx—18″ (46 cm) above the floor level. Thus, the machine offers easy entry and exit even for users with specific disabilities.
The base of the seat is steel-made. It integrates three sets of wheels that slide through the side grooves of the rail. The wheels have internal ball bearings and a silicone layer outside for a smooth and quiet seat motion.
The rower has a set of fixed footrests. Therefore, they do not tilt on their axis, as is the case for other machines. They sit at approximately 50° for optimal foot positioning and a solid base for the leg push phase of the rowing motion.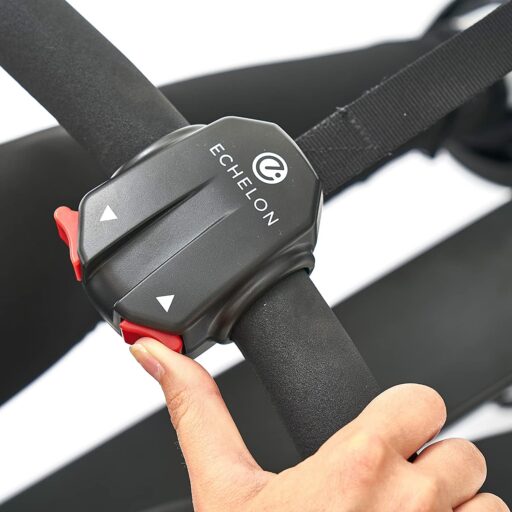 The top sections of the machine's footrests are sturdy and flexible nylon material, while their bases are steel. The footrests are adjustable and should accommodate athletic shoes of all sizes. In addition, they also have straps and heel guards for improved foot stability.
The machine has an ergonomic handle featuring rubber foam sleeves for a superior grip. The handle attaches to a heavy-duty nylon strap, which is highly resistant to abrasion. Some other rowers have their handles attached to a chain that requires periodic lubrication. The strap doesn't need any maintenance and generates less noise during rowing. The handle also integrates the machine's remote control for resistance adjustment.
ROW S Resistance system
The Echelon ROW S rowing machine has the same type of resistance system as the Echelon ROW model. However, it is an eddy current resistance system, so the machine needs a connection to a power source. An adapter with cable comes included.
The unit's resistance system consists of a remote control, an internal servo motor, and an internal magnetic brake. The remote control attaches to the pulling handle and features two buttons (for increasing and decreasing the resistance). In addition, it communicates with the internal motor via Bluetooth. Thus, when you press one of the buttons, the motor changes the pull of the inner magnets to increase or decrease the rowing difficulty.
The machine has 32 levels of resistance. The lowest levels offer a pretty light rowing difficulty, making them great for recovery training, muscle toning, or a workout warm-up. Conversely, the 30+ levels offer considerably more difficulty, which is great for stamina and strength development.
The rower does not have any air resistance elements. Thus, it does not provide a dynamic response during rowing, like an air or water resistance rower. For example, the resistance doesn't increase if you pull the handle faster. Nonetheless, it does provide a pretty consistent workout.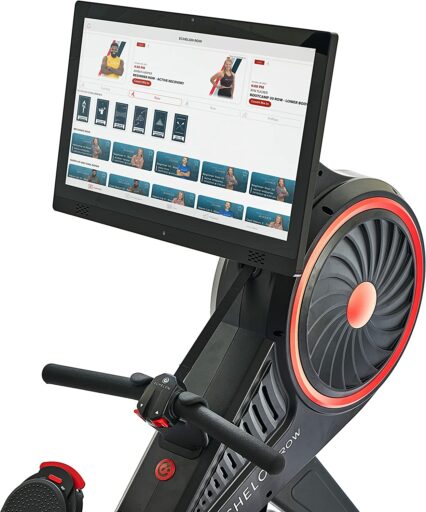 The main advantage of the magnetic resistance system is that the magnets don't touch the internal flywheel. Thus, the rowing motion is very smooth and very quiet. Also, the magnetic brake doesn't wear out or need any maintenance.
Fitness monitor
The Echelon ROW S rowing machine comes with a large, 22″ display monitor, which only has the Echelon Fit app pre-installed. It has no other apps, like Netflix, Hulu, or Prime Video, installed. However, these features may be added in future software updates, though.
The monitor has WiFi connectivity and will connect to your WiFi hotspot to communicate with your Echelon Fit account. The Echelon Fit app offers a decent interface for freestyle rowing, showing time, distance, speed, watts, strokes, and burned calories. It also shows the selected resistance level. However, it does not have a split time (time/500 m) feature, which may be a downside for athletes that want to train on a professional level.
The Echelon Fit app and the monitor don't require subscriptions or payments once you set up your Echelon Fit account. However, the free version only allows viewing your stats for the current workout but not your workout history. The various in-app purchases open access to videos led by trainers, scenic rides based on locations worldwide, challenges, programs, and more.
The monitor has an adjustable arm. It can tilt 90° back and forth and swivel the display from side to side. It also has built-in Bluetooth speakers, and the app offers over 1 million song and artist options.
ROW S Assembly and Maintenance
The front of the machine comes pre-assembled with all the drive and resistance elements. You only need to attach the front stabilizer, insert the seat onto the rail, connect the rail to the front part of the machine, and add the rear stabilizer, the footrests, and the fitness monitor.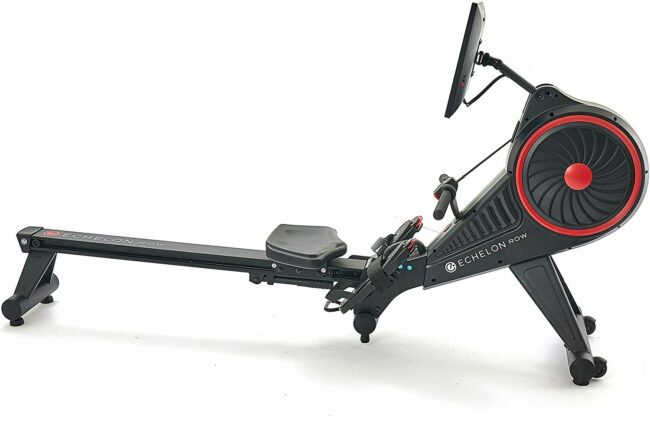 Consequently, this shouldn't take more than one hour of your time. All the necessary tools come included, and the manual provides precise assembly instructions.
For maintenance, you only have to clean the machine, periodically check for loose or broken parts, and retighten or replace them. The internal mechanism doesn't need any lubrication or maintenance.
Pros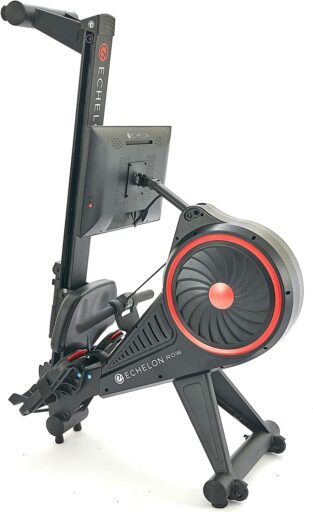 Sturdy construction – can hold users up to 300 lbs;
Folding rail, space-saving design;
Long rail – the unit can accommodate users up to 6'5″;
Transport wheels on the front base;
Adjustable levelers on the front and rear stabilizers;
Large, padded, and contoured seat for improved comfort;
Adjustable footrests with heel guards and straps;
Motorized magnetic resistance with 32 distinct levels;
Remote-controlled resistance;
22″ fitness monitor included with the pre-installed Echelon Fit app;
The app tracks time, watts, distance, speed, calories, and strokes;
Extensive database of trainer-led videos available with in-app purchase;
Challenges and programs available with in-app purchase;
Scenic rides based on various workouts in the world are available with in-app purchases;
Tilt and swivel arm for the console;
Bluetooth speakers integrated into the monitor;
USB and Ethernet ports;
Easy to assemble;
Little maintenance is required.
Cons
The fitness monitor does not have a pulse reading function;
The fitness app is pretty basic without any of the premium purchases;
No Netflix, Hulu, Disney+, or other apps on the monitor.
Echelon ROW S Rowing Machine Summary
The Echelon ROW S is a rowing machine made for home use. It has a 32-level eddy current remote-controlled resistance system and a 22″ fitness monitor with access to the Echelon Fit app and database. In addition, it has a long, sturdy rail, rated for a maximum user weight limit of 300 lbs, a comfortable seat, and a set of adjustable footrests.
Furthermore, it's a rower for users of all levels, great for muscle toning, increasing stamina, strength development, and in general, for full-body cardio workouts.
I hope you found this article helpful and informative. Please speak up if you have anything you'd like to share on the topic or any opinions about my website. I look forward to your comments, questions, and the sharing of ideas.
Please remember that you should consult your physician to determine if you have any medical or physical conditions that could risk your health and safety or prevent you from using the equipment properly. In addition, your physician's advice is essential if you are taking medication that affects your heart rate, blood pressure, or cholesterol level.