Add progressive air resistance to your next in-home workout with the Efitment Aero Rowing Machine RW036. Maintain optimal stability when you strap your feet onto the large footplates. Slide easily on the durable 51-inch steel slide rail supports a maximum user weight capacity of up to 245 pounds.
Engage the RW036 with the smooth, maintenance-free belt-drive mechanism to activate the progressive fan resistance. This rower's resistance is dynamic. The harder you pull with progressive air resistance, the more resistance you'll feel on this rower machine.
The Efitment Aero Rowing Machine RW036 comes with an onboard digital fitness monitor. Track your time, stroke count, calories burned, and strokes per minute with the easy-to-use digital display during your full-body cardio workout. Unfortunately, it does not have a pulse reading function. So, if you require pulse monitoring, you'll need to use a separate device such as the Wahoo TICKR FIT Heart Rate Monitor.
The RW036 features a wide contoured seat for added comfort while you glide on the slide rail. Slide your feet onto the ergonomic foot pedals with adjustable straps to maintain maximum stability as you row. Grasp the pulling handle and pull your arms toward your body while extending your legs for a rhythmic motion.
Learn more in my complete review below!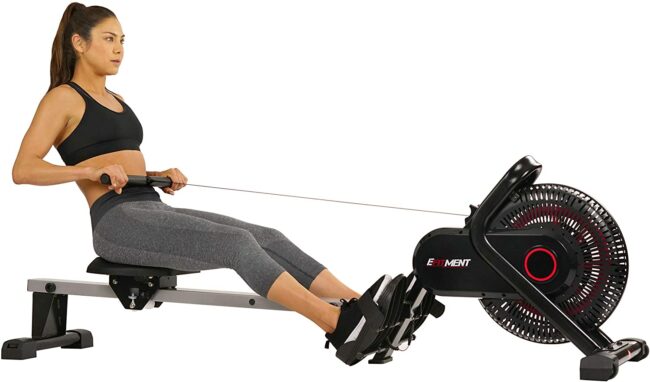 Product: Efitment Aero Rowing Machine RW036
Price: For a great deal on this rower, merely go here on Amazon
Warranty: 3 years limited
My rating: 8/10
Affiliate Disclosure: As an Amazon Affiliate Program participant, I earn commissions on purchases made through links in this post. Full disclosure
Details and Specifications
Assembled dimensions: 74.8L x 18.9W x 22.8H inches (190L x 48W x 58H cm)
Assembled weight: 59.5 lbs (27 kg)
Weight capacity: 245 lbs (111 kg)
Frame: Steel
Footrests: Pivoting, with straps
Resistance type: Air
Fitness Monitor: Time, count, SPM, calories, scan
Warranty: 3 years limited
RW036 Frame Construction
The Efitment Aero RW036 rower features a steel structural frame and integrates several ABS parts. The unit's rail, the front part of the structure that holds the fan, and the base stabilizers are steel.
The top of the seat, the fan's casing, the footrests, and several other parts are ABS-made. Nonetheless, the machine has a maximum user weight capacity of up to 245 lbs (111 kg), so as long as you don't exceed this limit, it should support you with no problem.
Compared to other rowers in this price and feature range, the Efitment RW036 offers a slightly longer rail. It is approx. 51″ (129.5 cm) long and provides enough travel for the rail to accommodate users up to 6'5″ (196 cm).
Also, the rail is not completely horizontal. Instead, it is a few degrees inclined forward. Therefore, it can be a plus as you will benefit from a slightly better workout for the legs during the drive motion and a somewhat faster recovery motion.
The fully assembled rower is not extremely large but still measures approx—75″ (190 cm) in length and 19″ (48 cm) in width. Therefore, you will need a usage area for it of at least 110″L x 70″W (280 x 178 cm). On the other hand, the unit's frame is foldable. In addition, the rail with the seat is foldable in an upright position, so the unit's length reduces to approx. 1/3.
Even though its frame is steel, this rower is not extremely heavy. It weighs approx. 59.5 lbs (27 kg), so its transport and assembly shouldn't be a problem for only one person. Plus, when it comes to moving the fully assembled unit, this can be done with ease via the small wheels integrated into its front stabilizer.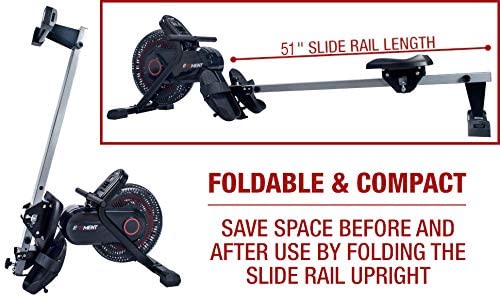 The rear stabilizer of the machine features two adjustable levelers. They have rubberized pads. The front base also has rubberized pads; therefore, the unit benefits from an excellent grip on the floor, preventing it from sliding forward or backward during a more intense workout.
Seat and other parts
The Efitment Aero rowing machine RW036 features a standard seat. Its top is durable ABS material. It has a contoured design and a textured surface to prevent the user from sliding backward during the rowing stroke's drive (or push) phase. It is approx. 14″ (35 cm) wide and provides plenty of contact surface and optimal comfort.
The seat's base is steel; it comes equipped with three wheels, two placed on top of the rail, while the other is under the rail to provide the necessary stability. The wheels are rubberized to reduce noise and integrate heavy-duty ball bearings for the seat's smooth glide.
The top of the seat is approximately 12″ (30 cm) from the floor. So it's not too high, but not too low either. Thus, most users shouldn't have a problem mounting or dismounting the seat.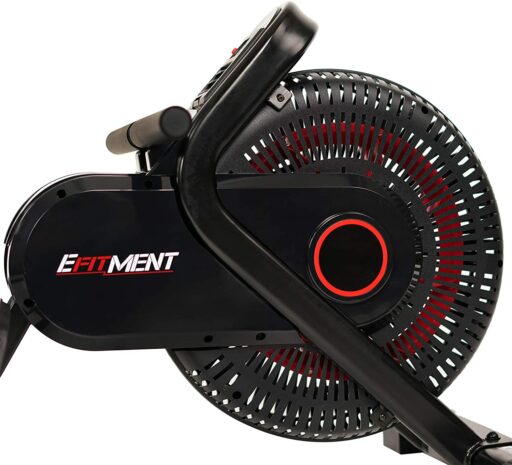 This Efitment rower comes equipped with a set of pivoting footrests. Their rear stopper keeps them at a maximum angle of approx—60 °. But due to the pivoting design, you can slightly incline your feet forward during each stroke for the best positioning.
The footrests are durable ABS material. They do not adjust lengthwise but are relatively large and should accommodate feet of all sizes. Their surface is textured, and they have heel guards to prevent foot slippage. They also come with adjustable velcro straps for maximum foot stability.
Last but not least, the unit comes with a standard straight pulling handle featuring rubberized grips. The machine does not have a pulse reading function, so no pulse sensors are integrated into the handle (or anywhere else on the machine). The handle connects to a heavy-duty nylon strap, which is highly resistant to abrasion.
RW036 Resistance system
The Efitment Aero RW036 is a total air resistance rower, and it does not have any magnetic resistance elements. The only resistance generator is an integrated fan. Also, the fan casing does not have a damper like some other rowers. Therefore, the overall resistance of the machine is not adjustable.
However, like most other air resistance rowers, this one provides a dynamic response during each stroke. For example, it means the resistance provided depends on how hard you pull the handle. Therefore, the machine will offer more resistance if you pull harder.
Since its fan is relatively large, the machine (especially during a more intense workout) does generate some noise. However, the level of noise generated is not extremely loud. It's comparable to the noise generated by an electric fan of a similar size.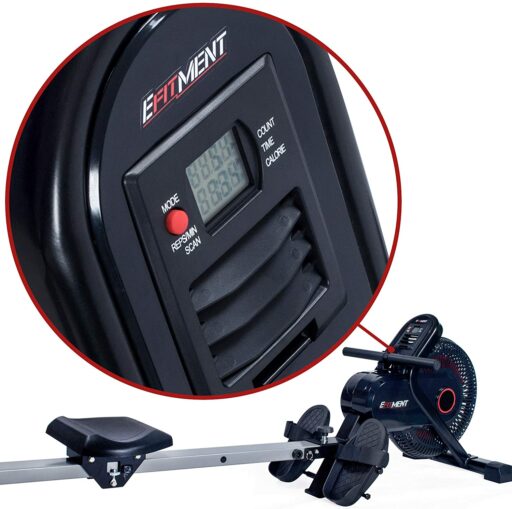 Fitness Monitor
This Efitment Aero rowing machine RW036 comes equipped with a simple fitness monitor. It features an LCD and only one button, covering all of its functions. The monitor tracks time, count (total strokes), reps/min (strokes per minute), and calories burned.
As I've mentioned earlier, it does not have a pulse reading function. Unfortunately, it has no preset programs, Bluetooth, or online capabilities.
Since it only has one button, the unit is straightforward to operate. You can press the button repeatedly to select any of the values or the Scan Mode. When using the Scan Mode, the four workout metrics display in a sequence, each appearing on display for a few seconds, their order being time, count, calories, count/min.
Also, the button covers the monitor's reset function. If you press and hold it for four seconds, all the values clear to zero.
The monitor requires one AAA battery as a power source. It also has a sleep mode to enter to save battery after approx—four minutes of inactivity on the machine.
RW036 Assembly and Maintenance
The front part of the rower with the fan, the pulling handle, and the console comes pre-assembled. Therefore, you only have to add the front stabilizer to the footrests, install the seat onto the rail, attach the rear stabilizer, and connect the rail to the front part of the frame.
Therefore, it shouldn't take more than 30 minutes of your time. All the tools required come with the rower. Also, the manual provides precise assembly instructions.
Maintenance doesn't require any lubrication of the moving parts. However, cleaning the gliding rail before each use is advisable to ensure there aren't any tiny objects or fibers that may damage the seat wheels or nicks to the rail. It's also advisable to vacuum the fan casing as it accumulates dust.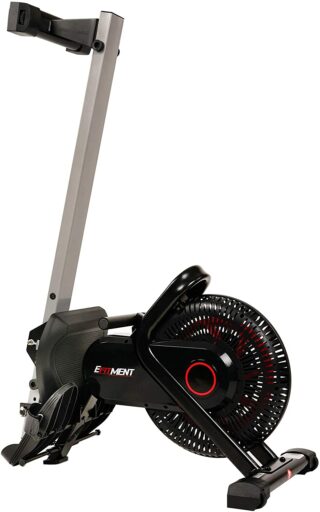 Pros
Sturdy steel frame;
Folding design;
Adjustable stabilizers on the rear base;
Transport wheels on the front base;
Long rail – can accommodate users up to 6'5″;
Contoured, non-slip seat with three sets of wheels for extra stability;
Pivoting footrests with adjustable straps;
Air resistance for a dynamic response;
Fitness monitor included – it tracks time, total strokes, strokes per minute, and calories burned;
Little maintenance is required;
Easy to assemble.
Cons
No pulse reading function;
No backlight on the fitness monitor LCD.
Efitment Aero RW036 Summary
The Efitment Aero RW036 is a rower equipped with an air resistance system. It features a foldable steel frame, a massive resistance fan, a reasonably long rail for the seat, and a simple fitness monitor.
Moreover, it's an excellent trainer for a full-body cardio workout, interval training, stamina development, and weight loss. And finally, it won't break the bank; it is considerably more affordable than a commercial-grade rower.
I hope you found this article helpful and informative. Would you please speak up if you have anything you'd like to share on the topic or any opinions about my website? I look forward to your comments, questions, and the sharing of ideas.
Please note you should consult your physician to determine if you have any medical or physical conditions that could put your health and safety at risk or prevent you from using the equipment properly. In addition, your physician's advice is essential if you are taking medication that affects your heart rate, blood pressure, or cholesterol level.