The XTERRA ERG650W Rowing Machine will help you get the most out of your training. I was also impressed by the build quality. The heavy-duty dual aluminum covered rails provide a quiet, smooth, and efficient workout while withstanding a lifetime of regular use. This machine has a maximum user weight limit of up to 350 pounds (159 kg).
Its core is a water tank and a durable, multi-bladed impeller to give you the most effective workout possible. With this in mind, XTERRA took that idea further and angled the tank at 45 degrees for an increased resistance range. As a result, the ERG650W water tank provides an authentic rowing feel and soothing sound.
The XTERRA ERG650W has a large 5.5″ fitness monitor that tracks the usual workout data you would expect, including time, distance, stroke rate, and pulse. The rower also includes 15 workout programs to keep you engaged, no matter your goals. There are programs to track your strokes, target calories, distance, and more. You can even race against the monitor to see who wins.
The seat is comfortable and slides smoothly and quietly up and down the angled rails. The seat is also 15″ off the floor, which gives it the feel of a commercial machine and makes it easy to get on and off. Your feet are held securely in place with wide footrests and thick bands. And lastly, the handle has a suitable diameter, is well-padded, and sits nicely in the hands.
Learn more in my complete review below!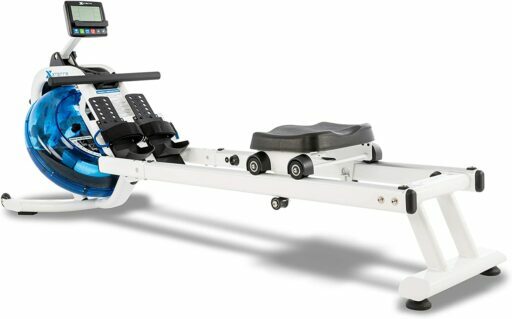 Product: XTERRA ERG650W Rowing Machine
Price: For a great deal on this rower, merely go here to XTERRA Fitness.com
Warranty: Frame lifetime / Parts 2 years / Labor 1 year
My rating: is 8/10
Affiliate Disclosure: As an XTERRA Fitness Affiliate Program participant, I earn commissions on purchases made through links in this post. Full disclosure
Details and Specifications
Assembled dimensions: 79.5L x 20.7W x 33.9H inches (202L x 52W x 86H cm)
Assembled weight: 76 lbs (34.4 kg)
Supported weight: 350 lbs (159 kg)
Frame: Steel & aluminum
Footrests: Adjustable, with straps
Resistance type: Water
Fitness Monitor: Time, distance, strokes per minute (SPM), total strokes, calories, time/500m, pulse, drag force, watts, 15 programs
Warranty: Frame lifetime / Parts 2 years / Labor 1 year
ERG650W Frame Construction
The XTERRA ERG650W rowing machine combines steel and aluminum elements in its frame construction. For example, the base bars and the two rail bars are steel in the front frame section that holds the water-resistance tank. However, the two rail bars feature aluminum covers for smoother seat motion.
All the steel parts in the machine's construction feature a heavy-duty white paint finish highly resistant to corrosion and abrasion.
The fully assembled rower is relatively large, especially lengthwise. It is approximately 79.5″ (202 cm) long and 20.7″ (52 cm) wide. It is advisable to leave at least two feet of clearance on each side and at its rear for easy access and unhindered usage. Thus, the machine may not fit too well in a small room.
Unlike other rowing machines, the XTERRA ERG650W has no folding frame. However, it can store vertically.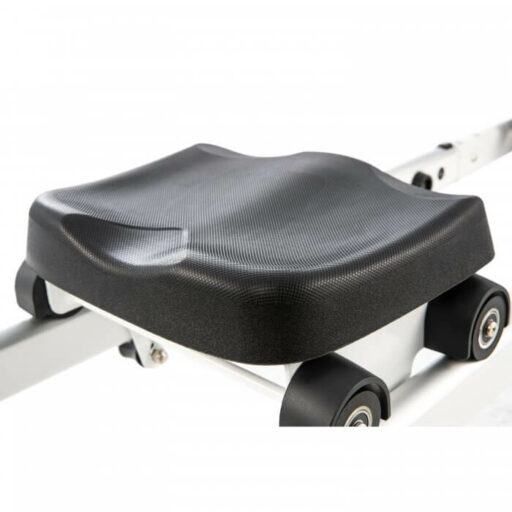 When it's stored vertically, its footprint becomes approximately 26.5″W x 20.7″ D (67 x 52 cm), as the mount of the monitor is flexible. Furthermore, the water can remain in the tank when stored vertically.
The fully assembled machine weighs 76 lbs (34.4 kg), and a maximum tank water level weighs a few extra pounds. However, the unit is handled and relocated easily as its front base features large wheels. In addition, the rear stabilizer also comes equipped with two rubberized adjustable levelers.
Two last aspects to note here regarding the length of the rails and their angle. The XTERRA ERG650W offers approximately 40″ (101 cm) of travel for the seat, which means it accommodates users up to 6'4″ (193 cm).
Also, the machine's rails system is not horizontal. Instead, they are slightly inclined forward, resulting in a bit of extra workout for the legs during the push phase and a faster recovery motion.
Seat and other parts
The XTERRA ERG650W rowing machine comes equipped with a reasonably large seat. It is approximately 14″ (36 cm) wide and offers plenty of contact surfaces. In addition, its top features a thick contoured layer of polyurethane material for extra comfort.
It stands at approximately 15″ (38 cm) above floor level can be a plus for users with disabilities, as a lower seat may make it harder to mount or dismount.
The seat frame is steel-made, similar to the rest of the structure, is very sturdy, and has a maximum user weight limit of up to 350 lbs (159 kg), which is excellent for a home-use machine.
The seat comes with three sets of wheels. Two sets slide on top of the rails and the other on the lower rail section for extra stability. All wheels integrate heavy-duty ball bearings, while the top has a rubberized outer layer to minimize noise.
The XTERRA ERG650W rower comes equipped with two large footrests. They adjust, offering multiple positions to accommodate athletic shoes of all sizes comfortably. In addition, they feature heel guards and adjustable straps to secure your feet correctly on them during rowing.
The machine's footrests do not pivot. Instead, they connect directly to a metallic plate. Their angle is approximately 45°, so they provide optimal and firm foot positioning during rowing.
The machine's pulling handle is a simple straight bar. A layer of rubber foam material fully covers it for extra comfort. It doesn't have integrated HR pulse sensors, but the fitness monitor can track the pulse wirelessly. Unfortunately, the rower does not include the wireless HR chest strap.
The handle is attached to a heavy-duty, abrasion-resistant nylon strap. Therefore, you don't have to lubricate it, as is the case for a chain-drive rower. In addition, it also results in a smoother rowing motion.
ERG650W Water tank and resistance system
The XTERRA ERG650W rowing machine features a water resistance system similar to other rowers. Its water tank is made of durable polycarbonate material and integrates a multi-blade impeller.
The impeller connects to a pulley system, which can reverse during the recovery motion and recuperate the strap to which the handle is attached, preparing it for the next pull.
The tank's exact capacity is not specified, but it should be approximately 4 gallons (15 l), considering its size. However, there are six levels marked on it. Therefore, you can adjust the overall resistance by adding or removing water from the tank using the provided pump. However, do not fill the tank over the 6th level.
Like other water-resistance rowers, the XTERRA ERG650W provides a dynamic response during rowing. For example, the resistance depends on the speed of the impeller. Therefore, the impeller will spin faster and generate more resistance if you pull the handle more quickly. Thus, it leads to a sensation similar to the rowing of a real boat.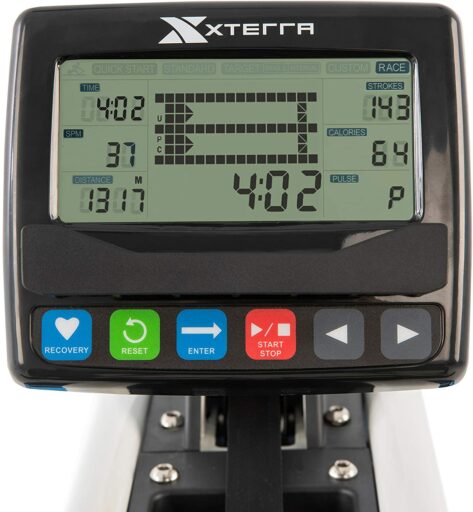 Fitness monitor
The XTERRA ERG650W rowing machine has a multi-function battery-operated fitness monitor requiring two AA batteries as its power source (no adapter is needed). In addition, it has a sizeable 5.5″ LCD divided into multiple sub-sections to show as many workout metrics as possible.
It tracks time, time/500m, strokes per minute (SPM), total strokes, calories, pulse, drag force, and watts. Distance is in meters. And for the pulse rating, the monitor is telemetric. Thus, it requires a wireless HR chest strap transmitter. However, this accessory does not come included with the rower.
Unfortunately, the fitness monitor doesn't have online connectivity and is incompatible with any online fitness app. However, it does offer several programs to keep you motivated.
Workout programs
First, it has the Quick Start mode, which requires you to row at your own pace, and the monitor will monitor your data. Next is the Standard mode; once selected, you can choose 2000m, 5000m, 30:00, and 500m/1:00.
The following programs are Target Single and Target Intervals. If you choose Target Single, you can select a goal value for time, distance, calories, or heart rate. When a time, distance, or calorie goal is determined, the monitor counts down from the selected value until it reaches zero until you reach your goal.
When choosing a goal heart rate (between 90 and 200 BPM), the monitor will beep, prompting you to slow down or speed up if you exceed or drop that value below. In addition, the Target Intervals mode offers interval programs for time, distance, and a variable one.
The fitness monitor offers a Custom program and a Race program. The Custom program offers four interval workouts as well. The first is a 30/30 seconds interval workout; the second is a 60/60 seconds interval workout with seven repetitions; the third requires you to complete a 2000m distance, rest for 3 min, and repeat three more times.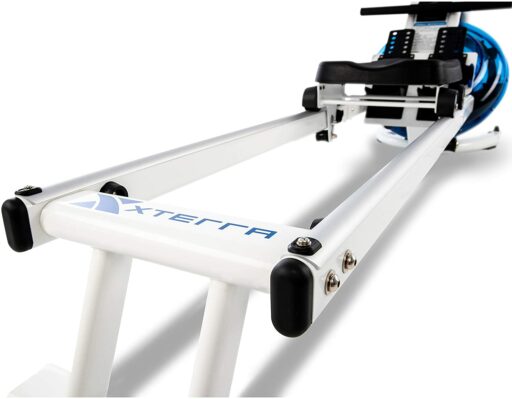 The fourth custom mode is for a work interval of 1 minute and 40 seconds, with a rest phase of 20 seconds and nine repetitions. Finally, the Race program has 15 levels of difficulty, and if selected, you will compete with the fitness monitor for a certain distance during a specified time interval.
Amenities
Finally, the machine's monitor's two other notable features: are the device holder and the foldable mount. The device holder is under the unit's display and can accommodate a phone or a tablet; unfortunately, the monitor does not have an AUX or USB port to connect your device.
The foldable mount consists of a long metallic arm with a tilt feature that allows you to adjust the monitor's angle or fold it when the machine is in storage.
ERG650W Assembly and Maintenance
The front section of the machine, with the water-resistance tank, drive system, and footrests, comes pre-assembled. However, the rest of the parts still require user assembly. You must attach the two rail bars to the front unit, add the seat to the rear stabilizer, and connect the fitness monitor.
Consequently, the task shouldn't take 30-40 minutes, and the manual covers all the necessary instructions. An essential toolkit also comes included with the machine.
For maintenance, there are two essential aspects to consider. First, a pack of chlorine tablets comes with the machine. It's advisable to add one tablet to the tank every six months. Thus, it will keep the water clear and prevent the formation of algae,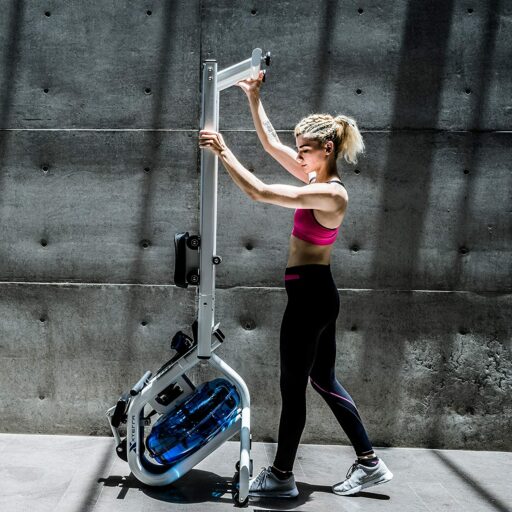 Second, the machine's rails require cleaning to prevent debris or dirt from damaging the seat wheels or ding the rails. Finally, you must clean the machine, check for loose parts, and retighten them if necessary.
ProsSturdy frame – can support users up to 350 lbs;
Aesthetic design;
Dual rail system for improved seat stability;
Can be stored vertically to save space;
Transport wheels on the front base;
Adjustable stabilizers on the rear base;
Ergonomic, contoured designed seat;
Adjustable footrests with heel guards and straps;
Water-resistance system, providing the most natural rowing feel that you can get;
Multi-function fitness monitor that tracks time, 500m/time, pulse, distance, strokes per minute (SPM), total strokes, calories, drag force, and watts;
15 workout programs;
Recovery function;
Tablet holder integrated into the fitness monitor;
Angle-adjustable arm for the monitor;
Smooth and quiet operation;
Little maintenance is required;
Easy to assemble;
Excellent warranty.
Cons
An HR chest strap does not come with the rower;
A tablet placed on the tablet holder will cover the fitness monitor LCD.
XTERRA ERG650W Rowing Machine Summary
The XTERRA ERG600W is a heavy-duty rowing machine made for home use. It features a water resistance system, a durable dual-rail steel frame, a multi-function fitness monitor with 15 workout programs, and a comfortable seat.
In addition, it's an excellent machine for a full-body cardio workout, muscle toning, stamina development, and weight loss. Moreover, it's not one of the most affordable water-resistance rowers, but it offers light-commercial quality, even for home use.
I hope you found this article helpful and informative. Would you please speak up if you have anything you'd like to share on the topic or any opinions about my website? I look forward to your comments, questions, and the sharing of ideas.
Please remember to consult your physician to determine if you have any medical or physical conditions that could put your health and safety at risk or prevent you from using the equipment properly. In addition, your physician's advice is essential if you are taking medication that affects your heart rate, blood pressure, or cholesterol level.