If you're looking for a quality rowing machine for home use but are on a budget, the Efitment RW025 Magnetic Rower might fit your needs. In addition, it features one of the lower prices in this wallet-friendly category. The RW025 from EFITMENT ticks many boxes, particularly for beginners taking their first steps in the world of at-home cardio machines.
The RW025 features a minimal footprint, so it doesn't require a lot of space, and it also folds up and wheels away for simple storage. Although taller users may find the dimensions too compact, it's excellent for average-height users.
The Efitment RW025 features eight manual magnetic resistance levels, meaning the overall experience is consistent, smooth, and quiet, even though the resistance levels seem somewhat arbitrary. Still, this is an excellent unit for getting a decent rowing workout at home for a low price.
The RW025 has an LCD fitness monitor that tracks count, time, RPM, calories, distance, and scan—helping you stay focused on achieving any personal fitness goals. In addition, with a convenient scan mode, these features are continuously repeated to keep up with all calculations!
Learn more in my complete review below!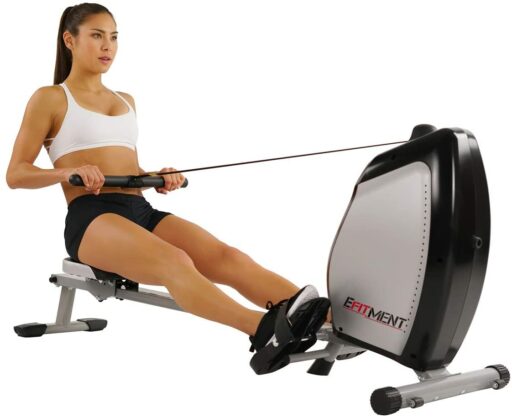 Product: Efitment RW025 Magnetic Rower
Price: For a great deal on this rower, merely go here on Amazon
Warranty: 3 years
My rating: is 8/10
Affiliate Disclosure: As an Amazon Affiliate Program participant, I earn commissions on purchases made through links in this post. Full disclosure
Details and Specifications
Assembled dimensions: 62″L x 20″W x 26.5″H (158L x 51W x 67H cm)
Flywheel weight: 8.8 lbs (4 kg)
Assembled weight: 43 lbs (19.5 kg)
Weight capacity: 250 lbs (113.3 kg)
Frame: Steel
Footrests: Pivoting, with straps
Resistance type: Magnetic, eight levels
Fitness Monitor: Time, count, RPM, calories, distance, SCAN
Warranty: 3 years
RW025 Frame Construction
The Efitment RW025 rowing machine features an all-steel frame with a durable rail that can withstand up to 250 lbs (113.3 kg). In addition, the rail offers a travel span for the seat of approximately 40″ (101 cm), providing plenty of space for a complete leg extension and correct rowing form.
Therefore, it comfortably accommodates users up to 6'2 ″ – 6'3 ″ (187 – 190 cm), as long as they don't exceed the weight limit.
All the steel parts in the rower's construction feature a corrosion-resistant light gray powder coating. However, even though the paint finish is rust-resistant, this machine is for indoor use only. Its internal components, bolts, and other parts may eventually catch rust if used or stored outside.
This model is at least 10″ (25 cm) smaller than other trainers of this sort. Its footprint is 62″L x 20″W (158 x 51 cm). However, leaving at least two feet of clearance on each side and at the rear is advisable for easy entry and exit.
However, on the other hand, this Efitment rower can be stored vertically, resting on the flywheel casing and its front base, with the rail upright. Therefore, it reduces the length of the machine by more than half, resulting in better storage possibilities.
This fitness machine is pretty lightweight. The fully assembled frame weighs only 43 lbs (19.5 kg). However, its front base has two small wheels that facilitate its relocation. Its rear base rests on rubberized pads to improve stability.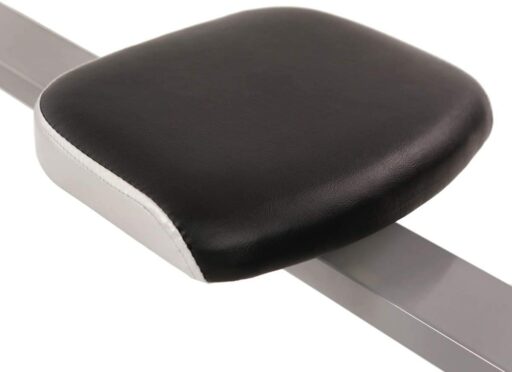 Seat, Footrests, and Pulling Handle
The Efitment RW025 features a pretty comfortable seat. To begin with, it's relatively large, approx. 16″ (40 cm) wide and integrates 2″ (6 cm) of foam padding. Its upholstery is made of durable vinyl material. The seat runs on three wheels, incorporating heavy-duty ball bearings for a smooth glide and a long lifespan.
This rowing machine features two large footrests with a pivoting design. Therefore, each stroke allows a slight angle change of the feet. In addition, they're heavy-duty ABS material, featuring an anti-slip surface and a heel guard for superior foot stability and positioning. Also, they come equipped with adjustable straps.
Finally, the rower's pulling handle is a standard straight bar with rubberized grips for optimal comfort and adherence. Since it's an entry-level machine, it doesn't have resistance controls or HR pulse sensors. Instead, it's attached to a heavy-duty nylon strap.
RW025 Resistance & drive
The Efitment RW025 uses a magnetic resistance system. A small magnetic brake connects through a steel wire to the dial on top of the flywheel casing. The resistance adjustment is made manually by turning the dial; the machine doesn't need a connection to a power circuit. The fitness monitor doesn't play any role in the resistance adjustment.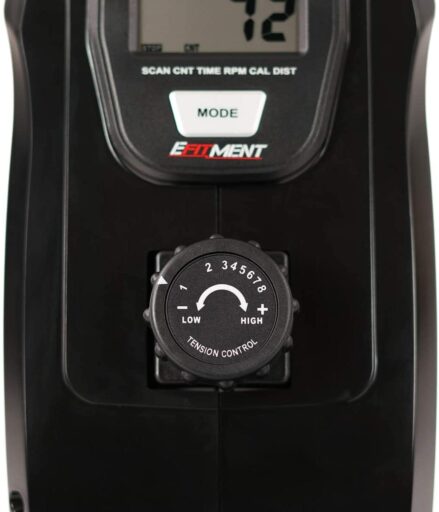 The machine's resistance system is exclusively magnetic, though. It doesn't integrate a fan or any air resistance elements. Due to this fact, it doesn't generate a dynamic response during rowing. In other words, the resistance does not vary with how hard or fast you pull. Instead, the selected level strictly determines it.
That's why the rower is not for professional athletes. However, it still offers the possibility to perform a consistent, full-body cardio workout.
The Efitment RW025 has eight distinct resistance levels marked on the dial. Unfortunately, the highest resistance level doesn't offer the resistance a professional rower requires. However, the machine supplies light to medium cardio workout possibilities, which is excellent for anyone who wants a full-body workout.
Since this machine has no air resistance elements, its operation generates almost no noise. Thus, it makes the machine suitable for apartment use. The integrated flywheel weighs 8.8 lbs (4 kg). It's not extremely heavy, but this weight is enough to deliver consistent momentum for rowing. It is also perimeter weighted, resulting in a smooth and steady motion.
The transmission between the pulley and the flywheel integrates a heavy-duty belt. Therefore, it doesn't require any lubrication. Therefore, none of the internal elements should require any maintenance for an extended time.
Fitness monitor
The Efitment RW025 features a simple fitness monitor. It tracks time, distance, count, RPM, and calories burned. The count metric counts the number of strokes, while the RPM metric indicates the number of strokes per minute (SPM).
The distance is only in miles (no metric option), while the burned calories are estimated and may not be accurate. Unfortunately, the unit cannot monitor your heart rate.
The fitness monitor is easy to operate. It has only one (MODE) button. It has a SCAN function that rotates all the metrics showing each one for several seconds. By pressing the MODE button, you can scroll through the parameters and select/lock only one that interests you in displaying at all times. The MODE button also covers the meter's reset function by pressing and holding it for several seconds; all the unit values return to zero.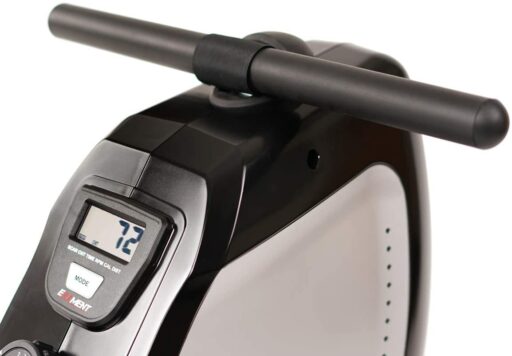 The rower's monitor is battery-powered, requiring one AAA battery as a power supply, which is not included. It starts when you begin rowing or press the MODE button and has a sleep function that will enter after 4 minutes of inactivity on the machine.
RW025 Assembly and Maintenance
The drive and resistance elements of the machine come pre-assembled and enclosed by plastic shrouds. Therefore, you only have to attach the rail, the seat, the base stabilizers, and the footrests.
Consequently, it shouldn't take more than 30-40 min of your time. Essential tools for assembly come with the rower, and the manual provides clear step-by-step assembly instructions.
Maintenance doesn't require much. As mentioned above, the internal parts don't need any lubrication. However, keeping the rower's rail clean is necessary to prevent damage to the seat wheels. Also, periodically check the machine for loose bolts and parts and retighten them as needed.
Pros
Durable construction for a light rower – can support users up to 250 lbs;
Stores vertically to save space;
Transport wheels integrated into the front base;
Tranquil and smooth magnetic resistance system;
Eight levels of resistance for light to medium workouts;
Ergonomic, padded seat for optimal comfort;
Pivoting footrests for a perfect foot position with each stroke;
Long gliding beam, which can accommodate users up to 6'3″;
The fitness monitor included – it can track time, distance, count, RPM, and calories;
Easy to assemble;
Little maintenance is required.
Cons
No adjustable stabilizers;
No backlight on the fitness monitor LCD.
Efitment RW025 Magnetic Rower Summary
The Efitment RW025 is an entry-level rowing machine for home use. It comes equipped with a magnetic resistance system and a fitness monitor. It features a fairly decent frame construction with a user capacity of 250 lbs. In addition, its frame doesn't fold, but you can store it vertically.
Even though it's not a professional rowing machine, it can still provide a consistent full-body cardio workout. In addition, it's perfect for muscle toning, stamina development, and weight loss. And finally, it's one of the most affordable magnetic rowers, priced at around $250.
I hope you found this article helpful and informative. Would you please speak up if you have anything you'd like to share or any opinions about my website? I look forward to your comments, questions, and the sharing of ideas.
Please remember to consult your physician to determine if you have any medical or physical conditions that could put your health and safety at risk or prevent you from using the equipment properly. In addition, your physician's advice is essential if you are taking medication that affects your heart rate, blood pressure, or cholesterol level.