Achieve a powerful cardiovascular workout with the Efitment Streamline Indoor Cycling Bike IC037. It provides intense workout sessions; the maximum user weight capacity is 275 lbs. In addition, use the bike consistently to improve cardiovascular health and engage muscles.
The IC037 offers a smooth, virtually quiet cycling experience as you pedal against the 22 lb flywheel powered by a belt-drive mechanism. Control workout intensity with the easily adjustable manual magnetic resistance knob.
Track your workout data on the Efitment Streamline IC037 using the onboard fitness monitor to track your time, speed, distance, and calories burned. Unfortunately, the monitor does not have a pulse reading function or integrated HR pulse sensors in the handlebars. So, to monitor your pulse, you'll have to use a separate device.
The IC037 accommodates leg inseams between 29 inches and 36 inches, and this bike can adjust to your height by using its 4-way adjustable seat and 2-way adjustable handlebar with padding. Maintain stability when sliding your feet into the universal foot cage with aluminum pedals.
Learn more in my complete review below!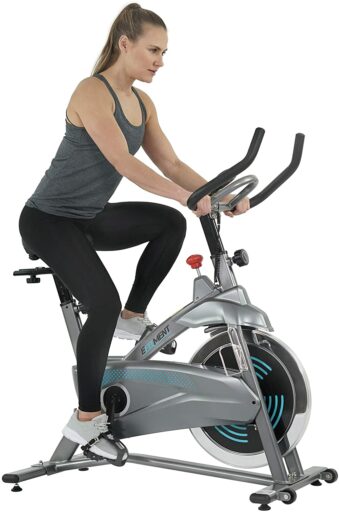 Product: Efitment Streamline Indoor Cycling Bike IC037
Price: For a great deal on this bike, merely go here to Amazon.com
Warranty: 3 years
My rating: 8.75/10
Affiliate Disclosure: As an Amazon Affiliate Program participant, I earn commissions on purchases made through links in this post. Full disclosure
Details and Specifications
Assembled dimensions: 44L x 21W x 51H inches (112L x 53W x 129H cm)
Assembled weight: 73 lbs (33 kg)
Flywheel weight: 22 lbs (10 kg)
Supported weight: 275 lbs (125 kg)
Seat: 4-way adjustable
Drive: Belt
Resistance: Manual magnetic
Fitness Monitor: Time, speed, distance, calories, scan
Extras: Bottle holder
Warranty: 3 years
IC037 Frame Construction
Since it's a bike designed for spin workouts, the Efitment Streamline IC037 features a sturdy construction. Its frame is steel tubing coated with a corrosion-resistant paint finish. The colors used are metallic gray for the mainframe and black for the seat and handlebar posts.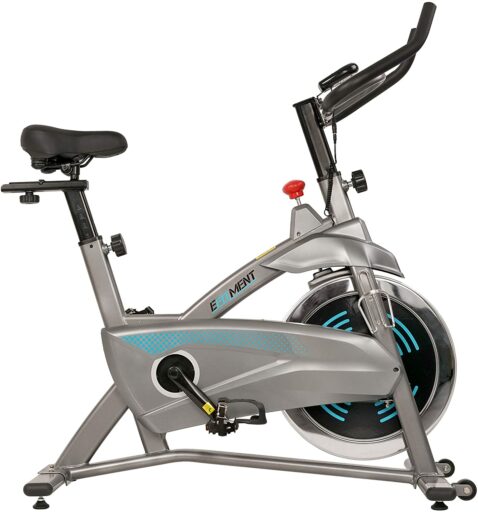 The flywheel is chrome-plated with ABS side covers. The belt and brake cover are the only other ABS plastic parts in the bike's construction.
The bike's frame is triangular for improved sturdiness but doesn't have the standard design with straight bars—the main oblique tube curves slightly for enhanced aesthetics. Also, most bars in the bike's construction are oval. The only exceptions are the seat's rectangular slider and the handlebar, which feature cylindrical tubes.
The Streamline IC037 exercise bike has a short horizontal bar that unites the seat tube and the main curved line. Although this may seem insignificant, it can be quite a plus for specific spin workouts requiring mounting and dismounting or repeatedly performing stretches.
The fully assembled bike isn't giant. It is only 44″ (112 cm) long and 21″ (53 cm) wide. Therefore, it can fit pretty well, even in a small room. However, it is advisable to allow at least 24″ (61 cm) of clearance all around it to perform any spin workout safely and to mount and dismount without any hindrance.
Compared to other spin bikes, the Efitment IC037 isn't extremely heavy, weighing approximately 73 lbs (33 kg), twice the average road bike's weight. This weight reflects in its overall stability. Plus, both its base bars have adjustable levelers, while the front base integrates a set of wheels to facilitate its relocation.
Seat and handlebars
The Efitment Streamline IC037 indoor cycling bike has a seat that excels in comfort. To begin with, it is wider than the average spin bike seat providing an extra contact surface.
It integrates a thick cushioning layer, considerably reducing the impact on your tailbone. In addition, it has a large cutout in the middle, which improves breathability. Its cover is durable synthetic leather, and its rear section features two spring elements to enhance its flex.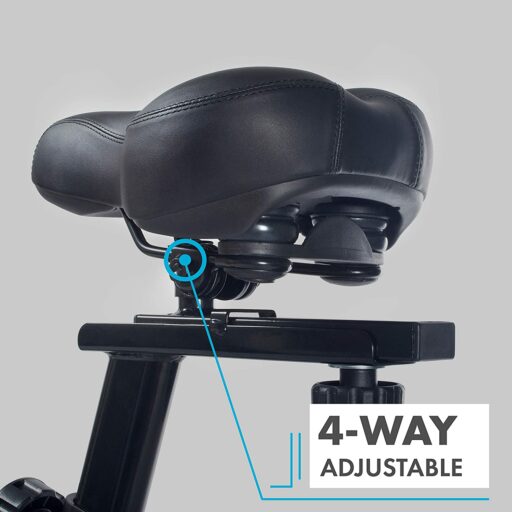 Another vital aspect of the bike's saddle here is its attachment system. The seat features a standard, collar-type attachment system, which allows a slight forward or backward tilt.
Therefore, if you ever need to replace it, compatible options are also widely available; you can find a seat for this bike in any bike shop.
The bike's seat is 4-way adjustable (up, down, forward, backward). Its vertical post offers nine adjustment positions, while the horizontal slider adds a few extra inches of front-to-back adjustment.
Therefore, the bike can accommodate users with an inseam between 29″ and 36″ (73 – 91 cm). Thus, it should fit users between 5'2 ″ and 6'6 ″ (157 – 198 cm), allowing a complete leg extension. Also, the seat assembly supports users up to 275 lbs (125 kg).
The Efitment IC037 comes equipped with a multi-grip handlebar. It offers off-road grips, climb-type grips, and flat land grips. In addition, it also has a small loop bar in the center, which allows a close parallel grip. The side grips feature a layer of rubber foam material for improved comfort. However, they do not integrate HR pulse sensors.
The handlebar is only two-way adjustable (up, down). Its post has six adjustment positions. As some other bikes offer, it does not have a slider handlebar adjustment.
IC037 Drive and resistance
First, the Streamline IC037 is one of the Efitment indoor cycling bikes with a lighter flywheel. Its flywheel only weighs 22 lbs (10 kg). Nonetheless, it is perimeter-weighted; this design adds inertia, which is excellent for spin workouts.
The flywheel and the bike's drive system allow reverse pedaling. Therefore, you can diversify your workouts by alternating forward with reverse pedaling sessions. It's also important to mention that the included fitness monitor continues to track your workout metrics even when you pedal in reverse.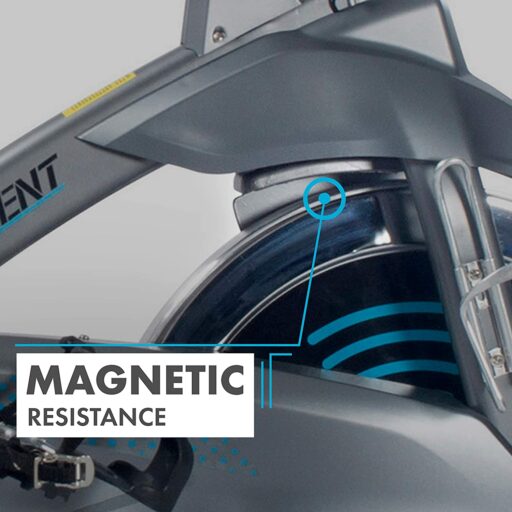 The Efitment IC037 has a manual magnetic resistance system. Therefore, it doesn't need an external power source or an adapter. However, on the other hand, it cannot adjust the resistance automatically.
The resistance system has a magnetic brake attached to the tension knob on the frame's top tube. When turning this knob clockwise, the magnetic brake moves closer to the flywheel, which increases the pedaling difficulty. Thus, when turning the knob counter-clockwise, the resistance decreases.
The brake is manual; in other words, it doesn't have pre-determined levels. Instead, you turn the knob until you find the desired pedaling difficulty. In addition, it can also act as an emergency brake to instantly stop the flywheel spinning.
Since it's a bike designed for spin workouts, its crankset, and pedals will support the user's whole weight. So, as long as you don't exceed the bike's weight limit (275 lbs / 125 kg), you should be able to pedal while standing up with no problem.
The pedals are durable metallic alloys. Unfortunately, they don't have SPD elements for spin shoes but have non-slip surfaces and adjustable toe cages. The exact Q Factor (spacing between the pedals) is not specified. However, it's relatively narrow to eliminate lateral knee stress.
Lastly, this Efitment exercise bike comes equipped with a poly-v belt. Therefore, you don't have to worry about its lubrication. Also, the pedaling motion is almost entirely silent and vibration-free.
Fitness monitor
The Efitment IC037 comes with a simple fitness monitor. It's a small unit with an LCD indicating time, distance, speed, and burned calories. Unfortunately, the bike doesn't have pulse sensors, and the fitness monitor cannot track your pulse. So, to monitor your pulse, you'll have to use a separate device.
The monitor is straightforward to use. It only has one button. You can select the workout metric that interests you the most by pressing the button repeatedly. You can also choose its Scan Mode, enabling it to rotate all the workout metrics showing each one for 4 seconds. The button also has a reset function. By pressing and holding it for a few seconds, you can clear all its values to zero.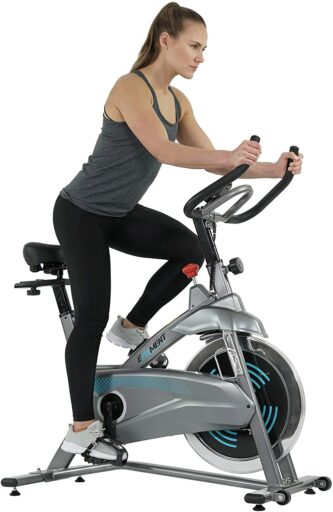 The battery-powered fitness monitor requires one AAA battery with the bike. It starts when you pedal or press its button and automatically turns off if it does not detect any activity on the bike for 3 minutes. In addition, when it enters its sleep mode, all function values remain saved so you can pick up where you left off.
IC037 Assembly and Maintenance
Similar to most other spin bikes, the Efitment IC037 requires some assembly. Its main body comes pre-assembled, though. Therefore, you only need to attach the two base bars, the seat post, the pedals, the handlebar post, the handlebar, and the fitness monitor.
Therefore, it shouldn't take more than 30 minutes of your time. The manual provides all the necessary instructions and includes an essential toolkit.
Since the bike has a frictionless magnetic brake system and a belt drive system, it doesn't need any lubrication or brake pad replacement. Therefore, you only need to keep your bike clean, periodically check for loose bolts or parts, and retighten them as needed.
Pros
Sturdy steel frame made to support any spin workout;
Can support users up to 275 lbs;
Adjustable stabilizers and both base bars;
Transport wheels included;
4-way adjustable seat;
Thick cushioning and spring suspension on the seat;
Multi-grip handlebar;
Smooth, almost silent belt drive;
Perimeter-weighted flywheel for extra inertia;
Manual magnetic resistance with zero friction;
Fitness monitor included – it can track time, distance, speed, and calories;
Bottle holder included;
Easy to assemble;
Little maintenance is required.
Cons
The fitness monitor LCD does not have a backlight;
No odometer or RPM readings on the fitness monitor;
The fitness monitor doesn't have a pulse reading function.
Efitment Streamline IC037 Summary
The Efitment Streamline IC037 is an indoor cycling bike that supports any spin workout. It features a manual magnetic resistance system, a 22-lb flywheel, a large cushioned seat, and a fitness monitor.
It's great for intense cardio training, intervals, stamina development, and weight loss for users of all levels. It's also a sturdy exercise bike, close to a light-commercial model's overall durability and quality.
I hope you found this article helpful and informative. Would you please speak up if you have anything you'd like to share on the topic or any opinions about my website? I look forward to your comments, questions, and the sharing of ideas.
Please remember to consult your physician to determine if you have any medical or physical conditions that could risk your health and safety or prevent you from using the equipment properly. In addition, your physician's advice is essential if you are taking medication that affects your heart rate, blood pressure, or cholesterol level.