The Merax Magnetic Rowing Machine boasts 15 degrees angled seat rail, allowing for smooth and efficient gliding of your seat during rowing workouts. In addition, the built-in magnetic flywheel minimizes noise while maximizing a smooth glide during your rowing exercise. It also has built-in wheels and a foldable frame to easily transport and storage.
Adjust your workout to your capabilities by increasing your intensity with the 14-level adjustable magnetic resistance. With the simple twist of the resistance knob, you can increase or decrease resistance, so your rowing exercise remains challenging and effective throughout your fitness journey.
Track your workout on the Merax Magnetic Rowing Machine with a convenient fitness monitor that displays your time, live second-by-second rowing count, calories, and total rowing count. You will track your progress, modify your current routine appropriately, keep yourself further motivated, and aim for improvement.
A sliding, double-padded, and upholstered seat supports your bottom and back and ensures proper blood flow in the glutes for prolonged and vigorous workouts. Large strapping footplates suitable for users of different sizes provide optimal comfort and support.
Learn more in my complete review below!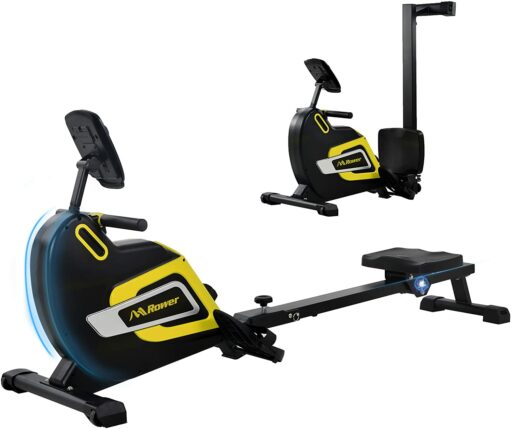 Product: Merax Magnetic Rowing Machine Model #MS037153BAA
Price: For a great deal on this rower, merely go here on Amazon
Warranty: 1 year limited
My rating: 8.5/10
Affiliate Disclosure: As an Amazon Affiliate Program participant, I earn commissions on purchases made through links in this post. Full disclosure
Details and Specifications
Assembled dimensions: 73″L x 16″W x 21″H (185L x 41W x 53H cm)
Assembled weight: 74 lbs (33.6 kg)
Weight capacity: 330 lbs (150 kg)
Frame: Steel
Resistance type: Magnetic, fourteen levels
Console: Time, count, total count, calories, SCAN
Warranty: 1 year limited
MS037153BAA Frame Construction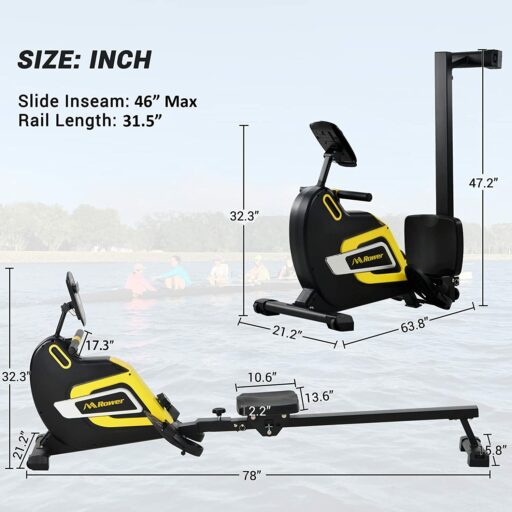 The Merax magnetic rowing machine MS037153BAA features a steel frame with a seat rail rated for 330 lbs (150 kg) user weight capacity. All the steel parts in its construction feature a durable, corrosion-resistant powder finish. In addition, the covers of the flywheel, the footrests, and several other covers are ABS material.
This rowing machine is not extremely large compared to other models. With the frame fully assembled, it's 73″ (185 cm) long and approximately 16″ (41 cm) wide. Its rail is long enough, so the unit can comfortably accommodate users between 4'10" and 6'2″ (147 – 188 cm).
Like many other home-using rowing machines, this Merax model features a folding frame. Its rail can fold and lock into a vertical position. With the rail folded up, the unit's length reduces to approx. 26″ (66 cm) while its height becomes 49″ (125 cm).
Although it features steel construction, it's not an extremely heavy fitness machine. It weighs approx. 74 lbs (33.6 kg), and this weight provides enough stability, but it's also not very difficult to move or handle.
The unit's front base also integrates transport wheels, facilitating its relocation. Also, its rear base features two adjustable stabilizers, offering the possibility to perfectly level the unit on any flooring.
Unlike other magnetic rowing machines, the rail of Merax MS037153BAA is not horizontal; it's at an angle of approx. 15°, a feature that comes with two main advantages.
The rowing motion recovery phase is slightly faster, while during the "leg drive" motion, you have to beat a little bit of gravity, which results in a somewhat more consistent workout for the legs.
Seats, footrests, and the pulling handle
The machine's seat features a padded and contoured top with a non-slip surface, providing excellent comfort. In addition, the seat's frame comes with three wheels that integrate ball bearings for smooth operation.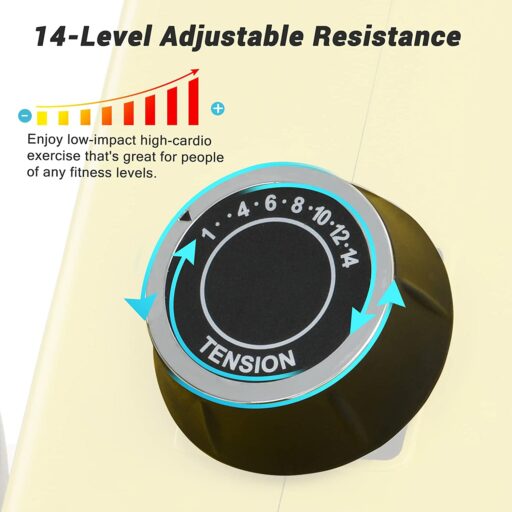 The footrests feature a pivoting design. Thus, they do not weld onto the frame. Instead, they can tilt forward or backward on their central axis to provide the perfect position for your feet during each part of the rowing motion. They also have adjustable velcro straps and heel guards, delivering maximum foot stability.
Finally, the unit's pulling handle consists of a straight steel bar with rubberized grips for optimal comfort and hand adherence. The handle is attached to a heavy-duty nylon strap, so it doesn't require lubrication as a chain drive. Another advantage of a strap over a chain is that you can perform side twists during rowing without any problem.
MS037153BAA Resistance system
The Merax MS037153BAA is a complete magnetic rower. Thus, it doesn't have any air resistance or water resistance elements. Instead, its resistance system consists of a small magnetic brake attached to the tension dial on top of the machine's front part through a steel cable.
As you turn the dial, the brake element changes its position to the internal flywheel, resulting in a magnetic field intensity shift and more or less resistance during rowing.
The machine's resistance system is entirely manual. Therefore, you don't have to connect the machine to a power circuit. Also, the unit's console doesn't play any role in the rower's resistance adjustment.
The rower offers fourteen distinct resistance levels. For instance, the highest resistance level doesn't supply the resistance required by a professional athlete. However, it does deliver light to medium cardio workout possibilities, which is excellent for anyone who wants a full-body workout.
Since the unit has no air resistance elements, its operation generates almost no noise. Thus, the machine is suitable for apartment use. The internal flywheel is not extremely heavy, but this weight is enough to deliver consistent rowing momentum. It is also perimeter weighted, resulting in a smooth and steady motion.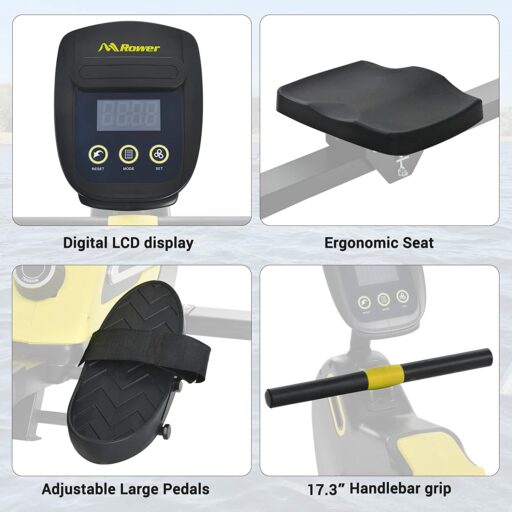 One last aspect to note here is the machine's rowing feel. Since it's a full-magnetic rower, the resistance doesn't vary with how hard you pull for an air or water-resistance rower. Instead, it remains constant, given by the selected tension level. So, the rowing feel is not entirely "natural."
Console
This Merax rowing machine has a fitness console that offers an extra feature over the average unit. In particular, the "Set" function allows you to set up a countdown value for time, count, and calories burned. In addition, it features a reasonably large LCD that tracks time, count (number of strokes), total count (total number of strokes), and calories burned.
The unit is not telemetric. It cannot track your pulse. Therefore, if you need to watch your heart rate while exercising, you must use a separate device.
The fitness console is straightforward to use. It has a Start/Stop button, which allows you to pause your workout and resume it if necessary. The Set button selects values for the time, count or calories.
The Mode button allows you to toggle the unit's SCAN function On & Off. With the SCAN function ON, the workout metrics display for several seconds each on display. By pressing Mode, you can select any metrics to remain on display all the time.
The console is battery-powered. It also has a sleep mode that will enter after a few minutes of inactivity on the machine. Then, you can either begin rowing or press the Start/Stop button to start it up.
MS037153BAA Assembly and Maintenance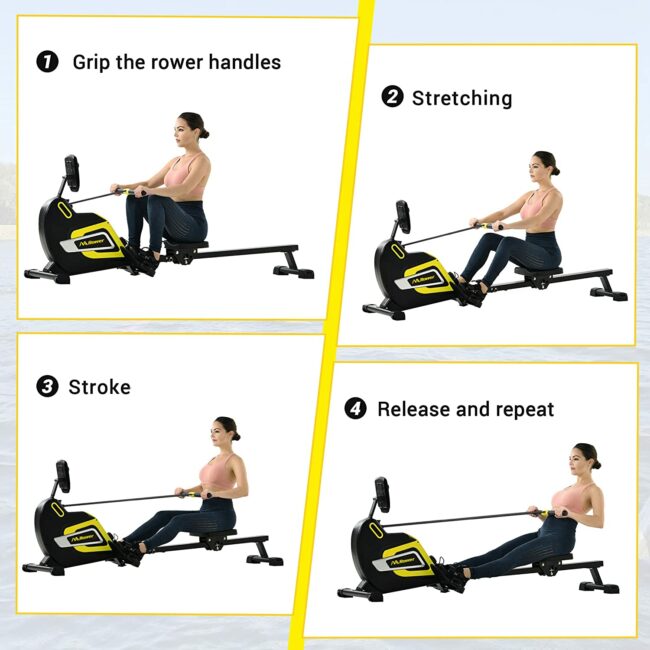 The machine's drive system comes pre-assembled and attached to the front part of the base frame. Therefore, you only need to attach the seat to its rail, connect the rail to the front part of the structure, and add the base stabilizers' footrests.
Therefore, it shouldn't take more than 30 minutes of your time. The included manual provides clear assembly instructions, and an essential toolkit comes with the rower.
Maintenance doesn't require much. However, keeping the unit's rail clean is advisable, periodically check for loose bolts and parts and retighten them as needed.
Pros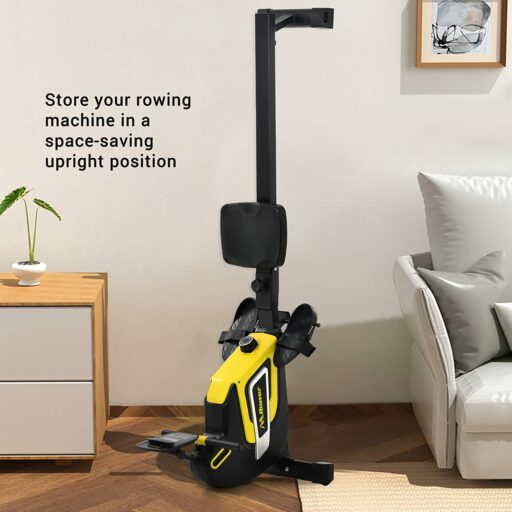 Sturdy frame for a light rower – can support users up to 330 lbs;
Aesthetic and space-saving design;
Transport wheels integrated into the front base;
Rear adjustable stabilizers;
Quiet and smooth magnetic resistance system;
Fourteen levels of resistance for light to medium workouts;
Ergonomic, padded seat for optimal comfort;
Pivoting footrests for a perfect foot position with each stroke;
The 31.5-inch sliding rail accommodates users up to 6'2″;
Fitness monitor included – it can track time, count, total count, and calories;
Easy to assemble;
Little maintenance is required.
Cons
No pulse tracking function;
No LED backlight on the fitness monitor LCD.
Merax Magnetic Rowing Machine Summary
The Merax Magnetic Rowing Machine Model #MS037153BAA is an entry-level, full-magnetic rowing machine featuring a fitness monitor. It has a sturdy frame construction that can support users up to 330 lbs. Its frame is also foldable, offering better storage possibilities if necessary.
Even though it's not a professional rowing machine, it can still provide a consistent full-body cardio workout. Moreover, it's a great trainer for muscle toning, stamina development, and weight loss. And finally, it's one of the most affordable magnetic rowers.
I hope you found this article helpful and informative. Would you please speak up if you have anything you'd like to share on the topic or any opinions about my website? I look forward to your comments, questions, and the sharing of ideas.
Please note that you should consult your physician to determine if you have any medical or physical conditions that could risk your health and safety or prevent you from using the equipment properly. In addition, your physician's advice is essential if you are taking medication that affects your heart rate, blood pressure, or cholesterol level.