Get the same intense gym-quality workout at home with the Fitness Reality X-Class 450SL Recumbent Bike with features such as Bluetooth Smart technology, free MyCloudFitness app for iOS and Andriod, 24 preset workout programs, 24 levels of magnetic tension resistance, and three workout goal options, etc.
The large 3″ thick "Air Soft" seat features patented built-in multi-air chambers with a breathable fabric cover, allowing air to flow through the chambers and out of the seat, allowing supreme comfort without any thigh pinching. In addition, the molded mesh and contoured backrest and elbow rest pads will help reduce any back stress and provide absolute comfort when working out.
The Fitness Reality X-Class 450SL can provide you with a full-body workout with all challenges you will need to get in shape. So train hard and get the results you want with the Fitness Reality X-Class 450SL Recumbent Bike with Bluetooth connectivity and a free MyCloudFitness app to track your exercise.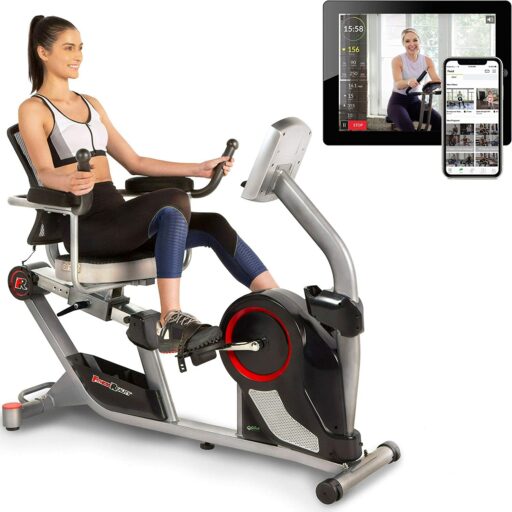 Learn more in my complete review below!
Product: Fitness Reality X-Class 450SL Recumbent Bike
Price: For a great deal on this bike, merely go here on Amazon
Warranty: Frame 5 years / Parts 1 year
My rating: 8/10
Affiliate Disclosure: As an Amazon Affiliate Program participant, I earn commissions on purchases made through links in this post. Full disclosure
Please note: The tablet and smartphone pictured in the image do not come with the bike.
Details and Specifications
Assembled dimensions: 60.5L x 34.5W x 47.5H inches (154L x 88W x 121H cm)
Supported weight: 325 lbs (147.4 kg)
Handlebars: Non-adjustable
Seat: Air-cell cushioning, 2-way adjustable
Pedals: Weighted, with straps
Resistance: Eddy current, 24 levels
Console: 24 preset programs, Bluetooth, MyCloudFitness app compatible
Amenities: Tablet holder, bottle holder, accessory trays
Warranty: Frame 5 years / Parts 1 year
450SL Frame construction
The Fitness Reality X-Class 450SL features a heavy-duty steel frame. In addition, it combines ovalized, cylindrical, rectangular tubes and several ABS covers for extra protection and an aesthetic touch.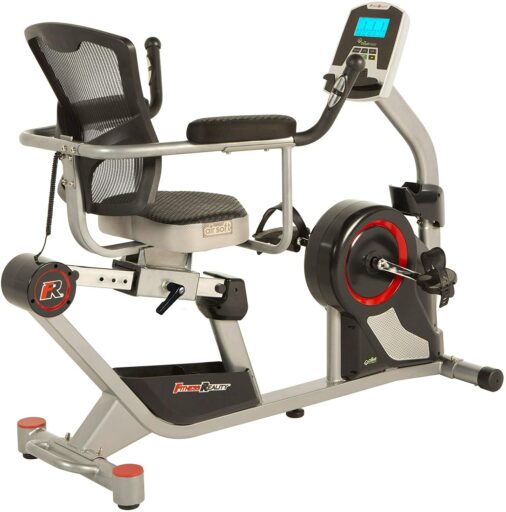 Its main chassis is a one-piece part with precision-welded joints, an aspect reflected in the bike's overall sturdiness.
The bike has a maximum user weight capacity of 325 lbs (147 kg). It also weighs more than 90 lbs (41 kg), offering superior stability. The bike's rear base comes equipped with two large, adjustable levelers that rest on rubberized pads.
The front base features a set of transport wheels, while the rear base integrates a lifting handle. These facilitate the relocation of the bike. The frame section under the seat comes with an ABS tray that can hold various accessories, like your phone, earplugs, remote control, or water bottle.
All the steel tubes in the bike's construction come coated with a corrosion-resistant finish, gray. The only exception is the seat rail assembly, which is stainless steel.
The fully assembled bike is fairly large compared to other models. It is approx. 60.5″ (154 cm) long, and 34.5″ (88 cm) wide. It is also advisable to leave at least two feet of clearance on each side of the bike and at least one foot at the front and rear for ease of access.
One last important aspect that I have to mention here regards the unit's step-through design. This can be quite a plus for users with specific disabilities. Because you don't have to step over the main body of the bike, as is the case with some other recumbent bikes, the positioning on the seat and your feet' positioning on the pedals can be done considerably easier.
Seat and handlebars
The Fitness Reality X-Class 450SL recumbent bike features the same seat as the X-Class 310SX. It is approx. 15″ (38 cm) wide, offering plenty of contact surface. The seat pad integrates a thick layer of high-density foam at the bottom and a layer of air-cell cushions on top.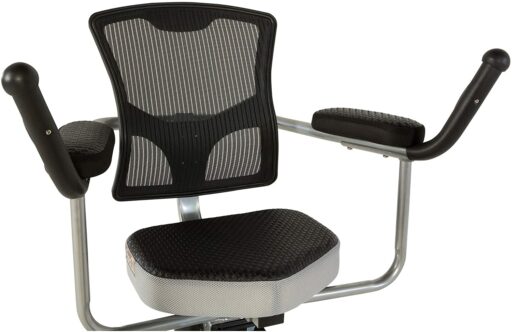 This structure leads to superior comfort, helps with the even dispersion of your weight, and improves breathability. In addition, the seat cushion has a durable vinyl weave on top, which also enhances breathability.
The backrest features a mesh structure similar to various office chairs. It is contoured, elastic, and provides excellent lumbar support. In addition, the mesh structure offers maximum breathability so that you won't overheat during exercising.
The whole seat assembly is adjustable. It is attached to a heavy-duty stainless steel rail and adjusts closer to or farther from the pedals. The seat rail features several adjustment positions, and comfortability accommodates users between 5'0″ and 6'3″ (153 – 190 cm).
It is important to note that the backrest is directly attached to the seat assembly; it is not adjustable independently from the seat, nor does it recline.
The Fitness Reality X-Class 450SL doesn't have any handlebars at the front, attached to the console mast. But on the other hand, the ones attached to the seat assembly remind me of the armrest of an armchair.
The two side armrests feature cushioned pads with the same vinyl weave on top of the seat. The front grips are slightly inclined forward and feature ball grips at the top. They also integrate pulse sensors.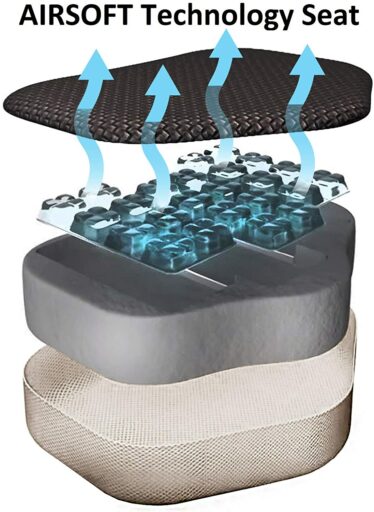 450SL Resistance and drive
The X-Class 450SL exercise bike comes equipped with a motorized magnetic resistance system. This means it requires an external power source. Also, the console can auto-adjust the resistance depending on the user program.
The bike's resistance system consists of an internal servo motor and a magnetic brake. As you select a tension level from the console, the motor adjusts the brake's position to the flywheel, increasing or decreasing the resistance.
There are 24 levels of resistance available on this bike. The first few levels deliver a light pedaling difficulty, great for recovery training or low-intensity cardio training. Conversely, the resistance settings from 20-24 programs offer the possibility to train on a higher level, simulating a hill climb.
The weight of the internal flywheel is not specified. However, considering the bike's overall weight, it probably weighs 20 lbs (9 kg) or more. It is a balanced flywheel designed to provide a smooth pedaling motion. It also allows reverse pedaling; however, coasting on the bike is not possible. The pedals continue to spin for as long as the flywheel is spinning.
Like most other exercise bikes with a magnetic resistance system, the X-Class 450SL uses a belt transmission. Therefore, you don't have to worry about its lubrication. Also, it generates considerably less vibration than a chain.
Last but not least, the bike comes with a durable crankset featuring steel crank arms. The pedals have a weighted design; this means they always turn face-up when you remove your feet from them. They are durable nylon material; they have a non-slip surface and adjustable straps.
Console
The Fitness Reality X-Class 450SL recumbent bike includes a mid-range console featuring a multi-window LCD with an LED backlight. It tracks distance, total distance, time, speed, RPM, watts, and pulse.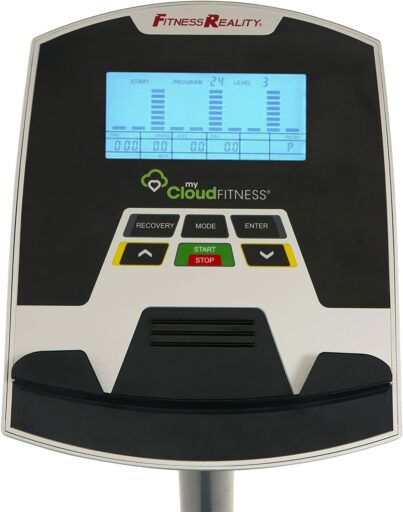 The pulse reading function can track your heart rate through the sensors integrated into the handgrips, but it is also telemetric. This means it can track your pulse through a wireless chest strap. However, this accessory does not come included with the bike.
The console has integrated Bluetooth technology. This means you can sync it with your tablet or smartphone and track your progress online or plan each workout via the free MyCloudFitness app. This app is available for iOS and Android.
Nonetheless, if you don't want to use the online feature, the console has its own 24 workout programs to keep you motivated. They include programs for weight loss, interval training, hill climbing, or programs that require you to keep within a given heart rate interval. You can also select goals for time, distance, and calories burned.
A Recovery function is also available. This program has its button on the console. It measures how long it takes your pulse to return to normal after the workout and, based on the result; it will give you a fitness rating between F1 (excellent) and F6 (poor).
Finally, the console does not have a sound system or a cooling fan but does integrate a tablet holder.
450SL Assembly and Maintenance
Most of the bike's frame comes pre-assembled, with the main drive and resistance elements already in their place. However, you still have to attach the two base bars, seat elements, the console mast, the console, the accessory trays, and the pedals.
This may take more than an hour. However, the included manual provides clear assembly instructions, and an essential toolkit also comes with the bike.
Once assembled, you don't have to worry too much about maintenance. Therefore, all you have to do is keep the unit clean, keep liquids away from the console, and periodically check for loose bolts and retighten if necessary. In addition, the internal mechanism doesn't need lubrication.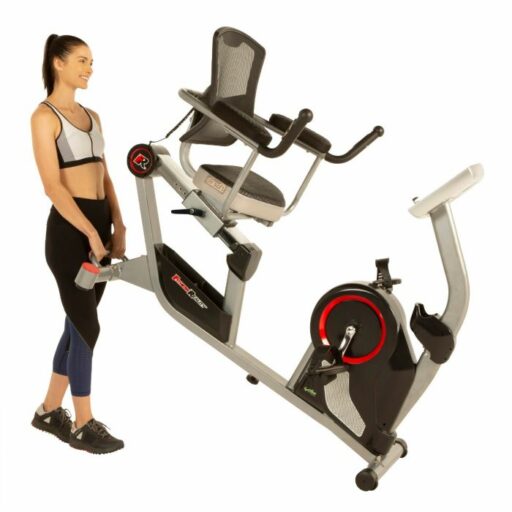 Pros
Light-commercial construction – can hold users up to 325 lbs;
Aesthetic design;
Transport wheels on the front base;
Adjustable stabilizers on the rear base and middle;
AirSoft cushioned seat;
Cushioned armrests;
Ball grips;
Mesh backrest offering superior airflow, ideal for prolonged workouts;
Pulse sensors integrated into the handgrips;
Adjustable seat – can accommodate users between 5'0″ and 6'3″;
Weighted pedals, with adjustable straps;
The smooth and quiet belt drive system, an excellent machine for apartment use;
Automatic magnetic resistance system;
24 distinct resistance levels;
24 preset workouts;
Goal settings for time, distance, and calories;
Bluetooth function and compatibility with the myCloudFitness free app for iOS and Android;
Telemetric console (works with wireless heart rate transmitters);
Recovery test function;
Tablet holder included;
Accessory tray included;
Bottle holder included;
Little maintenance is required;
Reasonably easy to assemble.
Cons
A tablet placed on the tablet holder will partially cover the LCD;
An HR chest strap does not come with the bike;
No front handlebars.
X-Class 450SL Recumbent Bike Summary
The Fitness Reality X-Class 450SL is a heavy-duty recumbent bike that excels in comfort factors featuring an AirSoft cushioned seat with a mesh backrest and cushioned armrests. In addition, it comes equipped with a 24-level motorized magnetic resistance system and a console with 24 preset workout programs. In addition, it is also Bluetooth-enabled and compatible with the myCloudFitness app.
Moreover, it's a great exercise bike for light to medium-intensity cardio training, recovery training, intervals, stamina development, and weight loss.
I hope you found this article helpful and informative. Would you please speak up if you have anything you'd like to share on the topic or any opinions about my website? I look forward to your comments, questions, and the sharing of ideas.