Total Gym APEX G5 is full-body commercial-level workout equipment with an innovative and multi-purpose design for resistance, cardiovascular training, and stretching in the comfort of your home. The APEX G5 is suitable for people between 8 and 80 and has different fitness levels.
The APEX G5 offers 80+ exercises using the glideboard and your body weight and resistance levels. It is a low-impact type of fitness equipment that will not burden your knees or joints. You can move from one exercise to the next smoothly and effortlessly.
The Total Gym APEX G5 is a sturdy product with a tubular steel frame, excellent quality components, and attachments, including a heavy-duty pulley. And it will feel very stable if the total weight is not over 375 pounds. I like that switching the configuration for different exercises is relatively easy. You'll experience an excellent full range of motion.
As for accessories, you will find the dip bars, two stability mats, a wing attachment, a leg pull accessory, a larger squat stand, a training deck with holder, workout and nutrition manuals, Total Gym TV access, a user manual, and a DVD. You also have the cable pulley system for various upper and lower body exercises.
Learn more in my complete review below!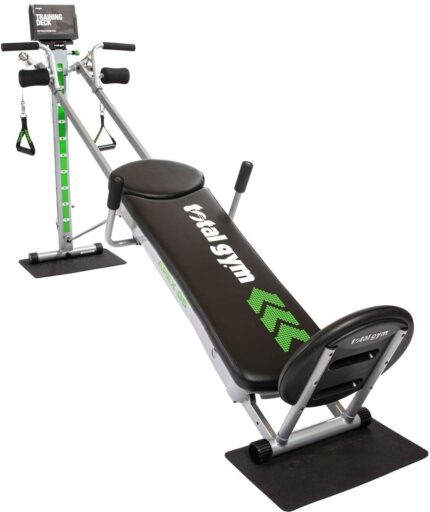 Product: Total Gym APEX G5 Home Fitness
Price: For a great deal on this gym, merely go here on Amazon
Warranty: 1 year
My rating: is 9/10
Affiliate Disclosure: As an Amazon Affiliate Program participant, I earn commissions on purchases made through links in this post. Full disclosure
Details and Specifications
Assembled dimensions: 93L x 15.5W x 43.25H inches (236 x 39 x 110 cm)
Assembled weight: 53.2 lbs (24 kg)
Max. user weight: 375 lbs (170 kg)
Possible exercises: 80+
Weight resistance system: Body-weight resistance
Included accessories: Wing attachment, squat stand, leg pull addition, dip bars, training deck with holder, two stability mats, Total Gym TV access, exercise & nutrition guides, owner's manual, and DVD
Warranty: 1 year
G5 Frame Construction
The Total Gym APEX G5 features a solid steel frame combining oval, rectangular, and cylindrical tubes in its construction. It consists of three main pieces, two that form the rail system for the sliding board, and the third part serves as the height adjustment bar. Of course, the glideboard has a metallic frame incorporating four wheels that slide on the mainframe's two side rails.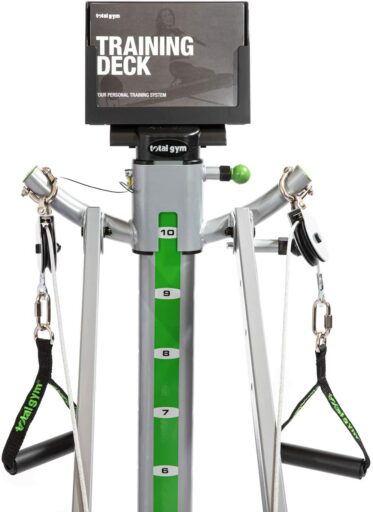 The APEX G5 is foldable, offering excellent portability and storage possibilities. With the frame folded, it is approx. 50.5″ (128 cm) long, 15.5″ (39 cm) wide, and 8″ (20 cm) high. Therefore, it can store in a closet or even under a bed if there is more than 8″ clearance.
Conversely, with the frame fully extended, the machine's length is approx. 93″ (236 cm), while its height reaches approx. 43.25″ (110 cm) above floor level.
The exerciser is not extremely heavy but weighs approximately 53 lbs (24 kg). However, it is relatively easy to move and set up due to its folding frame. Also, the height adjustment bar features base tube rollers.
The machine's frame is pretty sturdy. Moreover, it has a maximum user weight capacity of 375 lbs (170 kg), which is impressive for this exercise type. Also, all the steel parts in its construction come coated with a corrosion-resistant gray paint finish.
Glideboard
The exact dimensions of the glideboard are not specified, but as a general idea, it is approx. 40″ (101 cm) long. Its base is plywood with a steel frame, with foam padding approximately 2.5″ (6 cm) thick on top of the plywood. The top cover is made of durable vinyl material, black in color, and sweatproof.
The glideboard of the APEX G5 has a slightly different construction than the APEX G3, as it features a rounded section that can serve as a head cushion. It's also important to note that the glideboard can lock into position.
G5 Attachments, accessories, and other parts
The Total Gym APEX G5 has an impressive bundle of attachments and accessories. Regarding attachments, I can mention the cable kit with two pulleys and two D-handles, the dip bars, the leg pulley system, and the squat stand. These easily attach and detach from the main body of the exerciser via hitch pins.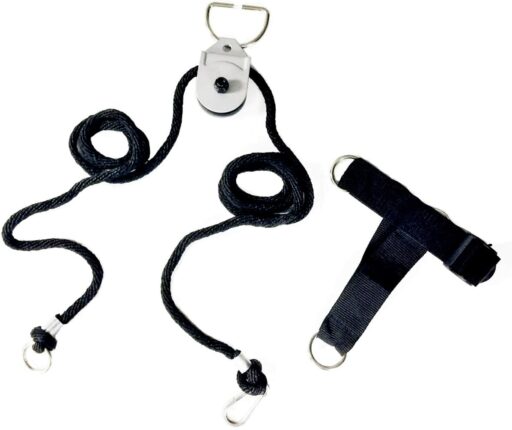 All the handles have foam grips for improved comfort. The pulleys are made of durable nylon materials with integrated ball bearings for smooth operation.
The accessories included with the exerciser are the Training Deck with its holder, two stability rubber mats, and a "Start It up!" DVD. The Training Deck attaches to the top section of the adjustment bar. It includes a set of cards that depict the most popular exercises performed on this machine.
The two stability mats are helpful if you use a machine in a room with slippery floors. The included DVD covers the standard Total Gym workouts.
Of course, the APEX G5 comes with Total Gym TV access. Gym TV is an on-demand video platform allowing you to stream Total Gym workouts 24/7 with an internet connection.
Weight Resistance System
The Total Gym APEX G5 is a fitness machine that uses body weight as the main workout load. Thus, you won't need additional weights for it. However, this exerciser is also useable as a bench for dumbbell exercises. In this case, you should ensure that your weight plus the dumbbells' weight doesn't exceed the maximum weight limit of the APEX G5.
The adjustment bar of the exerciser features ten incline attachment positions for the rail system. With the rail system attached to the top position, the machine will provide a workout load of approx—60% of your total body weight.
Considering its maximum weight limit is 375 lbs (170 kg), you can get a full workout load of 225 lbs (102 kg). Therefore, each adjustment position will increase the workout load by approximately 5 – 6% of your body weight from bottom to top.
Since this exerciser has no heavy stack like other home gyms, it is not for advanced bodybuilding and strength training. Nonetheless, it offers the possibility of performing various exercises and engaging all your muscles during each workout. Thus, it's an excellent machine for muscle toning, stamina development, weight loss, and even cardio training.
G5 Possible Exercises
Abdominal Exercises
Crunches
Trunk rotations
Resisted crunches
Inclined crunches
Crunches with leg curls
Sit-ups with feet attached
High leg pull-ins
Low leg pull-ins
Side planks
Arm Exercises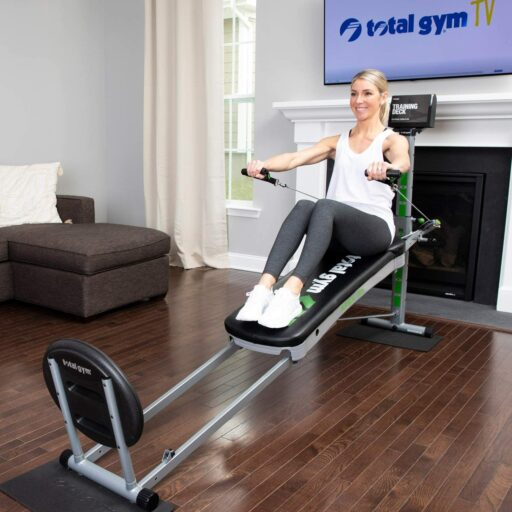 Biceps curls
Lateral single-arm biceps curls
Lying biceps curls
Biceps curls with leg curls
Biceps curls with crunches
Chin-ups
Dips
Triceps extensions
Kneeling triceps extensions
Lateral single-arm triceps extensions
Prone triceps extensions
Back Exercises
Pull-ups
Back flies
Prone back flies
Back flies with leg curls.
Hyperextensions
Aerobic rowing
Crossover rowing
Kneeling rowing
Lateral pulldowns
Lateral pulldowns with squats
Chest Exercises
Chest presses
Wide grip chest presses
Close grip chest presses
Incline push-ups
Chest flies
Incline chest flies
Lateral chest flies
Decline chest flies
Pullovers
Pullovers with squats
Leg Exercises
Leg curls
Calf raises
Reverse leg curls
Squats
Single-leg squats
Kneeling single-leg squats
Wide squats
Twisting squats
Jumping squats
Front lunges
Hip extensions
Hip adductions/Hip abductions
Shoulder Exercises
Shoulder presses
Upright rows
Upright rows with leg curls
Lateral deltoid raises
Front deltoid raises
Lying front deltoid raises
Front deltoid raises with leg curls.
Wide grip front deltoid raises
Front deltoid raised with supination grips
Shoulder extensions
Shoulder extension with hyperextension
Lateral arm pulls
G5 Assembly and Maintenance
The Total Gym APEX G5 comes with its main body fully assembled; all you need to do is unfold it. First, however, depending on the exercises you wish to perform, you must connect the corresponding attachments. For instance, this is done easily via the included hitch pins to have your trainer ready for usage in minutes.
Keeping the unit clean, especially the rails is advisable to prevent damage to the bench rollers. In addition, the pulleys may need lubrication from time to time. After that, you only have to periodically check for loose bolts and parts and retighten them if necessary.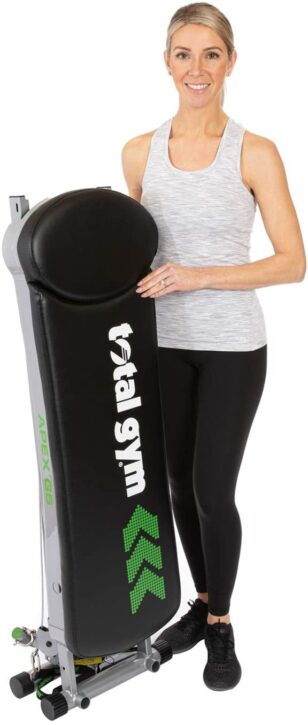 Pros
Sturdy frame construction – can support users up to 375 lbs;
Space-saving, folding design;
The thick vinyl finish on the glideboard and 2.5″ cushioning;
Ten height adjustment positions for a workout load up to 60% of your total body weight;
Heavy-duty nylon pulleys with internal ball bearings;
A versatile machine, offering the possibility to perform more than 80 exercises;
Workout exercise deck, along with diet plan, included;
Multiple attachments included;
Exercises DVD included;
Access to Total Gym TV;
Two stability mats included;
Excellent for strength, pilates, and cardio training;
You can use it for inclined dumbbell presses as well;
Quiet operation, suitable for apartment building use;
Little maintenance is required;
A minor assembly is required.
Cons
They have a limited weight range.
Total Gym APEX G5 Summary
The Total Gym APEX G5 is a multi-function home gym exerciser that uses your body weight as resistance. It offers the possibility to perform 80+ exercises. It includes many accessories and attachments, such as a wing attachment, squat stand, leg pull accessory, dip bars, training deck with holder, two stability mats, Total Gym TV access, exercise & nutrition guides, and DVD exercises. It's also foldable, offering excellent storage possibilities and portability.
Moreover, it's a great home gym for muscle toning, pilates, stamina development, weight loss, and maintaining your physical and cardiovascular health.
I hope you found this article helpful and informative. Would you please speak up if you have anything you'd like to share on the topic or any opinions about my website? I look forward to your comments, questions, and the sharing of ideas.
Please remember to consult your physician to determine if you have any medical or physical conditions that could put your health and safety at risk or prevent you from using the equipment properly. In addition, your physician's advice is essential if you are taking medication that affects your heart rate, blood pressure, or cholesterol level.