Whether you want to slim down or tone up, the XTERRA Fitness FS2.5 Elliptical Trainer is the perfect tool to help you train more efficiently. Moreover, the FS 2.5 is a well-constructed elliptical, and the design provides a smooth, comfortable elliptical motion forward and reverses by an appropriate 14-inch stride length.
The FS2.5 provides an excellent, non-impact total body workout. The 24 levels of resistance will challenge your body. The more resistance levels an elliptical has, the more versatility you may get from the machine because a range of levels allows you to adapt to the intensity of your workout.
The XTERRA Fitness FS2.5 elliptical trainer has a fitness monitor with a 5-inch LCD that tracks time, distance, total distance, speed, RPM, watts, calories, and pulse. In addition, there are 24 workout programs, one recovery program, one body mass index program, four user-defined programs, a manual program, five heart rate programs, and the rest are pre-set workout plans.
The FS2.5 elliptical trainer is sturdy with a heavy-duty steel frame with a metallic black powder-coated rust-proof finish. In addition, the heavy-duty 22 lbs (10 kg) flywheel offers premium fluid motion. As a result, you can exercise on the equipment, knowing you will be stable and safe.
Learn more in my complete review below!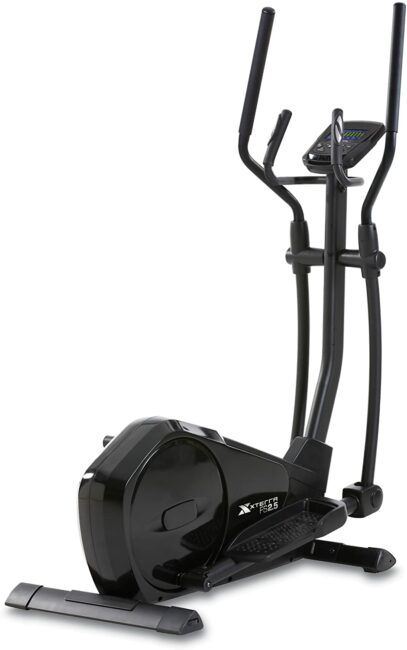 Product: XTERRA Fitness FS2.5 Elliptical Trainer
Price: For a great deal on this elliptical, merely go here to XTERRA Fitness.com
Warranty: Frame 5 years / Parts 1 year
My rating: is 8/10
Affiliate Disclosure: As an XTERRA Fitness Affiliate Program participant, I earn commissions on purchases made through links in this post. Full disclosure
Details and Specifications
Assembled dimensions: 54.1L x 24W x 65.2H inches (137L x 61W x 165H cm)
Assembled weight: 103.6 lbs (47 kg)
Supported weight: 300 lbs (136 kg)
Flywheel weight: 22 lbs (10 kg)
Stride: 14 inches (35 cm)
Incline: No
Resistance: Digital magnetic, 24 levels
Fitness Monitor: 24 programs, recovery
Extras: Accessory holder, sound system
Warranty: Frame 5 years / Parts 1 year
FS2.5 Frame Construction
The XTERRA Fitness FS2.5 is a rear-drive elliptical trainer. Like most other similar models, it has a smaller footprint. It only takes 54.1″L x 24″W (137 x 61 cm) of floor space. Therefore, it may fit better in a smaller room or apartment. However, leaving at least two feet of clearance around it for unhindered usage is advisable.
Although it's one of the smaller XTERRA elliptical models, it's not exactly one of the lightest. It weighs approx. 103.6 lbs (47 kg), so two persons should transport the boxed unit.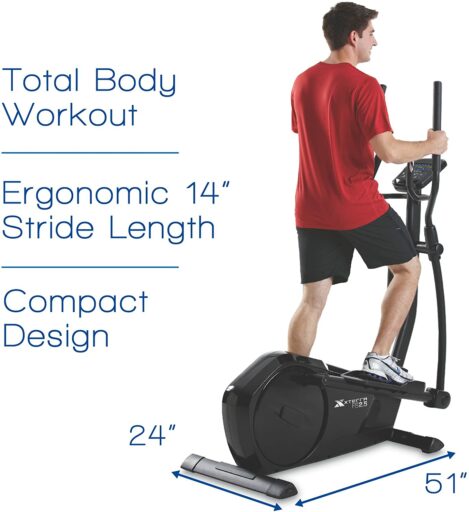 Once assembled, the unit is easy to move, though. Its front base integrates a set of small wheels for this purpose. Also, its rear base comes equipped with a group of adjustable stabilizers.
The trainer's frame is steel tubing. However, the drive system's protective covers, the pedal trays, and several other small covers are made of ABS material. As a result, the unit offers a pretty sturdy overall construction. In addition, it has a maximum user weight capacity of 300 lbs (136 kg), which is not bad for a home-use machine.
Finally, the frame features a durable black paint finish and is resistant to chipping and corrosion. The casing of the drive system and all the other ABS parts are also black.
Handlebars and pedals
The XTERRA Fitness FS2.5 elliptical trainer features two fixed and mobile handlebars. The fixed handlebars attach directly to the unit's front mast; they don't have any adjustability system. However, they come equipped with pulse sensors, and the fitness monitor can track your pulse during exercising if you hold on to them.
The mobile arms feature simple, extended grips. They reach approx. 65.2″ (165 cm) above floor level. They connect to the middle of the front mast and the pedal bars, so they continue to move for as long as you pedal. Furthermore, they cannot lock to become stationary.
The unit's pedal trays are large enough to accommodate all athletic shoes. They have a textured surface for extra adherence and front/inner guards for added foot stability. However, they don't have additional cushioning or articulation and are non-adjustable. They attach to the pedal bars via four bolts each.
FS2.5 Elliptical path, stride, and step-up height
The XTERRA Fitness FS2.5 is a rear-drive elliptical, which means its elliptical path is slightly inclined forward, not by much, but by a few degrees. Due to this, the riding sensation is similar to descent on a soft ramp. Accordingly, this results in a better workout for your thighs and glutes.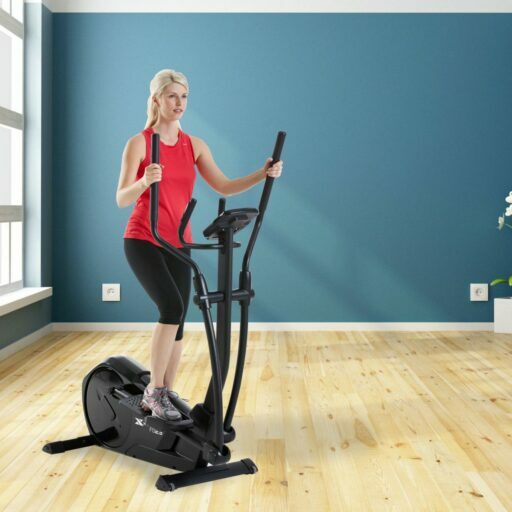 The unit's stride is not very long. It is only 14″ (35.5 cm). Therefore, this elliptical cross trainer is not for taller users than 6'2″ (188 cm). Also, since the machine has no incline system and the pedals do not offer any adjustability, you cannot change the stride's angle or length.
The step-up pedal height of the XTERRA Fitness FS2.5  is approx—6″ (15 cm). Conversely, at their highest point, the pedals reach approx. 15″ (38 cm) above floor level. Therefore, using the machine in a room with a ceiling of at least 20″ (51 cm) higher than your height is advisable.
Resistance and drive
The XTERRA Fitness FS2.5 elliptical trainer comes equipped with a motorized magnetic resistance system. Therefore, it requires an external power source, and the resistance is only adjustable from the fitness monitor. Also, the monitor can automatically adjust the machine's resistance, depending on the user program.
The unit's resistance system comprises an internal magnetic brake and a small servo motor. As you select a certain tension level from the console, or as the console adjusts the resistance, the brake changes its position to the flywheel, which results in the more or less magnetic pull, and, implicitly, in more or less pedaling difficulty.
This elliptical offers 24 levels of resistance. The first few levels deliver a relatively light pedal tension. The top resistance levels provide considerably more pedal tension simulating a hill climb, and allow you to perform a more intense cardio workout.
This XTERRA Fitness FS2.5 comes equipped with a 22 lbs (10 kg) flywheel, a mid-range flywheel that is not too heavy or light. So, it adds a bit of consistency to the ride in conjunction with the magnetic resistance. It also promotes a steady pedaling motion and a sure-foot feeling.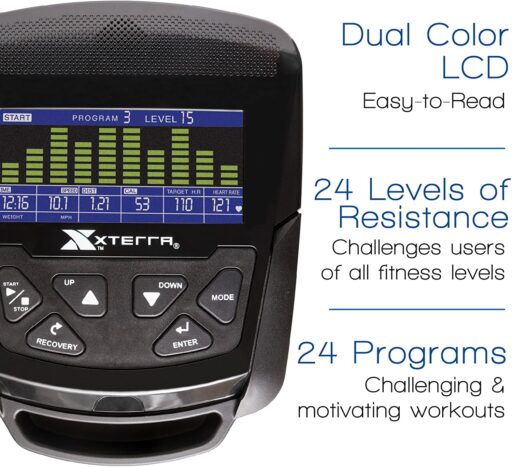 The flywheel is bi-directional. Thus, pedaling in reverse is possible on this machine. When pedaling reverse, the fitness monitor counts your RPM, calories burned, and other workout metrics.
Most magnetic exercise bikes and elliptical trainers have a belt drive system, and the XTERRA FS2.5 is no exception. Its transmission uses a durable poly-v belt. This type of drive offers a few advantages. First, it generates less vibration than a chain, contributing to the ride's smoothness. And second of all, it doesn't require any lubrication.
FS2.5 Fitness monitor
The XTERRA Fitness FS2.5 has a mid-range fitness monitor featuring a 5.5″ LCD with an LED backlight that tracks the most crucial workout metrics, including time, distance, total distance, speed, RPM, watts, calories, and pulse.
It offers both metric and English settings to display speed and distance. It is also telemetric, which can read your pulse through a wireless HR chest strap. Unfortunately, this accessory is not included, but you can still benefit from a pulse reading by holding on to the pulse sensors integrated into the machine's fixed handlebars.
The fitness monitor does not have online connectivity. However, it has 24 built-in programs to keep you motivated. The first program is Manual. Therefore, it allows you to pedal freely, adjusting the Up / Down buttons' resistance as you like during your workout. This program also allows you to select workout goals for time, distance, calories, and watts.
The programs from P2 to P13 are factory pre-set. They cover standard workouts, including Rolling Hills, Valleys, Fat Burn, Steps, Ramps, Intervals, Obstacles, Climbing, Plateaus, Hill, Fast Treks, and Off-Road.
The P14 program is the Body Mass Index. This program can calculate your body fat percentage based on age, height, weight, and gender. Then, based on the result, it will provide you with a workout profile.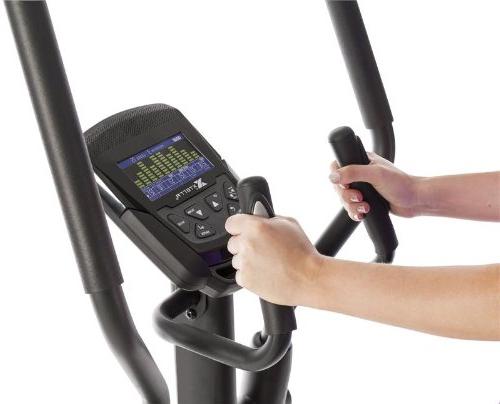 The programs from P15 to P18 are user-based. You can create a custom program for each user profile, save it, and reuse it many times. These are also great if several persons use the machine to create and save their program.
The following five programs are heart rate-based. Four have pre-set heart rate values of 55%, 65%, 75%, and 85%, while the 5th allows you to select your custom target heart rate.
When a heart rate program is used, the machine automatically adjusts the resistance, increasing it if you go under the selected HR value and decreasing it if you exceed it.
One last program offered by the console is recovery. It has a button on the monitor. The Recovery program checks the amount of time your pulse takes to return to normal after the workout, and based on the result, it will give you a fitness rating between F1 (excellent) and F6 (poor).
Two other notable features are available on the fitness monitor. One is the integrated sound system; the other is the accessory holder.
The sound system integrates above the LCD. There is also an audio jack input on top of the monitor. Thus, you can connect your MP3 player or smartphone to it to play your music through the integrated speaker. The accessory holder has a small tray at the bottom of the monitor.
Assembly and Maintenance
This elliptical trainer comes partially assembled. Therefore, you only have to attach its base bars, the main upright bar, the two moving arms, the fixed handlebars, the fitness monitor, and the pedals.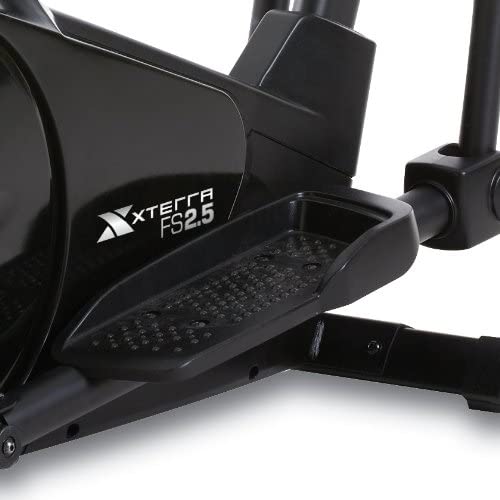 Therefore, it may take more than an hour of your time. However, the manual provides clear step-by-step assembly instructions, and a set of essential tools for the task comes included with the machine.
Once assembled, you don't have to worry too much about maintenance. The internal parts shouldn't need any lubrication for a very long time. So you only have to keep the unit clean, check for loose parts occasionally, retighten, and grease the joints if necessary.
Pros
Sturdy construction – can support users up to 300 lbs (136 kg);
Transport wheels on the front base;
Adjustable stabilizers on the rear base;
Fixed and mobile handlebars;
Medium-weight flywheel (22 lbs) for a more consistent pedaling motion;
Oversized, non-slip pedals;
Eddy current, automatic resistance (24 levels);
Multi-window fitness monitor LCD with LED backlight;
The monitor tracks all the important workout metrics, including time, distance, total distance, speed, RPM, watts, calories, and pulse;
Goal settings for time, distance, calories, and watts;
Pulse sensors and pulse reading function;
Telemetric receiver built into the console for wireless HR chest straps;
24 workout programs available;
Recovery function;
Accessory holders included;
The sound system included;
Quiet operation;
Easy to assemble;
Little maintenance is required.
Cons
A heart rate chest strap does not come included;
No bottle holder.
XTERRA Fitness FS2.5 Elliptical Trainer Summary
The XTERRA Fitness FS2.5 is an elliptical trainer for home use. It features a motorized magnetic resistance system with 24 levels, a medium-weight (22 lbs) internal flywheel, and a fitness monitor with a 24-workout program. It also has a reasonably decent construction with a weight capacity of 300 lbs.
Moreover, it's an excellent trainer for light to medium-intensity cardio workouts, interval workouts, muscle toning, and weight loss. And finally, it's one of the most affordable elliptical trainers with an automatic resistance system.
I hope you found this article helpful and informative. Would you please speak up if you have anything you'd like to share on the topic or any opinions about my website? I look forward to your comments, questions, and the sharing of ideas.
Please remember to consult your physician to determine if you have any medical or physical conditions that could put your health and safety at risk or prevent you from using the equipment properly. In addition, your physician's advice is essential if you are taking medication that affects your heart rate, blood pressure, or cholesterol level.