Be blown away by the effectiveness and dynamic resistance flexibility of the Sunny SF-RW520050 Air Resistance Rower. This unique workout equipment helps achieve a total body exercise experience. The user may easily mount or dismount the rower with a peak slide rail clearance 12.5 inches off the ground. Easily foldable to conveniently store in small spaces.
The SF-RW520050 features a large eight-bladed fan that produces dynamic resistance with every stroke. Row faster for a more intense workout. Control the flow of the air as well as your workouts. Keep up the stamina as a tremendous wind exhales through the machine. The air outlet vent blows a cool breeze with each row.
The cushioned seat gives users a comfortable rowing experience without sacrificing support. Oversized, non-slip textured footrests with safety straps ensure your feet remain in place throughout your rowing routine! Slip-resistant handlebars with soft padded foam grip provide comfort and support to help you maintain performance throughout your workout.
Learn more in my complete review below!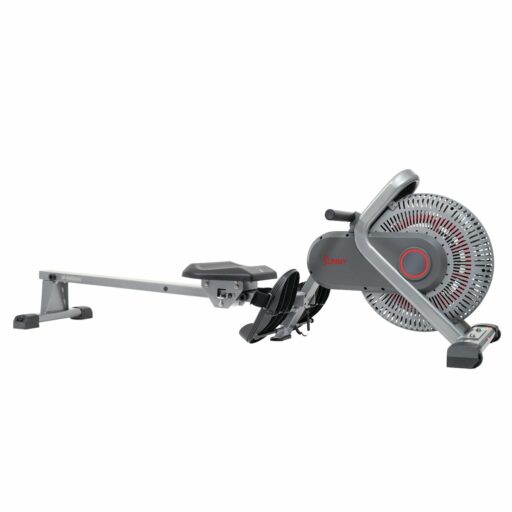 Product: Sunny SF-RW520050 Air Resistance Rower
Price: For a great deal on this rower, merely go here to Sunny Health & Fitness.com
Warranty: Frame 3 years / Parts 180 days
My rating: is 8/10
Affiliate Disclosure: As a Sunny Health & Fitness Affiliate Program participant, I earn commissions on purchases made through links in the post. Full disclosure
Details and Specifications
Assembled dimensions: 78L x 22.8W x 22.6H inches (198L x 58W x 57H cm)
Assembled weight: 56.2 lbs (25.5 kg)
Weight capacity: 245 lbs (111 kg)
Frame: Steel
Resistance type: Air
Fitness Monitor: Time, count, SPM, calories, scan
Warranty: Frame 3 years / Parts 180 days
SF-RW520050 Frame Construction
The Sunny SF-RW520050 air-resistance rower features a steel frame. Its construction combines oval and rectangular tubes to improve sturdiness and aesthetics.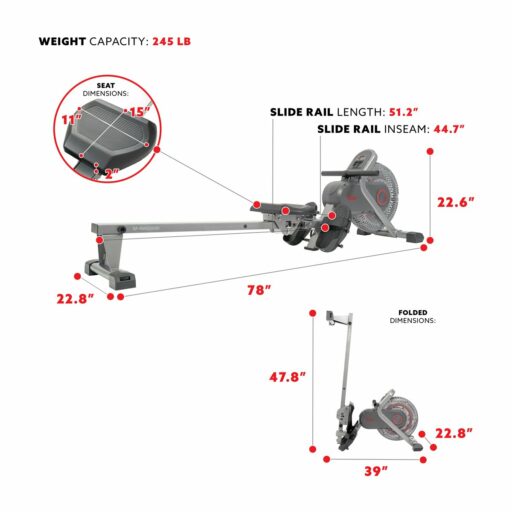 In addition, all the steel tubes come coated with a corrosion-resistant gray paint finish. Finally, of course, the machine also integrates several plastic parts. For example, the fan casing, the footrests, and the base caps are made of durable thermoplastic materials.
The rower is relatively large, especially lengthwise. It is approximately 78″ (198 cm) long and 22.8″ (58 cm) wide. Therefore, allowing at least two feet of clearance is also advisable on each rail side and at the rear for easy access and correct usage is also advisable.
The rail is relatively long, approx. 51.2″ (130 cm), and the applicable user inseam for this machine is 44.7″ (113 cm). Thus, it comfortably accommodates users up to 6'6″ (198 cm) with no problem. It has a maximum user weight capacity of 245 lbs (111 kg).
The machine's frame is also foldable. In addition, the rail with the seat can fold up, which reduces the unit's length to approx. 39″ (99 cm), while its height becomes 47.8″ (121 cm). Therefore, the rower is not super heavy. However, with all the parts assembled, it weighs approx—56 lbs (25.5 kg).
Thus, one person can carry and build the machine. In addition, its front base integrates a set of wheels, so you can quickly relocate it if needed.
Seat and other parts
The Sunny SF-RW520050 air-resistance rower comes with a seat designed for optimal comfort. Its top is high-density foam, so it's not super hard.
It is relatively large, approximately 15″ (38 cm) wide, and 11″ (28 cm) deep, so it provides plenty of contact surface. It also has contouring to provide better positioning for the user and prevent them from sliding backward.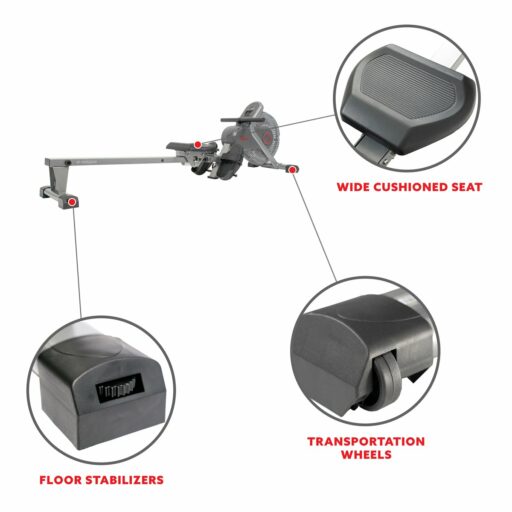 The rail is not completely horizontal. It inclines slightly forward. Therefore, the SF-RW520050 rower provides a better workout for the legs. Also, the seat is higher when to the back of the rail. Its highest point is approx—12.5″ (32 cm).
The base of the seat is steel. It integrates three sets of wheels. Two sets slide on top of the rail while the third slides underneath it for improved stability. The wheels have internal ball bearings for a smooth motion and a rubber layer outside for reduced noise.
The pulling handle is a short straight bar. It features foam sleeves for an improved grip. However, it does not have any resistance controls or sensors. Instead, it attaches to a heavy-duty nylon strap highly resistant to abrasion.
The rower comes with a set of pivoting footrests. Therefore, they tilt slightly forward, adapting to the pressure you apply with your feet throughout the rowing motion. They have stoppers at the heel, though, and cannot tilt past approximately 55°. They're made of a rigid plastic material with heel guards and adjustable straps for improved foot stability.
SF-RW520050 Resistance system
The Sunny SF-RW520050 rowing machine comes equipped with an air resistance system. Its main resistance-generating element is the sizeable 8-blade fan integrated into the front unit. The fan connects to the internal pulley system and the pulling strap, which spins when you pull the handle increasing the workload.
This Sunny rower has no other resistance elements, like a magnetic brake or a damper for the fan. So, you cannot adjust the overall resistance. However, like any other fan-resistance fitness machine, it provides a dynamic response during usage.
Therefore, the resistance generated by the fan depends on your stroke rate; the faster you pull, the more resistance you will get. For instance, this is a plus, as it simulates the sensation of rowing a real boat through the water.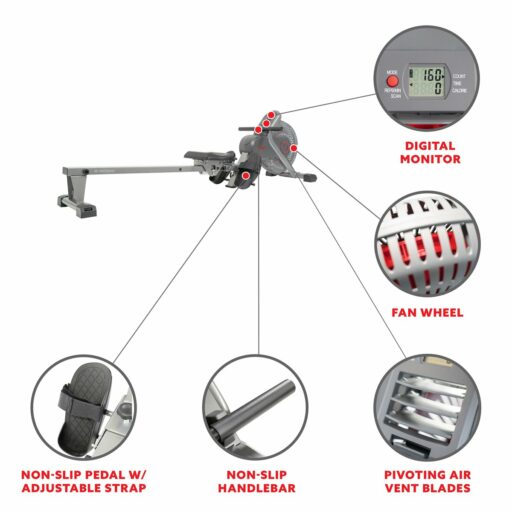 The internal drivetrain uses a poly-v belt. Therefore, as would be the case with a chain drive, you don't have to worry about its lubrication. It also generates less vibration than a chain.
Since it's an air-resistance rower, the SF-RW520050 rower is not completely silent like a full magnetic rower. When rowing at a fast rate, you can hear the fan. However, the level of noise is far from being loud or disturbing.
It won't cover your TV's sound in a low-volume setting as a general idea. However, you can compare the noise generated to that of a large electric fan.
Fitness Monitor
The Sunny SF-RW520050 air resistance rower comes equipped with a simple fitness monitor. It features an LCD divided into two sub-sections and only one button covering all its functions. The display shows time, count (strokes per workout), reps/min (strokes per minute), and calories burned.
It does not show split time (time/500m) or distance. Unfortunately, it also does not have a pulse reading function, so you must use a separate device to keep track of your pulse during your workouts.
The monitor is straightforward to operate. You can press the button repeatedly to swap the values on the two fields of the display. A scan function is also available. For example, the four workout metrics show in a sequence in scan mode, each appearing on display for a few seconds, their order being time, count, calories, and reps/min.
Also, the button covers the monitor reset function. If you press and hold it for four seconds, all the values on the monitor clear to zero.
The monitor requires one AAA battery as a power source. It also has a sleep mode which it will enter to save battery after approx—four minutes of inactivity on the machine.
SF-RW520050 Assembly and Maintenance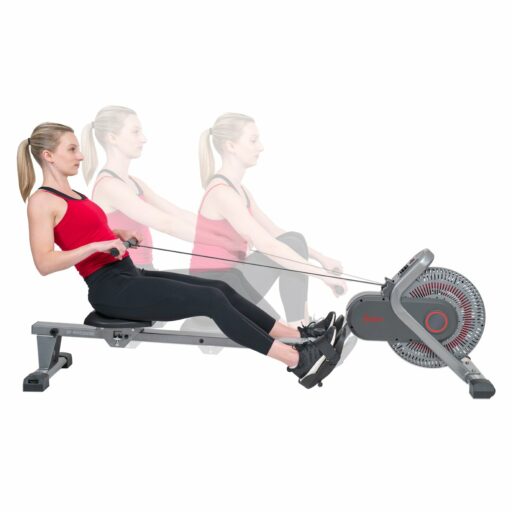 The machine's front unit with the fan and the other drive system elements comes pre-assembled. You only need to attach the front stabilizer to the footrests, insert the seat on the rail, add the rear stabilizer, and connect the rail to the front part of the frame.
Therefore, it shouldn't take more than 30 minutes of your time. All the necessary tools come with the machine, and the manual provides precise assembly instructions.
Maintenance requires dusting the trainer periodically, especially the rail and the fan's housing. Also, the seat wheels may require lubrication after a while. It is also advisable to regularly check for loose bolts and parts and retighten them as needed.
Pros
Sturdy steel frame – can support users up to 245 lbs;
Folding design;
Adjustable stabilizers on the rear base;
Transport wheels on the front base;
Long rail – can accommodate users up to 6.6″;
Contoured, non-slip seat with three sets of wheels for extra stability;
Pivoting footrests with adjustable straps;
Air resistance for a dynamic response;
Fitness monitor included – it tracks time, count, strokes per minute (SPM), and calories burned;
Little maintenance is required;
All the tools needed for the assembly included;
Easy to assemble.
Cons
The fitness monitor does not have a pulse reading function;
No distance reading function;
No split time/500m function;
There are no workout programs.
Sunny SF-RW520050 Air Resistance Rower Summary
The Sunny Health & Fitness SF-RW520050 is a rowing machine for home use. It has an air resistance system, pivoting footrests, a simple fitness monitor, and a seat for optimal comfort. Its frame is also foldable.
Moreover, it's an excellent machine for a full-body cardio workout, muscle toning, stamina development, interval training, and weight loss.
I hope you found this article helpful and informative. Would you please speak up if you have anything you'd like to share or any opinions about my website? I look forward to your comments, questions, and the sharing of ideas.
Please remember to consult your physician to determine if you have any medical or physical conditions that could put your health and safety at risk or prevent you from using the equipment properly. In addition, your physician's advice is essential if you are taking medication that affects your heart rate, blood pressure, or cholesterol level.